Medical Administrative Assistant Schools
Last Updated
Medical administrative assistant schools offer opportunities to quickly learn new skills that are needed throughout the healthcare sector.
At this very moment, hundreds of thousands of medical office professionals throughout the country are helping to ensure that patients receive timely, efficient, accurate, and friendly health services. And you can become one of them. After all, the demand for their diverse abilities continues to rise. So pursuing this vocation offers a chance to discover the significant rewards of providing vital support within a positive and growing industry.
Start by finding options for medical administration training in your region. Put your zip code into the following search tool to easily generate a list of nearby programs!
3 Appealing Advantages of Pursuing Medical Administrative Assistant Training
---
---
Medical Administrative Assistant Schools
Sponsored Listings
---
---
3 Appealing Advantages of Pursuing Medical Administrative Assistant Training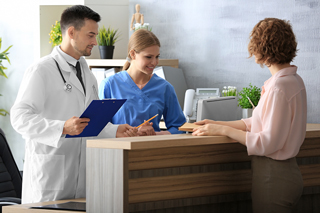 Healthcare is a major area of job growth and fulfilling career options. But you don't have to be directly involved in patient care in order to benefit from this sector's vitality. In fact, the administrative side of the industry is just as important, and it offers many compelling ways to contribute to the overall mission of providing excellent care to people in your community.
Medical administrative assistants (also called medical secretaries or medical office assistants) are, quite simply, essential team members within all kinds of health facilities. Their work enables doctors, dentists, and other direct-care providers to spend more time treating and consulting patients. Plus, they are part of an occupational field that often comes with exciting benefits such as:
1. A High Level of Career Stability
Employment within the field of medical administrative assisting is projected to almost double the average growth rate for all occupations in the U.S. from 2021 to 2031.* In fact, the Bureau of Labor Statistics says that the number of new jobs in this vocation is expected to increase by eight percent, which translates to 85,800 additional opportunities over that period.
As a result, medical administrative specialists, in comparison to many other types of workers, frequently feel more confidence and peace of mind about their professional futures. And that confidence is justified for several reasons. For example, consider the following facts:
A report by the American Hospital Association says that by the year 2030, American adults will likely initiate almost twice as many visits to the doctor as they did in 2004.
Along with overall rising rates of chronic conditions like arthritis, hypertension, and diabetes, the U.S. is also experiencing a major rise in the number of older people who require more health services. The American Hospital Association report estimates that from 2000 to 2030, the population of Americans aged 65 and up could almost double. And by 2030, over 60 percent of people in that segment of the population may be managing multiple chronic conditions.
Thanks to the Affordable Care Act, many more Americans will have reliable health insurance in the years to come, which means they'll have better access to the care they need. From 2015 to 2016 alone, the number of uninsured people in the U.S. dropped by about 1 million people.
The bottom line is that more people are expected to access health services, and they're expected to access them more often. That means thousands of openings for qualified medical administrative assistants could become available within hospitals, medical and dental offices, and clinics for all types of specialists—from optometrists to podiatrists to alternative healthcare providers.
2. Potential for Good Pay After a Short Time in School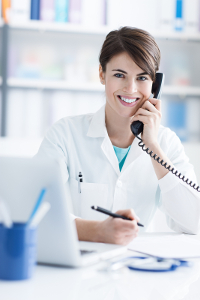 Becoming a medical administrative assistant doesn't have to take very long. In fact, some vocational college programs take as little as 33 weeks to complete, resulting in a marketable certificate or diploma. But earning a degree in this field can also be a relatively short process. For instance, it's easy to find associate degree programs that are designed to only take about 15 months.
Plus, you don't necessarily need any other credentials to get started. As a medical administrative assistant, certification outside of school is optional. However, by taking the relatively quick extra step of getting certified by a third-party organization, you may increase your marketability to potential employers. And you might even earn higher pay. So after you graduate, it might be worth exploring the benefits of passing exams from certifying organizations such as:
Whatever you decide, the amount of compensation earned by people in this vocation can be very compelling, especially when you consider the relatively low barrier to entry. For example, Occupational Employment and Wage Statistics program data shows that the median medical administrative assistant salary in 2021 was $37,450.* But the highest earners in the field made over $53,630.
3. Enjoyable Variety
Health professionals who work on the clinical side of the industry aren't the only ones with fun and engaging jobs. Many medical administration specialists also experience a lot of joy in their daily work. After all, their days are often full of variety, which keeps their jobs interesting. Just look at the kinds of tasks that many of them get to take on:
Answering or reviewing office correspondence
Transcribing doctors' voice recordings
Updating and filing patients' medical records
Preparing important reports for doctors or other care providers
Scheduling appointments and making various arrangements
Answering phone calls and greeting patients
Handling office bookkeeping and processing bills and payments
Assisting with medical coding needs
If you prefer to have more direct contact with patients and medical practitioners, it may make more sense for you to look at attending a medical assisting trade school.
---
Excited About Moving Forward?
Start going over your training options right now. It's as easy as conducting a quick search based on your zip code. Use the convenient tool below to see a selection of medical administrative assistant schools in your area!
---
---
---
* Unless otherwise noted, salary information is based on May 2021 data from the Occupational Employment and Wage Statistics (OEWS) program. Job growth and average yearly openings estimates are from the Bureau of Labor Statistics and are for the 2021 to 2031 period.