ASE Certification Preparation Programs
Last Updated
Do you want to begin or enhance your career as an automotive service technician?
Your choice of training can help you prepare to successfully take the ASE certification exam from the National Institute for Automotive Service Excellence (ASE).
To pursue certification, auto technicians must have two years of hands-on work experience in the specific area they wish to be certified in. However, the ASE does make exceptions, and may waive work experience for those who have successfully completed an apprenticeship program, or a two-year associate degree program from an automotive school.
Some programs can also go a step further in preparing you to successfully receive certification by including exam preparation as part of the curriculum.
You can join the ranks of automotive technicians who are ASE Certified. It's easy to get started—simply request information from one or more of these schools!
---
---
ASE Certification Schools
Sponsored Listings


---
Automotive Service Technician
Diesel - Heavy Truck Technician
Automotive Technology
Automotive Technology with Service Management
Diesel/Heavy Vehicle Technology
Diesel/Heavy Vehicle Technology with Service Management
Bridgeport
Hamden
Waterbury
Brockton
Chicopee
Worcester
Long Beach
Rancho Cucamonga
Sacramento
Austin
Dallas/Fort Worth
Houston
Automotive Technology
Diesel & Industrial Technology
---
---
ASE Certification FAQs
What is ASE Certification?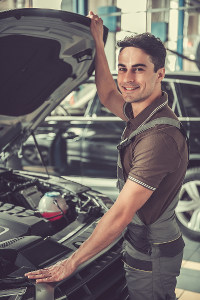 Many industries have formed organizations that provide certification to skilled workers. Certification is a way to recognize professionals that meet widely accepted standards in their skills and knowledge. In some professions, certification is a requirement for employment. In others, it is completely voluntary.
ASE certification was established by the National Institute for Automotive Service Excellence (ASE) in 1972, and is voluntary. But, according to the ASE, there are currently about 385,000 automotive professionals certified in one or more specialty areas. It provides a credential that automotive service technicians can greatly benefit from.
Why Get Certified?
Competition for the best automotive service jobs can sometimes be intense. Advancing through the industry generally requires staying up-to-date with changing technology, and demonstrating your expertise every day.
Achieving ASE certification helps mechanics stand out amongst their peers. Having a well-recognized credential displays your commitment to your profession, which can lead to better job opportunities and earning potential. And, because you must be re-tested every five years to remain certified, you gain the discipline to make sure your knowledge and skills stay current.
What is Required?
First, you must be able to prove you have at least two full years of work experience in a relevant area of the automotive service industry. That experience needs to have been full-time and hands-on. It also must match the type of certification you are trying to achieve.
The ASE does, however, allow you to substitute one or both years of required work experience if you meet certain criteria. For instance, you might only need one year of work experience if you've had two full years of relevant automotive training in high school or at a post-secondary institution. You may also qualify to substitute both years of work experience if you've completed a three- or four-year apprenticeship program, or earned an associate degree from a two-year factory-sponsored training program.
Next, you need to take at least one of the ASE's examinations. They offer different testing series depending on your area of experience and knowledge. Each series is broken down into separate exams for different skill and knowledge areas. You gain certification for only the exam areas that you pass. As a service technician for automobiles and light trucks, for example, it would be possible to become certified in suspension and steering, but fail the exam for brakes.
Written testing is conducted in the spring and fall around the country, and computer-based testing is offered in the summer and winter. The tests consist of 40 to 60 multiple-choice questions, depending on the series. If you want to get a feel for what the exams are like, the ASE offers online practice tests.
---