Entrepreneur Training Schools
By Publisher
| Published
| Last Updated
Entrepreneur training will show you how to successfully start and run a small business. By completing such a program, you could be better prepared to run a functioning business in an industry where you see great potential. And regardless of what path you choose, a concrete education is one of the most fundamental components of ensuring your business can be a complete success.
---
Education & Training
An education in entrepreneurship can teach you how to identify potential investors, write a business plan, and handle a multitude of other details related to the running of a business.
Length of Training
Training can take anywhere from one to four years.** Some specialized programs are only a few days or weeks long but do not result in an official credential.
Most Common Length of School**
(range in months)
Entrepreneurship

Business administration

Marketing

Accounting

HR management
Program Options
Community development centers and non-profit organizations frequently offer short entrepreneurial training workshops that cover the basics of business plans, marketing strategies, and bookkeeping. These programs last anywhere from a few days to a few months, but they do not lead to an official educational credential.
At post-secondary schools, entrepreneur training programs are generally offered as certificate or bachelor's degree programs.
Certificate programs can be stand-alone courses of study or add-ons to other majors. Many institutions allow students from any academic area to complete an entrepreneurship certificate as part of their degree. Some certificate programs are at the graduate level, meaning you must have a bachelor's degree in order to be admitted.
Bachelor's degree programs typically take four years to complete, although some schools offer fast-track options that allow you to finish in less time.** Business administration or management degree programs frequently offer entrepreneurship as a specialization.
---
---
Typical Courses
Entrepreneur training usually offers instruction in topics like:
Business plan preparation
Venture funding
Accounting and business finance
Product development
Business law
Organizational behavior
Strategic management
Customer relations
Skills You Can Learn
You can become adept at:
Developing a business plan
Creating marketing strategies
Testing ideas for new products or services
Making financial decisions
Managing staff
Communicating with suppliers and customers
Education & Training FAQs
What kind of education is required to be an entrepreneur?
Technically, no formal education is required to start a business. However, you will need to be familiar with the industry you want to work in. For example, it would be good to have some culinary training or experience if you want to open a restaurant. Some basic bookkeeping knowledge is also useful.
Many entrepreneurs have college educations. One survey of company founders revealed that almost all of them had bachelor's degrees, and 47 percent had a master's degree or higher.
Post-secondary entrepreneur training programs can help you gain the business expertise to develop an effective plan and see your vision come to life. But most importantly, you have to be prepared to keep learning and adapting in order to stay successful.
How many years does it take to become an entrepreneur?
You could launch a website tomorrow and call yourself an entrepreneur. However, depending on the nature of your business, the state of the market, and a host of other factors, it can take years to start seeing a profit from your venture. Success requires patience, persistence, and hard work.
---
Entrepreneur Schools
Sponsored Listings
---
---
Career Information
Entrepreneurs take on the risk of starting new business ventures. Developing a new business around a hot new idea or something you're passionate about can be both challenging and rewarding.
Career Outlook*
7% growth from 2018-2028
Median Salary
Small Business Owners
Job Openings*
Average Yearly Openings
Length of Training
Most Common Length
Work Settings
Sources
PayScale
Bureau of Labor Statistics
Earnings
It's difficult to estimate how much entrepreneurs make. According to PayScale, small business owners have median yearly earnings of $68,888. However, earnings range from $30,000 to $149,000 or much more.
Data from the Small Business Administration (SBA) indicates that self-employed people who owned incorporated businesses had a median income of $51,419 in 2017. And those who had unincorporated businesses earned a median income of $25,240.
Median Annual Wage Comparison
Job Openings & Outlook
Outlook data specifically for entrepreneurs is not available. However, the Occupational Outlook Handbook says that general and operations managers' employment is expected to grow by 7 percent between 2018 and 2028. And according to Bureau of Labor Statistics estimates, an average of 230,000 jobs will open up for general and operations managers each year over that decade.
Between 2001 and 2019, business ownership in the U.S. nearly doubled, according to a report by the Global Entrepreneurship Monitor.
And the SBA notes that the number of small business owners grew by 1.9 percent between 2016 and 2017 alone. As of 2019, there were almost 31 million small businesses across the U.S.
Key Benefits
Opportunity to follow your own path: Be your own boss and build a business around your vision.
Chance for high earnings: Entrepreneurs who cash in on a profitable opportunity can make some serious money.
Potential to fill an untapped niche: Gain the satisfaction of bringing a unique product or service to market.
What an Entrepreneur Does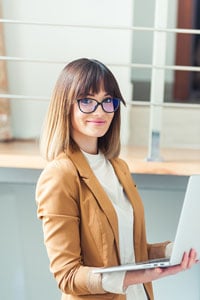 Entrepreneurs establish and operate new businesses. They take a unique or innovative idea and develop it into a product or service. Some set out to follow their long-held passions, while others seek to take advantage of what they see as a lucrative opportunity.
Entrepreneurs secure funding for their new ventures by approaching possible investors and creating a solid business plan to present to loan officers.
In terms of daily tasks, entrepreneurs do whatever is necessary to keep the business going. That means they might:
Recruit and manage staff
Create budgets and oversee financial activities
Set marketing strategies
Negotiate with suppliers
Direct day-to-day operations
Work Settings
The work settings of entrepreneurs depend on the nature of their industries. In most cases, they work in offices. But they might also work in:
Factories
Restaurants
Retail stores
Construction sites
Any other type of workplace
Career FAQs
Who is a famous entrepreneur?
Many famous people have built successful companies from the ground up. Here are just a few examples:
Bill Gates
Steve Jobs
Arianna Huffington
Mark Zuckerberg
Richard Branson
Henry Ford
Oprah Winfrey
Warren Buffett
Coco Chanel
What are the qualities of a successful entrepreneur?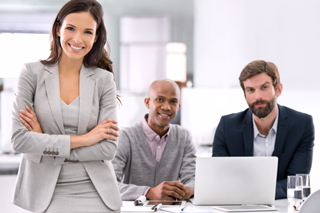 Most successful entrepreneurs are:
Passionate about their business: They love what they do and are willing to put in as many hours as it takes to make their business succeed.
Determined: They're focused on a goal and are prepared to learn from setbacks or failures.
Self-motivated: They do whatever needs to be done because they know that their business's success ultimately rests with them.
Unafraid of taking calculated risks: They don't hesitate to venture into the unknown and try something that's never been done before.
Creative and innovative: They're always looking for ways to improve and do things better than the competition, and they're willing to adapt their strategies as circumstances change.
How do I begin a startup with no money?
A lack of funds is definitely a challenge, but there are things you can do to overcome that issue:
Look for free resources. Maybe you could promote your business through a free Facebook page rather than a professionally designed website. Or maybe you could convince someone in your field to introduce you to some influential contacts in exchange for your help on one of their projects. Figure out what you need to get started and then see if there are no-cost alternatives.
Drum up cash in unique ways. Ask friends and family to invest in your business. Find a cofounder with access to capital. Or look into crowdfunding. Sites like Kickstarter and Indiegogo can help you raise cash and get free advertising at the same time.
Explore government programs. The SBA has developed partnerships with lenders to give small business owners easier access to loans. Eligibility requirements vary, so be sure to look into the details.
---
Entrepreneur Training Can Elevate Your Talents
Courses of study that include an emphasis on entrepreneurship teach people how to capitalize on their visionary ideas and pursue startup success.
---
* Outlook and openings information specifically for entrepreneurs is not available, so our figures reflect data for general and operations managers. Outlook information is from the Occupational Outlook Handbook, and job openings figures are based on Bureau of Labor Statistics projections.
** Length of training information is based on a combination of information from the Occupational Outlook Handbook, the U.S. Department of Education, and a wide sampling of relevant program lengths from about 30 individual school websites. They are a mix of public, private non-profit, and private for-profit institutions.