Substance Abuse Counselor Schools & Colleges
Last Updated
Are you a great listener that really cares about the well-being of others?
By attending one of these substance abuse counselor schools, you can learn how to help people overcome drug and alcohol dependencies so that they can put their damaged lives back together. As an addictions worker, you could play a vital and supportive role in the community by coordinating with other social workers, mental health professionals, doctors, and nurses in order to develop appropriate treatment plans and goals for people that desperately need the care.
With the right training, you can learn how to provide addictions counseling in individual and group settings. As part of your education, you can study a variety subjects related to health care, psychology, and sociology. In addition, you can sharpen your abilities in listening, keeping accurate records, resolving conflicts, forming constructive relationships, problem solving, and making good decisions in a complex social environment.
Community support and outreach workers are heroes because they help improve some of the most difficult problems that confront society. If you think you've got the empathy, social awareness, and dedication to make a positive difference in the broken lives of addicted people, then a career as a substance abuse counselor might just be your perfect fit.
Substance Abuse Counselor Career Information
---
---
Substance Abuse Counselor Schools
Sponsored Listings
---
---
Substance Abuse Counselor Career Information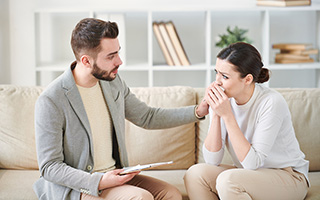 Addiction can be one of life's most difficult and heartbreaking challenges (for addicts as well as their family and friends). Recovery is often a long process full of ups and downs. It takes extreme determination and an incredibly strong support system. Luckily there are people who can help. Substance abuse counselors have one of the most challenging-yet-rewarding jobs in the health and social work fields. They help individuals (and often their loved ones) face their addictions and start on the road to recovery.
If you are interested in pursuing a career in addictions counseling, then keep reading to find out what the job description includes, what the training and certification requirements are, what the job outlook is, and a lot more.
What is a Substance Abuse Counselor?
The typical substance abuse definition states that it is a pattern in which a person repeatedly consumes a substance in a harmful way (usually related to the amount consumed or ingestion method employed). The substances (or drugs) can include, but are not limited to, alcohol, narcotics, cannabis, stimulants, hallucinogens, depressants, and even glues or paints. Often, there are underlying factors that contribute to addiction, including impulse control problems, depression, and social anxiety.
A substance abuse counselor is a compassionate and empathetic individual who dedicates his or her professional life to helping people overcome addiction. These professionals offer counseling, treatment, and support in many forms, often working both one-on-one with patients as well as in groups. Group counseling usually consists of multiple patients or a single patient with his or her family and friends.
It's important to note that the typical substance abuse counselor is not limited to just addiction counseling. In most cases, in order to successfully treat addiction, the underlying causes must first be addressed and treated. This can involve isolating and modifying problem behaviors like lack of impulse control or identifying and treating depression, social anxiety, post-traumatic stress disorder (PTSD), and other conditions.
What Does the Work Involve?
The primary duty is quite simple: help individuals overcome addiction. In practice, however, the job can be quite complex. This is because there is no concrete template for how to successfully treat addiction. Each case is unique, and counseling techniques that work for one individual may not work for another. (All people are unique and have different circumstances when it comes to addiction. From the actual substances they are abusing to the underlying causes to the specific triggers that fuel their addictions, no two patients are alike.)
That being said, most work within broad categories of treatment types. They include:
Private Counseling
Involves working one-on-one with an individual
Is usually the first step in treatment because it allows the counselor and his or her patient to get to know each other and build mutual trust
Typically allows the counselor to get a sense of how serious the addiction is and what the underlying causes are likely to be
Over time, can help the counselor and the patient determine the abuse pattern and identify what the triggers are
Some of the specific tasks performed during private counseling can include:
Evaluating physical and mental health
Evaluating the addiction and any associated problem behaviors
Evaluating the patient's willingness to overcome addiction and his or her openness to counseling and other treatments
Explaining treatment options and intended outcomes
Working with the patient to develop customized treatment goals and plans
Executing treatment and helping patients equip themselves with the skills to overcome their addictions and change negative behaviors
Helping patients identify the individuals, situations, and behaviors (triggers) which have a negative impact on overcoming their addictions
Identifying any underlying causes of a patient's addiction (e.g., depression, social anxiety, PTSD, etc.) and providing treatment in the form of an organized regimen of psychological therapy
Teaching clients how to cope with stress and personal issues in a healthy way
Helping clients rebuild their lives by reestablishing healthy personal and professional relationships
Group Counseling
Involves working with a number of people simultaneously in a group setting
Is usually held in addition to private counseling
Can include as few as two people or as many as 12 or more, but generally involves groups of six to 12 people
Usually consists of various patients who are all dealing with addiction (often called peer counseling) or one patient with his or her closest family and friends
Often used because it can allow patients to connect with peers who are going through similar circumstances and help them realize they are not alone in their struggles
Can give patients the opportunity to form bonds with their peers, which helps to alleviate feelings of isolation and loneliness
Often helps patients stay on track with their recovery because they feel more accountable for their actions when they are face-to-face with their peers on a regular basis
Some of the responsibilities during group counseling can include:
Leading or guiding group discussions
Implementing a 12-step program, such as that used by Alcoholics Anonymous (AA)
Teaching families and friends how to support someone dealing with addiction in the right way (and how to avoid becoming an "enabler" or "co-dependent")
Facilitating communication between patients and friends or family members in order to help them discuss addiction in a proactive way, reconnect, and build a healthier relationship
Helping patients communicate and build healthy relationships with peers
Crisis Intervention
Involves providing emergency counseling during a crisis situation (for example, an intoxicated individual threatening violence against himself or others)
Is used to increase stabilization and minimize the potential for psychological trauma
Is a short-term and temporary type of counseling since it is only used to try to safely defuse a crisis and prevent physical and/or psychological damage
Examples of specific responsibilities in a crisis intervention capacity can include:
Assessing the situation and determining the needs of the individuals involved
Gathering information about the individual and the situation in order to fully understand the crisis and the circumstances
Providing crisis counseling and intervention to resolve the crisis, including active listening, validation, and exploration of alternative ways of coping
Deciding on and organizing an appropriate referral once the crisis has been resolved (examples include outpatient treatment and emergency inpatient hospitalization)
In some cases, a substance abuse counselor may continue to treat the individual once the crisis has passed and emergency care has been provided (if necessary). In these cases, they will also carefully assess the patient for PTSD.
Referrals
In order to properly care for patients, counselors must work closely with a wide range of health care workers and human service professionals, including physicians, nurses, psychologists, welfare agents, family counselors, career counselors, lawyers, and social workers. In most cases, it takes coordination and cooperation between many different professionals to achieve success in overcoming addiction. Therefore, if a substance abuse counselor determines that additional types of assistance are required, they will provide patients with a referral and then work closely with all of the professionals involved in order to create and implement a comprehensive treatment plan.
Additional Roles
Aside from the areas covered above, substance abuse counselors can opt to provide alternative services. These can include developing and conducting outreach programs in order to teach the public about addiction and the destructive behaviors that can lead to addiction. Their end goal in this capacity is to help people stop addiction before it happens by teaching them how to identify and avoid destructive behaviors in themselves and others.
Another common role taken on is noncrisis intervention. This is when a counselor is brought in (often by a close friend or family member) to help an individual realize that they have an addiction and need to seek help to overcome it.
In addition, some may specialize in a particular area. They may choose to work solely with specific populations, including:
Those ordered by a judge to receive addiction counseling
Veterans
Teenagers
Disabled persons
What are the Career Requirements I Should Know About?
It is important to note that the requirements will vary depending on the specific position, setting, and state you wish to work in.
However, in virtually all circumstances, becoming an addictions counselor will require a post-secondary education and some type of certification or licensure. It is also important to note that in order to become a clinical substance abuse counselor within a private practice in any state, you must obtain a master's degree and become licensed.
With the exception of positions that necessitate a master's degree, the most common educational paths tend to be:
A bachelor's degree in sociology, psychology, or another related field (sometimes followed by postgraduate studies that concentrate on substance abuse counseling)
A bachelor's degree in social work (often called a BSW)
A certificate, diploma, or degree in substance abuse/addictions counseling
Licensure and accreditation requirements vary by state, and some may even have specific stipulations in regards to the type of education you obtain. In some cases, you may have to ensure that the program you take is accredited by a specific agency (most commonly the Council for Accreditation of Counseling and Related Education Programs). Another common requirement is obtaining a minimum number of supervised clinical hours post-graduation (typically two years or 3,000 hours).
Before choosing an educational path, you will need to first decide on the type of position, work setting, and geographic location you wish to pursue. From there, it is a good idea to contact the Association of Social Work Boards (ASWB) and your state's certification board for addiction professionals to determine the exact requirements you need to meet.
What Can I Expect to Learn at School?
Curricula will depend on the specific program and education level you choose. Diploma and certificate programs tend to be more career-focused and only offer training in the specific areas you need to gain employment. Degree programs will usually cover these same areas but may also focus on theoretical aspects as well as general education topics for a more well-rounded education.
That being said, in general, you can expect programs in this field to include training in the following areas:
Theoretical Learning
Principles of addiction
Psychology
Sociology
Principles of health care
Anatomy and physiology
Legal and ethical considerations in substance abuse counseling
Personal Development
Active listening
Conflict resolution
Problem-solving
Communication
Teamwork and coordination
Self-care and burnout prevention
Clinical Care
Pharmacology
Alcohol, narcotics, hallucinogens, stimulants, depressants, etc.
Delirium tremens ("DTs") and withdrawal symptoms
Common diseases and illnesses associated with substance abuse (AIDS, HIV, liver ailments, respiratory ailments, etc.)
Symptoms and emergency treatment of drug overdose and alcohol poisoning
PTSD, depression, and common behavioral disorders
Suicide prevention
Practical Skills
Assessment
Treatment planning and development
Goal setting
Note-taking, record-keeping, and filing
Case management
Counseling techniques for individuals and groups
Crisis intervention techniques
Non-violent intervention techniques
Relapse prevention planning
Education and awareness promotion
Most programs will also include supervised clinical, practicum, or internship opportunities within actual substance abuse counseling settings and facilities. Plus, some programs may provide you with preparation for licensing or certification examinations.
How Long is a Typical Program?
The length of training varies depending on the type of program you choose.
The shortest programs tend to be certificate and diploma programs, which generally take two years or less to complete. Online programs or training programs offered by vocational schools can sometimes be completed in under a year. Associate and bachelor's degree programs tend to be two to four years in length. Master's degree programs usually take between one and two years, but they require that you obtain a bachelor's degree first.
Some programs may provide credits for previous work experience or education, allowing you to bypass certain courses and graduate in less time.
Is Certification Required?
Some type of certification and/or licensure is usually required to work as a substance abuse counselor within any state. To pinpoint the exact requirements and specifications for the location you intend to work within, you will need to contact the Association of Social Work Boards (ASWB) and your state's certification board for addiction professionals.
In the meantime, here is some general information on certification and licensure:
Certification
Each state has a separate certification board for addiction professionals. You will need to contact your local board for specific information about certification prerequisites, examinations, and continuing education requirements.
Some general principles, however, tend to stretch across all state boards:
The purpose of certification is to ensure that you have the minimum education, skills, and knowledge to work in the field.
In order to be eligible for certification, you will typically need to meet a list of prerequisites, which can include graduating from an accredited substance abuse counselor or social work program.
To gain certification, you generally have to choose, take, and pass a specific examination in order to obtain a specific credential, such as Advanced Alcohol and Drug Counselor or Certified Chemical Dependency Specialist. Different credentials will have different prerequisites.
Once you have obtained certification, you will need to pursue continuing education (CE) in order to keep your certification current and valid. CE requirements vary by state.
Various professional organizations also offer substance abuse counseling certification if you wish to obtain further credentials beyond state board-specific certification. Some examples are the Commission on Rehabilitation Counselor Certification and the National Board for Certified Counselors. This type of certification isn't required by law to work as an addictions counselor, but it can help you obtain an edge in the eyes of potential employers.
Licensure
The ASWB is a non-profit organization comprised of state boards. Each state has a separate board which is considered to be a member of the ASWB. State boards are responsible for creating and enforcing licensing requirements within their jurisdictions, but the ASWB is responsible for creating and maintaining licensing examinations, continuing education programs, and other resources to be used by all member boards (the only exception is California, which uses its own state-specific licensing examination).
Although the specific prerequisites and stipulations for licensure vary by location (or member board), the general process is the same across all boards (except California):
An application must be filled out and sent to your local board (usually along with any associated fees).
Once your application is received and processed (which can take upwards of a month), you will be contacted and notified of whether or not you have been approved to register for the exam.
If you are approved, you can proceed with the registration process for taking the licensure exam. This is done through the ASWB and can be done over the phone or online.
Once your registration is complete, you need to wait a minimum of one day. Then you are free to call your nearest test center and schedule your exam. How soon you can take the exam depends entirely on the availability of your specific test center.
The exam consists of 170 multiple choice questions (of which 150 count toward your exam score). You will be provided with four hours to complete the exam.
After you have taken the exam, the ASWB will determine your score and pass it on to your local board (which is generally done within two weeks). If you have passed, your local board will issue your license (which generally takes another week or more).
Once you have received your license, you will need to take part in continuing education (CE) in order to keep your licensed status. CE requirements vary by board in terms of the required minimum hours and the type of courses you must take.
What is the Average Salary?
The salary that you can expect to earn will depend on numerous factors, such as:
What area of the industry you work in
The number and type of hours you work (full-time, part-time, contract, days, nights)
The state and city you work in
The level of education you have obtained
The amount of experience you have working in the field
That said, according to U.S. estimates from 2020:
The median annual wage was $47,660.
The top 10 percent earned over $78,700.
The lowest 10 percent earned $30,590.
The same survey results showed that median annual wages vary quite widely depending on the setting of employment. Here are the annual median wages for the top sectors in which addiction counselors were employed:
Local and state government: $54,490
Offices of other health practitioners: $47,980
Family and individual services: $47,580
Outpatient care centers: $46,380
Residential facilities: $40,350
What is the Employment Outlook?
The outlook is fairly bright because employment in this field is projected to increase by 23 percent over the 10-year period between 2016 and 2026. This is considerably higher than the national growth average projected for all occupations during this same period, which is seven percent.
This growth is likely due to various factors, including:
A growing trend for the criminal justice system to sentence those who commit drug-related crimes to mandatory addiction counseling
An expected rise in the number of people who will seek treatment
Because the field is expected to grow, it is thought that organizations like mental health centers, detox centers, and halfway houses will be looking to hire a higher number of substance abuse counselors to meet the demand. However, it is important to note that, although the overall growth rate is expected to be 22 percent, the rates for individual sectors of the field will vary.
Where Do Substance Abuse Counselors Work?
They can be found within many different settings. Some of the most common are:
Substance abuse clinics
Detox centers
Recovery homes
Hospitals and health clinics
Private practices
Community mental health clinics
State and local government agencies
Schools, colleges, and universities
Nursing homes
Military bases and military hospitals
What are Useful Qualities to Have to Work in This Field?
Addictions counseling is not, by any means, easy. Educational or professional credentials and licensing aren't enough to ensure success in this field. It takes a certain type of person and specific attributes to make it as a substance abuse counselor. Some of the most important personal qualities you need to possess include: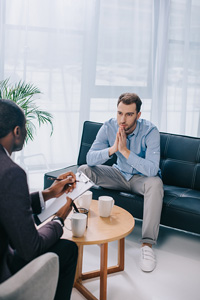 Compassion and empathy: Overcoming addiction is an incredibly hard obstacle, which means that patients need to feel that you understand what they are going through and have their backs no matter how many times they slip up. That being said, you also need to be able to stay professional and interact with them as a patient, not as a friend.
Perception and grit: It's commonly known that addiction can change people. Even the nicest and most honest people can become angry, sneaky, defensive, and emotionally abusive or physically violent when in the grip of an addiction. Therefore, although compassion and empathy are important, it is equally important for you to have the ability to see through a patient's lies as well as the backbone to stand up to them when they display negative behaviors or actions. So although you don't need to know how to overcome shyness completely in order to excel in an addictions counseling career, you do need to be able to assert yourself when necessary.
Tact and honor: In some cases, the root cause of an addiction might be a past trauma such as abuse or rape. In order to help patients move past a traumatic event, they not only need to trust you without question, but they also need to feel that they can speak to you openly without judgment.
Humility: When it comes to beating addiction, it often takes the efforts of an entire team of professionals from various areas of the health care and social services fields. Therefore, it is important that you don't let ego cloud your judgment and you always do what's best for your patient. You need to have the ability to assess when a patient requires help from an outside source (for example, a physician, a psychiatrist, or a social worker) and the humility to ask for outside help without hesitation.
Problem-solving ability: Since every patient is unique, it's safe to say that what works for one patient may not work for another. Therefore, you need to have the ability to collaborate with patients in order to create innovative solutions to any problems or difficulties they are experiencing.
Self-awareness: Addictions counseling can be emotionally draining and is known to have a high rate of burnout. To last in this field, you need to have a high level of self-awareness in order to judge your emotional state and energy level and accurately adjust your workload.
What are Some Good Reasons to Pursue a Career in Addictions Counseling?
Few experiences are as emotionally fulfilling as knowing that you were a key part in helping someone overcome an addiction.
Aside from helping in the actual physical recovery from an addiction, you can play an important part in helping patients rebuild their lives by reconnecting with family and friends, rejoining the work force, and more.
Since the job often requires you to work as part of a team with other health care and social services professionals, you will have the chance to meet and interact with people who have similar values and interests and share your passion for helping others.
Substance abuse counseling can be a relatively high-paying profession.
What Should I Do Next?
Check out the available schools and programs listed above and ask for more specific information about the options and requirements.
---