---
---
3 Reasons to Choose a Commercial or Industrial Maintenance Career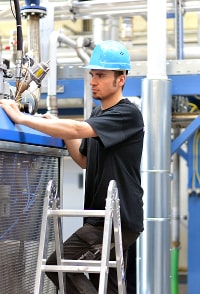 This area of the skilled trades is full of opportunities, especially for people with some formal training. And it involves the kind of work that can be very satisfying on both a mental and physical level.
That might be why so many Americans within this field decide to maintain long careers in it. According to the Occupational Outlook Handbook (OOH), about 506,900 people were employed as millwrights, industrial machinery mechanics, or industrial maintenance workers in 2018. And if you also include the field of commercial or general building maintenance, you can tack on an additional 1.5 million skilled tradespeople.
Plus, some of the main industries that these workers contribute to are facing shortages of skilled workers. As just one example, consider the manufacturing sector. Between 2018 and 2028, about 2.4 million manufacturing positions may be left unfilled due to a lack of qualified workers.
Here are a few other encouraging facts about this field:
1. The Job Possibilities Are Very Diverse
It's worth taking notice of the commercial and industrial maintenance sector's appealing variety. From the different types of roles you can have to the variety of possible work settings to the daily assortment of interesting job tasks, careers in this vocational area are known for their varied opportunities. For example, consider these popular and worthwhile roles:
Millwright—People in this trade mostly go from job site to job site, spending many days or weeks at each one. They help assemble, calibrate, maintain, take apart, or move large industrial machines such as those used for assembly line manufacturing, offset printing, heavy construction, or power generation.
Industrial machinery mechanic—This job is all about keeping big, complex machines in excellent working condition (usually at just one general worksite). Day-to-day tasks involve things like carefully observing equipment operation, performing preventive maintenance, diagnosing and troubleshooting problems, and making necessary repairs.

It's a job that often requires using high-tech skills related to electrical and electronics equipment such as programmable logic controllers and other computerized systems. That's because industrial machines, especially those used in manufacturing, increasingly incorporate a lot of automation technology.
Facility manager or commercial maintenance specialist—In this role, daily tasks are often particularly varied. They can include a range of small or large building maintenance projects such as fixing damaged electrical switches, heating and cooling systems, plumbing fixtures, or big appliances and other mechanical equipment. They can also involve tasks related to routine upkeep, repair-cost estimation, supply inventory, and safety and fire prevention.

Plus, the potential work settings are just as diverse. Schools, hospitals, shopping malls, factories, government buildings, sports venues, and large office towers are only a few examples.
2. Fast Job Growth Is Expected
The OOH says that employment within the industrial maintenance field is likely to increase at an average rate between 2018 and 2028. For instance, jobs for millwrights are projected to rise in number by nine percent. And openings for industrial machinery mechanics are anticipated to grow by five percent.
That growth will likely be due to serious shortages of qualified maintenance technology workers in certain regions of the U.S. A lot of manufacturing is returning to America, but it is becoming more and more automated. So it's a sector that requires plenty of industrial mechanics with the high-tech skills to install, fix, operate, maintain, and disassemble sophisticated machines that are controlled by computers.
3. You Can Earn Excellent Pay and Benefits
Because of the strong demand for industrial and commercial maintenance pros, the potential exists for making a very good income. Plus, it's possible to find both union and non-union positions that offer terrific benefits like health care, paid vacation time, life insurance, and retirement-saving programs. According to the Occupational Employment Statistics program, average annual pay and top-end earnings for full-time work in this field broke down this way in 2018:
Millwrights—$56,250 / $80,660 or more
Industrial machinery mechanics—$54,000 / $78,190 or more
Building maintenance technicians—$41,020 / $62,400 or more
---