Commercial & Industrial Maintenance Training
By Publisher
| Last Updated
With facilities management or industrial maintenance training, you can start becoming the kind of skilled pro who keeps factories, plants, and production facilities functioning effectively. This area of the skilled trades is full of good-paying opportunities, especially for people with some formal training. And it involves the kind of work that can be very satisfying on both a mental and physical level.
---
Education & Training
While a high school diploma is enough to get started in industrial or facilities maintenance, you can improve your odds of success by completing some post-secondary training.
---
---
Industrial Maintenance Schools
Sponsored Listings
---
---
Length of Training
Most commonly, it takes 12 to 24 months to complete a facilities or industrial maintenance program. However, a small number of programs can be completed in less than a year.**
Most Common Length of School**
(range in months)
Welding

Electrical

HVAC technology

Diesel technology

Facilities/industrial maintenance
Program Options
Certificate programs are the shortest option. Some are designed to help you learn the basics of the field and prepare for an entry-level position. Others offer targeted training to workers who already have some maintenance experience and want to expand their skills in specific areas.
Diploma and associate degree programs offer more comprehensive training and can take up to two years to complete.** They often cover the same technical areas, but associate degree programs usually involve more general courses like math or communication.
Apprenticeship programs can last anywhere from three to five years.** Millwrights and electricians commonly go this route, but programs are also available for mechanics. Each year, apprentices complete a mix of classroom instruction and paid on-the-job training. Post-secondary training is not usually required before beginning an apprenticeship, but it can make you a stronger candidate. You can look for available opportunities through the U.S. Department of Labor.
---
---
Typical Courses
Training courses frequently cover topics such as:
Blueprint reading
AC and DC circuits
Motor controls
Robotics
Programmable logic controllers
Fluid power and piping systems
Hydraulics and pneumatics
Instrumentation and process control
Rigging
Welding and metal cutting
Industrial wiring
Basic plumbing
Basic carpentry
HVAC systems
Precision machining
Forklift operation
National Electrical Code
Technical math
Troubleshooting techniques
Skills You Can Learn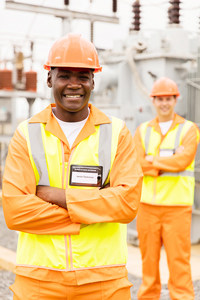 Depending on the program you select, you could start learning how to:
Read and understand blueprints, diagrams, and schematics
Calibrate equipment
Monitor machine operations
Diagnose and repair plumbing, heating, cooling, electrical, or mechanical systems
Write programmable logic controller (PLC) programs to control automated processes
Install and troubleshoot PLCs
Use industrial-quality equipment to install or modify components and systems
Perform preventive maintenance
Follow safe work practices
Licensing & Certification
Some types of maintenance activities require licensing at the state or local level. Each jurisdiction has its own regulations, but people who perform electrical, plumbing, or HVAC work are often subject to special requirements. You can research the rules in your area using CareerOneStop's license finder.
Anyone who services equipment that uses refrigerants must obtain Section 608 certification. That requires passing a written test administered by an organization approved by the Environmental Protection Agency.
Other certifications are not legally required but can make you more attractive to potential employers. Relevant options include:
In addition, multiple certifications are available from organizations such as:
Education & Training FAQs
What's required to begin an apprenticeship?
Apprentices generally must be at least 18 years old and hold a high school diploma, GED, or equivalent credential. You may also need to pass an assessment test and/or a background check and drug screen.
Some apprenticeships are open to candidates with no previous education or experience. However, others prefer to take on candidates who have college-level training or at least a year of maintenance experience.
Can I take an online course in this field?
Because industrial maintenance is such a hands-on trade, most programs are only offered on campus. However, it's possible to find facilities management programs that are offered online or in a hybrid format. Also, some workforce development programs offer online training options for employers who want to help their maintenance workers upgrade their skills.
What can I do to prepare for a program?
Taking high school courses related to math, science, engine repair, computer science, or electronics is a good start. In addition, any experience or training in welding, blueprint reading, and mechanical drawing will serve you well.
---
---
Career Information
If you like the idea of hands-on, detail-oriented work that involves plenty of problem-solving, a career in facilities or industrial maintenance may be a good choice.
Career Outlook*
6.3% growth from 2021 to 2031
Median Salary*
(Average Median)
Job Openings*
Average Yearly Openings
Length of Training
Most Common Length
Work Settings
Sources***
U.S. Bureau of Labor Statistics
U.S. Department of Education
Earnings
According to Occupational Employment and Wage Statistics (OEWS) program estimates, these are the median annual earnings for people who work in careers within facilities and industrial maintenance:***
Based on the above figures, the average median wage for industrial maintenance specialists is $55,441.
Electro-mechanical & mechatronics techs

Electricians

Millwrights

Industrial machinery mechanics

Machinery maintenance workers

General maintenance & repair workers
Job Openings & Outlook
Over the 2021-to-2031 period, occupations in facilities and industrial maintenance are expected to experience a 5.9-percent growth in employment, according to Bureau of Labor Statistics (BLS) projections.***
That figure is a calculated average of the projected growth rates for each of the occupations below:
Electricians
Electro-mechanical and mechatronics techs
General maintenance and repair workers
Industrial machinery mechanics
Machinery maintenance workers
Millwrights
Taken as a whole, the occupations above are expected to yield an average of 294,300 annual job openings over that 10-year span.***
Key Benefits
Incredible variety: Your training can help you develop skills in an enormous range of areas, including plumbing, welding, electrical work, and more. That means the types of projects you can work on are extremely diverse. For instance, on any given day, you might solve issues related to a blast furnace, electric motor, air compressor, or robotic arm.
Good earning potential: Many occupations in this field feature median wages that are far above the median wage for U.S. workers overall.
Stable demand: Manufacturing and production machinery and facilities are continually becoming more complex, and repairs must be done on-site. So the need for skilled workers should continue.
What a Facilities or Industrial Maintenance Specialist Does
People who pursue careers in these fields focus on keeping machines, equipment, and facilities in optimal condition. They often work in sectors like manufacturing, food processing, offset printing, heavy construction, water treatment, and power generation.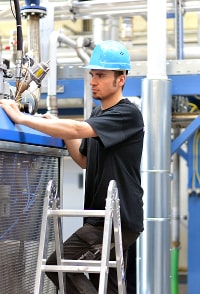 Depending on their specific role, they might be responsible for:
Reading and interpreting blueprints and technical manuals
Setting up machines and taking them apart when they need to be repaired or moved
Using winches, hoists, forklifts, or other equipment to transport machine parts to the appropriate location
Installing, maintaining, and repairing things like:

Compressors
Pumps and piping
Valves
Turbines
Conveyor systems
Industrial robots
Hydraulic lifts
Gear trains and drives
Electrical circuits
Heating and cooling systems

Observing equipment operation
Analyzing vibrations and using computerized diagnostic tools to pinpoint problems
Repairing or replacing worn-out or defective components
Performing preventive maintenance such as calibrating or adjusting equipment
Cleaning and lubricating machinery
Updating maintenance records
Work Settings
Maintenance team members can often be found in settings like:
Factories
Power plants
Shipyards
Refineries
Mining and construction sites
Hospitals
Hotels
Schools
Shopping malls
Sports venues
Office buildings
Careers
The maintenance workforce encompasses a few different occupations, including:
Millwrights: Assemble, calibrate, maintain, take apart, or move large industrial machines. Millwrights often move from job site to job site, spending many days or weeks at each one.
Industrial machinery mechanics: Carry out preventive maintenance and corrective repairs on big, complex machines in production plants and other settings. These mechanics are usually based at one site.
Machinery maintenance workers: Perform entry-level tasks like lubricating machinery, testing a machine's performance, doing minor repairs, and determining if major repairs requiring a mechanic are needed.
Industrial electricians: Install, test, troubleshoot, and repair electrical equipment and controls in manufacturing and production facilities.
Electro-mechanical technicians: Draw upon knowledge of both mechanics and electronics to install, repair, and maintain automated systems and machinery.
Facility or commercial maintenance specialists: Work on a range of small or large building maintenance projects, such as fixing damaged electrical switches, heating and cooling systems, plumbing fixtures, or big appliances and other mechanical equipment.
Career FAQs
How are industrial maintenance and facilities maintenance related?
Both fields are concerned with troubleshooting and fixing equipment. However, while industrial maintenance workers tend to concentrate on machinery, facilities maintenance technicians often focus on the physical infrastructure of a commercial or industrial building. They take care of the basic repair and routine upkeep of things like electrical, heating, cooling, piping, and fire-prevention systems.
What is mechatronics all about?
Mechatronics combines mechanics, electronics, control systems, and computer technology. Students of this interdisciplinary subject learn how to install and service complex computer-controlled mechanical systems in industrial plants and production facilities. Many programs include specific training in mechatronics.
Which occupations within this field have the most promising outlooks?
BLS projections show that within this sector, industrial machinery mechanics are expected to have the most rapid rate of employment growth from 2021 to 2031. Here are the top three careers in terms of projected job growth:***
Industrial machinery mechanics: 16 percent
Electricians: 7 percent
Millwrights: 5 percent
---
* The average median salary is based on the average of OEWS estimates for millwrights, industrial machinery mechanics, machinery maintenance workers, electricians, electro-mechanical and mechatronics technologists and technicians, and general maintenance and repair workers. Employment growth is based on the average of BLS projections for the same occupations. Job openings are based on BLS projections and represent a cumulative total for the same occupations.
** Length of training information is based on a combination of information from the Occupational Outlook Handbook, the U.S. Department of Education, and a wide sampling of relevant programs from about 30 individual school websites. They are a mix of public, private non-profit, and private for-profit institutions.
*** Unless otherwise noted, salary information is based on May 2021 data from the Occupational Employment and Wage Statistics (OEWS) program. Job growth and average yearly openings estimates are from the Bureau of Labor Statistics and are for the 2021 to 2031 period.