Physical Therapy Assistant Schools
Last Updated
Physical therapy is an important part of the healing process after an injury. It also helps people who suffer from debilitating conditions and diseases. Physical therapy assistant schools offer targeted training that will show you how to help provide relief to people in need of relief.
Throughout your schooling, you can explore the functions and workings of the human body. As a successful graduate, you should possess the knowledge needed to follow treatment orders and plans of care laid out by a supervising physiotherapist. You could also educate patients regarding what they should or should not be doing in their daily routines. Your acquired skill set will put you to work within hospitals, private clinics, and other interesting environments!
Physical therapists might get a lot of the credit, but physical therapist assistants (PTAs) often carry out most of the treatments. Read the article below to learn what makes physical therapy such a satisfying vocation, the requirements of the profession, how to start pursuing a career in this deeply rewarding field, and a lot more.
And to get started immediately, just ask for information from the schools that interest you!
Physical Therapist Assistant Career Information
---
---
Physical Therapy Assistant Schools
Sponsored Listings
Fort Lauderdale
Fort Myers
Jacksonville
Lakeland
Melbourne
Miami
West Palm Beach
Physical Therapist Assistant
---
---
Physical Therapist Assistant Education and Job Information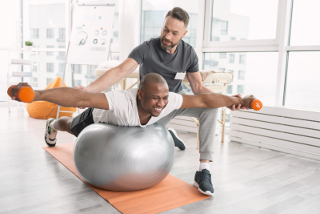 We all want to experience a good quality of life. But accidents happen, we age, and medical issues can arise that challenge our well-being. We might find ourselves in need of help from professionals who specialize in restoring and promoting healthy physical movement.
Physical therapists and physical therapist assistants are outstanding examples of such professionals, utilizing modalities of physical therapy to restore quality of life to those in need of rehabilitation.
Physical therapy is:
The treatment of injuries and other health problems through the use of methods such as therapeutic exercises, deep massage, and electrical stimulation
Used to help patients who have undergone surgery return to a normal level of physical function
Often included in treatment plans aimed at preventing the loss of mobility or the need for surgery
Used to treat patients with a wide variety of disabilities and medical conditions such as head injuries, arthritis, back pain, bone fractures, dislocations, burns, carpal tunnel syndrome, osteoporosis, and cerebral palsy
Physical therapists evaluate patients, come up with plans for treatment, and frequently delegate the actual task of carrying out those treatments to the qualified professionals under their supervision.
What is a Physical Therapist Assistant?
Physical therapists might call the shots, but they often rely on the hard work, dedication, and compassion of another type of practitioner. A physical therapist assistant, or PTA, is:
Someone who works directly with patients to reduce their pain, restore their functional movement, prevent disability, or promote their ability to move by carrying out prescribed treatment plans and techniques.
Different than a physical therapy aide (PT aide) or technician.
Different than an occupational therapy assistant. (Although people often get confused when thinking about occupational therapy vs. physical therapy, occupational therapy is a completely different career field.)
What Does a PTA Do?
The work can be quite varied since they carry out the bulk of hands-on physical therapy treatments. PTAs often treat several different patients—each requiring different treatments—during the course of a typical day.
Depending on their work settings, physical therapist assistants (under supervision) interact directly with patients and perform treatments such as:
Therapeutic physical exercises
Functional training (exercises for helping patients get back to performing their day-to-day activities)
Mechanical traction (for treating neck or lower back pain)
Balance and gait training (for helping patients re-learn how to stand and walk)
Electrotherapy (using electrical stimulation to relieve pain, build strength, and promote healing)
Therapeutic ultrasound (using sound waves to reduce pain or promote healing in muscles or joints)
Beyond carrying out the treatment plans designed by a physical therapist, a PTA's responsibilities can also include:
Accurately documenting each patient's treatment and progress
Making necessary modifications to a specific treatment to ensure a patient's safety, comfort, or positive outcome
Providing emotional support to patients as well as their families and caregivers
Helping patients learn how to use or adapt to life with crutches, wheelchairs, prosthetics, orthotics, and other assistive devices
Responding to a patient's emergency medical situation
Assisting with administrative activities such as billing and coding, ordering supplies, and scheduling appointments
Where Can a PTA Work?
This occupational field is full of many possible work settings and arrangements. There are opportunities to work the regular 9 to 5, more flexible hours, or even on a short-term contract basis.
Employers that utilize PTAs include:
Hospitals—for short-term, acute care and post-surgical rehabilitation of patients
Private outpatient clinics—working primarily with patients who have orthopedic or neuromuscular conditions
Skilled nursing facilities—treating mostly elderly patients in nursing homes or other long-term care or rehabilitation settings
Home health agencies—traveling to different patient residences or necessary locations to provide treatment
Schools—assisting children with disabilities
Sports and fitness centers—promoting healthy lifestyles and helping clients prevent or recover from injuries
Hospices—helping to provide the best quality of life possible for patients nearing death due to incurable disease
Research facilities—assisting in research aimed at growing the field's body of knowledge as well as improving patient outcomes
What are the Perks of the Career?
This is a healthcare vocation from which many people derive tremendous personal satisfaction. In fact, you probably won't find too many PTAs who dislike their jobs.
There are many upsides to being a physical therapist assistant. Here are some of them:
Due to the high demand for PTAs, along with an increasingly older population, there is no shortage of jobs.
It provides the ability to make a truly positive difference in the lives of other people.
The variety of possible work settings enables them to have career mobility and make meaningful changes without having to change occupations.
Meeting and getting to know all the people they help frequently gives PTAs a strong sense of fulfillment.
Compared to nurses, they typically report experiencing far less stress.
Depending on the employer and work setting, a PTA can often choose to work flexible hours in order to accommodate family life.
Long (12-to-14-hour) shifts are uncommon.
What is the Typical Salary?
The typical salary is one of the highest among careers that only require an associate degree. PTAs generally earn good wages for the relatively short amount of time it takes to get an education in the field. In fact, most also work for employers that provide benefits such as vacation and health insurance.
Pay will depend on position, education, experience, geographic location, and work setting. But according to US estimates, the median wage was $61,180.* And the top 10 percent of earners made $80,170 and up.
What are the Requirements for this Occupation?
At minimum, you'll have to earn an associate degree in the field. Here are the other things you should know about the requirements for a career in the field:
All states require licensure or certification of PTAs.
In order to be awarded a license or certificate to practice as a PTA, you must pass the National Physical Therapy Exam (NPTE).
Other requirements vary from state to state, but you may have to pass a state exam in addition to the NPTE. You may also have to earn continuing education credits in order to maintain your PTA license or certificate.
How Can I Become a PTA?
Post-secondary training is an essential part of the journey. It all starts with your schooling.
Here are some things to consider about the education you'll need:
Choosing a CAPTE-accredited associate degree program is important since it is a prerequisite for taking the mandatory National Physical Therapy Exam (NPTE).
At many colleges, particularly the public ones, you will have to meet pre-admission course requirements before being accepted into a physical therapist assistant program. These can include courses in subjects such as anatomy and physiology, algebra, introductory psychology, and English.
Many PTA schools require that you accumulate a certain number of hours of observation, volunteer, or paid clinical experience in at least two different physical therapy settings before you can gain admittance to a program.
You may have to pass a test of basic academic skills (math, reading, writing, science) prior to admission to a PTA program.
It can also be beneficial to visit a variety of physical therapy facilities. Contact nursing homes, outpatient clinics, and hospitals and indicate that you are a prospective PTA student. Ask them if you can observe or job shadow the physical therapist assistants working there, or volunteer to work as a physical therapy aide.
Contacting physical therapy facilities is also a good starting point if you are wondering how to become a physical therapy aide (PT aide). Many places will be happy to accommodate you if they know that you are planning to pursue an education to become a PTA. In some cases, you might be asked to sign a confidentiality agreement and get it notarized first (in order to protect patients' privacy).
In addition, any skills in office management or medical billing and coding that you learn or accumulate can make you more employable once you start looking for work as a licensed PTA.
What is the Cost of Training?
The cost varies significantly depending on factors including the type of school you choose, where the school is located, and the specific degree you hope to earn. The best way to find out how much you can expect to pay for your education is to contact the schools with programs that interest you and inquire directly about tuition costs.
Most schools can help you find out if you qualify for financial assistance in the form of loans or grants from the federal government. Many states also offer financial aid to older workers who need to retrain for a new career. And some professional organizations, such as the American Physical Therapy Association (APTA), provide annual scholarships to outstanding PTA students who are also members.
What Will My Education Involve?
PTA students need to learn how to communicate effectively with different types of people and how to perform the duties of a physical therapist assistant with safety and ethics in mind. In order to help you absorb information and put what you learn into practice, a PTA education usually includes classroom learning, as well as hands-on training in different clinical settings.
Programs typically include courses in subjects such as:
Anatomy and physiology
Exercise physiology
Biomechanics
Kinesiology
Neuroscience
Clinical pathology
Behavioral sciences
Communication
Ethics
The hands-on, practical portion of training usually lasts about 16 weeks (full time). It is an essential component that includes working in actual treatment facilities as well as training in CPR and first aid.
What is the Job Outlook?
Physical therapist assistants are in high demand, and that is expected to continue since they are part of one of the most rapidly expanding occupations in the U.S. Employment of PTAs is projected to increase by 26 percent from 2021 to 2031.*
Increasing demand for physical therapy services from aging baby boomers is a big reason for the bright outlook. Other reasons include the fact that medical advances are helping more trauma victims and people born with defects and disabilities survive. Such patients frequently require ongoing treatments.
The best prospects for employment (and best pay) will likely continue to be where the elderly get treated most. Opportunities will vary from region to region, but some of the best settings to look for a PTA job include:
Rural areas
Skilled nursing facilities and long-term care centers
Home healthcare agencies
Hospitals
Can a PTA Become a Physical Therapist (PT)?
About one in 10 PTAs pursue additional education to become licensed PTs. Among other steps, the process requires that you earn a Doctor of Physical Therapy (DPT) degree.
---
Where Can I Begin My PTA Training?
Find a physical therapist assistant program in your area by putting your zip code into the easy search tool below!
---
---
* Bureau of Labor Statistics, U.S. Department of Labor, Occupational Outlook Handbook, https://www.bls.gov/ooh/. Some careers listed may be part of a combined occupation profile (visited August 8, 2023).