HVAC Certification: Why It's Important and How to Get It
By Publisher
| Last Updated May 18, 2022
HVAC certification is proof that a technician or engineer is a highly skilled and trustworthy professional. In a trade necessary for safe, temperature-controlled air distribution, HVAC technicians are likely to stay in demand for the foreseeable future, and certification ensures you can take advantage of this demand.
Did you know that the U.S. identified HVAC as one of the few sectors declared "essential" during the height of the global pandemic? Indoor air quality, vaccine distribution and storage, virus containment, and data center temperature control all fall under the umbrella of the HVAC profession. So, this profession is a smart choice for someone who wants job stability. Plus, there's good money to be made as a skilled and certified HVAC technician.
HVAC (an acronym for heating, ventilation, and air conditioning) requires a high school diploma, technical education, and certification. If you're interested in learning how to install furnaces, air conditioning systems, heat pumps, and more, a career in HVAC can offer rewarding work in changing environments, a steady flow of good income, and job security. The U.S. Bureau of Labor Statistics predicts a growth rate of 5 percent for HVAC technician jobs and more than 40,100 job openings each year through 2031.*
---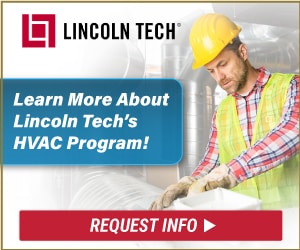 ---
Why get HVAC certification?
Certification indicates training beyond the basics in any profession. Getting certified in a particular area shows a third-party organization tested the knowledge and skills of the professional and attests to their achievements.
HVAC certification offers a seal of approval indicating the tech knows what they are doing. So, getting certified allows you to be more competitive in an already tough job market, show your competence, and indicate you meet internationally agreed-upon standards in the field.
Which HVAC certification is best?
There are several different certifications available in the HVAC industry. Some are more general in nature, and some are highly specialized. Choosing the right one for you will come down to what types of specialization or training you want to pursue.
NATE HVAC Certification
NATE is a coalition between the U.S. Environmental Protection Agency (EPA) and the American Society of Heating, Refrigeration and Air-Conditioning Engineers (ASHRAE). NATE certification is the most common HVAC certificate and one of the most well-respected certifications for HVAC professionals.
To qualify for NATE HVAC certification, techs must pass a test showing their knowledge of general HVAC topics, as well as a minimum of one specialized test about installation or service, such as air conditioning systems, gas or oil heating, and HVAC system efficiency. NATE requires its certified techs to have follow-up training and testing every two years. Technology changes rapidly, and NATE wants its technicians to stay relevant.
NATE offers three levels of HVAC certification:
Heating & Cooling Support, designed for techs with six months to one year's experience
Professional Level, requiring two years of professional experience
Senior Level Efficiency Analyst, for those with five or more years of experience
ASHRAE HVAC Certification
ASHRAE, founded in 1894, boasts more than 50,000 members worldwide. ASHRAE also offers stand-alone HVAC certifications outside of its alliance with NATE. These specialized certifications include:
BCxP—Building Commissioning Professional Certification
BEAP—Building Energy Assessment Professional Certification
BEMP—Building Energy Modeling Professional Certification
CHD—Certified HVAC Designer
HBDP—High-Performance Building Design Professional Certification
HFDP—Healthcare Facility Design Professional Certification
OPMP—Operations and Performance Management Professional Certification
ASHRAE's HVAC certifications are approved by the American National Standards Institute (ANSI). ANSI is a non-profit organization coordinating and administering U.S. voluntary standards and conformity assessments.
Refrigeration Service Engineers Society Certification
RSES offers specialized HVAC certifications, including EPA Section 608, commercial air conditioning, commercial refrigeration, heating, and HVAC-R (refrigeration) electrical.
EPA HVAC Certifications
The U.S. Environmental Protection Agency (EPA) requires certifications for HVAC techs working with refrigerants. There are three levels of HVAC certification from the EPA:
Type I—EPA Section 608 certification for techs working on stationary HVAC equipment
Type II—EPA Section 609 certification for techs working on automotive air conditioning
Type III—EPA Section 608 certification for techs working on equipment using a low-pressure refrigerant
Universal—Anyone holding all three of these EPA certifications
Only techs with EPA HVAC certifications can legally buy, use, handle, and dispose of refrigerants.
Refrigerating Engineers and Technicians Association (RETA)
If you're seeking certification in industrial refrigeration, check out RETA. Their specialized HVAC certifications include:
CARO—Certified Assistant Refrigeration Operator for entry-level workers
CIRO—Certified Industrial Refrigeration Operator
CRST—Certified Refrigeration Service Technician
CRES—Certified Refrigeration Energy Specialist
RAI—RETA Authorized Instructor
HVAC Excellence Certification
HVAC Excellence was founded in 1994 to ensure HVAC technicians are competent and meet ongoing standards. This certification is offered by The ESCO Group, an organization devoted to training and certifying HVAC pros. ESCO claims to offer "stackable" certifications designed to meet the educational and training needs throughout an entire career. These HVAC certifications include:
Student Outcome Assessments for high school students completing HVAC training
EPA Section 608 and 609 Certifications
Employment Ready Certification for new techs not yet fully certified in HVAC Excellence
Professional Level Certifications for techs with two or more years of experience
Master Specialist Certifications for those with three or more years of experience
Specialty Certifications ranging in topics from resident heat load analysis to green awareness to conducting residential heat analyses
HVAC Excellence also offers credentialing for HVAC pros transitioning into teaching or proctoring test results.
ACCA's HVAC Quality Installation Standard
The Air Conditioning Contractors of America (ACCA) is a national trade association serving the HVAC industry. They administer the HVAC Quality Installation (QI) standard, which can be earned in residential or light commercial HVAC design. Some of the skills tested include the use of HVAC-specific software, load calculations, and duct design.
State and local licensing
Depending on where you live, you may have to be licensed by your state and sometimes county or municipality. These licenses certify a tech is qualified to practice HVAC professionally and safely.
The following states do not require licensing:
Arizona
Colorado
Kansas
Indiana
Missouri
New York
Vermont
Wyoming
While these states don't require HVAC techs to be licensed, most cities and counties in those states do.
It's a safe assumption that if you don't reside in one of the above states, you'll need both a state and a local license, and you will likely need to take licensing exams.
---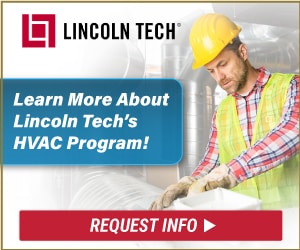 ---
Where can you take HVAC training?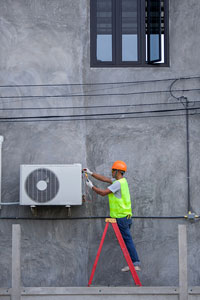 There are various ways to get properly trained as an HVAC tech. Let's look at the most popular options:
Community college
One of the less expensive routes to getting good HVAC training is at a community college. Armed with an associate degree, an HVAC tech will be more marketable than someone with only a high school diploma. Most offer online classes.
Trade school
Many trade schools offer HVAC training. These can range from non-profit trade schools designed to give people a step up to a skilled trade to privately held for-profit technical colleges. Some may also involve HVAC apprenticeship programs that offer practical experience. A training program can last between six months and three years depending on the school. Many offer online HVAC programs as well.
Getting your training at an HVAC trade school offers some unique benefits worth considering. These programs are designed to get you trained and into the workforce as quickly and successfully as possible. This means they often offer more flexibility in scheduling options and learning formats, more assistance with career searching, and more hands-on training working closely with instructors.
HVAC training for military veterans
The U.S. Department of Veterans Affairs (the VA) provides several different benefits for veterans. This benefit can cover up to 100 percent of tuition for a community college, coverage for books and fees, and a monthly housing allowance.
The program is popular—one community college counts 348 veterans attending via the GI Bill, compared to total attendance of 9,544.
Another veterans' benefit includes the VA covering the costs of NATE certification. Survivor benefits for bereaved spouses and children also include tuition assistance.
When investigating your educational options, be sure to ask about whether HVAC certifications are included.
Additional FAQs
What is an HVAC certification?
An HVAC certification is a credential that demonstrates professionalism, knowledge, and expertise. It puts a technician in a favorable position above HVAC workers who may have learned on the job. Certification also makes a prospective tech more marketable.
Do HVAC technicians make good money?
According to the U.S. Bureau of Labor Statistics, the median income for an HVAC tech is $48,630 annually or $23.38 per hour.* The lowest ten percent made less than $34,320, and the highest ten percent earned over $78,210. Wages vary by location, work schedule, and certifications.
How do I become a master HVAC technician?
To become a Master Specialist, a tech must already be HVAC certified and have a minimum of three years of experience. The Master Specialist certification process includes an exam which is both a closed-book test and a demonstration of hands-on skills. There are many Master Specialist areas focused on various HVAC-related disciplines, including refrigeration, residential heat pumps, duct leak testing, and more.
---
* Unless otherwise noted, salary information is based on May 2021 data from the Occupational Employment and Wage Statistics (OEWS) program. Job growth and average yearly openings estimates are from the Bureau of Labor Statistics and are for the 2021 to 2031 period.