Healthcare and Medical Trade Schools
By Publisher
| Last Updated
Students who attend healthcare and medical trade schools get to prepare for a meaningful, fast-growing industry that tends to have millions of job openings each year. The number of program choices offered through vocational healthcare training is extensive. This means it's possible to enter a good-paying field in relatively little time, or complete longer programs for even higher-paying opportunities.
---
Medical and Healthcare Programs
---
---
Education & Training
The options for college-level healthcare training are just as extensive and diverse as the vocations you can pursue within the industry. Whether you want to enter a field quickly or work toward credentials that take more time, you likely have several educational paths to choose from.
---
Healthcare Schools
Sponsored Listings
---
---
Length of Healthcare Training
Because of the incredible variety of occupations in this industry, the length of health and medical trade schools' training programs depends a lot on your chosen path. Overall, post-secondary education for the non-primary care sector can take anywhere from about three months to four years to complete.**
Primary medical care providers, including physicians, and higher-level medical administration professionals generally must complete about seven or eight years of schooling at the college level. For most other types of professionals, the minimum training is usually much shorter.
Most Common Length of School**
Hands-On Patient Care
(range in months)
Dental assisting

Practical/vocational nursing

Medical assisting

Massage therapy

Surgical technology

Radiologic technology

Physical therapy assisting

Medical sonography

Registered nursing
Most Common Length of School**
Office and Indirect Patient Services
(range in months)
Medical office administration

Medical billing and coding

Pharmacy technology

Medical laboratory technology

Health care management
Education Levels
You can pursue health care training at one or more of the following program levels. Undergraduate programs are mostly for people who want to pursue careers as technicians, technologists, nurses, administrative specialists, or professionals in other support roles. People who want to become doctors or different types of practitioners must earn a bachelor's degree and then complete additional graduate-level studies.
Certificate or diploma: At this level, many programs take less than a year, but some take up to 18 months.** The courses tend to be very streamlined and career-focused, allowing you to learn the core skills necessary for entering a particular field.
Associate degree: This type of program is often designed to last up to two years.** Students take a mix of career-specific courses and general education classes, but the core focus is on the occupation you want to enter.
Bachelor's degree: With four years to dedicate to your studies, you can complete this education level.** Your courses will be a lot more varied, including a broader combination of general classes as well as basic, intermediate, and advanced career-related classes.
Master's degree: After completing a bachelor's degree, an additional two to three years of study can result in this type of credential. It's typically the minimum degree level for professionals such as nurse practitioners, physician assistants, occupational therapists, and genetic counselors.**
Doctoral or professional degree: Getting into this type of program requires having at least a bachelor's degree. Most health care programs at this level take an additional four years to complete. They help people become physicians, audiologists, pharmacists, physical therapists, optometrists, chiropractors, or other kinds of practitioners.**
---
---
Typical Courses
Your curriculum will depend heavily on the particular career and program you've chosen to pursue. The following is not a full list, but health care students often take classes involving subjects like:
Medical terminology
Anatomy and physiology
Occupation-specific:

Theories
Procedures
Techniques
Equipment
Technology
Materials

Pathology
Biology
Pharmacology
Chemistry
Physics
Ethics
Psychology
Nutrition
Preventive care
Patient assessment
First aid
Pain management
Therapeutic interventions
Health care laws and regulations
Patient privacy
Medical coding systems
Health records management
Many students, particularly those who pursue healthcare degrees, also have various courses related to areas such as:
Mathematics
Statistics
English and communication
Business subjects like:

Accounting and finance
Office administration
Human resources

Professional development
In addition, a lot of health care programs include supervised real-world practicums, especially when the training is for careers that involve patient interaction or hands-on clinical work.
Skills You Can Learn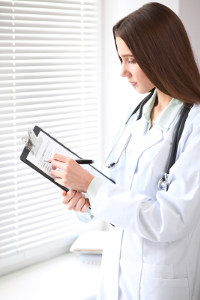 Your specific program and chosen occupation will dictate the types of new abilities you can develop. But here's a small sampling of the varied skills people can learn at medical trade schools:
Communicating with patients and colleagues
Assessing patient injuries and illnesses
Creating plans for patient care and treatment
Taking vital signs
Using basic medical supplies, tools, and equipment
Sterilizing medical or dental tools and instruments
Collecting samples for laboratory testing
Performing various occupation-specific clinical or administrative procedures
Using personal protective equipment correctly
Operating specialized or advanced medical devices such as:

X-ray machines
Ultrasound systems
EKG machines
Cell counters
Biological material analyzers
Dialysis machines
Ventilators

Using medical office software
Maintaining medical records
Preparing medical reports
Complying with applicable laws, regulations, and policies
Licensing & Certification
Most health care professionals involved in patient care, diagnostic testing, or laboratory work must be licensed at the state level. For other occupations, such as those that primarily involve administrative tasks, licensing generally isn't required unless you manage a long-term care facility. But even if a state license is not required for a particular occupation or work setting, many employers prefer or mandate that potential hires have specific certifications from independent organizations such as professional associations.
Licensing
Every state government has its own set of laws for occupational licensure. Those laws often vary significantly from one state to another. So it's wise to find out what your state requires before pursuing training for a particular health care career.
In order to apply for a state license, you may need to fulfill requirements like:
Completing a state-approved program of study
Accumulating a certain amount of hands-on work experience in your chosen field
Passing one or more exams
Clearing a background check
In some cases, earning professional certification through a third-party organization is also required.
The easiest way to learn about your state's requirements for your chosen occupation is to use the license finder from CareerOneStop.
Certification
Unless required for state licensure or by an employer, professional certification is typically voluntary. However, being certified in your field can give you more credibility since it's a signal that you possess the necessary expertise.
As with licensing, you may need to fulfill specific educational, experience, and testing standards to qualify for certification. In many occupations, you can become certified at basic or advanced levels and even pursue specialty certifications.
Hundreds of different certifying organizations exist in the health care sector, so they are too numerous to list. But CareerOneStop's certification finder makes it simple to explore options for the field you want to enter.
Education & Training FAQs
Are there online healthcare programs?
Many schools offer courses of study that you can complete fully or partially from home if you can't find the right medical programs near you. You're more likely to find online programs for non-clinical areas of health care than for those that require clinical work. However, some schools offer hybrid programs, meaning that you can complete many of your courses at home and fulfill in-person learning requirements on campus or through an internship or clinical rotation.
Examples of programs that are often available online or through distance education include:
Health care management and administration
Medical coding and billing
Health information management
Medical assisting
Dental office assisting
Medical transcription
Nursing (RN to BSN)
Some of the benefits of online health care training include:
Better accessibility: You may get the chance to arrange your schedule, set up your learning environment, and complete courses at your own comfortable pace. That way, you can effectively pursue your goals while looking after existing commitments like a family or a full-time job. After all, showing up to a physical classroom at a specific time is difficult for some people.
The power of choice: Online health care schools offer a large and growing variety of career-focused programs. As a result, you might have a lot more options to choose from than if you were restricted to on-campus programs only. So although a campus-based program may not be available where you live for the career you'd like to pursue, you still stand a good chance of finding training online.
The potential for greater stability: Online health care training offers a convenient way to prepare for an occupational sector with terrific job outlook. Industry data from the BLS indicates that health care and social assistance is expected to be the fastest-growing sector from 2021 to 2031.***
Do I need good grades to get into the health and medical programs near me?
It certainly helps. In general, the higher the level of education you wish to pursue, the higher your grades may need to be. And if you want to go to school for a career like registered nursing, then good grades might be essential for competing against other applicants for admission. At public colleges and universities, the minimum high school grade point average for admission is often 2.0, with many programs requiring 3.0 or higher.**
However, many healthcare and medical trade schools offer programs with less competitive admissions. And they often provide the chance for quicker enrollment, without waitlists.
Regardless, you may improve your chances of admission to the college and program of your choice by earning good high school grades in subjects like math, English, social studies, and various sciences.
Career Information
This wide-ranging occupational sector includes all kinds of reliable opportunities that medical trade schools, colleges, and universities help people pursue. These careers often come with good pay, excellent job security, meaningful responsibilities, and other significant rewards.
Career Outlook*
16% growth from 2021 to 2031
Median Salary*
(Average Median)
Job Openings*
Average Yearly Openings
Length of Training
Most Common Length
Work Settings
Sources***
U.S. Bureau of Labor Statistics
U.S. Department of Education
Earnings
The average median salary for Americans with health care careers is $60,928.*** That's based on an average of the median annual wages for the following categories from the Bureau of Labor Statistics (BLS):
Diagnostic medical sonographers

Registered nurses

Occupational therapy assistants

Radiologic techs

Physical therapist assistants

Surgical technologists

LPNs and LVNs

Massage therapists

Dental assistants

Medical assistants
Median Annual Wage Comparison***
Office and Indirect Patient Services
Health care managers

Medical laboratory techs

Medical coders

Medical administrative assistants

Pharmacy technicians
Job Openings & Outlook
Occupational employment projections from the BLS show that health care jobs are expected to grow in number by about 16 percent, on average, from 2021 to 2031.*** That average is based on the projected employment growth for:
Healthcare practitioners and technical occupations
Healthcare support occupations
Medical and health services managers
Medical secretaries and administrative assistants
The projections also show that, in total, an average of over 2 million job openings may be available each year across those occupational categories.*** That total includes:
New positions: 183,900
Openings caused by workers retiring: 883,700
Positions created by people changing occupations: 948,900
Key Benefits
Enhanced employment stability: Health, medical, and dental services are always essential. And the demand for workers in these fields is likely to keep rising in most regions as the population grows and ages.
Excellent advancement potential: Regardless of how you enter the health care industry, numerous pathways exist for moving up. In some cases, just a few years of experience or a short amount of additional training can help you advance to a higher-paying position or one that aligns better with your interests or personality. Plus, many of your skills may also be transferable to other vocations within the industry.
A real sense of purpose: You probably can't find a more meaningful career sector than this one. Helping people, including during their most vulnerable moments, can generate a deep feeling of connection and personal fulfillment.
What a Healthcare Professional Does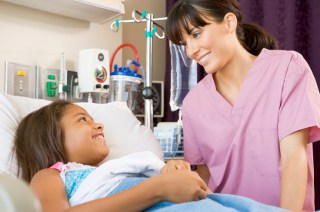 Since health care is a highly diverse industry, day-to-day job duties can vary substantially from one position to another. The following list is not comprehensive, but depending on the particular occupation, a worker in this sector may do things like:
Record patients' medical histories
Prepare patients and work areas for:

Physical exams
Treatments
Diagnostic testing procedures
Surgeries

Evaluate, observe, and monitor patients' health conditions
Maintain patients' medical or dental records
Carry out or assist with examinations, treatments, or other clinical procedures
Develop care and treatment plans
Clean, sterilize, prepare, maintain, operate, or monitor medical or dental equipment
Transport patients safely from one location to another
Create diagnostic images
Collect and prepare fluid or tissue samples for laboratory testing
Run laboratory tests
Prepare, dispense, or administer prescription medications
Educate patients about preventive or post-treatment care
Schedule patient appointments
Prepare medical documents
Coordinate and supervise other staff
Process payments
Work Settings
Collectively, healthcare workers perform their duties in a vast range of environments. Depending on their positions, examples include (but are not limited to):
Hospitals
Outpatient care clinics
Physicians' offices
Offices of other health practitioners
Long-term care facilities
Dental clinics
Pharmacies
Surgical centers
Laboratories
Diagnostic imaging centers
Ambulances
Emergency scenes
Community centers
Sports facilities
Schools
Homes
Spas
Careers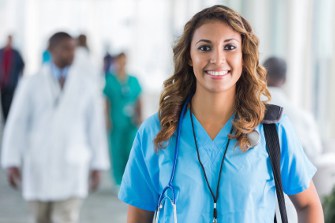 Health care offers an enormous variety of potential occupations. Physicians, surgeons, dentists, pharmacists, physical therapists, and other licensed practitioners may immediately come to mind. And you shouldn't overlook mental health professionals such as counselors and psychologists.
But the industry also needs nurses, technicians, technologists, administrative specialists, and other support personnel that often require less training. Here are several examples:
Anesthesia technician: Provide supervised assistance with the care of surgical patients, which may include preparing, maintaining, and using equipment related to safely administering drugs or gases that make patients insensitive to pain.
Athletic trainer: Help athletes prevent or recover from sports-related injuries. Also, assist with the evaluation and diagnosis of injuries when they occur.
Cardiovascular technologist: Use special equipment, such as EKG machines, to test or monitor the health and performance of patients' hearts and lungs. Some cardiovascular techs specialize assisting during certain types of heart surgeries.
Dental assistant: Prepare dental instruments and work areas, make dental patients feel comfortable, provide chair-side assistance to dentists during treatments, and carry out various administrative tasks. Some dental assistants are also licensed for taking x-rays.
Dental hygienist: Play a direct role in helping patients maintain good oral health by using special tools and materials to examine, clean, polish, and seal their teeth. Hygienists also teach patients how to care for their gums and prevent diseases like gingivitis.
Diagnostic medical sonographer: Use ultrasound technology to capture images of patients' internal tissues and organs that help physicians identify and track medical conditions.
Dialysis technician: Help care for medical patients who have serious kidney disorders by preparing them for treatments and operating and monitoring the machines that purify their blood.
Dietitian or nutritionist: Provide expert guidance about what individual patients or clients should eat in order to stay well, improve their health, or manage their illnesses.
Health services manager or administrator: Work to maintain or improve the quality and efficiency of care that an establishment provides by overseeing and coordinating its staff, daily activities, and compliance with relevant laws.
Licensed practical or vocational nurse (LPN or LVN): Carry out basic nursing activities as directed by supervising physicians and registered nurses (RNs).
Massage therapist: Use the power of touch to help people relax, recover from injuries, manage pain, or improve their overall well-being.
Medical administrative assistant: Perform a wide range of office tasks in a health care setting, such as handling phone calls, arranging appointments, creating documents, managing records, processing payments, and more.
Medical assistant: Carry out a combination of clinical duties and administrative tasks, such as taking patient histories, scheduling appointments, checking vital signs, assisting with physical exams, maintaining patient records, and a lot more.
Medical billing and coding specialist: Ensure that patients' conditions and treatments are accurately coded in records and billing documentation so that their future care is based on correct information and their health care providers get correctly reimbursed.
Medical laboratory tech: Use equipment to carry out lab tests on blood, urine, or other biological samples to provide physicians and other practitioners with information that aids with evaluating, diagnosing, and monitoring patients' medical conditions.
Medical transcriptionist: Create accurate medical reports by converting practitioners' voice recordings into written form or editing documents generated with speech-to-text software.
Occupational therapy assistant (OTA): Contribute to improving injured or disabled people's lives by helping them gain or regain abilities for everyday working or living, including skills for using any necessary assistive equipment.
Optician: Ensure that people get correctly fitted prescription eyeglasses or contact lenses that align with their needs or preferences for comfort, style, convenience, and other factors.
Paramedic or emergency medical technician (EMT): React quickly to 911 calls, provide first aid to people suffering from injuries or other emergency medical conditions, and transport patients to the hospital if necessary.
Patient care technician (PCT): Assist nurses, perform EKGs, collect blood samples, or help care for disabled or chronically ill people in their homes.
Pharmacy technician: Work under pharmacists' supervision to help prepare prescription medications for distribution based on physician-requested dosages.
Phlebotomist: Draw blood from people's veins and ensure that it is correctly labeled for diagnostic laboratory testing, donation, transfusion, or similar purposes.
Physical therapist assistant (PTA): Work directly with patients to help them overcome or manage pain, injuries, or loss of movement or mobility by following physical therapists' treatment plans.
Radiologic technologist: Take x-rays or use other equipment such as magnetic resonance imaging (MRI) machines to generate images used by health care practitioners to diagnose and monitor patients' injuries or diseases.
Registered nurse (RN): Care for patients by evaluating their conditions, educating them about their care, coordinating with other health professionals, carrying out treatments, and much more.
Respiratory therapist: Assess the lung capacity of patients who have diseases that cause breathing problems and help treat those conditions through the use of special equipment, medications, or chest physical therapy.
Sterile processing technician: Decontaminate, organize, sterilize, maintain, and distribute medical equipment, including surgical instruments, within a hospital or outpatient surgical center.
Surgical technologist: Play a vital role in preparing patients, operating rooms, and surgical equipment, as well as assisting surgeons during operations and ensuring that sterility is maintained throughout the process.
Career FAQs
What are the highest-paying careers in the health care industry?
Median salary estimates from the BLS show that, among people who work in the (non-primary care) health care and social assistance sector, the following professionals earn the most:***
Medical and health services managers: $101,340
Diagnostic medical sonographers: $77,740
Registered nurses: $77,600
Occupational therapy assistants: $61,730
Radiologic technologists and technicians: $61,370
Which health care vocations are most in demand?
According to BLS employment projections for the decade from 2021 to 2031, health-related occupations that are expected to grow at the fastest rates include:***
Nurse practitioners: 45.7 percent
Medical and health services managers: 28.3 percent
Physician assistants: 27.6 percent
Physical therapist assistant: 26.5 percent
Home health and personal care aides: 25.4 percent
The same projections indicate that the following health-related vocations could have the highest numbers of average yearly job openings:***
Nurse practitioners: 26,800
Medical and health services managers: 56,600
Physician assistants: 12,700
Physical therapist assistant: 17,900
Home health and personal care aides: 711,700
---
Many Vocational Programs Provide Effective Training for Good Healthcare Careers
All kinds of students benefit from taking skills-focused programs through healthcare and medical trade schools that, in many cases, provide support and preparation for state licensure.
---
* The average median salary is based on an average of the median yearly earnings for health care practitioners and technical occupations, health care support occupations, medical and health services managers, and medical secretaries and administrative assistants. Employment growth and job opening numbers are calculated from BLS projections for the same occupational groups.
** Length of training and grade point average information is based on a combination of information from the Occupational Outlook Handbook, the U.S. Department of Education, and a wide sampling of relevant program lengths from about 50 individual school websites. They are a mix of public, private non-profit, and private for-profit institutions.
*** Unless otherwise noted, salary information is based on May 2021 data from the Occupational Employment and Wage Statistics (OEWS) program. Job growth and average yearly openings estimates are from the Bureau of Labor Statistics and are for the 2021 to 2031 period.