---
---
Auto Body/Collision Repair Technician Career Information
Car accidents happen all the time. Of course, that's no big secret. But people sometimes overlook the fact that an entire industry of professionals exists to help make damaged vehicles look and function like new again.
Without auto body repair and refinishing technicians, experiencing a collision in your car or truck would mean being stuck owning a severely devalued vehicle full of ugly dents, scratches, or worse. That's why the world needs people who enjoy transforming wrecks into beauties. You can be one of them.
Nobody ever wants to get into an accident, let alone deal with the headache of making things right afterwards. But stuff happens, and even the most careful drivers can fall victim to collisions and other events that cause damage to their vehicles. That's when they turn to the experts who know how to restore their cars or trucks to good condition.
Auto body repair (also called collision repair) is a trade that involves restoring the frames and body components of damaged vehicles to their pre-accident states.
---
What Is the Difference Between Collision Repair and Auto Body Refinishing?
In the field of auto body, collision repair primarily involves fixing damage—such as bends and dents—to vehicle frames, unibodies, and exterior body components. Refinishing, on the other hand, mostly involves dealing with the final details of the restoration process such as surface preparation and painting.
When thinking about this trade, however, it's important to understand that repair technicians and refinishers often work together or consult with each other throughout the process. In some cases, the same professionals handle all aspects.
But the real difference is not just between repair and refinishing. The field is actually segmented into four main areas, which you can choose to specialize in. These areas include:
Structural analysis and damage repair—This area deals with damage done to the core frame and unibody structure of vehicles and involves tasks such as inspecting, measuring, and repairing frames and unibodies as well as fixed glass. Metal welding and cutting is often necessary.
Non-structural analysis and damage repair—Vehicle body components are the focus of this area. It involves repairs and adjustments to items like moveable glass, outer body panels, and plastic components. Tasks can include things such as dent repair, metal finishing, body filling, metal welding and cutting, and using plastics and adhesives.
Mechanical and electrical—Much of this area involves tasks that a typical automotive technician might tackle, such as replacing any damaged components in a vehicle's braking, electrical, steering, suspension, fuel, intake, exhaust, air conditioning, drive train, or restraint systems.
Painting and refinishing—This area is all about putting the final touch on vehicle surfaces. So tasks usually include sanding, masking, priming, paint mixing and matching, applying paint, and dealing with any problematic paint defects.
---
What Is an Auto Body Technician?
He or she is an automotive professional trained in the art and science of restoring damaged vehicles to their pre-accident conditions. Some people in this trade also help build custom cars and trucks or restore antique vehicles.
Auto body technicians sometimes have other job titles such as:
Automotive body repairer
Auto body repair technician
Auto body repairer
Collision repair technician
Auto body collision damage repairer
Body person
Auto body person
Body technician
Body and frame person
Auto body prepper
Auto body refinisher
Automotive painter
---
What Does the Work Look Like?
Depending on your level of skill and experience, the work can vary substantially. Tasks also depend on where you work and whether or not you specialize in one or more of the four main areas of auto body. Some technicians, usually the more experienced ones, do everything in the trade.
To carry out their work, techs may employ a number of specialized hand and power tools, including air tools (such as grinders, cutters, and paint sprayers), welding equipment, and more.
In addition, they often get to work with different kinds of computer software to aid in preparing damage repair estimates, scheduling repairs, mixing and matching paint, and managing equipment and inventory.
That said, auto body technicians carry out responsibilities that can include:
Surveying the Job
Reviewing damage reports
Estimating the costs of repair jobs
Planning the work that needs to be performed
Inspecting and measuring vehicle frames and unibodies
Repairing the Damage
Removing parts like accessories, upholstery, electrical equipment, and trim to gain access to frames, body components, and fenders
Cutting away badly damaged components
Straightening frames that have been bent or twisted
Realigning vehicle chassis
Fitting and welding metal replacement parts into place
Grinding down welds to smooth them out
Hammering out or patching dents and other minor forms of body damage
Straightening metal panels
Removing, repairing, and replacing body parts like fenders and doors
Removing and installing bolt-on components like hoods, trim, deck lids, and interior items such as seat frame assemblies, instrument panels, trim panels, moldings, carpets, and floorboard insulation
Installing replacement windows and windshields
Replacing other accident-damaged components such airbags and restraint systems
Filling damaged areas with plastic body fillers or solder
Refinishing and Repainting
Preparing repaired surfaces by filing, grinding, sanding, and smoothing
Masking bumpers, windows, and trim to protect them from paint
Refinishing repaired surfaces by applying primer
Mixing and color-matching paint
Sanding and buffing refinished surfaces and applying finished coats of paint
Putting on the Final Touches
Verifying dimensional accuracy of repairs and adherence to manufacturers' specifications
Aligning wheels
Aiming headlights
Test-driving repaired vehicles to ensure proper alignment, handling, and component functionality
---
Where Can I Work?
Experienced technicians can find work with a variety of types of employers such as:
Auto body repair shops
Car and truck dealerships
Custom automotive shops
Companies with their own vehicle fleets
The majority (about 60 percent) work in repair shops. After plenty of experience and business training, some of them choose to open their own shops.
---
How Much Money Can I Make?
The typical salary is fairly competitive to that of other skilled trades. But what an individual earns depends a lot on a variety of factors such as his or her place of employment, level of experience, and training and certification credentials.
So, just how much do they make?
According to data from the Occupational Employment Statistics program, the median hourly wage of auto body technicians in 2018 was $20.55, which translates to $42,730 annually.
But the median doesn't necessarily represent what you can expect to earn in total. The fact is that wages in the auto body industry range widely. For instance, 10 percent of professionals in the field made more than $71,970.
Here are some other important points that are helpful to know about wages in this profession:
Different employers have different pay structures. But in this industry, it is common for credentialed technicians to earn a guaranteed base salary plus a set amount of incentive pay (i.e., commission). Some shops, however, pay flat-rate commission. So, take home pay often depends on how much work they are assigned and how quickly they complete it.
Trainees are usually paid by the hour, rather than on salary or commission.
Paid benefits vary from employer to employer. But paid vacation, health insurance coverage, and retirement assistance are becoming more common in auto body shops.
---
What Qualifications Do I Need?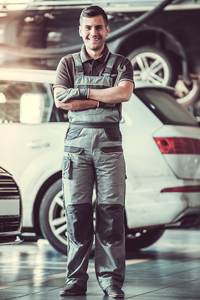 These days, becoming an auto body technician usually begins with some type of formal training.
Although not absolutely required, an education in repair and refinishing often provides the best preparation for getting started in the trade. Some programs take six months to one year to complete and result in being awarded a certificate or diploma. Other programs last two years and award an associate degree.
Workplace apprenticeships that include a formal classroom component also exist, but they are increasingly difficult to find in many parts of the U.S.
Regardless of how you start, you can expect it to take approximately three to four years of hands-on training to become a fully qualified auto body technician.
Once you've acquired a couple years of experience, you can qualify to take professional certification tests. Although it's not required, certification is often recommended by those within the industry because it signals your competence, can be necessary for performing advanced work, and can help you earn a higher collision repair salary.
Certifications can be obtained through organizations such as the National Institute for Automotive Service Excellence (ASE).
Here's what it takes to earn and maintain ASE certification in collision repair and refinishing:
A minimum of two years of hands-on auto body experience.
Passing ASE certification tests—one for each area of auto body (Structural Analysis & Damage Repair; Non-Structural Analysis & Damage Repair; Mechanical & Electrical Components; and Painting & Refinishing).
Passing tests in all four areas if you want to be known as an ASE-Certified Master Collision Repair Technician.
Retesting every five years to maintain your certification (recertification tests are only about half as long as the initial ones).
Once you're established as a working technician, it's important to keep up with the changes in technology and repair methods by continuing your education. Many employers send their technicians to advanced training programs. But it is also a good idea to read technical manuals and attend classes or seminars on a somewhat regular basis.
In addition to formal training and professional credentials, successful professionals tend to possess traits such as:
A mechanical aptitude
Manual dexterity and arm and hand steadiness
Physical strength and endurance
Excellent critical-thinking and problem-solving skills
A love for precision and craftsmanship
Basic math skills
A commitment to practicing safe work habits
---
Where Can I Learn How to Do This Type of Work?
You can start learning how to do auto body work in a number of different ways. Formal training programs that provide classroom instruction in addition to hands-on practice can be found at many post-secondary trade and technical schools, community colleges, and even some high schools.
It's important to understand that most auto body technicians now train for their careers by getting a formal education in the trade (often from an accredited school and/or program). The most widely recognized accrediting organization for auto body repair programs is the ASE Education Foundation.
---
What Does It Cost to Learn the Trade?
The cost depends a lot on the training path you choose. Post-secondary programs generally range in cost from about $1,000 to $25,000 or more depending on the type of school, the length of the program, the type of credential awarded, the location, and the quality of the facilities.
As an additional point to consider, you may want to look into potential programs to find out what costs are included within the tuition. Many schools cover books, materials, and even supplies, such as tools and uniforms in the price.
Plus, when looking at the cost of attending school, it's a good idea to explore the options that could be available for financing your education. Most schools are able to help you access financial aid if you qualify. This could come in the form of loans, grants, and even scholarship opportunities
---
What Exactly Can I Expect to Learn in School?
Depending on the school and program you choose, you can expect to learn about subjects such as:
Theory: Systems, Terminology, and Processes
Terminology
The collision repair process
Automotive parts terminology
Mechanical systems and repair terminology
Electrical systems (i.e., lighting, starting, and charging)
Practice: Materials and Methods
Auto body repair tools and equipment
Damage assessment
High-strength steel
Plastics, composites, and adhesives
Automotive foams
Structural repair methods
Sheet metal welding
Metal finishing
Non-structural repair methods
Bolted-on parts replacement techniques
Vehicle trim and hardware
Movable/stationary glass
Vehicle corrosion and refinishing protection
Refinishing materials and methods
Paint mixing, matching, and preparation
Auto detailing methods
Safety: Shop Practices and Regulations
Procedures for personal safety
Hazardous waste storage and disposal
General: Business and Basics
Basic mathematics
Basic physics
Professionalism
Communication
---
Why Should I Consider This Vocation?
Auto body repair and refinishing is a challenging trade that offers potential technicians a variety of benefits. Here are some reasons that you should be considering this field:
Pride and satisfaction—Turning a damaged or old vehicle into one that's like new requires a special combination of skill, creativity, and problem solving, so successfully accomplishing such a feat can be a great source of pride and fulfillment.
Steady and predictable work hours—Most enjoy a typical 40-hour workweek with occasional overtime. Plus, the amount of work in auto body shops tends to be steadier than in regular mechanic shops. Knowing that you'll have plenty of work can help you enjoy a little more peace of mind.
Potential to make good money—Once you get good at auto body repair, your income potential increases since you can perform more advanced work and be more choosey about who you work for. You can even open your own shop or make extra money from your home garage on the side.
Fun—Those who have gained mastery of the trade and found a great group of people to work with tend to find their jobs fun and enjoyable. Plus, it gives you the chance to work with advanced technology and materials such as carbon fiber and steel and aluminum nano-structures.
---
What Is the Job Outlook?
According to occupational projections data from the Bureau of Labor Statistics, employment in this occupation is expected to increase by four percent between 2018 and 2028.
The increasing number of automobiles on the road is the main driver of growth in this industry.
Technicians who have both formal training and professional certification will tend to have the best prospects for employment. That's why a post-secondary education and certification are important to consider.
Advancement in the trade usually comes in the form of attaining supervisory positions, starting your own shop, doing custom auto body and antique restorations, or working for insurance companies as a vehicle damage appraiser.
With additional training, the skills and knowledge gained from being an auto body technician can also enable you to transition to related occupations in the trades, or even get a head start on training at an auto mechanic, heavy equipment mechanic, drafting, or welding school if you decide to take your career in a slightly different direction.
---
How Can I Get Started?
There are a number of ways to get started. You could try talking with a few experienced auto body technicians. See if you can job shadow them to get their advice and see what an average day is like. And, you can begin researching your options right now by checking out the list of schools above. Your love of cars and restoration could soon turn into a career full of satisfying possibilities.
---