Auto Body School Information
By Publisher
| Last Updated
For many technicians in this trade, making accident-damaged vehicles look and function like new again is all just part of a stable and enjoyable career. An auto body school near you may offer hands-on training that helps you prepare for jobs and certification in this fulfilling industry.
---
Education & Training
In general, you become an auto body technician by getting formal training through a vocational college, technical institute, or trade school. Although much less common, it's also possible to get hired and trained by a repair shop without prior education in the trade. After about two years of on-the-job experience (or maybe less if you went to auto body school), you can qualify for industry certification tests.
---
---
Auto Body Schools
Sponsored Listings


Collision Repair and Refinishing
---
Collision Repair and Refinishing
Long Beach, California
Sacramento, California
Houston, Texas
Collision Repair & Refinish Technology
---
---
Length of Training
It generally takes between 12 and 24 months to become an auto body technician by completing collision repair training through a post-secondary school.*
Program Options
Most auto body schools offer one or more of these training options:
Certificate and diploma programs tend to take the least amount of time. They keep the focus on helping you develop the core skills and understanding you need for getting started in this career.
Associate degree programs are usually designed to last up to two years.* They also provide core skills training. In addition, they include a broader range of classes in general and more advanced subjects. In some cases, they also include business-related classes, which may be helpful if you ever pursue a management position within an auto body shop.
Typical Courses
Depending on your particular school and program, you may have classes in subjects like:
Automotive terminology
Safety procedures
Shop practices
Trades math and physics
Communication and professionalism
Collision repair tools and equipment
Auto body materials and repair concepts
Damage assessment and cost estimation
Basic welding and cutting
Non-structural alignment, repair, and replacement
Structural alignment, repair, and replacement
Painting and refinishing
Basic electronics and power systems
Automotive mechanical systems
Skills You Can Learn
An auto body repair school near you may offer training that helps you gain skills related to:
Measuring vehicles
Running computerized diagnostic scans
Analyzing damage and estimating repair costs
Interpreting damage reports and making repair plans
Removing and replacing bolted, welded, bonded, or other parts such as:

Exterior trim and moldings
Door skins, panels, and glass
Sunroof panels and convertible tops

Repairing metal dents
Welding, brazing, or cutting aluminum and steel using:

MIG welders
Oxyacetylene torches
Squeeze-type resistance spot welding equipment

Straightening or repairing vehicle frames
Repairing, installing, or aligning:

Fenders
Plastic or carbon fiber components
Steel panels

Removing paint
Applying body fillers
Sanding exterior panels
Mixing and applying paint
Fixing small defects in vehicle finishes
Doing fine detailing
Aligning wheels
Performing basic repairs on components related to:

Braking
Suspension
Electrical systems

Inspecting completed repairs
Licensing & Certification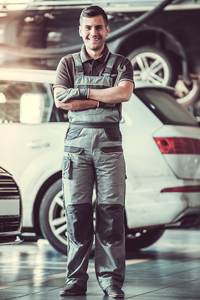 Aside from a driver's license for test-driving repaired vehicles, most auto body technicians don't need to gain state licensure for this occupation. The exceptions are:
If you install or repair auto glass in Connecticut, you will need to obtain a special state license.
If you perform certain automotive mechanical repairs, some states may require a specific type of license. Use the license finder from CareerOneStop to see if your state has regulations for auto mechanics.
If you start your own collision repair or auto refinishing shop, you'll likely need a state and/or local business license.
Professional certification isn't required for entry-level work, but it is generally recommended once you gain enough experience. Many dealerships and repair shops prefer their technicians to be certified. The National Institute for Automotive Service Excellence (ASE) is the main certifying organization for the collision repair and refinishing industry. It offers certification tests for:
Non-structural analysis and repair
Structural analysis and repair
Painting and refinishing
Electrical and mechanical components
To qualify for the ASE exams, you need at least two years of hands-on experience in the auto body trade. However, formal training through a trade school or vocational college can count toward some of that experience. If you pass each of the tests above, you can gain the designation of ASE-Certified Master Collision Repair Technician. The organization also offers a separate exam for cost estimating.
To maintain your ASE certification, you must take new tests every five years. (The recertification tests are only about half as long as the initial ones.)
Also, some employers like their auto body techs to be manufacturer-certified for working with particular materials or technologies. Axalta, 3M, and Chief Automotive Technologies are a few examples of companies that offer certification programs for their products.
---
---
Education & Training FAQs
Do collision repair techs need a lot of continuing education?
Once you're established as a working technician, it's important to keep up with changes in technology, materials, and repair methods. In addition to reading technical manuals for new products and vehicle models, many employers expect their techs to attend workshops, seminars, or classes.
It's also common for repair shops to have their technicians complete training programs through the Inter-Industry Conference on Auto Collision Repair (I-CAR). Sometimes that training is offered on-site or through online classes. Other times, techs travel to off-site locations.
Employers usually pay for any continuing education that they request or demand. But some techs pay for extra training themselves if they have particular interests that their employers don't deem relevant for their current or future roles.
How do I become an auto body technician without a high school diploma?
Most employers expect aspiring techs to have at least a high school diploma, GED, or equivalent credential. Most trade schools and vocational colleges also require that level of education for admission. However, certain schools may enroll you if you pass an Ability to Benefit Test (ATB). Math and English skills are the main drivers of these requirements.
In general, your prospects will be better if you complete your high school education before pursuing formal training or a job in the industry. That said, you can still look for entry-level jobs and see if an employer will hire you and train you on the job. Then, after two years of experience, you can take the ASE certification tests, which don't require a high school diploma.
Career Information
Auto body repair (also called collision repair) is a trade that involves restoring the frames, exterior panels, or other components of damaged cars or trucks to their pre-accident conditions. Qualified technicians in this field often enjoy their work, get paid well, and have many potential opportunities to change jobs or move up in the industry.
Career Outlook
3% growth from 2021 to 2031
Median Salary
Auto Body Technicians
Job Openings
Average Yearly Openings
Length of Training
Most Common Length
Work Settings
Specializations
Non-structural repair, structural repair, refinishing, mechanical and electrical repair, cost estimating, production management
Sources**
U.S. Bureau of Labor Statistics
U.S. Department of Education
Earnings
Collision repair techs make $47,270** per year on a median basis, according to Occupational Employment and Wage Statistics (OEWS) program estimates. Those at the upper end of the pay scale make over $76,220.
Employers in this industry compensate their techs in a variety of ways. In some cases, they pay a base salary as well as incentives for the speed and amount of work completed. In a nationwide survey of collision repair businesses, about 43 percent of shops indicated that they use flat-rate (i.e., commission) plans to compensate the auto body techs they employ. About 40 percent of shops use salary or hourly wage plans.
Median Annual Wage Comparison**
Job Openings & Outlook
Based on Bureau of Labor Statistics (BLS) projections for the decade from 2021 to 2031, employment of auto body repairers is expected to increase by 3 percent.** On average, a total of 15,200 job openings may become available each year. Most of those opportunities will come about because of people retiring or changing careers.
Key Benefits
Job security: Many people in this vocation are nearing retirement. In fact, the average collision repair technician is over 41 years old. Plus, car accidents are still a frequent occurrence on America's roads. So the demand for qualified auto body repair and refinishing techs continues to remain steady.
Advancement potential: As experienced technicians retire, they often leave behind open positions for the supervisory or managerial roles they had. That means opportunities often exist for moving up into higher-paying positions such as shop foreman. Some techs even start their own auto body repair businesses.
Enjoyment: Making a damaged car or truck look like new requires a special combination of skill, creativity, and problem solving. Accomplishing such a feat can be a great source of pride and fulfillment. Plus, many technicians have fun working with the advanced materials and technologies that are often part of this trade.
What an Auto Body Technician Does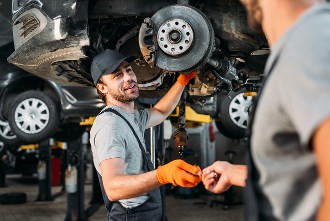 Experienced technicians often work in all aspects of the trade, especially if they are employed by small repair shops. In large shops, techs might only perform tasks in specific areas. In many cases, it all comes down to their level of skill or choice of specialization.
Depending on his or her particular job, a collision repair technician does things such as:
Determining What Needs to Be Done
Looking over damage reports
Inspecting and measuring vehicle frames and unibodies
Using diagnostic scan tools
Planning and estimating the costs of repairs
Making Repairs
Removing parts like accessories, upholstery, electrical equipment, and trim to gain access to frames, body components, and fenders
Cutting away badly damaged components
Straightening frames that have been bent or twisted
Realigning vehicle chassis
Fitting and welding metal replacement parts into place
Grinding down welds to smooth them out
Hammering out or patching dents and other minor forms of body damage
Straightening metal panels
Removing, repairing, and replacing body parts like fenders and doors
Removing and installing bolt-on components like hoods, trim, deck lids, and interior items such as seat frame assemblies, instrument panels, trim panels, moldings, carpets, and floorboard insulation
Installing replacement windows and windshields
Replacing other accident-damaged components such as airbags, restraint systems, or electrical systems
Filling damaged areas with body solder or plastic body fillers
Applying New Finishes
Preparing repaired surfaces by filing, grinding, sanding, and smoothing
Masking bumpers, windows, and trim to protect them from paint
Refinishing repaired surfaces by applying primer
Mixing and color-matching paint
Sanding and buffing refinished surfaces and applying finished coats of paint
Taking Care of the Final Touches
Verifying dimensional accuracy of repairs and adherence to manufacturers' specifications
Aligning wheels
Aiming headlights
Test-driving repaired vehicles to ensure proper alignment, handling, and component functionality
Work Settings
Auto body techs can find jobs in a variety of settings, such as:
Collision repair shops
Dealerships
Fleet garages
Car customization shops
Auto detailing shops
Specializations
People who work in the auto body trade often have the opportunity to concentrate on the particular areas they enjoy most, which can include:
Non-structural repair: Exterior body components are the focus of this area. It involves restoring and adjusting items like movable glass, outer body panels, and plastic components. Common tasks involve dent repair, metal finishing, body filling, metal welding and cutting, and the use of plastics and adhesives.
Structural repair: This area deals with the damage done to the core structures of vehicles. It involves tasks such as inspecting, measuring, and repairing frames and unibodies as well as fixed glass. Metal cutting and welding are also often necessary.
Automotive welding: Some prospective auto body repairers may prefer to focus on the welding component of the job while still working in the automotive and auto body repair field. Trade schools for welding can provide comprehensive training in the types of welds and techniques that are used for auto repair.
Refinishing: This area is all about restoring the protective and cosmetic finishes to vehicle surfaces. Tasks usually include sanding, masking, priming, paint mixing and matching, and final paint application.
Mechanical and electrical repair: Much of this area involves tasks that a typical auto mechanic might tackle, such as replacing any damaged components in a vehicle's braking, steering, suspension, fuel, exhaust, air conditioning, drivetrain, or restraint systems. Techs also may fix electrical components such as built-in cameras and sensors. Some technicians need to complete extra training in order to work in this specialty.
Cost estimating: In this area, the focus is on inspecting damaged cars or trucks, analyzing the extent of the damage, and preparing reports that accurately detail the potential costs of repairs.
Production management: After gaining a lot of experience, some auto body techs get the chance to move into this advanced area. It involves planning and overseeing the day-to-day workflow of an entire collision repair shop.
Career FAQs
What are the differences between collision repair, refinishing, and detailing?
Collision repair mostly involves fixing major damage to car and truck frames, unibodies, and exterior body components. Refinishing primarily involves restoring vehicles' painted surfaces to their pre-accident appearance after any repairs have been completed. Auto detailing involves the cleaning and cosmetic restoration and protection of vehicles' interiors and exteriors through small paint touch-ups, washing, waxing, and the application of surface films or coatings.
Many auto body technicians have the skills to perform all of those jobs. But not all automotive detailers have the training or qualifications to perform collision repair or major refinishing work.
Are auto body techs required to purchase their own tools?
In many cases, employers expect technicians to invest in their own sets of basic hand tools and accessories. Some collision repair shops only hire techs who've already done so. However, expensive specialty tools and equipment are often provided by the employer.
Some repair businesses help new technicians buy the tools they need through repayment programs. And student discounts are often available through individual tool manufacturers.
In addition to your own tool cart and safety gear, examples of items you may need to buy when starting your career include things like:
A disc sander
A tape measure
Chisels
Clamps
Dollies
Drive sockets
Extension bars
Hammers
Pliers
Punches
Ratchets
Sanding blocks
Scrapers
Screwdrivers
Spray guns
Universal joints
Wire brushes
Wrenches
---
Auto Body School Can Help You Become Job-Ready
With hands-on auto body training, your vocational goals can move much closer to becoming reality. Many trade schools can even help prepare you for industry certification tests.
---
* Length of training information is based on a combination of information from the Occupational Outlook Handbook, the U.S. Department of Education, and a wide sampling of relevant program lengths from about 30 individual school websites. They are a mix of public, private non-profit, and private for-profit institutions.
** Unless otherwise noted, salary information is based on May 2021 data from the Occupational Employment and Wage Statistics (OEWS) program. Job growth and average yearly openings estimates are from the Bureau of Labor Statistics and are for the 2021 to 2031 period.