Marine Mechanic Schools
Last Updated
Marine mechanic schools offer training options designed to help you navigate toward a better life.
Does your ideal career involve spending a lot of time outdoors and working with all types of watercraft? A boat mechanic school can help you achieve that ideal. And right now could be an opportune time to enter this field. More than 87 million U.S. residents take part in recreational boating each year, and that number represents part of an overall rising trend. This growing interest in boating has resulted in increased demand for professionals who can build, maintain, and service boats.
So don't delay. Start the voyage toward a brighter future by entering your zip code into the search box below to find marine mechanic schools that offer programs near you!
8 Career Options for People Who Attend Marine Mechanic Schools
---
---
Marine Mechanic Schools
Sponsored Listings
---
---
8 Career Options for People Who Attend Marine Mechanic Schools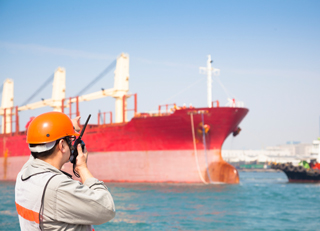 Along with working on inboard and outboard motors, marine mechanics and service technicians may also be responsible for maintaining and repairing propellers and electrical and steering systems. Some motorboat mechanics choose to work in specialty areas like engine building, field service, or aftermarket parts development, service, and sales. Many of these positions can offer the potential to earn good money.
According to 2021 data from the Occupational Employment and Wage Statistics program, the median marine mechanic salary was $46,730.* Plus, employment projections from the Bureau of Labor Statistics show that, on average, about 3,000 job openings are projected to become available each year in this trade from 2021 to 2031.* But these numbers are only based on mechanic positions. The reality is that completing a program at a marine mechanic school can help you qualify for multiple career paths.
Boat- and marine-related positions can be found with cruise lines, boat dealerships, outdoor department stores, marinas, watercraft manufacturers, and even the Navy and Marine Corps. You could uncover possibilities that never crossed your mind before now. So check out these eight job options that you may be able to pursue after attending a boat mechanic school:
1. Boat Rigger
Boat riggers take care of several tasks related to getting recreational and commercial boats ready for the water. They equip boats with important systems related to comfort, operations, and safety. In fact, their responsibilities often include installing propulsion systems, standing rigging, winches, anchors, bunks, furniture, lifeboats, and steering and throttle controls.
2. Dealership Technician
Dealership technicians are marine mechanics that work for a specific boat manufacturer or group of manufacturers. Many of these companies require certifications related to their product lines, and some marine mechanic programs include manufacturer-specific training to help you get started. So once you complete your schooling, you could choose to become a Certified or Master Technician with Mercury Marine, a Certified Master Technician with Yamaha Outboard, or a Certified Master Tech with Honda. You could also obtain several other manufacturer certifications with companies like Suzuki and Volvo Penta to help enhance your job prospects.
3. Gelcoat and Fiberglass Technician
Rather than focusing on mechanical aspects, you could begin a career in which you assess damage to a boat's gelcoat and fiberglass and then make repairs accordingly. Whether the boat is cracked, dented, gouged, scratched, or has structural damage, you can be responsible for restoring and maintaining its physical appeal, safety, and value.
4. Marina Service Manager
Many marinas offer repair services that could enable you to start out as a service technician and then work your way up to marina service manager. You would oversee the service team and may even be responsible for the yard crew that handles refueling and moorage services. Your daily tasks could include scheduling, creating work orders, billing customers, and managing inventory.
5. Marine Electrician
Marine electricians install, troubleshoot, and repair marine electronic and electrical systems, which could require working with blueprints and manuals or even drawing your own system diagrams. Some of the components that you may work with include batteries, chargers, solar panels, navigation systems, and satellite TV hardware.
If you opt for this career path, then you may want to consider obtaining additional industry certifications that many employers value. Options include Marine Electrical Certification through the American Boat and Yacht Council (ABYC) as well as Basic Marine Electronics Installer (MEI), Certified Marine Electronics Technician (CMET), or Advanced Marine Electronics Installer (AMEI) certifications through the National Marine Electronics Association (NMEA).
6. Marine Parts or Sales Associate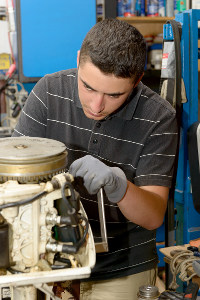 Getting a marine parts or sales associate position can be a good way to begin working up to a manager job within a marina, repair shop, or dealership. Your daily tasks could include generating new customers, ordering and managing inventory, and selling boats, parts, and services. You may also have responsibilities related to other service areas like fueling, mooring, and propane dispensing.
7. Marine Refrigeration and Air Conditioning Technician
Marine refrigeration and air conditioning technicians are sometimes referred to as mechanical systems technicians or marine HVAC service technicians. They rebuild and repair domestic and commercial refrigeration and air conditioning equipment, as well as hood and ventilation systems. They could also be responsible for maintenance services such as checking bearings, cycling, oil levels, and other components to ensure that units run properly. Some marine mechanics considering this career path opt to expand their expertise by training at an HVAC trade school.
8. Rig Shop Manager
Becoming a rig shop manager is something that you could work toward as a boat rigger. Once you build your experience, you may be able to take on a management position in which you could be responsible for overseeing rigging sales, customer service, training, and scheduling as well as creating and assigning work orders. You would likely work with rigging diagrams and measurements on a regular basis and may get to assist in the shop or out in the field with installations and repairs.
---
Begin the Voyage Toward a Successful Future
Take action today that could help you achieve career success sooner than you may have expected. Start out by entering your zip code into the search tool below to see which marine mechanic schools are offering programs near you!
---
---
* Unless otherwise noted, salary information is based on May 2021 data from the Occupational Employment and Wage Statistics (OEWS) program. Job growth and average yearly openings estimates are from the Bureau of Labor Statistics and are for the 2021 to 2031 period.