---
---
Aircraft Mechanic Careers - FAQ
1. Where can I find work as an aircraft mechanic?
Working as a mechanic in the aviation industry can provide a variety of job opportunities in different settings. Depending on your preferences and suitability, you could work for:
An airline, either on commercial or cargo planes.
The aerospace or aviation manufacturing industry.
The military or a government-based facility.
Recreational airport facilities.
Private individuals (aircraft/helicopter owners).
2. What is the average salary of an aircraft mechanic?
This field tends to pay very well for the amount of training time required. In fact, according to the Occupational Outlook Handbook, the median yearly wage for aircraft mechanics is more than $24,000 higher than the median wage for all occupations in the U.S. And many programs can be completed in less than two years.
In 2018, the median annual pay for aircraft mechanics and service technicians was $62,920. The highest earners in this trade (often those with the most experience) made over $97,820. And some aviation mechanics earn yearly bonuses as part of their pay.
3. What does the work look like?
There is an impressive amount of variety involved in working as an aircraft mechanic or service technician. Here are some of the highlights:
Working on a variety of aircraft, including jets, helicopters, and propeller-driven aircrafts
Choice to work in private, corporate, or government sectors
Options to work in hangars, on airfields, and/or in specialized repair stations
Opportunity to merge technology with physical work
Even with this amount of variation, the day-to-day responsibilities of most aircraft mechanics have plenty of similarities. Here's what you could expect to be taking care of in this career:
Visual examination and inspection of most components of the aircraft.
Diagnosis/troubleshooting.
Measurement of parts (for wear and tear).
Repair and inspection of multiple aircraft components such as wings, brake system, engine, air-conditioning systems.
Testing of multiple parts.
Maintaining records of maintenance and repair work.
4. Do I need certification to work as an aircraft mechanic?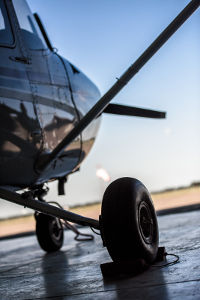 While not always required, certification can open the door to finding work with respected organizations and commanding a higher wage. The Federal Aviation Administration (FAA) offers several different licenses and certificates. Generally, possessing Airframe and Powerplant (A&P) certification from the FAA is a good indicator to potential employers that you have the well-rounded knowledge and abilities needed to get the job done well.
5. How do I get started?
The aviation industry is known for providing a clean and enjoyable work environment, good general benefits and wages, and room for advancement. If you consider yourself a mechanically-minded individual with a penchant for working with your hands, a rewarding career in the aviation industry as an aircraft mechanic may be tailor made for you.
Ask for more information from one of these aircraft mechanic schools, and make your first move toward a rewarding future in a stimulating and progressive industry!
---