Computer Technician Training Schools
By Publisher
| Last Updated
Computer technician training schools focus on helping students develop essential skills related to maintaining and repairing the devices and systems that individuals and organizations depend on. By learning how to solve a wide range of computer problems, you can become part of a field that offers abundant career opportunities and good advancement potential. Some programs take less than a year to complete and help students prepare for popular information technology (IT) certifications.
---
Education & Training
Computer repair schools offer a variety of program types, some of which require only a few months to complete.
Length of Training
Programs can take anywhere from four to 48 months, depending on the type of credential you pursue.* The OOH notes that technicians who focus on network support typically need more advanced credentials than those who concentrate on user support.
Most Common Length of School*
(range in months)
Computer technician

Information technology

Computer programming

Computer science
Program Options
Certificate and diploma programs are the shortest options, generally taking no more than a year to complete.* They offer foundational training in areas like installation, configuration, troubleshooting, and repair. Some are focused exclusively on preparing students for specific industry certifications.
Associate degree programs take up to two years.* They typically cover the fundamentals of computer systems and include general education courses like math and communications.
Bachelor's degree programs usually take about four years, though some can be completed in as little as three.* They tend to offer more advanced coursework in areas like database programming, network security administration, and business management.
---
---
Typical Courses
Programs often cover topics like:
The fundamentals of different operating systems
Computer maintenance and repair
Network security
Routers and firewalls
Systems management
Basic programming
Skills You Can Learn
You could begin learning how to:
Conduct diagnostic tests
Perform preventive maintenance
Install, configure, administer, and repair computer hardware and software
Support and upgrade computer systems and devices, such as those running on:

Windows
Linux
Chrome OS
macOS
iOS
Android

Document repair and maintenance activities
Communicate with users
Licensing & Certification
You do not need to be licensed or certified in order to work as a computer technician. However, many employers look for voluntary certifications that indicate you have a certain level of expertise in a specific technology.
For example, by earning the CompTIA A+ certification, you are demonstrating your ability to troubleshoot several different operating systems and devices. Many computer technician programs prepare their students to take the A+ exams.
CompTIA offers additional certifications in areas such as networking and security. Relevant certifications are also available from technology companies like Cisco and Microsoft.
Education & Training FAQs
Will my certifications expire?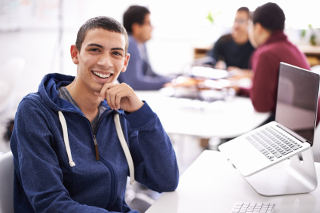 Because technology changes so quickly, many IT certifications must be renewed periodically.
For instance, role-based Microsoft certifications are valid for two years. The company is in the process of developing its renewal procedures.
CompTIA and Cisco certifications are generally good for three years. If you wish to renew, you must complete a certain number of continuing education credits and/or pass an exam.
What should I look for in a computer technician program?
Ensure that the program you pick provides you with training in repairing hardware, troubleshooting software problems, and running automatic diagnostic programs. The more familiar you are with installing, modifying, and repairing different types of computer software and hardware, the better prepared you will be to solve a wide variety of technical issues.
It is also important that your program provides plenty of time to practice your skills. After all, most people learn best by doing. Look for a program that develops your ability to solve complex technical problems through repeated trial-and-error practice with industry-standard equipment.
One of the best ways to get experience beyond your classroom training is through an internship in the field. Some computer repair training programs offer this option to students because it's a great way to get on-the-job instruction and make valuable industry connections.
---
Computer Technician Schools
Sponsored Listings
Iselin (Edison), New Jersey
Moorestown, New Jersey
Paramus, New Jersey
Allentown, Pennsylvania
Lincoln, Rhode Island
Computer and Network Support Technician
Computer Systems Support Technician
DeLand
Kissimmee
Lakeland
Orlando
Pembroke Pines
South Miami
Tampa
Computer Support Technician
Boynton Beach, Florida
Hialeah, Florida
Lauderdale Lakes, Florida
Miami, Florida
West Palm Beach, Florida
Computer & Network Technician
Atascadero, California
Chula Vista, California
Oxnard, California
San Luis Obispo, California
Santa Maria, California
Las Vegas, Nevada
Online
Information Technologies & Network Systems
Electronics & Computer Service Technology
Austin, Texas
Brownsville, Texas
Pharr, Texas
San Antonio, Texas
Computer Support Specialist
---
---
Career Information
Computer technicians keep technology functioning the way it should. This is challenging work that offers good pay and numerous opportunities.
Career Outlook
9.6% growth from 2018 to 2028
Median Salary
Computer Support Techs
Job Openings
Average Yearly Openings
Length of Training
Most Common Length
Work Settings
Specializations
Network support, user support
Sources
U.S. Bureau of Labor Statistics
U.S. Department of Education
Earnings
Computer support specialists earn a median annual wage of $54,760, according to the Occupational Outlook Handbook (OOH).
Median Annual Wage Comparison
Job Openings & Outlook
Bureau of Labor Statistics (BLS) projections show that between 2018 and 2028, employment of computer support specialists is expected to grow by 9.6 percent.
On average, 82,500 computer support jobs should open up each year over that decade. About 10 percent of those openings are expected to be brand new positions. The rest will come as a result of people retiring or moving into other occupations.
Key Benefits
The chance to continually learn (and not get bored): Technology changes quickly. Keeping up with the latest advances can keep you engaged and challenged.
Flexibility: Some technicians are based in corporate offices while others work remotely or travel to clients' homes or businesses. And some work standard business hours while others provide support overnight or on weekends. So you can likely find a position that suits your preferences.
Advancement potential: With experience (and sometimes a little extra training), many technicians are able to work their way into roles as IT support managers, network systems administrators, or software developers.
What a Computer Technician Does
Computer technicians provide technical support services to businesses, non-profit organizations, public institutions, or individuals. They might maintain an organization's data communications networks or assist end users who experience technical problems.
Depending on their specific role, technicians may perform tasks like:
Responding to in-person, phone, or email requests for assistance with hardware or software problems
Running diagnostic tests
Installing and configuring operating systems and software programs
Repairing desktop computers, laptops, printers, mobile devices, servers, routers, switches, and other hardware
Carrying out regular maintenance to keep local area networks (LANs), wide area networks (WANs), and Internet networks working properly
Backing up files to a network
Keeping firewall and security software up to date
Work Settings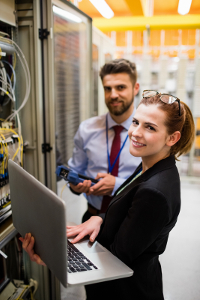 Computer technicians frequently work in settings like:
Offices
Retail repair shops
Data centers
Server rooms
Call centers
Some even work from their own homes or within the residences of their various clients.
Specializations
Technicians can opt to focus on:
Network support: Maintain and repair an organization's data communication networks, including LANS, WANs, and Internet systems.
User support: Answer phone or email inquiries and guide customers through the steps required to solve technical issues. Some user support specialists fix hardware or software problems for customers in retail electronics stores or through mobile services.
Career FAQs
How do I know if I'm cut out to be a computer technician?
Successful technicians tend to be highly organized and detail-oriented. They enjoy learning new technologies, solving problems, and dealing with all kinds of different people. It also helps if they have excellent communication skills, lots of patience, and a good sense of humor.
Which industries employ the most computer technicians?
Based on BLS employment figures for network support specialists and user support specialists, these are the five industries with the highest numbers of computer technician jobs:
Computer systems design and related services: 188,930
Elementary and secondary schools: 44,590
Management of companies and enterprises: 44,280
Employment services: 30,180
Colleges, universities, and professional schools: 28,400
---
A Dependable Career Can Begin With Computer Technician Training
Learning computer repair and support is often a good way to gain new opportunities that offer the potential for steady work and advancement.
---
* Length of training information is based on a combination of information from the Occupational Outlook Handbook, the U.S. Department of Education, and a wide sampling of relevant programs from about 30 individual school websites. They are a mix of public, private non-profit, and private for-profit institutions.