---
---
Computer Technician Training: Four Important Steps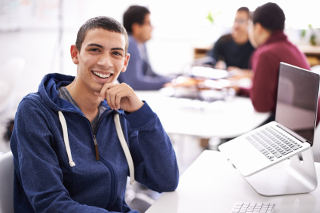 Are you motivated to get the computer technician training you need in order to pursue an exciting, high-tech career? If so, career-focused education is one of the best ways to turn your natural aptitude for working with your hands and solving complex problems into a rewarding information technology (IT) career. Before you pick a program, and begin your training to become a computer technician, there are four steps in the process that you should be aware of.
---
1. Consider Online vs. On-Campus
When researching computer technician programs, you may want to ask yourself if you would learn best online, or if you are better suited to learning on-campus. Online programs can offer a more flexible schedule, often allowing you to complete coursework at the time that best suits you. If you work full time, care for children, or have other obligations, this might be a good way to fit education into your busy life.
Online training can be an especially good option for those who are self-directed, self-motivated, and willing to actively work on improving motivation if they lose some momentum. However, some people who prefer plenty of face-to-face interaction with instructors and fellow students may feel better suited to on-campus learning.
2. Gain the Necessary Skills and Knowledge
As with many IT careers, you will need to possess up-to-date knowledge of industry-standard technology to succeed as a computer technician. Therefore, ensure the program you pick provides you with training in repairing hardware, troubleshooting software problems, and running automatic diagnostic programs. The more familiar you are with installing, modifying, and repairing different types of computer software and hardware, the better prepared you will be to solve a wide variety of technical issues.
Some programs also provide you with training in Local Area Networks (LANs), Wide Area Networks (WANs), databases, and security.
Whether you choose to obtain your computer technician training through a certificate, diploma, associate degree, or bachelor's degree will depend on the amount of time you wish to commit, in addition to your previous education and experience.
3. Obtain Hands-On Experience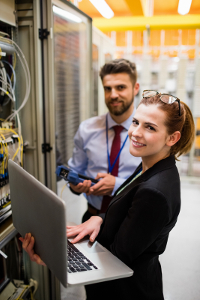 It is also important that your program provides plenty of time to practice your skills. After all, most people learn best by doing. Look for a program that develops your ability to solve complex technical problems through repeated trial-and-error practice with industry-standard equipment.
Potential employers will certainly find your resume more attractive if you have some hands-on experience. One of the best ways to get experience beyond your classroom training is through an internship in the field. Some computer technician training programs offer this option to students because it's a great way to get on-the-job training, and make valuable industry connections.
4. Explore Certification
There is a diverse range of IT industry certifications for you to choose from. Often, the certification indicates that you have a certain level of expertise in a specific technology. For example, by earning the CompTIA Network+ certification, you are demonstrating your ability to install, configure, maintain, and troubleshoot basic network infrastructures.
Although certification is not mandatory, it is one of the best ways to enhance your credibility, and demonstrate to future employers that you have industry-recognized skills. If you're interested in pursuing certification, research which IT certification might help you stand out in the competitive job market, and then find out if your chosen program offers preparation for that particular examination.
Now that you have a better idea of what to consider when picking a program, take the next step today and browse this guide to computer technician training programs. You could soon be pursuing the high-tech career you have always wanted!
---