Home Inspector Training Schools
Prepare for Home Inspection Certification
Last Updated
Get into a fun career that can allow you to be your own boss.
Home inspector training offers a good way to learn skills that can lead to beginning your own business and setting your own hours. And comprehensive programs in this field can even be taken online. They make it easy to work at your own pace and fit the education you need into your current life.
Just think of what a home inspection career might mean for you: a higher income, interesting work, and the chance to set your own terms. Even if you choose not to work for yourself, you could still discover great opportunities with private employers or public agencies at the city or county level. Plus, it's a trade that allows you to engage your detail-oriented mind in hands-on tasks.
So why not start pursuing your home inspection certification? As a qualified professional in this vocation, you can help assure home buyers that the houses they want to purchase are safe and free of problematic defects. At the very least, you can point out any issues and give potential buyers and sellers a chance to resolve them before committing to a home's sale.
Online home inspection training is easy to find. Simply check out the options below or use your zip code to locate a program right now!
---
---
3 Things to Know About Being a Home Inspector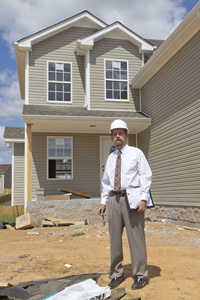 Inspecting the quality of a building's construction is very important work. People need to be able to trust that an inspector is being honest and thorough. But that's why many professionals in this trade find it so satisfying. It can feel great to be counted on for your expertise. So it might be a terrific option for you as well.
As you consider going after a career in home inspection, keep a few things in mind:
1. You may need to earn home inspection certification or licensure.
Whether you want to become your own boss or work for someone else, you'll likely need to become licensed or certified. In the U.S., 39 states have licensure requirements for home inspectors. So you'll want to check with your own state to find out what you need to earn. Sometimes, home inspection certification is awarded after the successful completion of a training program. But you may also be required to pass a state exam.
In addition to official credentials, you'll also need the right tools for the job. And if you're planning on starting your own business, you'll want to consider getting home inspector insurance as well as business support through an organization such as the International Association of Certified Home Inspectors (InterNACHI) or the American Society of Home Inspectors.
2. The work situations of home inspectors can vary.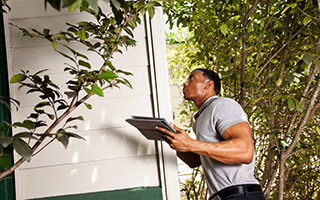 Home inspectors can have a variety of employment or contracting arrangements. For example, those who work for government agencies generally work regular daytime hours during the week, whereas self-employed inspectors often have more flexible schedules and may perform some work in the evening or on the weekend to meet the needs of certain clients.
In the event that an emergency arises on an active construction site being inspected, a building inspector might need to be available to assess the situation immediately. Generally, however, most home inspectors perform their work on houses or buildings that are already completed.
As a home inspector, you can expect to be responsible for looking over the plumbing, electrical, and other important systems to ensure that everything is running up to code. You'll also inspect a home's foundation, roofing, and walls, reporting any code violations to ensure that building owners and any potential buyers know what needs to be fixed in order to get up to compliance.
3. The job outlook is good for those with home inspection training.
According to the Occupational Employment and Wage Statistics program, the median salary for a full-time construction or building inspector in the U.S. was $61,640 in 2021.* But some inspectors made more than $100,520.
Begin Your Training Right Away
Home inspector schools are ready to help you get into this fulfilling trade. Find one right now by putting your zip code into the simple tool on this page!
---
---
* Unless otherwise noted, salary information is based on May 2021 data from the Occupational Employment and Wage Statistics (OEWS) program.