Office Administrator Training Schools
Last Updated
Opt for office administrator training to begin developing the skills needed to help businesses become more efficient and organized.
Office administration schools can assist you with developing a solid business foundation and acquiring a broad skill set so that you are prepared to offer essential office support services to supervisors, managers, and other personnel. Office administration jobs like office administrator, administrative assistant, and executive assistant are found within businesses, organizations, and agencies in almost every sector.
By studying areas related to administration, technology, accounting, marketing, and even human resources, you could become the go-to person in a busy office. You could be responsible for administrative and organizational tasks that cover anything from managing appointments and creating documents to training employees and supervising support staff. Start preparing to achieve your career goals with training from one of the schools featured below. Or use the following search tool to find nearby programs based on your zip code!
Office Administrator Training & Careers FAQ
---
---
Office Administrator Schools
Sponsored Listings
Bakersfield
Garden Grove
Gardena
Huntington Park
Oceanside
Ontario
Riverside
Stockton
West Covina
Business Office Administration
DeLand
Kissimmee
Lakeland
Orlando
Pembroke Pines
South Miami
Tampa
Business Office Specialist
---
---
Office Administrator Training & Careers FAQ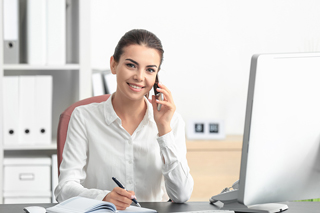 Deciding on a career path is a big deal. It requires a lot of consideration and introspection. You will likely want to learn as much as you can about an occupation in order to ensure that you'll be a fit for it. A first question might be, "What is an office administrator?" And you probably want to know other things as well, like what the average pay is and how big the potential is for job opportunities. So if you are considering a career in office administration, then keep on reading in order to discover some of the most common questions and answers related to training for, and working in, this field.
1. What Is Office Administration?
The term office administration describes the tasks performed by an office administrator. Office administrators handle the day-to-day activities within offices in order to help them operate as efficiently as possible. Business office administration professionals can be responsible for completing these activities themselves, or they may be responsible for assigning and managing them. Office jobs often include tasks related to bookkeeping, finance, human resources, administration, supply management, logistics, employee supervision, and other essential business functions. Your specific responsibilities might vary greatly depending on which industry you work within as well as whether the organization is a small business, large corporation, government agency, or non-profit organization.
2. What Responsibilities Might I Have as an Office Specialist?
As mentioned above, your responsibilities as an administrative office assistant or specialist could vary between different industries and organizations. For example, an office administrator within a financial institution would likely be responsible for substantially different tasks than an office administrator within a spa resort. That being said, here are some of the responsibilities that you may find in an office specialist job description:
Providing exceptional customer service to the public and internal employees
Answering phone calls and responding to email inquiries
Managing schedules and booking appointments for more senior managers
Assisting with hiring and training new employees
Assigning and directing the work of other office employees
Managing office inventory and ordering supplies
Maintaining office equipment
Offering administrative support to other departments and managers as requested
Planning and organizing staff and company events
Updating databases and records
Recording financial transactions and preparing reports
Posting updated and new content to websites and social media accounts
Developing office policies and procedures
Managing and administering employee benefits and insurance programs
Handling and resolving customer complaints and internal staff issues
Ensuring that office areas are kept clean and tidy
Assisting with payroll processes, such as submitting employees' hours and used vacation days
Tracking company credit card receipts
Making travel and accommodation arrangements for staff and management as needed
Taking meeting minutes
Managing incoming and outgoing mail
3. What Is the Work Environment Like for Administrative Office Professionals?
Typically, office administration professionals work in clean, well-lit environments. Many office settings are also relatively quiet. However, some offices—such as a sales office that is accessible to the public—have quite a bit of activity with lots of people coming and going. And other offices, like those of a manufacturing company, have some industrial noises and smells. So if the type of work environment is important to you, then you will want to consider which industries and organizations can best meet your desires.
Other working conditions that you encounter might be just as varied. Most office administrators work full-time hours and may even get to work overtime. The demands of the job and deadlines that you face depend on a number of factors, such as whether you are supervising other employees and whether you are assisting one manager or several managers. Additionally, some office assistants are able to enjoy flexibility in their scheduling as well as the opportunity to complete some of their work from home.
4. Do I Need an Office Administration Degree to Enter the Field?
As you can see so far, the office administration field is quite diverse. And that holds true for the amount of education that's required as well. In most cases, a degree is not going to be required. However, the level of education that you pursue will likely depend on the type of position that you want to achieve.
For example, entry-level receptionist positions often require nothing more than a high school education—as long as you possess basic computer and customer service skills. Mid-level positions, such as administrative assistant or office administrator, typically require a certificate, diploma, or associate degree. And higher-level positions, such as office manager or executive assistant, may require a degree along with several years of work experience.
It is worth noting that there are office administration positions that require very specific training. These jobs are typically found within the legal and medical sectors. If you wanted to work within a medical office, then it is likely that you will need to have completed a medical office administration program. And legal office positions typically require completion of legal administration or legal assistant training. So it is important to consider your desired career path prior to determining your education requirements.
5. What Kinds of Office Administrator Jobs Might Be Available?
As an office professional, you may be able to go after a number of exciting opportunities. Employment projections from the Bureau of Labor Statistics show that, on average, 2.2 million job openings related to office administration could become available each year from 2021 to 2031 (mostly from people retiring, moving into more advanced positions, or changing careers).* They will include positions such as the following: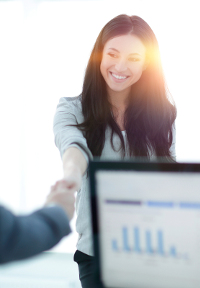 Receptionist—Work at the entry level while carrying out administrative responsibilities like greeting visitors, answering phones, preparing documents, and scheduling appointments.
Office clerk—Assume a role that involves completing tasks such as preparing and updating documents, performing data entry, processing accounts payable, and answering phones.
Customer service representative—Position yourself as a key customer contact and respond to customer inquiries, take orders, update customer accounts, manage returns, and record transactions.
Administrative assistant—Take responsibility for office administrator duties like scheduling appointments, arranging meetings, creating and editing reports and other office documents, performing bookkeeping activities, and maintaining databases and records.
Executive assistant—Provide a high level of administrative support by handling activities such as training and supervising staff, conducting research and preparing reports, coordinating meetings, and managing an upper manager's schedule.
Administrative services manager/office manager—Take on a role in which you plan, direct, and manage the workflow and activities within an office, which could include setting goals and deadlines, supervising employees, developing policies, managing records, and preparing budgets.
6. What Is the Typical Office Administrator Salary?
You can probably guess that, when it comes to office administration, salary expectations are just as wide-ranging as other aspects of the field. The average office specialist salary depends on factors like the level of the position, the type of industry and organization, and your education and experience level. To get an idea of the wages that you might come across, take a look at five of the more common office administration careers below. You can see the median hourly pay based on information from the Occupational Employment and Wage Statistics program, as well as the lowest and highest pay, earned by administrative professionals in 2021.*
Administrative services managers/office managers:
Lowest 10%: $28.59
Median: $48.16
Highest 10%: $81.21
Executive secretaries and executive administrative assistants:
Lowest 10%: $18.57
Median: $29.84
Highest 10%: $47.25
Secretaries and administrative assistants:
Lowest 10%: $13.56
Median: $18.21
Highest 10%: $28.61
Customer service representatives:
Lowest 10%: $12.67
Median: $17.75
Highest 10%: $28.19
Office clerks:
Lowest 10%: $11.30
Median: $17.81
Highest 10%: $28.31
Receptionists and information clerks:
Lowest 10%: $11.08
Median: $14.40
Highest 10%: $22.00
7. Will I Find Opportunities for Career Advancement?
Since there are so many levels of jobs within the field of office administration, career advancement is quite common. For example, if you begin your career as a receptionist, then you may have the opportunity to advance into a position as an administrative assistant, then become an executive assistant, and eventually become an office manager. Once you have hit the management level, other careers that you may consider include hospitality manager, human resources manager, marketing manager, project manager, or one of the many other kinds of specialty business managers.
8. What Skills Should I Highlight When Writing an Office Administrator Resume?
Every position will have different requirements. So, when writing your resume, you will want to tailor it specifically to each job you apply for. And you'll want to be sure that you are being honest and only highlighting the skills that you truly possess. With that in mind, listed below are the most common abilities, skills, and traits required for office administration jobs.
Able to provide excellent customer service
Pays attention to details
Proficient with modern office technology
Able to communicate effectively
Possesses writing skills
Manages time effectively
Capable of solving problems
Understands general office procedures and business principles
Able to work independently and as part of a team
Organized and efficient
Friendly and outgoing
---
Turn Your Dreams of a Great Career Into Reality
Don't hesitate any longer to take steps that could change your future for the better. If you want an office administrator career, then make it happen right now. All you have to do is complete one simple action to get started. Enter your zip code into the search tool below to see a list of schools that are offering office administration programs in your area. It's a move that could positively change your life!
---
---
* Unless otherwise noted, salary information is based on May 2021 data from the Occupational Employment and Wage Statistics (OEWS) program. Average yearly openings estimates are from the Bureau of Labor Statistics and are for the 2021 to 2031 period.