---
---
3 Smart Reasons to Sign Up for Small Engine Repair Classes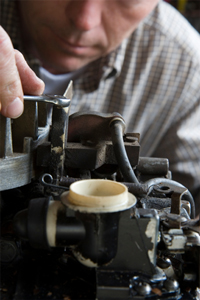 Developing the skills to inspect, test, repair, and maintain nearly anything with a small engine can come with several powerful benefits. That's why people who've learned this trade are often very happy they did. Many of them would agree that taking small engine repair courses is a smart idea for anyone who is mechanically inclined (or would like to be) and wants to generate new personal and vocational possibilities. Here are three reasons why it's a worthwhile trade:
1. Small Engine Mechanics Serve a Very Large Market
Americans love using recreational vehicles and motorized tools and machinery. Small gas engines power a lot of the activities we enjoy or need to carry out. As a result, a number of related industries continue to thrive by manufacturing, selling, and servicing products in this category. And with so many of those products requiring regular maintenance or periodic repairs, plenty of small engine technicians are needed to fill that demand. Check out some of the market stats:
Motorcycle ownership hit record levels in 2018, with eight percent of U.S. households owning at least one motorcycle. In total, there were more than 13 million bikes in America.
In 2019 alone, around 280,000 new powerboats were sold in America.
Revenues from lawn mower sales in the U.S. are expected to total $13 billion by 2024.
2. You Can Specialize in One Area or Embrace Lots of Fascinating Variety
Small engine mechanics have some interesting options when it comes to what they work on. In many cases, they enjoy fixing a wide variety of items—everything from lawnmowers and garden tractors to snowblowers and snowmobiles to dirt bikes and racing boats. But in other cases, they decide to become specialists at repairing what they're most enthusiastic about. For example, a lot of small engine technicians focus their attention on becoming great marine mechanics or motorcycle mechanics.
3. Knowing Small Engine Repair Can Generate Good Financial and Career Benefits
Your community is likely full of people with small motorized vehicles or engine-powered equipment that could use some professional servicing. You might even be one of them. So, at a personal level, knowing how to repair your own machinery can save you a lot of money. But it can also make you a lot of extra money—especially if it becomes your full- or part-time career.
Many small engine mechanics operate their own repair shops. And others find good employment in settings like motorcycle, powerboat, and outdoor equipment dealers, rental shops, and service centers. According to Occupational Employment Statistics program data, the annual wages of the highest earners in this trade looked like this in 2018:
Outdoor power equipment technicians—$54,210 or more
Motorcycle mechanics—$59,640 or more
Motorboat mechanics—$62,460 or more
---