Small Engine Repair School Information
By Publisher
| Last Updated
People who know how to fix things like motorboats, motorcycles, and outdoor power equipment often enjoy satisfying work, self-employment potential, and other advantages. By training at a small engine repair school, you get the chance to expand your abilities as a hands-on problem solver in this practical trade.
---
---
Small Engine Repair Schools
Sponsored Listings
---
---
Education & Training
Post-secondary training in small engine repair can help you develop the skills and expertise to start having an impact in this diverse trade.
Length of Training
Most commonly, it takes between 12 and 24 months to complete a program in small engine repair. However, it's possible to find small engine repair classes that can be completed in as little as four months.*
Most Common Length of School*
(range in months)
Motorcycle technology

Automotive technology

Marine technology

Small engine repair
Program Options
Certificate and diploma programs typically take one to two years to complete.* Some cover the general fundamentals of the trade, whereas others cover a more thorough combination of marine, motorcycle, and power equipment technology.
Associate degree programs are also available, but they are not as common. They take up to two years to complete and tend to include more general education courses like business writing and computer literacy.*
Apprenticeships are another potential option. Going this route means earning a wage while learning the trade through on-the job training. Some employers will also cover the costs for apprentices to undergo training offered through a manufacturer. You can search for apprenticeship opportunities through the U.S. Department of Labor.
---
---
Typical Small Engine Repair Courses
Small engine repair schools usually provide instruction in areas like:
Principles of two- and four-stroke engines
Engine servicing and rebuilding
Fuel, ignition, electrical, and cooling systems
Hydraulics and brakes
Troubleshooting and repair techniques
Shop management
Customer relations
Some schools partner with major manufacturers, such as Polaris, Harley-Davidson, STIHL, Briggs & Stratton, Toro, Volvo Penta, or Yamaha. That gives students an opportunity to work with industry-current equipment.
Some programs also include an internship that allows students to get practical hands-on work experience.
Skills You Can Learn
Depending on the specific program you choose, you may have an opportunity to begin learning how to:
Inspect, test, troubleshoot, and fix things like:

All-terrain vehicles (ATVs)
Snowmobiles
Motorcycles
Scooters
Dirt bikes
Outboard motors
Chainsaws
Rotary tillers
Weed wackers
Leaf blowers
Power washers
Generators
Garden tractors
Golf carts

Perform routine maintenance
Repair fuel, electrical, brake, and hydraulic systems
Carry out engine tune-ups and complete engine overhauls
Use tools such as:

Ammeters and voltmeters
Compression gauges
Lathes
Pneumatic wrenches
Welding equipment
Grinding machines

Document all work performed
Licensing & Certification
In most cases, small engine mechanics do not need to be licensed or certified. However, motorcycle mechanics must have a valid driver's license that includes a motorcycle endorsement. And in Hawaii and Michigan, motorcycle mechanics must pass special licensing exams.
Many motorcycle, motorboat, and outdoor power equipment manufacturers offer certifications for mechanics who work on their products. These certifications may be required in order to carry out warranty work.
Depending on your area of specialization, you may also benefit from pursuing voluntary certifications from organizations like:
Education & Training FAQs
How can I prepare for a small engine repair program?
High school courses like math and automotive repair can be helpful. Some basic electronics knowledge is also useful. And of course, any experience you can get with fixing motors is good. Sometimes, equipment dealers hire high school students to help out with minor repairs in the summer months.
Can I get small engine repair training online?
It's possible to find programs that teach the theories of small engine repair through online tutorials and instructional videos. That can be a convenient way to learn the basic concepts. You could then get some hands-on practice by tinkering with your own equipment or offering to fix your friends' or neighbors' stuff. You might also consider reaching out to a repair shop in your area to see if you could volunteer your time as a way to gain experience.
---
---
Career Information
Getting small engine repair training can be a good move for anyone who is mechanically inclined and wants to generate new vocational possibilities.
Career Outlook
5% growth from 2021 to 2031
Median Salary
Small Engine Mechanics
Job Openings
Average Yearly Openings
Length of Training
Most Common Length
Work Settings
Specializations
Motorboat repair, motorcycle repair, outdoor power equipment repair
Sources**
U.S. Bureau of Labor Statistics
U.S. Department of Education
Earnings
According to the Occupational Outlook Handbook (OOH), the median annual wage for small engine mechanics is $39,050.** The top earners make over $60,280.
Median Annual Wage Comparison**
Job Openings & Outlook
Employment of small engine mechanics is expected to grow by 5 percent from 2021 to 2031, according to Bureau of Labor Statistics (BLS) projections.**
On average, 9,000 jobs should become available each year over that decade. They are comprised of:
Brand new positions: 400
Openings due to retirements: 3,300
Openings that stem from workers moving into other occupations: 5,300
Key Benefits
Huge potential demand: Americans own more than eight million motorcycles and almost 12 million boats, not to mention a multitude of equipment like lawnmowers and chainsaws. Many of those products require regular maintenance or periodic repairs, which could mean good job security for you.
Varied options that keep you interested and satisfied: You could choose to work on everything from power washers and garden tractors to dirt bikes and racing boats. Or you could decide to become a specialist at repairing what you're most enthusiastic about.
The chance to be your own boss: Once you gain some experience, you could go into business for yourself. The OOH notes that seven percent of small engine mechanics are self-employed.
What a Small Engine Mechanic Does
Small engine mechanics repair and maintain a wide range of motorized equipment, from lawnmowers and motorcycles to golf carts and leaf blowers.
Typical tasks include:
Inspecting and testing engine parts
Carrying out routine maintenance, such as cleaning parts, tuning ignition systems, and replacing spark plugs
Disassembling and reassembling engine components
Repairing or replacing broken components
Keeping records of all repairs or maintenance performed
Talking to customers about necessary repairs and estimated costs
Work Settings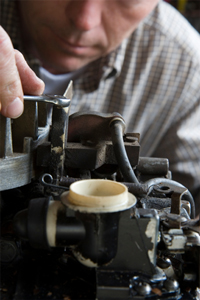 Small engine mechanics typically work in:
Repair shops
Dealerships
Marinas
Golf courses
Lawn and garden stores
Service centers
Factories
Salvage yards
Specializations
While some small engine mechanics are generalists, most specialize in areas like:
Motorboat repair: Maintain and fix mechanical and electrical equipment in different types of watercraft.
Motorcycle repair: Troubleshoot, adjust, and fix motorcycles as well as related vehicles like dirt bikes, ATVs, and scooters.
Outdoor power equipment repair: Focus on motors inside equipment like lawnmowers, golf carts, leaf blowers, and chainsaws.
Career FAQs
Which small engine specialties are in the greatest demand?
According to BLS projections for this trade, motorboat mechanics have the highest rate of employment growth from 2021 to 2031. These are the rates for each specialty:**
Motorboat mechanics: 8 percent
Motorcycle mechanics: 4 percent
Outdoor power equipment and other small engine mechanics: 3 percent
In terms of the average number of annual job openings, motorboat mechanics come out on top:
Outdoor power equipment and other small engine mechanics: 4,100
Motorboat mechanics: 3,000
Motorcycle mechanics: 1,800
What kind of hours do small engine mechanics typically work?
Full-time work is the norm, but a mechanic's hours can be affected by the seasons. Spring and summer tend to be busy, while demand drops off in the winter. Some mechanics try to even out the workload by scheduling major repairs like engine overhauls during the off-season. Others pick up additional work by servicing snowmobiles or snowblowers.
---
* Length of training information is based on a combination of information from the Occupational Outlook Handbook, the U.S. Department of Education, and a wide sampling of relevant programs from about 30 individual school websites. They are a mix of public, private non-profit, and private for-profit institutions.
** Unless otherwise noted, salary information is based on May 2021 data from the Occupational Employment and Wage Statistics (OEWS) program. Job growth and average yearly openings estimates are from the Bureau of Labor Statistics and are for the 2021 to 2031 period.