Medical Billing and Coding Schools
By Luke Redd
| Published
| Last Updated
Summary
People who get trained though medical billing and coding schools are often well prepared for pursuing meaningful employment and respected certifications. This essential field also provides opportunities for remote work as well as a wide variety of ways to specialize and enhance your salary potential.

Online
Programs Available
Find a Medical Billing School
Career Outlook*
10.7% growth from 2018 to 2028
Median Salary*
Medical Billers & Coders
Job Openings*
Average Yearly Openings
Length of Training
Most Common Length
Work Settings
Specializations
Cardiology, dermatology, emergency care, gastroenterology, gynecology and obstetrics, interventional radiology, oncology and hematology, ophthalmology, pain management and anesthesia, pediatrics, rheumatology, surgery, urology
Sources
U.S. Bureau of Labor Statistics
U.S. Department of Education
What you'll find in this article:
---
Featured Schools
Sponsored Listings
---
---
---
---
---
---
---
---
---
---
---
---
---
---
---
---
---
---
---
---
---
---
---
---
---
---
---
---
---
---
---
---
---
---
Career Information
Medical coders and billers are critical to the healthcare industry. They contribute to the accuracy of patient data and the timely reimbursement of medical providers.
Earnings
The Occupational Employment Statistics (OES) program pegs the median medical billing and coding salary at $42,630. Those at the top end of the wage scale earn more than $71,150. That's based on information for the broader occupational group that includes these professionals, additional types of health information specialists, medical dosimetrists, and other kinds of health technicians and technologists.
According to a salary survey by AAPC, certified coding specialists tend to earn much more than their non-certified counterparts. In 2019, certified medical coders made $55,923, on average. That's 33 percent more than the average salary of those without certification. Plus, those with two certifications earned an average of $64,890. And coders with at least three certifications made $70,608, on average.
Median Annual Wage Comparison
Job Openings & Outlook
The Bureau of Labor Statistics (BLS) projects that medical records and health information technicians (which include coding and billing specialists) will experience employment growth of 10.7 percent between 2018 and 2028. In total, about 16,800 job openings may be generated each year, mostly through people retiring or leaving this field for different careers.
Key Benefits
Opportunities to work from home: Many healthcare organizations outsource their billing and coding tasks to self-employed contractors or companies that specialize in providing these services. So it's possible to find positions that allow you to work remotely on a flexible schedule.
The chance to earn a good salary without a four-year degree: With two years or less of post-secondary education in this field, you can qualify for meaningful coding or billing jobs and pursue certifications that greatly increase your income potential.
Enhanced job security: Health information coders and billers are essential to the medical sector. Codes and regulations change frequently, and the nation's aging population is putting more and more demand on the healthcare system. So the demand for specialists in this field should stay strong.
What a Medical Biller and Coder Does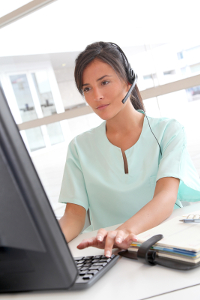 Billing and coding specialists use the information from medical reports to properly classify diagnoses and procedures for the purposes of updating patients' records, compiling statistical data, submitting insurance claims, and preparing invoices for specific health services that have been rendered.
Some people in this field do all aspects of the job, especially if they work for small employers. But it's also common for people to handle just coding or billing (not both).
Medical coders typically do things like:
Identify patients' medical conditions and treatments based on notes and reports from physicians or other healthcare providers
Assign the correct numeric or alphanumeric codes to each specific diagnosis and procedure
Refer to official code books, databases, or other reference materials as necessary
Ask for clarification from healthcare providers when needed
Update and ensure the accuracy and privacy of patients' medical records
Medical billers generally do things such as:
Assign costs based on the codes in newly updated patient records
Prepare and file health insurance claims with private insurers or the public agencies that run Medicaid or Medicare programs
Follow up with insurers when claims have not been processed or paid
Get pre-authorization letters or confirmation of eligibility prior to certain patients receiving particular kinds of treatments
Seek clarification when conflicts or inconsistencies arise
Communicate with patients to answer questions or explain the status of claims
Create and send invoices to patients for services that insurance won't cover
Set up and manage monthly payment plans for certain patients
Turn delinquent accounts over to debt collection agencies
Work Settings
Professionals in this field tend to work in environments such as:
Hospitals
Clinics
Doctors' offices
Long-term care facilities
Home offices
Rehabilitation centers
Hospices
Diagnostic imaging centers
Medical laboratories
Corporate or government offices
Specializations
Some coders and billers work in general areas like family practice. Others work for specialized physicians or in specific types of departments or practices, often after gaining special coding certifications. Becoming a coding specialist for a particular area of medicine can sometimes reduce the number of codes and medical terms you need to know and stay up to date on. It can also lead to a higher income.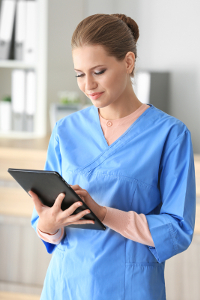 Examples of specialty areas include:
Cardiology: Heart and blood vessel disorders and diseases
Dermatology: Skin, hair, and nail conditions
Emergency care: Injuries and illnesses requiring immediate action
Gastroenterology: Ailments that affect the digestive system
Gynecology and obstetrics: Health issues that are unique to females, including pregnancy and childbirth
Interventional radiology: Minimally invasive diagnostic and treatment procedures that are guided by X-ray, ultrasound, computed tomography, or magnetic resonance imaging
Oncology and hematology: Cancers and blood-related diseases
Ophthalmology: Eye-related disorders and surgical procedures
Pain management and anesthesia: Procedures for reducing patients' physical suffering or numbing their physical sensations
Pediatrics: Medical care of patients under age 18
Rheumatology: Diseases that affect people's joints, muscles, and ligaments (such as arthritis)
Surgery: Invasive treatments carried out by highly specialized physicians in areas like cardiovascular, thoracic, orthopedic, or abdominal-related disorders
Urology: Conditions related to the kidneys, bladder, urethra, adrenal glands, and male reproductive system
Career FAQs
What classification systems are used for medical coding?
The three main types of coding systems used in the U.S. healthcare industry are:
Current Procedural Terminology (CPT). These numeric and alphanumeric codes are used for all kinds of medical and clinical procedures that are performed in practitioners' offices, diagnostic laboratories, or other outpatient care settings. The codes are managed, maintained, and copyrighted by the American Medical Association (AMA). Each year, new codes are added and obsolete codes are removed.
Healthcare Common Procedure Coding System (HCPCS). These codes are based on the CPT system, but they are designed specifically for submitting claims for services covered by Medicare or Medicaid.
International Classification of Diseases (ICD). These alphanumeric codes are created, monitored, and copyrighted by the World Health Organization (WHO). They are used for coding diagnoses in all settings. In the U.S., they are also used for coding procedures that are performed in inpatient settings like hospitals. The current versions are ICD-10-CM (Clinical Modification) and ICD-10-PCS (Procedure Coding System). A version of ICD-11 was distributed in 2018, and member countries will begin using it for reporting in 2022.
How hard is it to get a medical coding job?
It really depends on the approach you take. If you don't get a formal education in this field, finding a job may be more difficult than it otherwise would be. Certification is also critical for improving your chances. In addition, your prospects may be better if you seek an entry-level job in an outpatient setting (like a doctor's office) rather than an inpatient environment (like a hospital). Remote coding jobs are often geared toward those with a good amount of experience.
Invest a lot of time in researching the potential employers in your area. Call their human resources staff to find out exactly what they look for in potential hires. Many places will prefer a certain level of education as well as particular certifications.
Qualifying to take professional certification exams usually requires a minimum amount of direct, on-the-job coding experience. However, as an inexperienced coder, at least one option can lead to a credential that helps separate you from the competition for entry-level positions. By passing the AAPC's Certified Professional Coder (CPC) exam, you can gain the apprentice designation (CPC-A), which still demonstrates that you have the required knowledge even though you don't yet have the experience.
In addition to preparing you for certification exams, many college programs incorporate externships, which give students some real-world practice and helps them make valuable connections that often lead to future opportunities. You can also take advantage of exclusive networking events and career development resources by becoming a member of one or more professional organizations for health information specialists.
When matched with the necessary coding skills and credentials, persistence and enthusiasm usually pay off. For some people, it just takes a little more time than they were initially hoping for.
---
---
Education & Training
You generally need at least a high school diploma, GED, or equivalent credential to enter this field. Post-secondary training in health information technology or medical coding and billing is also strongly recommended, especially if you want to pursue certification and improve your job opportunities.
Length of Training
Although shorter programs are available through a few online training providers, most courses of study for medical billing and coding are designed to take anywhere from seven to 24 months.**
Most Common Length of School**
(range in months)
Medical assisting

Medical billing & coding

Pharmacy technology

Healthcare management
Program Options
Certificate or diploma programs generally take less than a year to complete.** They provide a streamlined education that is very focused on the fundamentals of medical billing and coding in order to help prepare you for entry-level employment and certification.
Associate degree programs provide a broader education that often includes a more comprehensive range of courses related to health information technology as well as classes in general subjects. Earning a degree at this level usually takes up to two years.**
Typical Courses
Medical billing and coding schools near you or online may offer programs that include classes in subjects like:
Medical terminology
Human anatomy and physiology
Pathology
Pharmacology
Math
English grammar
Medical data standards
Electronic health records
Healthcare laws, regulations, and ethics
Diagnostic and procedural medical coding
ICD, CPT, and HCPCS classification systems
Health insurance systems and terminology
Billing and reimbursement processes
Coding compliance and auditing
Medical office software and procedures
Microsoft Word and Excel
Professional communications
Skills You Can Learn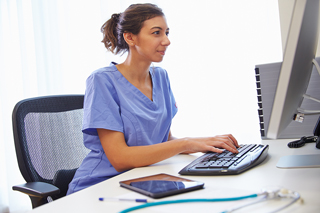 Many programs that include medical coding training help students gain abilities related to:
Using electronic health records (EHR) software
Using billing, database, and word processing software
Creating and editing spreadsheets and documents
Interpreting medical reports
Identifying specific tests, diagnoses, and treatments within reports
Assigning the correct codes to each diagnosis and procedure
Updating patient records
Complying with the Health Insurance Portability and Accountability Act (HIPAA)
Performing basic bookkeeping and accounting tasks
Managing patient invoices and health insurance claims
Licensing & Certification
Medical billers and coders are not required to obtain licensure in any state.
Becoming professionally certified is technically voluntary. However, employers often look for people with certain types of medical billing and coding certification. Some schools include the cost of at least one certification exam as part of the tuition and fees they charge. And some certifying organizations offer student discounts on memberships and exams.
You can become a certified professional through one or more of these organizations:
Education & Training FAQs
How long does it take to become a certified medical coder if you don't go to school for it?
It's possible to learn what you need to know through AAPC's online courses and pass the organization's most basic certifying exam in as little as half a year. That will get you the CPC-A credential. To remove the apprentice designation and become a CPC, you'll need to acquire at least two years of experience. But you can replace one of those years by using AAPC's Web-based Practicode program, which lets you get a lot of direct coding practice.
If you're completely new to the field and want to prepare for medical coding certification from other organizations, you'll probably need to complete a formal program through a vocational college.
Which coding certification is best?
This mostly depends on the type of employer you want to work for, as well as any particular areas you want to specialize in. Although preferences vary, many hospitals and inpatient facilities like to hire people with certification from AHIMA, such as the CCS credential. Outpatient clinics, offices, and similar employers frequently look for people with AAPC certifications, such as the CPS credential.
AAPC and AHIMA tend to be the most widely recognized certifying organizations for medical coders. But it's a good idea to check out several job postings for your area in order to see if you can spot a clear pattern in the kinds of credentials that are being requested. To enhance your job prospects, it may be worth pursuing multiple certifications through two or more organizations.
---
* For salary information, the OES program includes medical billers and coders in the "medical dosimetrists, medical records specialists, and health technologists and technicians, all other" occupational group. For job outlook information, the BLS includes coders and billers in the "medical records and health information technicians" category.
** Length of training information is based on a combination of information from the Occupational Outlook Handbook, the U.S. Department of Education, and a wide sampling of relevant program lengths from about 30 individual school websites. They are a mix of public, private non-profit, and private for-profit institutions.