---
---
5 Facts Worth Knowing as You Consider Optician Training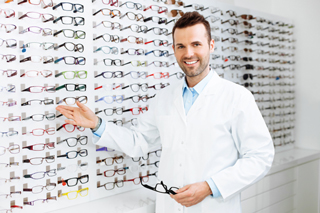 Vision problems are very common, especially conditions like nearsightedness and farsightedness. Consider these stats: Over 150 million people in America use corrective contact lenses or eyeglasses. That translates to more than $15 billion of spending on eyewear each year across the nation.1 In addition, about 500,000 Canadians suffer from vision loss that is severe enough to impact their lives in major ways.2
As a result, people within the field of prescription eyewear dispensing are needed almost everywhere. They are part of an occupation that can be very social and satisfying. But here are five other interesting and beneficial aspects of this field:
1. Opticians Play a Special Role in Vision Care
The exciting thing about being an optician is that it's one of the easiest and most enjoyable ways to help people improve their vision and personal confidence. But some people get confused by all of the different job titles used within the broad sector of eye care. So it's important to understand the terminology. That way, you know for sure what you're getting into.
Here's how roles within the vision care industry break down:
Opticians—They are sometimes called dispensing opticians, optical technicians, or ophthalmic dispensing technicians. The key thing to remember is that they assist customers with selecting the most appropriate eyewear. As part of that role, they often need to measure the distance between their customers' pupils and ensure that orders for custom lenses are matched up with the correct prescriptions.
Ophthalmic laboratory technicians—These workers, sometimes called manufacturing opticians, specialize in actually making the eyeglass or contact lenses that are ordered. Frequently, they use equipment that automates a lot of the process.
Optometrists—These professionals perform most of the primary care within this field, such as conducting eye exams, diagnosing and treating certain visual disorders, and prescribing corrective eyewear or medications if necessary. They typically need a Doctor of Optometry degree. But they are not considered medical doctors (MDs).
Ophthalmologists—These physicians are specialized medical doctors who diagnose and treat diseases of the eye. They can perform a full range of examinations and treatments, including complex surgeries. Most of their patients come to them via referrals by optometrists.
2. The Demand Is Growing
Opticians are essential contributors to the well-being of millions of people throughout the country. And they're becoming even more necessary as certain trends in America increase in prominence. For example, some diseases that cause eye problems—such as diabetes—are on the rise. And the nation's population of older people is also increasing, which adds to the rising number of people who need prescription lenses.
That's why the employment of opticians in the U.S. is projected to grow by 15 percent between 2016 and 2026.3 More and more opportunities are expected to open up within the offices of optometrists as well as in general and specialized retail stores that sell corrective eyewear.
Demand is also growing north of the border. Canada was home to about 2,875 optical retail establishments in 2016.4 But that number could grow significantly in the coming decades thanks to a significant rise in the population of Canadian seniors as well as higher rates of physical conditions like diabetes and obesity that often lead to vision problems.
3. It Doesn't Take Very Long to Become an Optician
Optician training tends to be relatively quick. In fact, most people in the field have earned an associate's degree, certificate, or diploma that only took two years or less of school. Many programs can even be completed in less than one year.
Just keep in mind that many states also require you to become licensed in order to engage in the dispensing of eyeglasses or contact lenses. In most cases, that means you simply need to pass certifying exams that are administered by the American Board of Opticianry and National Contact Lens Examiners.
Once you're officially an optician, all kinds of possibilities open up. People in this field even have their own professional organization—the Opticians Association of America.
In Canada, the process for getting licensed is also fairly simple. After completing your training, you just need to pass the National Optical Sciences Examination. Then you can apply for registration with your province's optician regulatory agency.
4. The Pay Can Be Compelling
Considering the small amount of training they need, opticians often earn good wages. That's particularly true if they work in a state with licensure or certification requirements. In 2018, the average annual pay for an optician in the U.S. was over $39,930. And the highest-earning opticians made over $60,030 a year.5
In Canada, the median wage for opticians is about $23.00 per hour ($47,840 per year for full-time work). However, salaries in this field have been reported to go as high as $65,000 to $69,555 for top earners in some areas of the country.6
Plus, an optician's salary can go even higher if he or she advances to a position such as manager of an optometry clinic or eyewear store.
5. The Job Duties Are Fulfilling
Helping people see the world with renewed clarity can feel highly satisfying. That's why a lot of the specific tasks that opticians perform along the way are so meaningful. For example, an optician job description can include important tasks such as: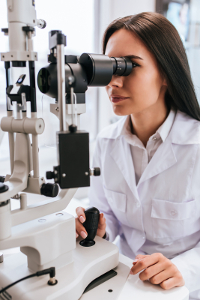 Obtaining the measurements and other specs that are necessary for producing eyeglasses or contact lenses based on the prescriptions of optometrists or ophthalmologists
Helping people choose eyeglass frames that meet their needs
Arranging for the production of eyeglass lenses or contact lenses
Fitting newly ground, polished, cut, and edged lenses into frames
Making adjustments to eyeglasses so that they fit better on the people who wear them
Tracking sales and product inventory
Maintaining detailed client records
In addition, some opticians specialize in a particular area of the field such as the grinding and polishing of lenses, the dispensing of low-vision aids, or the fitting of contact lenses, cosmetic shells, or artificial eyes.
---
Start With Just One Easy Action
Your education in vision care can begin very soon. So put your current zip code into the following search tool to discover optician training schools in your region!
---
---
1 American Academy of Ophthalmology, website last accessed on May 8, 2018.
2 CNIB, website last accessed on May 8, 2018.
3 Bureau of Labor Statistics, U.S. Department of Labor, Occupational Outlook Handbook, website last accessed on May 8, 2018.
4 Industry Canada, website last accessed on May 8, 2018.
5 Bureau of Labor Statistics, U.S. Department of Labor, Occupational Employment Statistics, website last accessed on May 29, 2019.
6 Government of Canada, Job Bank, website last visited on November 27, 2019.