Locksmith School Options
By Publisher
| Last Updated
Through a locksmith school, students have the chance to develop job-ready abilities for a trade that offers highly engaging tasks and the potential for self-employment. Some programs can be completed in very little time, so you can pursue locksmithing career opportunities in a huge range of settings.
---
Locksmithing Schools
Sponsored Listing
---
Education & Training
Completing a formal program in locksmithing can help you develop key abilities that employers value.
Length of Training
Locksmithing programs can last anywhere from two weeks to 10 months.* A locksmith apprenticeship typically takes between three months and four years, according to the ALOA Security Professionals Association (ALOA).
Most Common Length of School*
(range in months)
Locksmithing

Electrical repair

Electronic technology

Small engine repair
Program Options
You can take a program from a locksmith training school or complete an apprenticeship with an experienced person in the trade. Many people do both. Formal education can make you a more attractive candidate for apprenticeships and help you acquire the knowledge you need to pass certification exams.
Locksmithing courses are available through vocational colleges and other training providers. In some cases, instruction is delivered entirely online.
Apprenticeships allow you to get paid while receiving on-the-job training. You can search for locksmith apprenticeships through the U.S. Department of Labor. You can also try contacting reputable locksmiths in your area to see if they would be willing to take you on as an apprentice.
---
---
Typical Courses
Locksmith training programs typically cover subjects like:
Home and business security systems
Key identification
Lock installation
Master key systems
Key cutting and impressioning
Automotive lock servicing
Safe and vault locks
Lock picking methods
Skills You Can Learn
You could develop abilities related to:
Installing locksets and security systems
Assembling and disassembling locks
Duplicating keys
Re-keying pin tumbler locks
Developing master key systems
Troubleshooting and problem solving
Licensing & Certification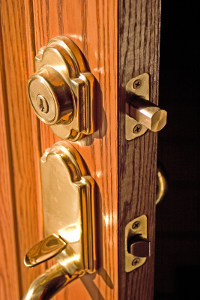 Several states require locksmiths to be licensed or registered. Some cities or counties, such as New York City and Miami-Dade County, have similar requirements. So it's important to research the rules that apply in your area.
Typically, becoming licensed or registered involves undergoing a criminal background check, submitting fingerprints, and paying a fee. Some states have specific training requirements. Many also require aspiring locksmiths to pass an exam.
In addition, voluntary certifications for locksmiths at various levels are available from ALOA. Being certified helps reassure clients that you're trained to work with their locks and security systems. It also shows your commitment to obtaining the proper training.
Available certifications include:
Certified Registered Locksmith (CRL)
Certified Professional Locksmith (CPL)
Certified Master Locksmith (CML)
Certified Automotive Locksmith (CAL)
Certified Forensic Locksmith (CFL)
Certified Professional Safe Technician (CPS)
Certified Master Safe Technician (CMST)
Education & Training FAQs
How can I prepare for locksmith school?
Although you generally won't find a locksmith class at a high school, ALOA recommends the following high school courses for students interested in this career:
Math
English
Physics
Metalwork
Electronics
Mechanical drawing
Business (to help self-employed locksmiths manage the business side of their careers)
What's required to become a locksmith apprentice?
Typically, you will need to have a valid driver's license and a clean driving record. Plus, even in areas that don't regulate locksmiths, employers often require apprentices to pass a background check and a drug screen. You may also have to agree to participate in random drug testing.
---
---
Career Information
Seeking out locksmith training near you or online can be a good first step toward a satisfying career in the security field.
Career Outlook
15% decline from 2021 to 2031
Median Salary
Locksmiths
Job Openings
Average Yearly Openings
Length of Training
Most Common Length
Work Settings
Specializations
Residential, commercial or institutional, automotive, safes, forensics
Sources**
U.S. Bureau of Labor Statistics
U.S. Department of Education
Earnings
Locksmiths and safe repairers have a median annual wage of $46,910**, according to the Occupational Employment and Wage Statistics (OEWS) program. The top earners make $69,790 or more per year.
Median Annual Wage Comparison**
Job Openings & Outlook
According to the Bureau of Labor Statistics (BLS), locksmiths and safe repairers' employment is expected to decline by 15 percent from 2021 to 2031.** However, an average of 1,600 jobs is still projected to become available each year over that decade due to workers retiring or transferring to other occupations.
Key Benefits
Varied and mentally engaging work tasks: Today's locksmiths don't just make locks. They also frequently work with high-tech locking mechanisms, give clients advice on security, and design complex, master key systems for large organizations.
A feeling of pride and purpose: Whether installing an electronic access system for a bank or coming to rescue someone locked out of their home or vehicle, locksmiths play an important role in keeping people and property secure.
The chance to be your own boss: After gaining experience with an established company, many locksmiths start their own businesses. You could open a retail repair shop or go the mobile services route.
What a Locksmith Does
As security systems have become more complex, so have the typical tasks that a locksmith performs. Some of today's locksmiths work with electronic security systems that integrate with computers and networks. That means a locksmith must be able to work with security hardware and software.
Some tasks that a locksmith might perform in a typical day include:
Installing locks and deadbolts
Answering emergency calls to unlock buildings or cars
Repairing damaged locks
Re-keying locks
Copying keys or access cards
Creating or programming new keys or cards
Installing alarm or surveillance systems
Advising clients on the best type of locks
Installing and servicing safes and deposit boxes
Work Settings
Locksmiths are often found in settings like:
Retail stores
Offices
Repair shops
Private homes
Hotels
Banks
Schools
Hospitals
Prisons
Government facilities
Car dealerships
Construction sites
Specializations
As a locksmith, you may choose to concentrate on one or more of the following areas.
Residential: Install and service locks on doors and windows in private homes.
Commercial or institutional: Focus on more complex entry systems found in settings such as corporate office buildings, hospitals, banks, hotels, colleges, and prisons.
Automotive: Work with keys and locking systems for vehicle doors, trunks, and ignitions.
Safes: Specialize in locks for security vaults and safes.
Forensics: Assist investigators by using scientific techniques to determine how a perpetrator was able to bypass a lock or other security device.
Career FAQs
Which industries offer the highest pay for locksmiths?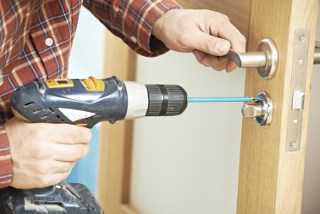 Based on data from the OEWS program, these five sectors offer the highest average pay for locksmiths:**
Local government, aside from schools and hospitals: $65,200
Real estate: $63,350
State government, aside from schools and hospitals: $60,140
General medical and surgical hospitals: $60,090
Federal government (executive branch): $59,900
What qualities make a good locksmith?
Successful locksmiths tend to have good spatial perception, manual dexterity, and an aptitude for mechanical work. They love to solve problems and are comfortable dealing with people who are stuck in tough situations. They are also honest and dependable, with a strong moral compass that keeps them from taking advantage of their unique ability to defeat security locks.
Do locksmiths work standard hours?
Most locksmiths put in a 40-hour week. However, schedules can vary due to the need to respond to emergency calls, such as when someone is locked out of a building or vehicle.
---
A Locksmith School Can Support Your New Beginning
By completing a short locksmithing program, you can move a lot closer to establishing an important career with variety and self-employment opportunities.
---
* Length of training information is based on a combination of information from the Occupational Outlook Handbook, the U.S. Department of Education, and a wide sampling of relevant programs from about 15 individual school websites. They are a mix of public and private institutions.
** Unless otherwise noted, salary information is based on May 2021 data from the Occupational Employment and Wage Statistics (OEWS) program. Job growth and average yearly openings estimates are from the Bureau of Labor Statistics and are for the 2021 to 2031 period.