---
---
3 Frequently Asked Questions About the Locksmith Trade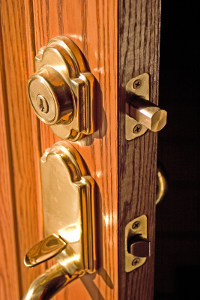 The literal meaning of locksmith is "lock maker." But this career has evolved since the first locks were crafted over 4,000 years ago. Today's locksmiths don't just make locks—they also frequently work with high-tech locking mechanisms, give clients advice on security, and design complex master key systems for large organizations. That means the curriculum at a locksmithing school can include classes on systems that use modern electronics, in addition to instruction about traditional security mechanisms like deadbolts and keys. As a result, what you learn in locksmith classes can lead to surprisingly varied work.
Check out these frequently asked questions about getting training from a locksmith trade school, how much you can earn, and what the career involves:
1. How Do I Become a Locksmith?
You train to be a locksmith by taking a program from a locksmith training school or completing an apprenticeship with an experienced person in the trade. Many people do both—combining education with on-the job training. So you don't have to go to school to be a locksmith, but school can definitely help you retain and understand what you learn on the job. Formal education can also make you a more attractive candidate for apprenticeships and help you acquire the knowledge you need to pass certification exams.
Becoming certified is not mandatory, but it can help you advance in this trade. In part, that's because clients' expectations are rising. In an increasingly security-conscious world, people want to be assured they're hiring a locksmith with trustworthy credentials. In addition, there is a worrisome rise in the number of "fake" locksmiths. Being certified helps reassure clients that you're trained to work with their locks and security systems. It also shows your commitment to obtaining the proper training.
ALOA Security Professionals Association (ALOA) offers several different levels of certification as well as programs that can help you get certified. Locksmith training is also available through ALOA to assist you in preparing for the certification exams.
As well, in many states, you need a license to be a locksmith. So if you're considering this career, research the licensing regulations in your state. Typically, you get a locksmith license by becoming bonded, agreeing to a criminal record check and fingerprinting, and passing an exam. You may also have to pay a licensing fee.
Depending on your goals and the training you choose, it takes as little as two months or more than four years to become a locksmith. Some courses can be completed in very little time. But it can take much longer to acquire all of the knowledge that you need to become a Certified Master Locksmith. And because the technology behind locks and security systems is always advancing, continuing education is essential to success in this vocation.
Even if you're still in high school, you can start preparing for this trade. Although you generally won't find a locksmith class at a high school, ALOA recommends the following high school courses for students interested in this career:
Math
English
Physics
Metalwork
Electronics
Mechanical drawing
Business (to help self-employed locksmiths manage the business side of their careers)
2. How Much Money Can You Make as a Locksmith?
Locksmiths have the potential to make good money. In fact, the Bureau of Labor Statistics reports that the average salary of a locksmith is $43,740. And the highest-paid locksmiths earn more than $65,870 a year. Scientific Research and Development Services is the top-paying sector for this occupation, with an average salary of $66,490.
3. What Do Locksmiths Do in a Typical Day?
As security systems have become more complex, so have the typical tasks that a locksmith performs. Some of today's locksmiths work with electronic security systems that integrate with computers and networks. That means a locksmith must be able to work with security hardware and software.
Some other tasks a locksmith might do in a typical day include:
Installing locks and deadbolts
Answering emergency calls to unlock buildings or cars
Repairing damaged locks
Rekeying locks
Copying keys or access cards
Creating or programming new keys or cards
Installing alarm or surveillance systems
Designing electronic access systems
Advising clients on the best type of locks
Installing and servicing safes and deposit boxes
Large buildings or hotels sometimes need to be entirely rekeyed. That's because a lot of keys get lost or stolen. As part of their ongoing security procedures, managers of these buildings schedule regular service calls with locksmiths to reprogram or rekey all locks.
Some locksmiths also have to respond to emergency calls if someone is locked out of a building or car. Responding to emergencies requires patience and understanding—and the calls can come at any time of day or night. As part of safe response procedures, a locksmith may request to see identification from the person who called.
Many locksmiths are self-employed, so they also may perform the basic tasks of running a business, including marketing and bookkeeping.
---
Take Your Career Plans to a New Level
Finding a locksmith school can be a great way to advance toward the future you want. To get started, simply enter your zip code into the search tool below!
---