---
---
Carpenter Career Information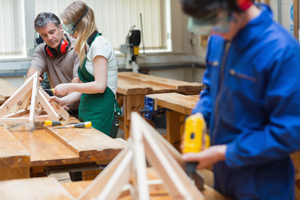 Wherever you live, buildings (from homes to offices to schools) likely surround you. Each of these structures stands because of skilled trades workers known as carpenters. These trained professionals are also partly responsible for building bridges, roads, and other large-scale projects.
A carpenter is someone who builds and repairs residential, commercial, or industrial structures. These structures can range from homes to commercial buildings to roads and can include individual components such as cabinets, staircases, doorframes, building foundations, and much more. And, although you may think that this occupation only requires physical strength and basic technical skills, carpentry actually requires a strong foundation of specialized expertise and experience in order to ensure that all jobs are completed in accordance with local, state, and national building codes.
Within the profession, there is a wide range of titles that can come along with the job. If you are considering this field, then check out some of the positions you could land:
Carpenter
Residential carpenter specialist
Millwright
Cabinetmaker
Pile driver
Floor coverer (aka floor layer)
Interior systems carpenter
Drywall applicator specialist
Acoustical carpenter specialist
Lathe specialist
As you gain experience within the industry, you could advance into managerial positions such as:
Foreman
Crew leader
Lead hand
Superintendent
Site manager
Project manager
Estimator
Job coordinator
Job planner
Safety director
---
Job Description
A typical day in the profession can include a broad range of tasks that begin at the initial conception of a project and extend through to the final inspection. On any given day, a construction carpenter might handle tasks in these areas:
Planning and Administration
Conceptualize building projects
Sketch, or otherwise illustrate, construction drawings
Read and interpret blueprints and building plans
Identify and calculate the types and amounts of materials needed
Calculate the labor requirements to complete the project
Develop and present budgets, quotes, and deadlines
Obtain work permits and file appropriate documents
Maintain records
Prepare progress reports
Building and Construction
Select, lay out, and construct building footings and foundations
Build, plumb, and brace concrete forms
Lay out and install floor joists
Frame walls and ceiling joists using wood or metal studs
Assemble, erect, and sheath interior and exterior walls
Lay out, frame, erect, and sheath gable and hip roofs
Install panels for built-up, lap seam, and standing seam roofs
Install interior and exterior windows and doors
Lay out and build interior and exterior stair units
Choose and install insulation materials and vapor barriers
Install exterior wall insulation and flashing materials
Install fiberglass and wood roofing shingles, as well as wood shakes
Install suspended ceilings and other ceiling systems
Renovation, Remodeling, and Restoration
Affix wood, vinyl, and metal siding to exterior walls
Apply stucco, masonry veneer, and other exterior finishes
Complete roofing jobs by closing up valleys and ensuring watertight seals
Finish drywall surfaces using compounds, joint reinforcing tapes, and other materials
Measure, cut, and install interior moldings around floors, doors, windows, and ceilings
Build, lay out, and install kitchen base and wall cabinets, countertops, and backsplashes
Install bathroom fixtures and other finishing items
Build and finish closets and architectural details
Lay carpet, hardwood flooring, laminate flooring, tile, and other flooring materials
Paint and apply wallpaper and other surface finishes
This is just a sampling of the items that can make up the job description. If you choose to focus on a specific area of carpentry, you could also perform many other tasks.
Additionally, many carpenters who take on remodeling or restoration jobs will not only be responsible for these types of tasks from a construction point of view, but also from a repair one. So, you will not only need to know how to install or build items, but also how to fix everything from damaged drywall to old roofs to uneven floors.
Some people also take the alternative path of becoming a "piecework carpenter," a term which refers to a craftsperson who builds and repairs items, rather than structures. This can include someone who focuses on creating furniture, cabinets, and other such items.
---
Becoming a Carpenter
Although there are no legal education requirements, in order to obtain work in this field, a formal education, combined with an apprenticeship program is generally the quickest and most streamlined option.
Generally, the best way to prepare to join the carpentry profession is through an apprenticeship that is held in partnership with a post-secondary school. These types of apprenticeships typically consist of paid on-the-job training in conjunction with classroom learning from a vocational school, college, or university program.
Some of the benefits of this type of apprenticeship can include:
Learning from qualified professionals who can provide long-term mentorship
Having the chance to gain experience in a variety of building and construction areas
Completing in-class training components to complement your on-the-job education
Enjoying a comprehensive learning experience while earning a paycheck
Once you have successfully completed an apprenticeship, you will be awarded journeyman status.
You can also choose to pursue an education that is independent from an apprenticeship. After completing a program from a trade school or college, you can qualify to receive an associate degree, diploma, or certificate, depending on the specific school and program you choose.
An associate degree program can be very valuable if your ultimate goals extend to working in management since many leadership roles require a degree credential in a related field. However, if you are more interested in the hands-on aspect of the profession, then a diploma or certificate program can provide the technical knowledge needed to meet the demands of the job.
---
Certifications
Industry certification can provide you with the chance to demonstrate your level of expertise to potential clients and employers. It can also show that you are committed to professional standards, are capable of performing additional tasks, and possess a specified level of knowledge.
There is a wide range of industry-recognized organizations that offer certifications and other endorsements. Here are some of the certifications that could add value to your resume and help you on the job site:
Occupational Safety & Health Administration (OSHA) 10-hour, 30-hour, and Hazardous Communication (HCS or HAZCOM) certifications
First aid, cardiopulmonary resuscitation (CPR), and automated external defibrillator (AED) certifications
Mold, lead, asbestos, confined space, and other awareness training course certifications
Fire protection and site inspection certifications
In addition, you can obtain certification in "green construction," which is a growing area of the industry that focuses on environmentally conscious building practices. These types of programs will help you acquire knowledge and skills related to energy efficiency, sustainable materials, and more.
If you want to pursue an industry-recognized credential in this area, then consider the Leadership in Energy and Environmental Design (LEED) certification.
---
Length of Training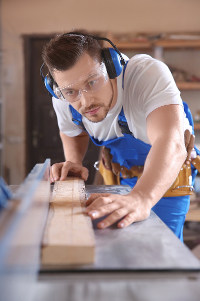 In general, you can expect to spend three to four years obtaining a combination of classroom and on-the-job training in order to become a carpenter. While you won't technically be considered a carpenter until reaching journeyman status at the end of the training period, you will have the opportunity to pursue a paid position in the field for the duration of your training. Compared to the amount of time it takes to learn how to be an electrician, and training for some other trades, the length of time it takes to get journeyman status as a carpenter is relatively reasonable.
If you have already completed some college or university education, then many apprenticeship programs will give you credit for prior learning. You can even receive credit for work experience you possess in the construction field. It is important to note that any education and work experience credits will likely be evaluated on a case-by-case basis, so if you want to explore this option, then checking around for the best use of your experience is key.
Additionally, after becoming a journey level carpenter, you can go on to obtain master certification, which typically requires multiple years of consecutive experience as a journeyman. This can help you earn a higher wage or qualify for teaching or management roles. You can even take on your own apprentices, allowing you to share your expertise with the next generation of professionals.
---
Cost of Schooling
Before choosing a program, you should consider what is included in the tuition cost. Here are some questions to ask:
Will I graduate with a certificate, diploma, associate degree, or bachelor's degree?
Does the school provide employment assistance?
Will I receive help finding an apprenticeship opportunity?
Is the school accredited?
Does the school have a good reputation within the industry?
Do I have to purchase training materials and tools separately?
Does the school have connections with local unions and employers?
How long is the program?
Are industry certification examination fees included in the cost?
Does the school offer industry-current training facilities?
These answers can provide a better picture of the value you will be getting for your tuition dollars, helping you to make a more informed choice.
Also remember that, since carpentry students enjoy a unique blend of classroom instruction and paid in-the-field training, assessing the cost of tuition requires taking into consideration the wages earned for the duration of the training.
---
What You Can Learn
A formal program can provide training in a broad range of areas, including:
Workplace Safety
Performing CPR, first aid, and AED procedures in emergency situations
Understanding the importance of personal safety equipment
Properly using, inspecting, and maintaining tools and equipment
Mathematics
Estimating and quoting needed materials
Calculating for area and volume of structures
Accurately cutting and leveling materials and structures
Computer Technology
Using business computer applications to prepare bids and presentations
Modeling building plans using CADD programs
Communicating with clients and suppliers using email applications
Government Regulations and Building Codes
Adhering to local, state, and national regulations, laws, and codes
Complying with industry standards and passing inspections
Meeting Environmental Protection Agency (EPA) and OSHA safety and environmental guidelines
Following Material Safety Data Sheet (MSDS) information for proper material use and disposal
Recognizing jobsite hazards
Using "green" building practices
Project Management
Preparing quotes and negotiating contracts
Coordinating sub trades and workflows
Managing projects to meet deadlines
Maintaining quality control
Monitoring project progress and preparing reports
Obtaining proper permits and filing required site and safety reports
Building Design and Planning
Interpreting blueprints and building models
Understanding building specifications and standards
Creating illustrations of plans, layouts, and concepts
Construction and Building
Following residential, commercial, and industrial building processes
Using tools and technologies that best suit the job
Understanding carpentry applications and methodologies
Choosing and securing appropriate building materials
---
Salary
When examining the typical salary, it's important to look at a number of factors, such as:
Certification level
Geographic location
Years of experience
Specialized knowledge
Type of work environment
As an entry-level carpentry apprentice, you can expect to earn a percentage of the full pay of a journey-level carpenter. According to the U.S. Department of Labor, apprentices earn $15 per hour, on average, as a starting wage. As you gain more expertise, your wage can increase.
To give you an idea of what you could look forward to once you receive journeyman status, here are some salary estimates from the Occupational Employment Statistics (OES) program for May 2018:
The median hourly wage for carpenters was $22.40, which works out to $46,590 annually.
The highest-earning 10 percent were paid $39.78 per hour ($82,750 per year) or more.
According to the Occupational Outlook Handbook (OOH), over one-quarter of carpenters work for themselves. So salary estimates don't necessarily reflect what all carpenters earn. That's because self-employed individuals don't receive a normal paycheck. Instead, they make a profit on each job they complete.
According to OES program data, Hawaii, Illinois, Alaska, New Jersey, and New York are the highest-paying states for carpentry.
---
Job Outlook
Society will always need buildings to be built, maintained, and repaired, making the carpentry and construction industry a vital one. With changes in the economy, employment opportunities tend to ebb and flow, but according to national estimates, the outlook is a positive one.
The OOH projects that employment of carpenters will grow by eight percent from 2018 to 2028, which could amount to an additional 80,000 jobs.
---
Advancement Opportunities
Experience in the field can bring a variety of opportunities for advancement. By opting to work for a large contracting firm, you could eventually move up to a role in project management or administration, meaning you could prepare bids for large projects, coordinate on-site workflows, supervise sub-contracted trades, and more.
Additionally, once you gain a well-rounded skill set and substantial experience, you could decide to venture down the entrepreneurial path and become an independent contractor.
---
Benefits of the Work
There are many benefits associated with carpentry jobs. Here are some examples:
The work can be challenging and creatively driven. While there are set standards for building, a large part of carpentry work involves using problem-solving and critical-thinking skills to complete the task at hand.
You can earn a competitive wage. Compared to the earning potential of similar professions, carpenters typically receive a competitive salary.
Completing projects can be satisfying. Upon completing a project, you can enjoy a feeling of pride and satisfaction from knowing you have created something using your hands.
You can enjoy the outdoors and be physically active. You can have the chance to spend much of your time outdoors while doing work that gets you moving.
No day is the same. You can enjoy knowing that each day will present you with the chance to meet new people and take on new tasks.
You can earn while you learn. Training requires extensive hands-on education, which is typically completed through paid apprenticeships. This means you can earn a paycheck throughout most, if not all, of your training.
---