Carpentry School Options & Information
By Publisher
| Published
| Last Updated
Learning this trade through a carpentry school or apprenticeship can lead to long-term security and satisfaction. After all, carpenters get to perform many high-value tasks that can't be easily automated. They often enjoy strong demand for their skills. And many get to experience the freedom that comes from running their own contracting businesses.
---
Education & Training
Although some people learn this trade by going straight into a carpentry apprenticeship, many others benefit from attending trade school first.
Length of Training
Completing a pre-apprenticeship education through a carpentry trade school or vocational college tends to take anywhere from eight to 24 months. Although much less common, shorter programs may be available (often including online carpentry classes) that make it possible to learn the basics of how to become a carpenter in as little as about four months.*
Most Common Length of School*
(range in months)
Plumbing

Carpentry

Electrical technology

Construction management
Program Options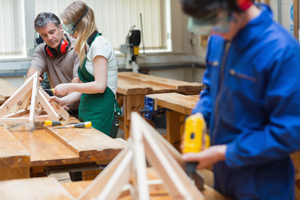 Carpentry schools generally offer programs that are designed to prepare students for entry-level opportunities in the trade, such as apprenticeships.
Certificate and diploma programs are the shortest, most focused educational options. They usually provide instruction in the core concepts of the trade. In-person courses of study also tend to incorporate some technical hands-on training.
Associate degree programs often take about two years to finish, but they provide an education that is a little broader.* You'll likely have both general and carpentry-specific courses. This option can be valuable if you ever want to work in a management or leadership role, since higher-level positions sometimes require a degree.
Apprenticeships are mostly offered through individual employers, contractors' associations, or local chapters of trade unions. For example, you might find opportunities through the United Brotherhood of Carpenters (UBC) or the Construction Employers Association (CEA). The U.S. Department of Labor also offers an online search tool.
As an apprentice, you'll be paid while learning on the job. Classroom instruction will also be part of your training, but if you completed a pre-apprenticeship program through a carpentry school, some of your class requirements might be waived.
---
---
Typical Courses
Formal carpentry programs vary in scope, but they often include classes in subjects like:
Trade terminology
Workplace safety
Government regulations and building codes
Algebra and geometry
Basic physics
Architectural drafting
Blueprint interpretation
Carpentry tools and equipment
Building materials (including selection and measurement)
Machine woodworking
Framing
Roofing
Finishing
Project management
Skills You Can Learn
Carpentry training may help you gain practical expertise related to doing things like:
Visualizing 3D structures based on 2D drawings
Selecting and laying out building materials
Taking accurate measurements
Making precise calculations
Using, inspecting, and maintaining hand and power tools
Following proper safety and waste-removal practices
Adhering to local building codes
Marking, cutting, shaping, erecting, and joining wood or other materials
Verifying the trueness of installed structural components
Using woodworking machines
Managing projects
Licensing & Certification
In most states, carpenters only need to be licensed if they are self-employed contractors or work on projects that are valued above a certain dollar amount. But the requirements can vary greatly from state to state. And many local jurisdictions (e.g., cities and counties) have their own regulations. So it's important to contact the appropriate state and local offices that oversee the licensing of contractors and tradespeople in your region.
Earning a contractor's license typically requires proving that you have a minimum amount of relevant experience and/or education, passing an exam, and purchasing liability insurance.
Most states don't have any formal process for recognizing the completion of carpenter apprenticeships. So becoming certified as a journeyman carpenter generally happens through trade unions or contractors' associations. The private organization that awards your journeyman status may verify your achievement with a special card or certificate.
Carpenters can earn additional voluntary certifications geared toward particular specialties or areas of interest. Examples of organizations that offer different types of carpentry certification include:
Education & Training FAQs
Is carpentry school hard?
It can be difficult for people who don't have strong attention to detail. After all, this trade requires precision when marking, measuring, and cutting materials. Making accurate calculations is also essential. (In the carpentry trade, small errors can turn into large problems.)
Being good at math (including simple arithmetic, algebra, and geometry) can go a long way toward making this trade easier to learn. That said, many students have an easier time learning math in a trade school program than they did in high school since they get to apply the concepts to real-world examples. Plus, carpentry programs are often taught by experienced tradespeople who can share all kinds of tips, tricks, and insights that make everything simpler to understand.
It also helps to have good dexterity with your hands. But almost anyone can develop the practical skills that lead to great craftsmanship. That's what the training is for. You just need to follow the guidance of your instructors or mentors and keep practicing what you learn until it becomes second nature.
How much do carpentry apprentices make?
According to Payscale, the typical starting pay for a carpenter apprentice is $12.53 an hour. As you gain more expertise on the job, your wage will likely increase. PayScale says that the median hourly wage for carpentry apprentices is $17.27, with the highest earners making $25.93 or more.
---
Carpentry Schools
Sponsored Listings
Construction Trades
High School Diploma with Carpentry Pathway
Home Remodeling and Repair
---
---
Career Information
The carpentry trade offers significant potential for professional freedom, job security, and satisfaction. It is also full of variety, including many opportunities to specialize in the particular areas that you find most interesting and enjoyable.
Career Outlook
2% growth from 2020 to 2030
Median Salary
Carpenters
Job Openings
Average Yearly Openings
Length of Training
Most Common Length
Work Settings
Specializations
Rough carpentry, finish carpentry, formwork carpentry, cabinetmaking, acoustical carpentry, scenic carpentry, marine carpentry
Sources
U.S. Bureau of Labor Statistics
U.S. Department of Education
Earnings
The median yearly wage for carpenters in the U.S. is $49,520, according to estimates from the Occupational Employment Statistics (OES) program. Plus, carpentry is one of the highest-paying trades, with the top earners making more than $87,410.
Median Annual Wage Comparison
Job Openings & Outlook
Opportunities can ebb and flow with changes in the economy, but carpentry is one of the trade jobs that's often in demand. From 2020 to 2030, employment in the trade is expected to grow over 2 percent, according to Bureau of Labor Statistics (BLS) projections. Over that period, an average of 89,300 jobs could open up each year, including:
Entirely new carpentry positions: 2,100
Openings created by tradespeople retiring: 27,800
Positions made available by carpenters changing careers: 59,400
Key Benefits
Long-term career security: Society will always need structures to be built, renovated, retrofitted, or repaired. And because carpenters frequently work on non-routine projects with unpredictable variables that require quick problem solving and adaptability, they are unlikely to get replaced by robots anytime soon.
The opportunity to work for yourself: About 27 percent of carpenters are self-employed. Being a contractor can boost your income potential and give you more freedom to control your schedule and choose the projects you work on.
Inner satisfaction: Many carpenters experience a deep feeling of pride from knowing they have taken on challenging projects and succeeded, leaving behind tangible evidence of their craftsmanship.
What Does a Carpenter Do?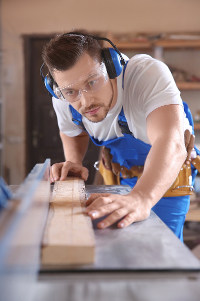 Carpenters help build, repair, or renovate residential, commercial, or industrial structures. Depending on their area of focus, their level of responsibility, the particular project they are working on, and the stage of that project, they may be involved in aspects of the trade such as:
Planning and Administration
Reading and interpreting blueprints and building plans
Identifying and calculating the types and amounts of materials needed
Developing and presenting budgets, quotes, and deadlines
Obtaining work permits and filing appropriate documents
Maintaining records
Preparing progress reports
Building and Construction
Erecting and bracing concrete forms
Framing walls and ceiling joists using wood or metal studs
Laying out, framing, erecting, and/or installing:

Interior and exterior walls
Roofs
Floor joists
Interior and exterior stair units
Sheathing for floors, walls, and roofs
Interior and exterior windows and doors
Insulation materials and vapor barriers
Suspended ceilings
Finishing, Remodeling, or Restoration
Affixing wood, vinyl, metal, or other types of siding to exterior walls
Applying stucco, masonry veneer, or other exterior finishes
Completing roofing jobs by closing up valleys and ensuring watertight seals
Demolishing old walls and framing new ones
Finishing drywall surfaces using compounds, joint reinforcing tapes, and other materials
Measuring, cutting, and installing interior moldings around floors, doors, windows, and ceilings
Building, laying out, and installing kitchen base and wall cabinets, countertops, and backsplashes
Constructing and finishing closets and other architectural details
Installing hardwood, laminate, tile, or other flooring materials
Work Settings
People in this trade work in a wide range of indoor and outdoor environments. Depending on their particular jobs and specialties, carpenters are found in settings such as:
Outdoor construction sites
Homes
Office buildings
Factories
Workshops
Hospitals
Retail stores
Restaurants
Schools
Industrial plants
Theaters
Studios
Shipyards
Specializations
As carpenters gain experience, they often develop a preference for particular areas of the trade. For instance, some would rather stick to new construction, whereas others enjoy renovating existing structures. However, you can pursue specialties that are even more focused than that. Examples include:
Rough carpentry: Specialize in building the parts of structures that, in general, aren't visible when those structures are fully completed. For example, you might only construct wooden walls, posts, beams, rafters, or subfloors that eventually get covered by other materials. Or you might build temporary forms, supports, or shelters that help other tradespeople perform their jobs during the construction phases of projects.
Finish carpentry: Help install and complete various details that are visible at the end stages of projects, such as doors, windows, staircases, flooring, baseboards, trim, molding, and cabinets.
Formwork carpentry: Focus on building and taking down the temporary supports that concrete gets poured into in order to shape and contain it as it hardens (often for foundations, footings, pillars, or other large structural components).
Cabinetmaking: Create wooden cupboards and drawers for kitchens, bathrooms, or other areas of a building. Some cabinetmakers also build furniture.
Acoustical carpentry: Concentrate on using construction techniques and materials that help reflect or dampen sound in order to reduce noise inside built environments.
Scenic carpentry: Take on a fun and critical role in the entertainment and performing arts industries by building physical sets and backdrops for film, TV, and theatrical productions.
Marine carpentry: Help build, maintain, or fix wooden boats and ships.
Career FAQs
What's the difference between carpentry and construction?
Construction is a general term for describing the building of large structures. Carpentry is just one of many specific trades within the broader construction industry. In addition to carpenters, a few examples of skilled tradespeople who can work in construction include:
The construction industry also provides jobs for general laborers, helpers, drafters, supervisors, managers, and people with various other skill sets.
Programs at a construction school may focus exclusively on carpentry or other specific trades. Or they may introduce people to multiple trades, providing general training that helps students choose a more specific path.
What are the advancement opportunities for a carpenter?
As you gain experience within the trade, you could advance into managerial positions such as:
Foreman
Crew leader
Lead hand
Superintendent
Site manager
Project manager
Job coordinator
Job planner
Safety director
You could also work for yourself by becoming an independent contractor. Many carpenters find it helpful to get some additional training in construction management when making that transition.
Is carpentry dangerous?
Data from the BLS shows that, in 2018, only 86 carpenters died from work-related injuries. That's out of more than one million carpenters who were employed that year. So the fatality rate in this trade was just 0.0085 percent.
Most carpenters learn how to work safely, and they use protective clothing and equipment while on the job. But there is always some inherent risk. Injuries can happen from tripping, slipping, falling from high places, straining while lifting heavy objects, or accidentally coming into contact with sharp objects (such as the blades on power saws).
---
A Carpentry School Can Teach You More Than the Basics
Whether you want to prepare for an apprenticeship or pursue entry-level opportunities in this trade, formal vocational training can be a major help in your journey toward becoming a fully qualified carpenter.
---
* Length of training information is based on a combination of information from the Occupational Outlook Handbook, the U.S. Department of Education, and a wide sampling of relevant program lengths from about 30 individual school websites. They are a mix of public, private non-profit, and private for-profit institutions.