Film & Video Production Schools
Last Updated
Prepare to reach your goals of working in the film and television industry.
Your first move toward the future you want should be to find the film and video production schools that offer the education you need to launch your career in this fantastic field. From concept to finished product, there are so many steps to video production and film that it takes more than just drive to make it in this industry. It takes an education that covers subjects like editing, screenwriting, cinematography, lighting, visual effects, industry practices and regulations, and other important topics.
Whether you want to try your hand at creating an independent documentary, a network sitcom, or a Hollywood blockbuster, there is a program that can point you in the right direction. Search for a video production school and begin exploring the exciting training opportunities that are waiting for you!
---
---
Film & Video Production Schools
Sponsored Listings
---
---
Film and Video Producer FAQs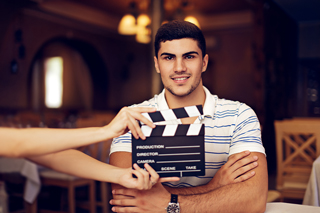 Film and video production is an exciting and sought-after field, and it isn't hard to understand why. Not only is it a dynamic career choice offering many different paths—from film and television to corporate and event production—but it also tends to pay well and comes with its own special form of prestige. When someone says, "I'm a producer," they are often regarded with a sense of awe and respect. However, film and video production is also an incredibly competitive field and can be one of the hardest to break into. Therefore, it's essential that you understand what it takes to make it in this unique and fascinating career field. Keep reading to learn about educational requirements, salary rates, job outlook, career perks, and much more.
What is Video Production?
Essentially, it's the process of bringing together all elements of a videography project. And it's important to note that film production and video production can actually be quite different from each other.
Film Production
This involves overseeing all aspects of the filmmaking process. It can be considered a specialized type of project management encompassing all facets of moviemaking, from commissioning scriptwriting (or purchasing rights to an existing story) and casting to shooting and editing. It can also include administrative tasks such as acquiring financial backing, scheduling and booking film sites, and creating and adhering to deadlines.
Typically, film production involves the following phases:
Pre-Production
Production
Post-Production
Video Production
Video production is a broad area that can encompass many different specialties. The types of projects associated can include (but are not limited to):
Television shows
Commercials
Theater and other live entertainment productions
Corporate and training videos
Event videos (for sporting events, weddings, concerts, etc.)
Online and marketing videos
Real estate videos
In most video production projects, the responsibilities are similar to that of film production (i.e., choosing specific video-related projects to take on, acquiring funding, hiring the cast and/or crew, booking film sites, etc.).
However, when it comes to corporate, event, or real estate projects, the responsibilities can differ quite a bit. While they still involve plenty of project management-type tasks, the focus is typically more on the actual videography and production of a final video product. Plus, duties like casting and crew hiring are usually unnecessary due to the nature of the projects.
What is a Producer?
A producer is a professional who is in charge of overseeing all aspects of film or video production. Film producers focus solely on the creation of films, whereas video producers can be responsible for producing a wide range of videography projects, from commercials to wedding videos.
Some producers may work independently on a contract basis or as entrepreneurs, but the majority of them work for film companies. They generally oversee huge staffs of crew and actors.
What Does the Work Entail?
It's practically impossible to provide just one list of duties for film and video production as a whole. Therefore, it is more accurate to split the typical job descriptions into different categories:
Film Producer
Let's break the job description down into the following sub-sections:
Planning and Development
Obtaining the rights to a finished script or hiring a scriptwriter
Reading over and approving final scripts
Determining the required number of cast and crew positions to be filled
Seeking and obtaining financing to cover the filmmaking process
Creating a budget and allocating funds to all necessary areas of a film project
Pre-Production
Advertising available cast and crew positions
Hiring, coordinating, and managing associate, assistant, and line producers
Overseeing the audition and selection of cast and crew (from actors to costume designers to videographers)
Researching, selecting, and securing film locations
Coordinating and approving travel arrangements for film locations
Overseeing the design, preparation, and building of sets
Setting and managing timelines and deadlines
Supervising creative and technical decisions
Production
Overseeing the actual filming on a day-to-day basis
Ensuring that timelines are followed and deadlines are met
Ensuring that budgets are adhered to
Ensuring that sets follow approved plans and are utilized properly
Approving new developments as they occur
Applying critical thinking and problem-solving strategies as necessary
Post-Production
Overseeing the assembly of a full-length film (or television episode)
Supervising the editing process
Coordinating, scheduling, and overseeing the composition, performance, and recording of a musical score
Supervising the design, production, recording, and addition of sound effects
Coordinating, scheduling, and overseeing the digital addition of computer-related graphic, visual, and special effects
Additional Responsibilities
Liaising with financial backers and investors
Planning, coordinating, and implementing the marketing of a film or television series
Organizing and overseeing the distribution of a film or television series
Commercial Producer
Producers who specialize in commercials often follow a process very similar to film production. But, depending on the type of commercial, their duties can vary. Some commercials contain no actors, utilizing special effects or animation instead. In these cases, little or no actual filming takes place, and the majority of the project involves technical and creative processes.
Another major difference with commercials is that they are created as advertising, marketing, and promotion for a company, service, product, or even a film or television series. Therefore, commercial producers typically need more of a marketing-type background in order to deliver the products and outcomes that their clients seek.
Corporate Video Producer
The duties involved in corporate, training, online, or marketing videos can include:
Choosing projects based on existing offers or preparing and submitting proposals in the hopes of being awarded specific projects
Meeting with clients to pinpoint the purpose and intended impact of projects
Managing production budgets
Planning all aspects of a video project
Overseeing talent scouting and hiring
Overseeing location scouting and booking
Hiring technical and creative staff (from scriptwriters to videographers)
Identifying and obtaining any necessary resources pertinent to a video
Creating schedules and ensuring that deadlines are met
Liaising between clients and video production crew
Reviewing and approving any proposed changes to a video project
Managing all stages of production and editing
Submitting final products to clients
Live Event Video Producer
Professionals who work on live productions typically handle one of two types of event production. Some specialize in creating pre-recorded video and multimedia content to be presented during live presentations (such as award banquets, conferences, and corporate events). Others handle the recording and production of the event itself (such as weddings or sporting events).
Their duties include:
Meeting with clients to grasp the nature and scope of a live production and its multimedia content needs
Providing cost estimates to clients for approval
Overseeing all aspects of video production, including planning, pre-production, production, post-production, editing, and audio
Scoping out the location of an event and planning out the technical, equipment, and staffing requirements
Handling all of the logistical aspects of preparing for a live production, including travel arrangements and equipment shipping
Setting up equipment and technologies onsite, including video cameras, large viewing screens, projectors, and sound systems
Presenting film, video, or other multimedia content to a live audience as per a client's requested schedule
On the other hand, video producers who handle the actual recording of an event are usually in charge of:
Meeting with clients to obtain a clear picture of an event and determine what the recording and production needs are
Providing cost estimates to clients for approval
Determining the scope of a project and the staffing requirements for filming, production, editing, and manufacturing of the final product
Hiring a film and production crew (or prepping existing staff)
Liaising between film and production crew and clients to ensure that all parties understand the requirements and expectations
Creating and adhering to a budget
Handling the logistics of transporting equipment to a production site and taking care of travel arrangements for the crew
Scoping out an event location and planning the placement and setup of recording equipment
Overseeing the actual filming of an event (or handling it personally, depending on the scope of the project)
Overseeing (or handling) all post-production and editing requirements
Providing the finished products to clients for approval
Overseeing the manufacture and distribution of copies if requested by a client
Real Estate Video Producer
The professionals are typically responsible for:
Meeting with clients (usually real estate agents) to determine video production requirements for showcasing and marketing houses or commercial spaces for sale or lease
Gathering any pertinent info on the sale space that needs to be included in a video via audio production or digital effects
Working with clients to hash out the requirements for a video production (e.g., the style, depth of detail, and preferred areas of concentration)
Determining any creative requirements (such as copywriting, graphic design, audio production, digital or special effects, etc.)
Creating and providing cost estimates for approval
Creating and submitting proposed timelines and any pertinent deadlines
Scoping out houses or commercial spaces in order to plan the filming process
Overseeing (or performing) the actual filming of a sale space
Overseeing or performing post-production and editing of a video
Submitting the first draft of a final product to a client
Handling or supervising any additions, deletions, corrections, or general changes
Providing finished products to clients in physical or digital format
Distributing or marketing a finished product as requested by a client
How Do I Become a Producer?
The first step is generally to get a post-secondary education. In the past, it may have been more common to break into the industry without formal training. But with current factors such as technological advances, increased industry competition, and demand for business savvy, securing a position in the industry without some sort of higher education is now a rarity.
When it comes to choosing a program, aspiring film and video producers have a relatively broad range of options. One option is to take a film and video production diploma or certificate program from a vocational school or career college. These types of programs tend to be short-term and career-oriented, meaning that the curriculum focuses solely on skills and knowledge applicable to the job.
Although many programs combine film and video production components, it is also possible to find diploma, certificate, and degree programs that focus on just one or the other. So, depending on which area of the industry you aim to work in, you can choose a program that best matches your future goals.
Another option is an associate or bachelor's degree program from a college or university. Like diploma and certificate programs, their main focus is specialized skills and knowledge related to the industry. The main difference is that they tend to provide more in-depth theoretical training, and many also include general education components and elective courses in order to provide a well-rounded education.
It is also important to note that you don't necessarily have to take a film and video production-specific program. Some people choose to go a more indirect route by pursuing a more general degree major such as:
Film
Filmmaking
Fine arts
Writing
Acting
Communication
Media
Business
Whether you choose a specific program or a more general one, you could eventually be eligible to further your education through a master's or doctorate degree program in film and video production—but only after you have obtained a bachelor's degree (and met any other prerequisites that a specific school or program might have). These types of advanced degree programs can further your theoretical knowledge and practical skills, and they can even prepare you to take on teaching positions.
Once you have obtained a post-secondary education, you may choose to pursue membership with an organization or association related to the industry. Certification or licensing is not legally required to work as a producer in any state, so there are no widely recognized certifying organizations. However, obtaining industry-related membership does bear consideration since it can prove to prospective employers that you are passionate about the field and committed to staying current through continuing education.
Various organizations offer membership to qualified individuals. The most common and notable one tends to be the Producers Guild of America (PGA). Benefits of becoming a member include:
Networking opportunities
Access to job postings and staffing resources
Eligibility for pensions and employer-paid medical and dental benefits
Access to free and discounted industry-related seminars
Opportunity to become involved in a mentoring program
Access to year-round screenings and pre-releases
The privilege to vote for the Producers Guild Awards
One way to get your foot in the door of a movie or television studio, talent agency, or video production company is by becoming an intern. By going this route (or even taking entry-level positions such as receptionist or mailroom clerk), you could have the opportunity to learn all aspects of the business. You could also benefit from the chance to network with fellow employees. You may even have a higher chance of securing the type of position you desire when one becomes available since many employers prefer to hire from within.
In addition, many producers come into their positions in a more indirect way. Often, actors or writers will take the opportunity to learn from the producers they cross paths and develop relationships with and will gradually work their way into the production sector. If you are interested in multiple areas of the film industry, then it might be worth thinking about pursuing education and experience within areas like acting or writing to use as a stepping-stone toward a future as a producer.
What Can I Expect to Learn in School?
When it comes to film and video production programs, there is no standard curriculum. Courses can vary quite widely depending on the specific program and its main areas of focus. Other factors that can affect curricula include the type of school and the education level.
That being said, the most common areas covered in most programs include:
Theoretical Studies
Theory and analysis of motion pictures
Fundamentals of motion picture production
Film culture
Visual storytelling
Areas of filmmaking (i.e., silent film, Hollywood cinema, cult classics, documentaries, independent films, film noir, etc.)
Critical film studies
Music theory
History of popular music
Business
Finance
Accounting
Budgeting
Contracts and negotiation
Business of film
Copyright laws
Management
Business communications
Advertising
Public relations
Entrepreneurship
Film promotion and distribution
International media distribution
Planning and Pre-Production
Storyboarding
Scriptwriting
Production planning
Location planning
Auditioning and casting
Sound design
Production
Fundamentals of producing and directing
Fundamentals of film and production
Cinematography
Lighting
Grip and sound
Filming techniques
Set design and building
Post-Production
Editing
Digital production
Graphics
Animation
Special effects
Film and video imaging
Animation
New media production
Musical scoring
Audio production
Technology and Equipment
Cameras and camera accessories
High-definition technologies
Lighting equipment
Audio equipment
Industry-related computer software applications (e.g., Photoshop, Mudbox, After Effects, Premiere, Flash, Illustrator, etc.)
Business computer applications (e.g., Microsoft Word, Excel, Outlook, accounting software, etc.)
Storage area networks
General Education
Sociology
Psychology
Leadership
Critical thinking
Decision making
Conflict resolution
Many film and video production programs also include hands-on projects that can involve writing, producing, editing, and submitting a film or video project. In some cases, further practical experience can be obtained through an internship, externship, or practicum within a real-life setting such as a studio, production company, or television network. Plus, some programs give students the option of choosing a specialization after the first year of study. Some of the specialization options can include:
Film
Lets you focus on the creation and production of motion pictures
Tends to be the most popular and most competitive specialization
Television
Lets you focus on the production of television broadcasting
Can provide options for further specialization, such as television series, news broadcasts, sports broadcasts, commercials, etc.
Video
Lets you focus on video production, which often involves working for a video production company or starting up your own video production business
Can prepare you to handle a wide range of video production projects, from real estate video production to event video production (from weddings to sporting events)
Corporate and Training
Lets you focus on the creation and production of videos for businesses, nonprofit organizations, government associations, etc.
Can involve different sub-areas of specialization such as training videos, promotional videos, online/SEO (search engine optimization) videos, etc.
How Long is a Typical Training Program?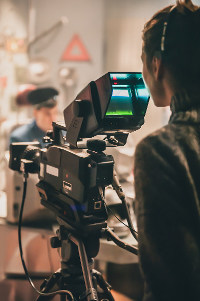 The length of training varies depending on multiple factors such as the type of school and education level of the program.
Certificate and diploma programs tend to take the least amount of time. They are generally offered by vocational schools and career colleges and are meant to be short-term and career-oriented with the goal of helping you complete your training and enter the workforce quickly. Typically, these types of programs focus solely on the knowledge you need to become employable and do not include extensive theory-based training or general education components. Most programs of this type can be completed in one to three years.
Associate and bachelor's degree programs tend to be more in-depth. They offer practical training related to career-specific skills and abilities, but they also typically include theoretical components as well as general education courses in order to provide a well-rounded education. Most programs are two to four years in length.
If you choose to go the route of a more general degree, such as filmmaking, writing, or fine arts, then you will also be looking at two to four years for completion.
If you wish to further your education and pursue a more advanced degree such as a master's or doctorate after obtaining a bachelor's degree, then it will likely take an additional one to four years.
What is the Average Salary?
Salary rates are included as part of a larger category called "Producers and Directors" in national estimates from the U.S. Department of Labor. These numbers, gathered in 2018, show that:
The median annual wage was $71,680.
The top 10 percent earned more than $163,540.
Despite these wage statistics, it is important to keep in mind that many different factors can affect salary, including level of education and amount of experience in the field. The specific area you choose to work in also has a massive effect, as shown by these additional estimates of median annual wages, broken down by industry:
Advertising and public relations: $89,330
Video and motion picture: $84,770
Television broadcasting: $63,620
Performing arts: $59,080
What is the Job Outlook?
According to the U.S. Department of Labor, employment of workers in the Producers and Directors category is projected to increase by 12 percent between 2016 and 2026.
This growth is thought to be due to a few different factors, including:
The public's continued strong demand for movies and television shows
An increased demand for U.S.-produced films in foreign countries
Further experimentation with mobile and online television
Where Do Producers Work?
Although competition for positions is often intense, the industry is made up of many different areas, which means that employment opportunities are varied and dynamic. Plus, as with most creative fields, there is always a demand for fresh talent.
Common sources of employment include:
Television series
Specialty channel programming
Commercials
Feature films
Documentaries
Public service and corporate productions
Music videos
Marketing and online videos
Special events and live productions
Plus, more and more people are choosing to either work on a contract-basis for multiple clients or go the entrepreneurship route by starting up their own production companies.
What are the Perks of the Career?
Prestige: You get to work in what is often thought of as one of the most exciting and sought-after industries in existence.
Fame potential: While it may be quite rare statistically, there is always the chance of achieving that great American dream of "fame and fortune" as a producer.
Monetary potential: This field has an extremely high salary potential. Even the low end of the pay scale is much higher than many jobs in other industries.
Interesting relationships: You can have the opportunity to meet and interact with lots of different people, many of whom share your passion for the industry. You may even have the chance to work closely with celebrities.
Travel: If you are involved with filming on location, you could have the opportunity to travel and see many beautiful and exciting places around the world.
Pride and satisfaction: If you are involved in event production, you could have the honor of providing clients with a permanent live recording of some of their most cherished moments, such as a wedding.
What's the Next Step?
Now that you've gained a greater understanding of film and video production careers, check out this list of schools above. It's the perfect time to get started—make your next move and get additional information about the programs that interest you right now!
---