Writing Schools and Colleges
Last Updated
Use your imagination to craft a better future for yourself as an author. Writing schools allow you to explore and sharpen creative skills that make it easier to pursue career roles like journalist, creative writer, or freelancer!
Invent whole new worlds and characters. Draft compelling narratives that pull people in. Convey information in a way that provokes, enlightens, or persuades. Whatever direction you'd like to go in—from creative writing to journalism—a writing program can help you take your talents to the next level.
You can learn to write for a particular audience and discover how to compose narrative that resonates. And, your education can help you develop techniques that allow your own voice to shine through. Whether you opt for a certificate, diploma or degree program, good writing training can make all of this achievable.
Words have power. So start putting them to work for you. These writing schools can give you plenty of in-depth program details, so request additional information right now!
---
Writing Schools
Sponsored Listings
---
---
3 Common Questions About Writing Careers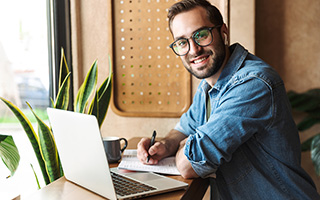 Writers love words. So, what could be better for a dedicated wordsmith than working as a professional writer? Here's some information about how to get started in a rewarding writing career.
1. How Can I Become a Writer?
If you want to become a writer, write! Keep a journal, start a blog, write a short story and show it to friends, or do some volunteer copywriting for a charity. Getting lots of practice will help you improve your craft. So be creative in generating opportunities for yourself. After all, nobody can stop you from writing.
The trickier part is getting paid for your work. How can you make a living as a writer? You have many possible paths. Various educational options can prepare you for a professional writing career, from short certificate programs to graduate-level programs. But since there are no clear-cut educational requirements for a career as a writer, the right educational path for you will depend on your particular goals.
When you map out your career goals, it's important to consider your ultimate destination. What kind of writer do you want to be? Possible specialties include:
Blogger - Share your thoughts with the world in a blog. Having a niche market or a specialty subject can help you build an audience.
Children's writer - Write for kids. Some children's writers also illustrate their books, but it's not necessary to do both.
Copywriter - Craft the messages used in ads or other marketing materials.
Playwright - See your words come to life on stage.
Novelist or short story writer - Create fictional worlds that engage readers.
Science writer - Write about the world of science.
Screenwriter - Create scripts for movies or TV shows.
Speechwriter - Help public figures by preparing their speeches for them.
Technical writer - Write technical instructions and manuals.
Video game writer - Craft compelling narratives for video games.
Web content writer - Create engaging, informative, search-engine-friendly articles or other types of online text-based content.
Once you've narrowed down the type of writing career you want, research the schools that can help you. Look for programs that give you plenty of opportunities to write so that you're able to create a portfolio of writing samples that showcase your creativity and mastery of language. Many programs can help you develop your unique voice, teach you how to find and reach an audience, and make valuable industry connections.
In addition to English, literature, and creative writing programs, it's worth exploring other types of courses of study. For example, you can start developing good writing skills in programs related to subjects like:
2. How Much Money Do Writers Make?
According to the Occupational Employment and Wage Statistics program, the median annual wage for writers is $69,510.* The top 10 percent of earners make over $133,580, while the bottom 10 percent make under $38,500. These figures represent a broad spectrum of salaries for different writing specialties—from copywriters to screenwriters to novelists.
As with most careers, your earnings can vary widely depending on how much experience you have and the type of work you do. But it's also important to realize that writers can be paid in different ways.
Writers with salaried jobs generally receive regular paychecks. For example, a technical writer who works for a software company on a full-time basis will be paid according to the terms of his or her employment contract.
In contrast, self-employed freelance writers don't receive a salary. Instead, they often sell their work, so their income depends on how much of their material they sell. As a result, their incomes can vary a lot. Consider this: Harry Potter author J.K. Rowling made $95 million in 2017. On the other end of the spectrum, the website Content Wonk performed a survey of freelance writers in 2018 and found that 28 percent make less than $15 an hour.
What's behind this difference in earnings? The money that a writer makes from a book, screenplay, or other type of project often depends on sales. For example, a book contract may include an advance (based on the book's expected sales). Then, the writer is paid a percentage of the sales after they exceed the amount of the advance. Even for skilled writers, publishing contracts are often hard to obtain. Long before she earned $95 million in one year, Rowling's manuscripts were repeatedly rejected. In fact, her first Harry Potter book was rejected 12 times before she had a publishing contract. In other words, persistence is important if you want to rise to the top. Fortunately, many writers find that their love for writing keeps them going.
Of course, it's also possible to publish a book yourself. With a self-published book, you will receive all the profits from its sales. On the other hand, you will also pay for the expenses of publishing it and promoting it. Similarly, you can write a screenplay and independently produce a movie based on it, without signing a deal with a movie studio. You can also publish articles you've written on your own blog or website.
Simply put, advances in technology have given writers more control over their careers and how much money they can earn. But going the independent route also means that, along with your writing, you will need to develop your marketing and public relations skills. After all, promotion is often the key to success for writers who work on their own.
Many writers do choose to work for themselves. In fact, according to the Occupational Outlook Handbook (OOH), over 60 percent writers were self-employed in 2021.
3. What Is the Job Outlook for Writers?
Overall, the OOH says that job openings for writers are predicted to increase by four percent from 2021 to 2031.* But writers who know how to create content for online audiences and social media platforms will experience the most demand.
What will your focus be? Maybe you want to create stories for video games or the big screen. Or perhaps your goal is to work for a respected publication or advertising agency. Regardless of your writing focus, here are some important steps you can take to improve your opportunities and find success: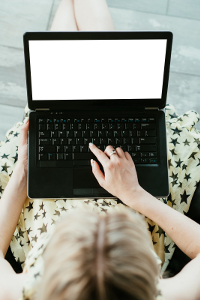 Read. Reading the work of other writers will help improve your own writing. Find some good role models and read everything they produce. Pay attention to what works and note what doesn't work.
Share your work. Writing careers can make excellent jobs for shy people. However, it's important not to be too shy about your writing. Although it can feel tough at first, getting feedback on your work will help you improve. Listen to others' opinions with an open mind. A good writing class or workshop will help you connect with other writers who share your love for words.
Get your name out there. Increasingly, writers are responsible for promoting their own work. For example, if you write fiction, you might be responsible for planning your public readings. If you have a blog, social media can help you get the word out. And if you want to work in an office, then meeting deadlines and working well with editors and other colleagues can help boost your reputation. Simply put, be prepared to promote your writing talent and overall professionalism.
---
Time to Get Started
Are you ready to turn your love for writing into a career? Taking the first step is easy. In fact, by reading about some of your options, you've just taken it. Ready for the next step? Just enter your zip code into the search tool below to see writing schools near you!
---
---
* Unless otherwise noted, salary information is based on May 2021 data from the Occupational Employment and Wage Statistics (OEWS) program. Job growth estimates are from the Bureau of Labor Statistics and are for the 2021 to 2031 period.