Technology Trade Schools & Colleges
By Publisher
| Last Updated
Tech schools near you or online can help you turn your enthusiasm for the world of technology into a stimulating career that lets you work directly with the stuff you love most. The potential opportunities are abundant and wide-ranging. It's also possible to earn a salary that is far above average.*
---
Find Technology Schools by Program
---
---
---
Education & Training
Going to a college, university, or technical school doesn't have to take a long time. A large variety of training options exist to suit almost any career ambition. Plus, this type of education is often full of satisfying challenges that keep you interested in what you're learning.
---
Technology Schools
Sponsored Listings
---
---
Length of Training
Depending on the path you choose, a technology education generally takes from six to 48 months. For management- or research-related careers, some people spend as many as 72 months in school to earn the graduate-level education they need.**
The type of credential you're seeking
Whether you take classes online, part-time, or year-round
How comprehensive your program is
Education Levels
Anyone looking to prepare for a career in technology has a wide range of educational options to choose from. Many programs are available in both online and on-campus formats. You can pursue one or more of these types of credentials:
Certificate or diploma: With this kind of program, you can generally finish your classes in 12 months or less.** It will consist mostly of basic courses that very directly relate to the technology field that you want to enter.
Associate degree: Programs at this level tend to take up to 24 months.** The focus will primarily be on helping you develop practical, entry-level expertise for the high-tech career you want. But you'll also have a few general education courses.
Bachelor's degree: With about four years of study and training, you can earn this credential.** Your program will probably include a more balanced mix of general and career-specific courses, including classes that cover more advanced concepts than you would at a lower level.
Master's degree: Once you have a bachelor's degree, you can often earn a graduate-level credential with an additional two years of study.** For example, some technology students go after a Master of Business Administration (MBA) degree with a concentration in an area like information technology management.
---
---
Education & Training FAQs
How do you get into a technology school?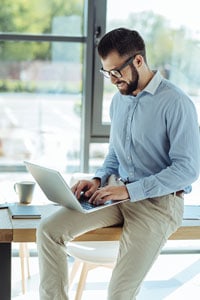 Every college, university, and vocational school has its own admission requirements. In general, you'll probably need at least a high school diploma or GED to get started. At a community college or private drafting, engineering, or IT tech school, you may be able to enroll even without that level of education, assuming you pass a basic test and take some remedial classes.
For schools with more selective admissions criteria, you may need to have minimum scores on the SAT or ACT, among several other requirements.
The best course of action is to research the schools in your area, seeing what kinds of programs they offer, and asking for information about their admissions procedures.
Is a technology degree worth it?
Many high-tech occupations are associated with above-average salaries and a high number of job openings. So the return on your educational investment is likely to be good. Plus, depending on your area of study, the skills you learn may be applicable to opportunities across several different industries.
What is the best technology degree to get?
That really depends on what you consider most important. For example, how do you rank factors like income potential, employment opportunities, and alignment with your traits and interests? Knowing the answer to that question will help you determine your best course of study.
According to the Bureau of Labor Statistics, some of the technology-related careers with the highest median salaries include:*
Computer and information research scientists: $131K
Computer network architects: $121K
Software developers, quality assurance analysts, and testers: $109K
Information security analysts: $103K
Database administrators and architects: $101K
The Bureau of Labor Statistics also says that from 2021 to 2031 several of these careers are projected to see a much faster than average employment growth. The national average for job growth across this decade is five percent. Check out the top three careers with the highest growth from the list above:*
Information security analysts: 35%
Software developers, quality assurance analysts, and testers: 25%
Computer and information research scientists: 21%
Career Information
High-tech occupations often come with excellent salaries and a lot of job availability.* Plus, they are highly varied, meaning that you can choose from multiple pathways into an essential and satisfying career.
Key Benefits
Opportunities for flexible work arrangements: Many high-tech professionals get to work remotely (from home or wherever they have a reliable Internet connection). In some cases, they are also able to select their own hours.
Potential for self-employment: A lot of technology careers lend themselves to freelance or consulting work, giving you the chance to choose your own clients and routine.
High mental engagement: You're unlikely to get bored in a tech job since the work tends to be full of interesting and ever-shifting challenges.
Career FAQs
What tech jobs pay the most money?
According to BLS wage estimates, some of the technology occupations with the highest median salaries include:*
Computer and information systems managers: $159K
Computer and information research scientists: $131K
Computer hardware engineers: $128K
Computer network architects: $121K
Software developers: $121K
What technical jobs are in high demand?
BLS projections show that, from 2021 to 2031, the following technology jobs are expected to have some of the highest numbers of average yearly openings:*
Software developers: 143,400
Computer user support specialists: 58,900
Computer and information systems managers: 48,500
Computer systems analysts: 44,500
How do I choose a career in technology?
First, go into it with an open mind. (Few people are able to predict what will really make them happy.) Also, don't just focus on how much money you can make. Try to find a path that aligns with your personality traits and strong interests.
Get a notebook and start making a list of all the areas in technology that you're curious about. Under each one, write down why they interest you, being as specific as possible. Then, make a list of your personality traits and what you enjoy doing. For example, maybe you like to:
Solve problems
Use your creativity
Make new things
Collaborate with other people
Analyze information
Learn new things
Explain complex ideas to others
Once you have your lists, start finding and reaching out to experienced technology professionals near you who work in your areas of interest. LinkedIn can sometimes be a good resource for this. (You'll need to sign up for a free account if you don't already have one.) Offer to buy lunch or coffee in exchange for a small amount of their time. Ask questions that can help you:
Get a sense of what they do in their roles
Understand what they like and don't like about their careers
Identify some of their personality traits (and how they compare to yours)
Also, consider asking about potential internship or job-shadowing opportunities. It's always easier to learn what you do or don't like if you have some experience in a variety of actual work environments.
---
---
* Unless otherwise noted, salary information is based on May 2021 data from the Occupational Employment and Wage Statistics (OEWS) program. Job growth estimates are from the Bureau of Labor Statistics and are for the 2021 to 2031 period.
** Length of training information is based on a combination of information from the Occupational Outlook Handbook, the U.S. Department of Education, and a wide sampling of relevant program lengths from about 30 individual school websites. They are a mix of public, private non-profit, and private for-profit institutions.