Technology Trade Schools & Colleges
By Publisher
| Last Updated
Tech schools near you can help you turn your enthusiasm for the world of technology into a stimulating career that lets you work directly with the stuff you love most. The potential opportunities are abundant and wide-ranging. It's also possible to earn a salary that is far above average.
---
Find Technology Schools by Program
---
---
Education & Training
Going to a college, university, or technical school doesn't have to take a long time. A large variety of training options exist to suit almost any career ambition. Plus, this type of education is often full of satisfying challenges that keep you interested in what you're learning.
Length of Training
Depending on the path you choose, a technology education generally takes from six to 48 months. For management- or research-related careers, some people spend as many as 72 months in school in order to get the graduate-level education they need.** Factors that can affect your amount of time in school include:
The type of credential you're seeking
Whether you take classes online, part-time, or year-round
How comprehensive your program is
Most Common Length of School**
(range in months)
Computer support

Drafting

Electronics technology

Computer animation

Software development
Education Levels
Anyone looking to prepare for a career in technology has a wide range of educational options to choose from. Many programs are available in both online and on-campus formats. You can pursue one or more of these types of credentials:
Certificate or diploma: With this kind of program, you can generally finish your classes in 12 months or less.** It will consist mostly of basic courses that very directly relate to the particular technology field that you want to enter.
Associate degree: Programs at this level tend to take up to 24 months.** The focus will primarily be on helping you develop practical, entry-level expertise for the high-tech career you want. But you'll also have a few general education courses.
Bachelor's degree: With about four years of study and training, you can earn this credential.** Your program will probably include a more balanced mix of general and career-specific courses, including classes that cover more advanced concepts than you would at a lower level.
Master's degree: Once you have a bachelor's degree, you can often earn a graduate-level credential with an additional two years of study.** For example, some technology students go after a Master of Business Administration (MBA) degree with a concentration in an area like information technology management.
---
---
Typical Courses
Your curriculum will be determined by your particular area of study and the depth of your program. This isn't a comprehensive list, but in general, technology students may study topics such as:
Computing fundamentals
Engineering fundamentals
Programming
Scripting
Data structures
Algorithms
Cybersecurity
Digital interfaces
Math
Physics
Communication
Tools and fundamentals for areas like:

2D or 3D animation
Website design and development
Software development
Networking
Electronic circuits
Bachelor's degree programs often include additional general education courses in areas like the humanities and social sciences.
Skills You Can Learn
Depending on your particular program, you may be able to learn skills related to:
Solving complex technical problems
Installing and configuring computer networks and systems
Supporting end users
Using career-specific software, devices, and equipment
Managing high-tech projects from start to completion
Using an integrated development environment (IDE)
Writing code in various programming languages like:

C/C++
C#
Java
JavaScript
PHP
Python

Using HTML and CSS
Protecting and organizing electronic data
Building and testing electronics prototypes
Turning designs into technical schematics
Recording, processing, and editing video or audio
Creating digital effects or animations
Developing websites, mobile apps, video games, or computer software
Certification
Most technology professionals do not have to be licensed or certified by the government or any third party. However, some employers look for potential hires who have particular voluntary certifications. So whether or not a certification is valuable depends a lot on the specific jobs you apply for.
Some professional organizations offer certifications in the technology fields they represent. A few examples include:
In addition, you can get certified in using the products or services of particular companies. Here are some popular examples:
Education & Training FAQs
How do you get into a technology school?
Every college, university, and vocational school has its own admission requirements. In general, you'll probably need at least a high school diploma or GED to get started. At a community college or private drafting, engineering, or IT tech school, you may be able to enroll even without that level of education, assuming you pass a basic test and take some remedial classes.
For schools with more selective admissions criteria, you may need to have minimum scores on the SAT or ACT, among several other requirements.
The best course of action is to research the schools in your area, seeing what kinds of programs they offer, and asking for information about their admissions procedures.
Is a technology degree worth it?
Many high-tech occupations are associated with above-average salaries and a high number of job openings. So the return on your educational investment is likely to be good. Plus, depending on your area of study, the skills you learn may be applicable to opportunities across several different industries.
What is the best technology degree to get?
That really depends on what you consider most important. For example, how do you rank factors like income potential, employment opportunities, and alignment with your traits and interests? Knowing the answer to that question will help you determine your best course of study.
According to the Federal Reserve Bank of New York (the New York Fed), some of the technology-related majors with the highest median mid-career salaries include:
Computer engineering: $106K
Electrical engineering: $100K
Aerospace engineering: $100K
Mechanical engineering: $98K
Computer science: $95K
The New York Fed also says that engineering majors tend to have some of the lowest unemployment rates. But computer science, information systems and management, and engineering technologies rank pretty well when it comes to the percentage of graduates who are employed in jobs that utilize their expertise.
---
Technology Schools
Sponsored Listings
---
---
Career Information
High-tech occupations often come with excellent salaries and a lot of job availability. Plus, they are highly varied, meaning that you can choose from multiple pathways into an essential and satisfying career.
Career Outlook*
12% growth from 2018-2028
Median Salary*
(Average Median)
Job Openings*
Average Yearly Openings
Length of Training
Most Common Length
Work Settings
Source
Bureau of Labor Statistics
Earnings
The median salary for American workers in the information industry is $65,850. The top-end salary is $152,930 or more. This includes people who work in telecommunications, data hosting and processing, broadcasting, publishing, film, sound recording, and similar sectors.
For U.S. workers in the computer-related services industry, the median salary is $88,690. Those at the highest end of the wage scale make $168,120 or more. This includes a wide range of professionals who work for organizations that specialize in information technology (IT).
The average median salary between those two industries is $77,270.
Keep in mind that high-tech pros are found in nearly every industry, not just the sectors that are directly related to technology.
Median Annual Wage Comparison
Job Openings & Outlook
Industry projections from the Bureau of Labor Statistics (BLS) show that, between the information and computer-related services sectors, the average employment growth is expected to be about 12.4 percent from 2018 to 2028. (That's based on growth of 0.2 percent for the information industry and 24.5 percent for computer-related services.)
Based on occupational employment projections from the BLS, an average of at least 548,000 job openings could become available each year for technology professionals. That total includes yearly openings for people in the following categories:
Computer occupations: 403,500
Drafters, engineering technicians, and mapping technicians: 72,300
Computer and information systems managers: 38,800
Broadcast and sound engineering technicians and radio operators: 17,300
Multimedia artists and animators: 8,300
Television, video, and film camera operators and editors: 7,900
Key Benefits
Opportunities for flexible work arrangements: Many high-tech professionals get to work remotely (from home or wherever they have a reliable Internet connection). In some cases, they are also able to select their own hours.
Potential for self-employment: A lot of technology careers lend themselves to freelance or consulting work, giving you the chance to choose your own clients and routine.
High mental engagement: You're unlikely to get bored in a tech job since the work tends to be full of interesting and ever-shifting challenges.
What a Technology Professional Does
High-tech workers vary significantly in the specific tasks they perform. Depending on their particular occupations, industries, positions, and skill sets, technology pros may do things like:
Set up, troubleshoot, operate, maintain, optimize, update, or evaluate:

Computer hardware and software
Local area networks (LANs)
Wide area networks (WANs)
Broadcasting equipment
Sound recording equipment

Create, test, optimize, or update:

Apps for computers, smartphones, tablets, or other devices
Operating systems
Websites
Video games
Animations or digital effects for films, shows, or games
Electronic prototypes

Help end users resolve technical malfunctions
Organize and safeguard electronic data
Recommend technology upgrades
Create technical drawings
Record and edit audio or video
Manage and supervise other tech workers
Work Settings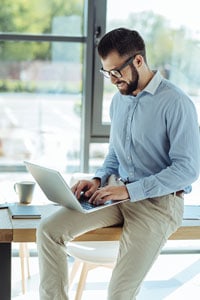 Technology pros are employed in almost every economic sector. That means you can find them doing work in places as diverse as:
Homes
Offices
Data facilities
Factories
Hospitals
Schools
Call centers
Stores
Arenas
Studios for:

TV or radio broadcasting
Film production
Drafting
Audio recording
Animation and special effects
Careers
The range of job possibilities in this career sector is extremely diverse. The following examples represent just some of the professional options.
Broadcast or sound engineering technician: Play a hands-on role in the TV, radio, motion picture, music recording, or live events industry.
Computer animator: Create 2D or 3D characters and bring them to life for films, TV shows, commercials, video games, or other digital projects.
Computer programmer: Help create, test, and update programs or operating systems by writing code based on the designs of engineers or developers.
Computer support technician: Assist organizations and end users by providing guidance and troubleshooting when problems occur with computer hardware or software.
Database administrator: Organize and protect an organization's electronic data so that it can be accessed securely and efficiently by authorized users.
Drafter: Use computer-aided design (CAD) software to turn the plans of architects or engineers into technical drawings and schematics.
Electronics engineering technician: Help make prototypes of electronic equipment by assisting with the design, assembly, and testing of circuitry and various components.
Information security analyst: Specialize in keeping an organization's computer networks safe from cyberattacks, data breaches, and disasters (as well as responding with recovery measures in the event of an emergency).
IT manager: Oversee an organization's information technology needs and goals by planning and coordinating the activities of other computer- and network-related staff members.
Software developer: Direct the design, coding, and testing of operating systems, desktop applications, mobile apps, or cloud-based programs.
Systems administrator: Take charge of evaluating, installing, optimizing, fixing, and supporting an organization's servers, networks, and computer workstations.
Video game developer: Direct and take part in the design, programming, and testing of games for computers, mobile devices, or consoles.
Web developer: Help create and optimize websites by focusing on front-end development (such as user interface design) or back-end development (such as integration with databases).
Career FAQs
What tech jobs pay the most money?
According to BLS wage estimates, some of the technology occupations with the highest median salaries include:
Computer and information systems managers: $146K
Computer and information research scientists: $123K
Computer hardware engineers: $117K
Network architects: $113K
Software developers: $108K
What technical jobs are in high demand?
BLS projections show that, between 2018 and 2028, the following technology jobs are expected to have some of the highest numbers of average yearly openings:
Application software developers: 99,200
Computer user support specialists: 65,100
Computer systems analysts: 53,400
Computer and information systems managers: 38,800
Systems software developers: 35,400
How do I choose a career in technology?
First, go into it with an open mind. (Few people are able to predict what will really make them happy.) Also, don't just focus on how much money you can make. Try to find a path that aligns with your personality traits and strong interests.
Get a notebook and start making a list of all the areas in technology that you're curious about. Under each one, write down why they interest you, being as specific as possible. Then, make a list of your personality traits and what you enjoy doing. For example, maybe you like to:
Solve problems
Use your creativity
Make new things
Collaborate with other people
Analyze information
Learn new things
Explain complex ideas to others
Once you have your lists, start finding and reaching out to experienced technology professionals near you who work in your areas of interest. LinkedIn can sometimes be a good resource for this. (You'll need to sign up for a free account if you don't already have one.) Offer to buy lunch or coffee in exchange for a small amount of their time. Ask questions that can help you:
Get a sense of what they do in their roles
Understand what they like and don't like about their careers
Identify some of their personality traits (and how they compare to yours)
Also, consider asking about potential internship or job-shadowing opportunities. It's always easier to learn what you do or don't like if you have some experience in a variety of actual work environments.
Use those suggestions to get you started. And take time to read some additional tips for choosing the right career.
---
Tech Schools Near You Can Support Your Ambitions
Developing sought-after skills for a technology career is something that many people like you are able to accomplish with help from adult-friendly technical colleges.
---
* The average median salary is based on the average between BLS estimates for median yearly wages in the information industry and computer-related services industry. Employment growth is based on the average between BLS projections for the information and computer systems design and related services industries. Job openings are based on BLS occupational projections for: computer occupations; drafters, engineering technicians, and mapping technicians; computer and information systems managers; broadcast and sound engineering technicians and radio operators; multimedia artists and animators; and television, video, and film camera operators and editors.
** Length of training information is based on a combination of information from the Occupational Outlook Handbook, the U.S. Department of Education, and a wide sampling of relevant program lengths from about 30 individual school websites. They are a mix of public, private non-profit, and private for-profit institutions.