Technology Trade Schools & Colleges
Last Updated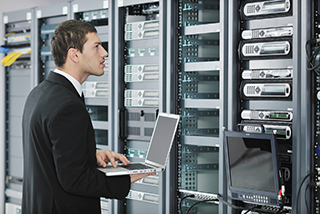 Tech schools can prepare you to turn your enthusiasm for the wired (and wireless) world of technology into a stimulating career that lets you work directly with the stuff you love most.
Whatever your interests, there are technology schools that can help you acquire the skills, knowledge, and practical experience necessary to get started in the kind of career that makes you excited to get up in the morning.
From computer programming to game development, information technology to cyber security, and network engineering to environmental technology, the programs available at tech colleges provide relevant entryways into the extremely varied realm of modern technology. With the right education, you could soon be helping to create or maintain the technological systems that power our factories, help us get more done, keep us safe, add richness to our lives, and much more.
Can you imagine today's society without the technological breakthroughs that make it possible? It's easy to take technology for granted because it is so intimately connected with every part of our lives. Computers, smart software, advanced electronics, and complex networks now control fundamental things like how we communicate, how we shop, what we're able to buy, how illnesses are diagnosed and treated, and what kinds of food we have access to. New technologies are changing our world so rapidly that even the most improbable inventions now seem likely to come to fruition at some point. The future is really wide open. It will be tech-savvy people like you who will make the impossible happen.
If you're wondering "Are there colleges near me that offer the kind of program I'm looking for?" then you're already a step ahead. Whether you want to attend school for a short time to get started in a career as quickly as possible or wish to take a little longer in order to hold a more advanced degree, there is likely a tech college near you that offers the kind of program you're after. If you love getting your hands on the latest and greatest technologies, enjoy the challenge of learning something new, and have the smarts, curiosity, and desire to solve problems, then a career in the broad field of technology could be a terrific fit.
---
---
Find Technology Schools by Program
---