CDL Training & Truck Driving School Information
By Publisher
| Last Updated
Getting a commercial driver's license (CDL) can be a great way to improve your job security, gain more freedom, and create new opportunities for adventure. A truck driving school near you may offer CDL training that you can finish in less than six months.*
---
Education & Training
Most people who enter this vocation have at least a high school diploma. They've also completed a formal training process in preparation for state CDL tests, either through truck driving schools or the in-house programs of private trucking companies.
---
---
CDL Schools
Sponsored Listings
Bridgeport, Connecticut
Somers, Connecticut
North Andover, Massachusetts
Pawtucket, Rhode Island
Commercial Drivers License Training
Baltimore, Maryland
Lester, Pennsylvania
Pittsburgh, Pennsylvania
Advanced Tractor Trailer Driving
Class A CDL Driving
Class A CDL Preparatory
Class B CDL Driver Training
Class B CDL Truck Driving
Commercial Truck Driver Training
---
---
Length of Training
School for CDL test preparation is typically from one to six months long.* The total length of time depends on the particular school, the depth of its classroom curriculum, and the amount of on-the-road training it provides. However, program length isn't necessarily a measure of quality. Even short, accelerated programs can do a good job of preparing students for their CDL exams and future careers.
Most Common Length of School*
(range in months)
Commercial truck driving

Heavy equipment operation

Automotive technology

Diesel technology
Program Options
Certificate or diploma programs at trade schools, community colleges, and professional driving schools tend to be the most common options due to their wide availability. Students pay their own tuition, fees, and other training costs. Graduates of these programs are free to pursue any jobs in the trucking industry once they earn their CDLs and the proper endorsements.
In many cases, a company-sponsored program provides free training if you're new to the industry and meet other requirements, in exchange for you agreeing (through a signed contract) to work for that particular trucking company for a specified length of time. However, if you fail to complete the program or the company chooses not to hire you, you may have to pay back some or all of the training costs. In some cases, even people who are hired must pay the company back once they start working.
---
---
Typical Courses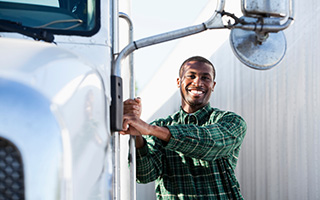 Programs can vary slightly in what they cover, but a truck driving school will often provide classes in areas like:
State and federal trucking regulations
Basic truck operations and systems
Safety, accident prevention, and emergency practices
Cargo handling
Trip planning
Pre- and post-trip inspections
Reporting practices for defects and malfunctions
Advanced truck operations
Logbook documentation and other recordkeeping
Basic vehicle maintenance
Industry communications
Time management
Skills You Can Learn
Truck driver training includes time behind the wheel (on closed courses and public roads) with an instructor in the passenger seat. Students often gain skills related to:
Planning and mapping out trips
Communicating with:

Dispatchers
Shipping agents
Diesel mechanics
Other drivers

Inspecting vehicles
Testing air brakes
Reporting malfunctions
Coupling and uncoupling trailers
Loading cargo and distributing its weight
Offloading cargo
Using in-cab instruments and controls
Adjusting truck speed and spacing in relation to other vehicles
Shifting
Backing up
Docking
Parallel parking
Driving defensively
Maneuvering in emergencies and extreme driving conditions
Handling and reporting accidents
Maintaining a logbook
Performing basic maintenance
Managing time and personal resources
Licensing & Certification
Before you can train on public roads in your state, you'll likely need to pass a basic knowledge test in order to acquire a commercial learner's permit (CLP). Requirements vary from state to state, but to qualify for the CLP exam, you may need to be at least 18 years old with a valid driver's license and a good driving record over the last few years. You also may need to pass a drug test and physical exam.
After completing your formal training program, you can pursue your CDL by passing your state's written exams and road tests. There are three basic licensing classes:
A CDL-A lets you operate a commercial vehicle with a trailer where the trailer weighs more than 10,000 lbs. and the combined weight of the vehicle and trailer exceeds 26,001 lbs. when fully loaded. This is the license needed to operate most tractor-trailers (also referred to as semis and 18-wheelers), as well as other combination vehicles (such as those with tanks). With a CDL-A, you are also permitted to operate most Class B and C vehicles as long as you have the proper endorsements.
A CDL-B lets you operate a commercial vehicle where the gross weight is at least 26,001 lbs. But if towing a trailer, the trailer weight must not exceed 10,000 lbs. when fully loaded. This is the license typically needed to operate vehicles like dump trucks, cement mixers, garbage trucks, buses, delivery trucks, and tow trucks. With a CDL-B, you are permitted to operate Class C vehicles as well (if you have any necessary endorsements).
A CDL-C covers any commercial vehicle that falls under the weight limits of Class A or B. This includes passenger vehicles that carry 16 or more people, as well as certain vehicles for moving hazardous materials that require safety signage for public display.
Rather than certifications, truck drivers can add endorsements to their CDL by passing additional tests (which may require extra training to prepare for). These can vary a little from state to state, but here are common examples:
H: Required for any commercial vehicle that carries hazardous materials. Passing a background check may be necessary.
N: Required for commercial trucks that carry liquid or gas in a tank that's temporarily or permanently attached to the vehicle or chassis.
P: Required for any commercial vehicle designed to carry 16 or more passengers, including the driver.
S: Required to drive a school bus that carries 16 or more passengers, including the driver. You may need to pass a background check.
T: Required to haul double or triple trailers.
X: This is a combination of the H and N endorsements (for tankers and hazardous materials).
In addition, some states impose particular kinds of restrictions on the CDLs of drivers who have certain medical conditions or who haven't taken tests for specific vehicle systems.
Education & Training FAQs
How do I become a truck driver?
The first step in learning how to become a truck driver is to make sure you meet your state's age requirements and have a high school diploma, GED, or equivalent. You'll need to have a driver's license (for passenger vehicles) and a clean driving record. If you meet these criteria, you can start looking into trucking schools and training options near you. Once you've completed your program, you'll need to pass the CDL exam and take a road test. Then you can start looking for work!
How much does it cost to go to a CDL school?
Tuition costs for CDL training range from about $1,425 to $11,995.*** Tuition costs vary depending on the school and the type of program. Extra fees, books, and supplies are an additional cost.
Can I get a student loan for truck driving school?
Many CDL programs are offered by colleges or trade schools that are recognized by the U.S. Department of Education as being properly accredited. That means eligible students at those schools can apply for federal student loans or grants. Some states also have their own financial aid programs. In addition, certain students may qualify for military benefits. And some schools offer payment plans that let you pay your tuition and fees in affordable monthly installments.
Do you get paid while in CDL training?
Some trucking companies pay students during their sponsored, in-house training programs. The wages are generally low compared to what a fully licensed truck driver earns on the job. And you must agree to stay with the company for a pre-determined amount of time after your training ends.
If you attend a regular school (i.e., not through a trucking company), you won't get paid during your training. But when you graduate and obtain your CDL, you can pursue a job with any company in the trucking industry.
Can I get a CDL without going to school?
Technically, you can. However, learning how to drive a commercial vehicle on your own is not recommended by people in the industry. Trucking companies tend to have strict hiring policies that require applicants to have formal training, either through an accredited post-secondary school or a company-sponsored program.
What is a pre-hire letter?
As a student, or even a potential student, you can apply to trucking companies and receive a pre-hire letter. This is not an employment contract or guarantee of employment. It is a letter acknowledging that, aside from training, you meet the company's hiring requirements and that once you have your CDL, you are welcome to attend their orientation as a potential candidate.
Career Information
Also known as heavy, tractor-trailer, or diesel truck drivers or operators, commercial truck drivers are part of an occupation with built-in advantages that make it worthwhile for many people.
Career Outlook
4% growth from 2021 to 2031
Median Salary
Commercial Truck Drivers
Job Openings
Average Yearly Openings
Length of Training
Most Common Length
Work Settings
Specializations
Dry van, flatbed, tanker, hopper, automotive hauler, container hauler, refrigerated container, oversized loads, Class B or C vehicles
Sources**
U.S. Bureau of Labor Statistics
U.S. Department of Education
Earnings
Drivers of heavy trucks that require a CDL to operate make $48,310** a year on a median basis, according to estimates from the Occupational Employment and Wage Statistics (OEWS) program. The highest-paid drivers in this category earn more than $72,730.
In many cases, drivers are paid based on the number of miles they've driven. However, some people in this vocation earn a percentage of the revenue from each shipment they complete. (That's especially true for owner-operators, who are self-employed drivers who possess their own big rigs.)
Performance bonuses are also common in the trucking industry. A driver's income potential often rises as the amount of freight they haul increases.
Median Annual Wage Comparison**
Job Openings & Outlook
Projections from the Bureau of Labor Statistics (BLS) indicate that jobs for commercial truck drivers could grow in number by 4 percent from 2021 to 2031.** Each year over that period, an average of 259,900 open positions are expected to become available, including:
9,100 newly created jobs
99,400 openings due to drivers retiring
151,400 openings because of people switching to different careers
Key Benefits
Peace of mind: More than 72 percent of America's freight (by weight) is moved by truck. Even during hard economic times, drivers are essential for the movement and delivery of vital goods. That's why this vocation is associated with good job security.
A sense of freedom: Truck drivers get to enjoy the advantages of traveling alone. They can often control many aspects of how they work. They can also wear and listen to what they want. Many drivers use their time on the road as an opportunity to learn new things by listening to educational podcasts or audiobooks.
Low barrier to entry: Since a college degree isn't necessary, you can get trained at a CDL school in just a few weeks or months.*
What a Commercial Truck Driver Does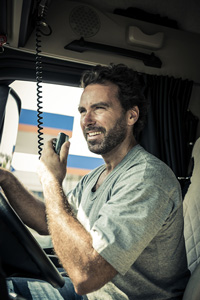 A driver's core responsibility is to haul cargo from one place to another. So, most of their time is spent operating a heavy vehicle on city, state, or federal roadways while adhering to all traffic laws and relevant safety regulations. In addition to driving trucks, people in this occupation often do things like:
Load or unload freight
Plan routes or follow dispatcher-assigned routes
Cover or tie down cargo
Perform pre- and post-trip vehicle inspections
Report mechanical issues
Carry out light maintenance
Keep logbooks and other records up to date
Clean trucks, trailers, and related equipment
Work Settings
Truck drivers generally spend their time in environments like:
Truck cabs
Intrastate or interstate highways
Local roads
Warehouses
Container ports
Loading docks
Filling stations
Truck stops
Specializations
Drivers generally have jobs in either local trucking or over-the-road (OTR) trucking. Local drivers complete short hauls over relatively small regions, which often lets them go home in the evenings. OTR drivers, also known as long-haul truckers, transport cargo over much greater distances, meaning they tend to be away from home for at least several days or weeks at a time.
With a valid commercial driver's license and the right endorsements, you can pursue different specialties related to the type of truck you drive and cargo you haul. For some specialties, such as those that involve transporting hazardous materials, you may need to complete extra training.
Here are some common examples. (Most jobs in these areas require a Class A CDL.)
Dry van: This kind of big rig has a fully enclosed trailer and is used primarily for transporting goods that aren't perishable. New truck drivers often start with dry van shipping.
Flatbed: This type of trailer has an open deck for hauling a huge variety of heavy cargo, which can include anything from aircraft components or large equipment to milled lumber or other construction materials.
Tanker: Used for transporting liquids or gases in bulk (such as fuels, fruit juices, or industrial chemicals), tankers present special challenges for drivers. For instance, tankers are more susceptible to being overturned than other combination vehicles. And certain kinds of cargo can be highly flammable or hazardous to the environment and human health.
Hopper: Trucks with this type of container are used for hauling dry, loose goods in bulk (such as grain, sugar, or gravel).
Automotive hauler: This type of rig is specially designed for transporting several cars, SUVs, or light trucks on an open trailer.
Container hauler: Drivers in this specialty use their trucks to pull shipping containers from ports or rail yards to warehouses or other delivery destinations.
Refrigerated container: Known informally as a reefer, this kind of trailer is air-conditioned for hauling perishable food or other goods that must be kept at a specific temperature.
Oversized loads: This specialty involves getting special permits to transport freight that is wider, taller, or longer than the legal limits for the roads being used. Examples include items such as manufactured homes, large construction machines or components, and big industrial parts like wind turbine blades or tires for giant mining trucks.
Class B or C vehicles: With a Class A CDL, you can also drive vehicles in these classes (as long as you have any necessary endorsements). They include vehicles like garbage trucks, large cube vans, dump trucks, cement mixers, tow trucks, buses, and more.
Also, another potential specialty is emerging. As self-driving truck technology gets more advanced, the industry may need people to act as autonomous vehicle operators for specific kinds of routes. That could involve being along for the ride in a truck cab in case something goes wrong, similar to what airline pilots do with autopilot systems. Or it could mean using remote technology to monitor and help drive a truck from a distance when the self-driving system needs to be overridden.
Career FAQs
Is it worth getting your CDL?
Earning a commercial driver's license can have its benefits. One major advantage is the extra job security it can provide. Even if you don't pursue any trucking jobs right away, a CDL gives you fallback options if you lose your job in a different, non-essential industry.
As a new truck driver, you may have an easier time finding OTR (i.e., long-haul) trucking jobs. (Short-haul positions often go to drivers with a lot of experience, since the competition for those jobs tends to be greater.) So, it's important to consider the unique lifestyle of a long-haul trucker.
Being an OTR trucker may be worth pursuing if you enjoy solitude, adventure, and visiting different cities. You'll be away from home and living in your truck most of the time. Still, many new drivers appreciate the opportunities to see new places and meet new people during their travels.
Keep in mind that, in addition to employment history, many companies consider aspects like the following when hiring new drivers:
Criminal records (including any alcohol-related violations)
Drug and alcohol test results
Credit history
Driving records
Medical exam results
How dangerous is truck driving?
According to BLS data, commercial truck drivers sustain on-the-job injuries at higher rates than people in most other occupations. That's mainly because of the higher probability of being involved in motor vehicle accidents, since so much of a driver's time is spent on the road.
In 2020, about 766 people with this vocation suffered fatal injuries, and roughly 43,500 non-fatal injuries occurred. However, about 1.8 million people worked in this occupation. So the fatality rate was only 0.043 percent, and the non-fatal injury rate was 2.4 percent.
The Federal Motor Carrier Safety Administration (FMCSA) enforces many regulations designed to improve safety in the trucking industry. For example, drivers must adhere to rules about how many hours they can work without a break or time off, how to properly secure cargo, and when they must be tested for drugs and alcohol.
Are there opportunities for career advancement for truck drivers?
Truck drivers who either start out with or add diesel technology training to their professional skillset can be at a major advantage when it comes to job opportunities and earnings. Independent drivers who own their rigs can save a lot of money by being able to perform their own maintenance as needed. This comes in handy, especially when mechanical issues arise while on the road.
Some diesel mechanic programs include varying levels of CDL training so that the pros who work on the vehicles also can operate them. Being able to move a large vehicle that is being worked on gives diesel mechanics more flexibility in how they perform their work. Plus, additional skills and training often lead to better pay. Aspiring drivers with a broader interest in diesel technology should also consider mechanic programs since CDL training could be included.
---
CDL Training Can Lead to More Reliable Work
Completing a formal truck driving program can open up many possibilities for employment that comes with greater freedom and enhanced job security.
---
* Length of training information is based on a combination of information from the Occupational Outlook Handbook, the U.S. Department of Education, and a wide sampling of relevant program lengths from about 30 individual school websites. They are a mix of public, private non-profit, and private for-profit institutions.
** Unless otherwise noted, salary information is based on May 2021 data from the Occupational Employment and Wage Statistics (OEWS) program. Job growth and average yearly openings estimates are from the Bureau of Labor Statistics and are for the 2021 to 2031 period.
*** Based on a sampling of websites from 30 public and private post-secondary schools in the U.S. on November 3, 2022.