CDL Training and Truck Driving Career Overview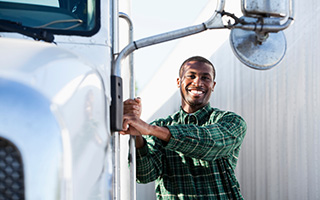 While checking out CDL schools, it's natural to have questions about becoming a truck driver. Maybe you're wondering what you'll learn in school, what class of CDL permit you should obtain, or whether you can expect a good job outlook. Find information about those issues below, along with answers to other commonly asked questions about trucking schools and careers.
What Can I Expect to Learn at a CDL Driving School?
A CDL school can teach you the rules of the road. Although every school varies, you can expect the initial portion of your program to take place in a classroom. This is where you can learn about basics such as:
State and federal regulations
Industry regulations
Records, logbooks, and forms
You can also expect to complete the test for your CDL learner's permit, which makes it legal for you to drive with a certified instructor. Once this happens, most of the instruction moves behind the wheel, which means that you get to practice driving on closed courses and public roads. Many CDL training schools provide opportunities to gain experience with city, highway, and interstate driving.
The field portion of your truck driver training can familiarize you with the following:
Pre- and post-trip inspections
Trip planning and mapping
In-cab instruments and controls
Safe driving practices
Backing up
Shifting
And much more
How Do CDL Truck Driving Schools Differ From Each Other?
From one CDL truck driving school to another, training programs can vary quite a bit. Some of the differences that you might encounter include:
What is included with your tuition—Some CDL driving schools offer inclusive tuition, meaning that most of the expenses related to becoming a licensed truck driver are covered. These expenses often include books, a medical exam, Department of Transportation drug and alcohol testing, and exam fees for your learning permit and commercial driver's license.
The class of license offered—Truck driver training can prepare you to sit for one of three licensing exams: CDL-A, B, or C. So it's a good idea to double-check that whatever truck driver school you choose offers a training program for the class of license you want.
Whether additional endorsements are included—Some truck driver training schools offer courses that can help you attain extra endorsements on your CDL, such as those required for hauling hazardous materials or driving a tanker truck.
The amount of driving hours—The amount of time that you spend behind the wheel can vary between different programs for truck driving. Training on the road, in the cabs of real trucks, builds your experience and can increase your value in the job market.
Where Can I Get Paid CDL Training?
Most people who want to become commercial drivers choose to get their training at local truck driving schools. But another option exists—one that allows you to get paid while you learn. Through company-sponsored CDL training, you can learn how to drive commercial vehicles at no cost to you. The catch is that you usually need to agree to a contract that requires you to work for the sponsoring employer for at least a year or more.
It's an option that trades your freedom for a commitment that you might not want to keep after earning your CDL. Paid training of this nature often sounds like a good deal at first. But some people discover later on that they would rather be working for different employers in the early stages of their trucking careers.
Plus, company-sponsored truck driving schools aren't always as thorough in their training as schools where you pay for your own education. That's because some trucking companies spend more time teaching apprentices about their own special practices than they do about all of the other relevant aspects of the industry. It's just something that you should be aware of (and ask about) if you decide to look for paid CDL training jobs and apprenticeships.
Just a few examples of companies that have operated their own paid truck driving schools or apprenticeship programs include Stevens Transport, Prime Inc., Roehl Transport, and Swift Transportation.
What Are the Differences Between Class A, B, and C Licenses?
As you explore CDL training schools, you will find that there are three different licensing classes. Below is a basic breakdown of the difference between the three levels.
A CDL-A allows you to operate a commercial vehicle with a trailer where the trailer weighs more than 10,000 lbs. and the combined weight of the vehicle and trailer exceeds 26,001 lbs. when fully loaded. This is the license needed to operate most tractor-trailers (also referred to as semis and 18-wheelers). With a CDL-A, you are also permitted to operate class B and C vehicles.
A CDL-B allows you to operate a commercial vehicle where the gross weight is at least 26,001 lbs. But if towing a trailer, the trailer weight must not exceed 10,000 lbs. when fully loaded. This is the license typically needed to operate vehicles like cement mixers, garbage trucks, and tow trucks. With a CDL-B, you are permitted to operate class C vehicles as well.
A CDL-C covers any commercial vehicle that does not meet the weight limits of class A and B. This includes larger passenger vehicles that carry 16 or more passengers, as well as vehicles moving hazardous materials that require safety signage for public display.
What CDL Endorsements Can I Add?
Once you have a commercial driver's license, you can add seven endorsements, some of which you might be able to train for at your class-A driving school. Here's a short description of each one:
H—Required for any commercial vehicle that carries hazardous materials and requires safety signage for public display.
N—Required for commercial tank trucks that carry liquid in a tank that is temporarily or permanently attached to the vehicle or chassis. It also includes any liquid in a permanent tank that requires safety signage for public display.
P—Required for any commercial vehicle designed to carry 16 or more passengers, including the driver.
S—Required to drive a school bus that carries 16 or more passengers, including the driver. Note that some states may require additional certification to operate a school bus.
T—Required to haul double or triple trailers (note that certain states do not allow triple trailers).
W—Required for tow trucks.
X—Combination of the H and N endorsement (tank truck and hazardous materials).
What Is the Typical Truck Driver Salary?
At an industry-wide average salary of $45,570, class-A truck drivers have the opportunity to earn good money. It all depends on the type of truck that is driven, the company that you work for, your level of experience, and how many hours or miles that you drive. In May 2018, the annual salary range for heavy and tractor-trailer truck drivers was $28,160 to $65,260 or more, according to Occupational Employment Statistics program data. And the annual salary range for delivery truck drivers was $20,260 to $62,690 or more.
Note that most truck drivers are paid by the mile, and regulations only allow for 70 hours of driving within an eight-day period. There are also additional regulations for how those 70 hours are used (such as requirements for rest breaks, etc).
How Long Is Truck Driving School?
Programs vary significantly in length. At some schools, CDL training takes only three to five weeks. But at others, it can take eight to ten weeks or as long as 20 to 24 weeks. How long a program lasts is often determined by the depth and breadth of the in-classroom curriculum as well as the amount of on-the-road training. Although program length isn't necessarily a measure of quality in a class-A license school, it can be an important factor when considering how much you want to learn and how quickly you want to begin your job search.
How Much Do Truck Driving Schools Cost?
As with program lengths, costs vary from school to school. For shorter courses, you might pay between $1,500 and $7,000. And for longer training programs, it's possible to pay up to about $11,000 for tuition and fees. But financing is often available for those who qualify in order to make attending school more affordable.
What Is the Job Outlook for Truck Drivers?
Commercial truck drivers can expect a strong job outlook in the coming years. Considering that almost 70 percent of all freight in the U.S. is moved on a truck, you can see that truck drivers take on a vital role within the nation. According to the U.S. Bureau of Labor Statistic's Occupational Outlook Handbook, projected job growth during the 2016 to 2026 period for tractor-trailer drivers is six percent, and for delivery truck drivers it is four percent.
What Do Employers Look For When Hiring New Drivers?
You could be surprised to learn that your level of experience may not be the most important factor for employers when hiring new drivers. They also want to consider other aspects that can help determine if you will be a safe, reliable driver. Employers will likely want to look at:
Criminal records and any alcohol-related violations
Drug and alcohol test results
Driving records
Medical exam results
Employment history
What Is a Pre-Hire Letter?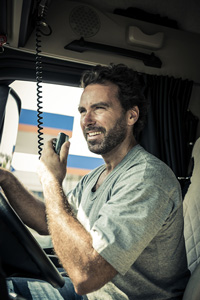 As a student, or even potential student, you can apply to trucking companies and receive a pre-hire letter. This is not an employment contract or guarantee of employment. It is a letter acknowledging that you meet the company's hiring requirements and that once you have your CDL, you are welcome to attend their orientation. It is a way for you to discover job prospects prior to completing your training.
What Can I Expect a Typical Day to Be Like as a Truck Driver?
As a truck driver, you might find that every day brings a new adventure since you are going to new places and meeting new people. You could be hauling within your city, region, state, or even across the country. Whatever your position, you can expect that the majority of your time will be spent driving.
When you are not behind the wheel, you could be completing pre- and post-trip inspections, light maintenance, and fueling. You will also have logbooks and other paperwork to keep up to date. Commercial truck drivers can also expect to spend time waiting at shipping and receiving docks for their vehicles to be loaded or unloaded.
What Are the Perks to Becoming a Truck Driver?
You could enjoy many benefits throughout your career as a truck driver. Check out some of the added perks below.
Earnings—Typically, the more you drive, the more you can make. So it can be up to you how many miles you want to log in order to boost your income.
Benefits—Some companies offer health and life insurance, vacation pay, and retirement plans. When a company hires a good driver, they want to be sure to keep them. So after a probation period, many employers offer benefits packages to encourage employees to stay with the company.
Flexibility—Depending on your position and the company you work for, you may have opportunities to pick your schedule. You may be able to secure a short-haul schedule that has you home evenings and weekends, a night-haul schedule that frees up your days, or a long-haul schedule that provides you with more days off at one time.
Travel—Truck drivers can have opportunities to see parts of their city, region, state, or country that they've never seen before. You get to take in all the sights while cruising down the road.
---
How Do I Get Started?
Your next step is simple. After all, you've probably been wondering, "Are there any truck driving schools near me?" Now is your chance to find out.
Quickly discover nearby CDL training and truck driving schools by entering your zip code into the search box below. Your dreams of a career on the open road could soon become reality!
---