Heavy Equipment Training Schools
Last Updated
Build a stable career by becoming one of the real builders of America.
Heavy equipment training can introduce you to a big world of satisfying opportunities. Here's why: The tradesmen and women who work with large mobile machinery contribute greatly to making the way we live possible.
Think about it: Heavy-duty vehicles and machines play a huge role in creating, maintaining, and delivering almost every basic thing we rely on today. Without them, we'd have far fewer roads, bridges, buildings, and airports. We'd have a smaller selection of food in the grocery store. And we'd have a lot fewer stores, period. Even the energy we use to light our homes and drive our cars would be scant or non-existent.
Simply put, our modern lifestyle requires a staggering amount of heavy equipment. Mechanic school offers one way to begin working with such powerful technology. And machine operator training offers another. A lot of people even end up pursuing both areas since they go hand in hand.
Can you picture having a job with major impact, excellent income potential, and plenty of engaging activity every day? By being one of the tradespeople who specializes in machines that do the heavy lifting, you can attain exactly that.
So take a close look at the following training options. And don't hesitate to contact any school that stands out so that you can get additional information right away!
---
Heavy Equipment Schools
Sponsored Listing
---
---
Career Possibilities in the Heavy Equipment Sector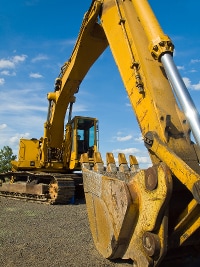 A huge portion of America's existing infrastructure is in major need of repair, overhaul, or total replacement. And as the nation's population continues to increase, so does the need for new infrastructure. But the country also consumes a large amount of energy, natural resources, and industrially farmed food. It all creates a tremendous need for people who know how to safely and skillfully use and maintain heavy machinery.
For example, consider these stats: The Occupational Outlook Handbook says that in 2018, the construction sector employed around 453,200 equipment operators. But that number is expected to increase by 10 percent between 2018 and 2028. So the job outlook is optimistic.
And the money you can make isn't too shabby either. According to the Occupational Employment Statistics program, the median salary in 2018 for heavy equipment service technicians was $51,920. (The top 10 percent of earners made $76,600 and up.) And operators of heavy equipment made median annual wages of $47,810—with the highest earners making $84,160 or more.
Of course, people who work in these careers often generate the best job and income prospects by learning a combination of mechanical and operational skills. So getting training and experience in different areas of this broad field can lead to a great amount of employment security and flexibility.
Here's a quick breakdown of what some of those areas are all about:
Heavy Vehicle and Mobile Equipment Mechanics
People in this trade do exactly what it sounds like: They fix and perform maintenance on big and powerful machines (usually ones that roll on wheels or continuous tracks).
Their jobs can involve providing mechanical services for bulldozers, backhoes, cranes, articulated dump trucks, graders, and lots of other types of large machinery. They know how to work on almost any part of a heavy vehicle—from the engine and transmission to the special brake, suspension, and hydraulic systems.
Mostly, these tradespeople work in sectors such as construction, mining, forestry, and oil and gas exploration. But some technicians specialize in farm or railroad equipment.
Construction Machine Operators
These professionals drive and maneuver the heavy equipment used in the preparation of land for building projects or in the actual construction of projects. Sometimes they specialize in just one or a few pieces of equipment, but many of them eventually learn how to operate a larger variety of machines.
In most cases, they use machinery that has a scoop, bucket, scraper, or shovel attached. Examples include bulldozing, grading, and excavation equipment—the kinds of machines used for digging ground and moving materials within confined areas.
But other types of heavy machine operation in the construction sector include:
Paving and surfacing: Using asphalt spreaders, concrete paving machines, or tamping equipment for creating, fixing, or upgrading roads and similar structures
Pile-driving: Using big stationary machines to hammer long columns of steel, wood, or concrete into the ground as foundational support for bridges, buildings, and other major structures
Crane operation: Using tall tower-and-cable machinery to lift and move extremely heavy objects
Industrial and Mining Machine Operators
Tradespeople in this category tend to work in the manufacturing or natural resource extraction sectors. Within factories, they often operate forklifts or large tractors to lift materials and transport them around storage and work sites. At mines, they frequently drive all-terrain tractors or oversized dump trucks to load or haul raw earth that will be processed or refined.
Other types of material-moving operations that involve using heavy equipment include waterway dredging, underground loading and transportation within mines, and the controlling of automatic conveyor systems.
Heavy Truck and Tractor-Trailer Drivers
In some cases, you need to possess a valid commercial driver's license (CDL) in order to operate heavy mobile machinery, particularly if you will be taking it on any public roadways. But freight and long-haul truck driving can, itself, rightly be considered a form of heavy equipment operation. And many of the skills developed as a commercial truck driver transfer well to some of the trades already mentioned.
---