Heavy Equipment Training: Become a Machinery Mechanic or Operator
Last Updated
Heavy equipment training can introduce you to a big world of satisfying opportunities.
The tradespeople who work with large mobile machinery are essential to our way of life. Heavy-duty vehicles and machines play a huge role in creating, maintaining, and delivering almost every basic thing we rely on today, from roads and bridges to food and electricity.
People who work with large machines and equipment will mainly fit into two categories: those who maintain and repair and those who are behind the controls. Which do you prefer? One (or both) of the following education options could offer you the path of learning and experience you need to become a qualified professional.
Heavy equipment mechanic school focuses on teaching the equipment's technology, structure, and function, so program graduates are ready to find work diagnosing and repairing as qualified technicians.
Heavy equipment operator school trains students to safely and efficiently identify and control various large machinery on-site. Machine operator training focuses on safety, skills, and orienting learners to the trade(s) they will work within, usually construction and engineering.
Jobs working with heavy machinery and mobile equipment can offer excellent income potential, engaging activity, and opportunities for advancement. Read on for more details about these careers, and starting your own journey can be as simple as searching for heavy equipment schools near you.
---
---
Heavy Equipment Schools
Sponsored Listings


Denver, Colorado
East Windsor, Connecticut
Indianapolis, Indiana
South Plainfield, New Jersey
Nashville, Tennessee
Grand Prairie, Texas
Diesel Technology
Heavy Equipment
---
---
---
Heavy Equipment Jobs: What Are Your Options?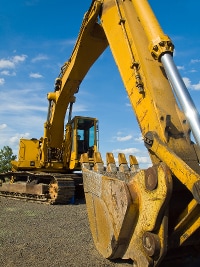 A huge portion of America's existing infrastructure is in major need of repair, overhaul, or total replacement. And as the nation's population continues to increase, so does the need for new infrastructure. But the country also consumes a large amount of energy, natural resources, and industrially farmed food. It all creates a tremendous need for people who know how to safely and skillfully use and maintain heavy machinery.
Here's a quick breakdown of the main types of jobs working with heavy machinery:
Heavy Mobile Equipment Mechanics and Service Technicians
People in this trade fix and perform maintenance on big and powerful machines (usually ones that roll on wheels or continuous tracks) used in industries from farming to rail transport to construction. They know how to work on almost any part of a heavy vehicle—from the engine and transmission to the unique brake, suspension, and hydraulic systems.
Their jobs can involve providing mechanical services for machines like:
Bulldozers
Backhoes
Cranes
Articulated dump trucks
Graders
Primarily, these tradespeople work in the construction, mining, forestry, and oil and gas exploration sectors. But some technicians specialize in farm or railroad equipment. You may hear these positions referred to as any of the following (and more):
Construction equipment mechanic
Equipment mechanic/technician
Field mechanic/service technician
Heavy equipment mechanic/technician
Mechanic
Mobile heavy equipment mechanic
Salary
According to the Occupational Outlook Handbook (OOH), the median salary for heavy equipment service technicians was $53,770. The top 10 percent of earners made $78,280 and up, and the lowest 10 percent earned $36,900 or less.*
Heavy vehicle and mobile equipment service technicians are also more likely to have overtime opportunities, which can boost income significantly. Depending on your industry, there may also be some fluctuations in demand throughout the year. For example, farm equipment mechanics generally have much more work during planting and harvesting seasons, with a decrease in need during the winter and cold weather.
Job Demand
According to the OOH, heavy vehicle and mobile equipment service technicians are projected to grow by 8 percent, which is faster than the national average.*
A research study released in 2020 by The Associated Equipment Distributors Foundation (AEDF) The Equipment Industry Technician Shortage: Reassessing Causes, Impacts and Policy Recommendations explains how the emerging skills gap creates shortages in qualified professionals to hire. This gives people who decide to start their training at a heavy equipment mechanic school the opportunity to learn the most up-to-date technology and practices that employers look for. In addition, training can give you an edge over other applicants and help you get journey-level experience faster than directly starting an apprenticeship.
Heavy Equipment Operators
The skilled professionals who control and drive heavy-duty machinery are essential to keeping numerous industries functioning and growing. Most heavy equipment is related to construction in one way or another, but the positions are separated by industry when looking at the salary and job outlook data. Following are the three main categories for heavy machinery operators:
Construction Machine Operators
These professionals drive and maneuver the heavy equipment used in the preparation of land for building projects or in the actual construction of projects. Sometimes they specialize in just one or a few pieces of equipment, but many eventually learn how to operate a wider variety of machines.
They often use machinery with a scoop, bucket, scraper, or shovel attached. Examples include bulldozing, grading, and excavation equipment — machines used for digging the ground and moving materials within confined areas.
But other types of heavy machine operation in the construction sector include:
Paving and surfacing: Using asphalt spreaders, concrete paving machines, or tamping equipment for creating, fixing, or upgrading roads and similar structures
Pile-driving: Using big stationary machines to hammer long columns of steel, wood, or concrete into the ground as foundational support for bridges, buildings, and other major structures
Crane operation: Using tall tower-and-cable machinery to lift and move extremely heavy objects
Industrial, Oil and Gas, and Mining Machine Operators
Tradespeople in this category tend to work in the manufacturing or natural resource extraction sectors. Within factories, they often operate forklifts or large tractors to lift materials and transport them around storage and work sites. At mines, they frequently drive all-terrain tractors or oversized dump trucks to load or haul raw earth that will be processed or refined.
Other material-moving operations that involve using heavy equipment include waterway dredging, underground loading and transportation within mines, and controlling automatic conveyor systems.
Pay can increase substantially depending on the location and duties, especially for people willing to travel to or work in more remote areas. If risk is involved, compensation is often higher as well.
Heavy Truck and Tractor-Trailer Drivers
Sometimes you need to possess a valid commercial driver's license (CDL) to operate heavy mobile machinery, particularly if you take it on any public roadways. But freight and long-haul truck driving can rightly be considered a form of heavy equipment operation. And many of the skills developed as a commercial truck driver transfer well to some of the trades already mentioned.
Many truck drivers opt to get some heavy equipment mechanic training as well, so they can personally take care of minor issues that may arise on the road.
Salary
Pay depends somewhat on the type of machine you operate, tasks performed, and the industry. Following are the median annual wages for people who operate machinery within these categories specified by the Bureau of Labor Statistics*:
Construction equipment operators: $48,290
Crane and tower operators: $62,240
Farmers, ranchers, and other agricultural managers: $73,060
Logging equipment operators: $46,400
Material moving machine operators: $38,380
Operating engineers and other construction equipment operators: $48,360
Paving, surfacing, and tamping equipment operator: $46,960
Rail-track laying and maintenance equipment operators: $61,690
People who work in these careers often generate the best job and income prospects by learning a combination of mechanical and operational skills. So getting training and experience in different areas of this broad field can lead to a significant amount of employment security and flexibility. Being willing to work overtime or non-standard hours can boost pay as well.
Job Demand
There is a shortage of trained heavy equipment operators in America, and with infrastructure growing nationwide (and plans for more repair and development), the demand may reach a critical point if there are not enough skilled workers to fill in the gaps. If you get some heavy machinery training, there is likely an employer who will be relieved to find you and the skills and experience you bring.
The OOH says that the construction sector will employ 5 percent more heavy equipment operators. This projected job growth is good and on par with the average for all occupations in the US.*
---
Getting Started With Heavy Equipment Training
It's surprisingly simple to learn more about how to become a heavy equipment operator or mechanic. You can use our search tool to locate heavy equipment training programs near you, then you just need to fill out a short form, and the school(s) you're interested in will get back to you with the information you need.
---
---
* Unless otherwise noted, salary information is based on May 2021 data from the Occupational Employment and Wage Statistics (OEWS) program. Job growth and average yearly openings estimates are from the Bureau of Labor Statistics and are for the 2021 to 2031 period.