Tulsa Welding School
Florida · Oklahoma
Last Updated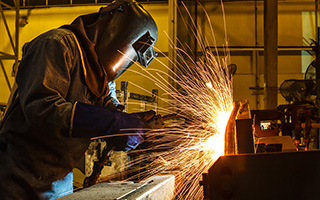 Get trained for a reliable skilled trade in less than a year.
Tulsa Welding School (TWS) makes it possible to quickly learn valuable skills for careers related to welding, pipefitting, electrical work, or heating, ventilation, air conditioning, and refrigeration (HVACR). You'll have the chance to gain real-world technical abilities that are needed by employers in many different industries. And you'll train in an environment designed to give you plenty of guidance and support.
At TWS, you can develop your skills by doing, rather than by spending lots of time in a classroom. In fact, most of your instruction will be hands-on and interactive. And you'll be guided by instructors who have actual industry experience. You can even choose day or evening courses. That way, you have the flexibility you need to complete the training you want.
So discover how you can benefit from going to a school that has a long and successful history of training skilled tradespeople. Let TWS know that you're ready to learn about all the details right away!
---
Tulsa Welding School Program Availability
Florida: Jacksonville
Electrical Applications
Electro-Mechanical Technologies
Professional Welder
Professional Welder with Pipefitting
Refrigeration Technologies
---
Welding & Pipefitting Programs
Qualified welders can pursue opportunities all over the world, in several exciting industries. By training at TWS, you can go from beginner to professional in as little as seven months. In fact, you'll have the opportunity to prepare for certification tests from the American Welding Society (AWS). In addition to proper safety and setup, you'll begin learning a full range of techniques and processes related to structural, pipe, flux-core, and thin-alloy welding.
You can also take your welding training one step further by learning how to lay out, assemble, and install piping systems. In just 10 months, you can gain welding skills as well as the abilities you'll need to become a pipefitter, boilermaker, steamfitter, or plumber.
Professional Welder
Professional Welder with Pipefitting
---
HVACR & Electrical Programs
Are you fascinated by electricity? Do you enjoy solving mechanical problems? At TWS, you can learn how to repair, maintain, or install indoor climate-control systems or electrical wiring or distribution systems for residential or commercial buildings. You can even learn about solar energy technology. Depending on the program you choose, you could be ready to pursue real-world opportunities as a skilled technician in only seven or nine months.
Electrical Applications
Electro-Mechanical Technologies
Refrigeration Technologies
---
Support for Students & Graduates
The staff and instructors at TWS want every student to succeed. Veterans, service members, and their families may benefit from special tuition rates. (Request information to find out more). And for those who qualify, the school offers assistance with getting financial aid, student housing, or temporary employment.
Plus, when students graduate, they can get help with crafting their resumes, searching for jobs, and preparing for interviews or skills tests. Plus, if you complete your program and remain in good standing with the school, you can return and refresh the skills you learned at any time.
---
Well-Equipped Training Facilities in 2 Great Cities
Whether you train near downtown Tulsa or southeastern Jacksonville, you'll get access to the type of equipment that's used on real job sites. Each facility has tens of thousands of square feet of training space. And every location has ample parking and close proximity to public transportation.
Florida
Jacksonville
3500 Southside Blvd
Jacksonville
FL
32216
Oklahoma
Tulsa
2545 E 11th St
Tulsa
OK
74104
---
Start Making It Happen
Your future as a skilled tradesperson can begin sooner than you might realize. So grab the opportunity. Ask TWS to get in touch with you as soon as possible!
---
Accredited School, ACCSC. TWS-Jacksonville located at 1750 Southside Blvd., Jacksonville, FL 32216 is recognized by ACCSC as a satellite location of TWS-Jacksonville located at 3500 Southside Blvd., Jacksonville, FL 32216. Tulsa Welding School & Technology Center (TWSTC) in TWS-Jacksonville is a branch campus of Tulsa Welding School, located at 2545 E. 11th St., Tulsa, OK 74104. Tulsa, OK campus is licensed by OBPVS and ASBPCE. Jacksonville, FL campus is licensed by the Florida Commission for Independent Education, License No. 2331. TWSTC and TWS in Tulsa, OK are approved by TWC. TWS in Jacksonville is licensed by the Mississippi Commission on Proprietary School and College Registration, License No. C-668. Licensure indicates only that minimum standards have been met; it is not an endorsement or guarantee of quality. Licensure is not equivalent to or synonymous with accreditation by an accrediting agency recognized by the U.S. Department of Education. TWS in Jacksonville is also regulated by the Indiana Department of Workforce Development, Office for Career and Technical Schools, 10 N. Senate Ave, Suite SE 308, Indianapolis, IN 46204; OCTS@dwd.in.gov; 317-234-8338 or 317-232-1732; http://www.in.gov/dwd/2731.htm. The AOSWT program is an Associate of Occupational Studies degree program and is not an academic degree. The AOSWT program is not approved for the following states: CO, GA, LA, MN, and TX.
---
For more information about our graduation rates, the median debt of students who complete our programs, and other important information, please visit our website at: http://www.tws.edu/student-resources/regulatory-information/.