Database Administration Training Schools
DBA Certification Preparation
Last Updated
Database administration training schools can prepare you to achieve success in an information technology sector that is growing rapidly.
Data is an immensely valuable commodity in today's digital world. It's essential to the operation of virtually every business, especially financial institutions, online content providers, healthcare organizations, and retail firms. Database administrators (DBAs) who know how to keep information systems operating efficiently and effectively can benefit from a wide range of expanding opportunities. That's why database administrator training programs are a solid choice. They can help you gain the technical abilities you'll need in order to move forward with confidence and start achieving your career goals.
With a database administrator education, you can become adept at installing, maintaining, and optimizing the complex systems that store and organize data. You'll learn about creating security measures, developing backup procedures, and training users to interact with the system. And you'll be better prepared to pursue specialized DBA certification.
So take your place in this cutting-edge career. The schools listed below are ready to help you get started. Or put your zip code into the school finder to generate a list of convenient training options in your area!
Frequently Asked Questions About Database Administrators
---
---
Database Administration Schools
Sponsored Listing
---
Frequently Asked Questions About Database Administrators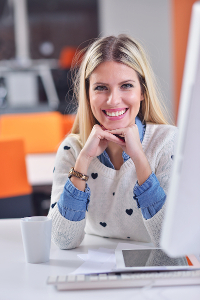 Currently, Americans use a staggering 4.4 million gigabytes of Internet data every single minute, and that amount will only increase as the number of connected devices continues to grow. Skilled professionals who can collect, store, and make sense of all that data will find themselves in high demand for years to come. Database administration schools can help you get the strong technical foundation you'll need to stand out in this rapidly expanding field.
Think a career in database administration might be right for you? Read on to get answers to common questions about job duties, DBA certification, and earning potential!
What Is a Database Administrator's Job Description?
A database administrator uses software tools to store, manage, and safeguard an organization's data, which can be anything from medical records and payroll details to purchase orders and banking information.
DBAs must make sure that systems are available to those who need access but remain secure from hackers and other unauthorized users. DBAs are also responsible for backing up data so that the information can be recovered if there is ever a power outage, security breach, or hardware failure. They monitor databases and make proactive adjustments to optimize performance and keep things running smoothly.
Some examples of database management systems (DBMSs) include IBM DB2, Microsoft SQL Server, Oracle Database, and MySQL. A DBA uses a DBMS to create and manage databases.
DBAs may specialize in a particular platform; Oracle and SQL Server are the most common. But while the specific knowledge required to work with each platform may differ, the daily activities of SQL Server DBAs and Oracle DBAs are essentially the same.
So, what exactly does a DBA do? Typical tasks include:
Installing and configuring database servers and software
Adding and managing user access permissions
Backing up and archiving data
Developing and testing disaster recovery plans
Installing updates and patches
Transferring existing data to new or upgraded systems
Tracking database storage usage and planning for future capacity
Modifying database structures based on business needs
Troubleshooting issues and devising solutions
In some companies, database professionals may have more specific roles. For instance, some DBAs help design and create databases for specific software applications. Others focus on day-to-day maintenance or performance tuning. The actual job duties can vary depending on each organization's needs.
There isn't just one database administrator career path. Some people start out in programming or help-desk support before moving into a DBA career. As administrators gain experience, they might take on responsibilities such as determining database hardware and software requirements or helping project teams analyze data to help guide business decisions. Some go on to become IT managers.
What Training Is Required?
The qualifications you need to be a database administrator can vary. Becoming a DBA generally requires getting a bachelor's degree in computer science, information systems, or a related field. However, some entry-level roles are open to candidates with associate degrees or certificates. Programs are widely available at vocational schools, colleges, and universities.
A DBA program is designed to give students the technical knowledge that successful database administrators need. For instance, all aspiring DBAs need to be comfortable with Structured Query Language (SQL). DBA training programs can help you become proficient in this database management language. They can also help you learn about networking, database design, performance analysis, and security.
When not part of a degree program, a DBA course is typically focused on teaching administration skills related to a specific platform, such as Oracle or SQL Server. Such courses often prepare students for vendor-specific certification exams, which can enhance your employability (see below).
What Database Certifications Are Available?
Specialized database administrator certification can boost your career prospects. A DBA certification is looked upon favorably by many employers because it demonstrates that you have a certain level of competence in a particular technology.
Certifications are available for a wide range of database management systems. The most popular certifications relate to Microsoft SQL Server, Oracle, and IBM DB2.
Microsoft SQL Server
Microsoft's database certifications come in three tiers:
Microsoft Technology Associate (MTA): This beginner-level certification includes a Database Fundamentals exam that covers the basics of storing and manipulating data. It's aimed at people who are new to technology, and it is not required for higher-level certifications.
Microsoft Certified Solutions Associate (MCSA): At this level, there are multiple certification options in database administration and development, each of which requires two or three exams. The MCSA can open the door to entry-level roles in IT. You must earn this credential before you can qualify for the MCSE.
Microsoft Certified Solutions Expert (MCSE): This advanced level includes SQL database certification called Data Management and Analytics. You will need to have an MCSA designation and pass an exam.
Oracle
The latest version of the Oracle Database is 19c, although training and certifications for Oracle 12c and up are still available. (As of December 31, 2019, Oracle 11g certification will be retired.) Keep in mind that when Oracle no longer supports an older version of the database, you will need to upgrade your certification to a version that is supported.
Here are two of the most common Oracle certifications for database administrators:
Oracle Database Administrator 2019 Certified Professional: This certification replaces the previous Oracle Certified Associate (OCA) and Oracle Certified Professional (OCP) certifications. To get it, you must pass two exams.
Oracle Certified Professional, MySQL 5.6: Becoming certified in the installation, maintenance, and optimization of this open-source technology requires passing one exam. There are no prerequisites, but Oracle offers (and recommends) an exam prep course.
IBM DB2
IBM offers three database administration credentials related to its DB2 line of products:
IBM Certified Database Associate: This entry-level certification focuses on the fundamentals of creating and securing DB2 databases. It involves passing one exam. Optional training courses are available.
IBM Certified Database Administrator: Aimed at intermediate-level professionals who have experience supporting and administering DB2 databases, this certification requires passing two exams. There are no prerequisites, but training courses are available.
IBM Certified Advanced Database Administrator: This certification is designed for senior DBAs with significant experience in advanced tasks related to performance, networking, and security. A total of three exams are required.
What Is a Typical Database Administrator Salary?
According to the Occupational Employment and Wage Statistics program, the median annual salary for database administrators is $96,710, with top earners making $151,400 or more.*
---
Train for Technical Success
Get on track to a more fulfilling future. Database administration schools can help bring your IT career goals within reach. Exploring the programs listed above is a great way to begin. Or get a list of training options in your area by entering your zip code into the following school finder!
---
---
* Unless otherwise noted, salary information is based on May 2021 data from the Occupational Employment and Wage Statistics (OEWS) program.