Journalism Schools
Last Updated
Journalists do more than keep the world informed. They find the stories that matter to us. That's why journalism schools provide truth-seekers like you a way into this captivating and important field.
Whether you want to pursue a journalism degree online or attend a physical campus, getting an education is the starting point for future positions in this fast-moving and intriguing line of work. You even have the option of pursuing a more advanced degree from a journalism graduate school.
Today's journalism is delivered in many formats. From printed publications to websites to television shows, journalists find satisfaction in using different media to bring compelling news and narratives to the attention of the public. The information they share can have significant impacts on how we perceive and interact with our communities, our leaders, and our planet.
So set out on one of the most meaningful paths you can take. These journalism schools are ready to share specifics about program choices, cost, length, and the credentials you can graduate with. Ask a school to touch base with you directly!
11 Reasons to Choose a Career in Journalism
---
---
Journalism Schools
Sponsored Listing
---
11 Reasons to Choose a Career in Journalism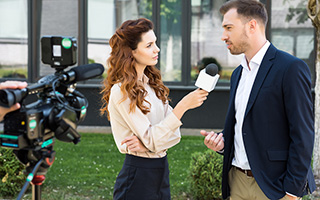 The work of a journalist is rewarding and fulfilling. Just imagine that your passion for researching and writing can lead you into a meaningful career. With an endless selection of topics to report on, you get to educate, inform, and inspire the masses.
Journalists can also earn a good living. In 2021, the median wage for news analysts, reporters, and journalists in the U.S. was $48,370 annually.* The top-earning journalists pulled in $120,590 or more.
Now you may be wondering why you would choose a journalism career when print business, such as newspapers, has been on the decline. The golden lining is that the decline in print media is being offset by the growth of online news sources and independent news websites. Some of these sites have millions of subscribers reading content and watching videos daily.
According to Pew Research Center, online news sites are growing, and the larger businesses employ thousands of writers and reporters. Revenue-generating podcasts are also on the rise. So there are plenty of opportunities for aspiring journalists.
The reality is, most journalists do not enter the field because of the pay or the job availability. They become journalists because they love to write, they love to tell stories, and they enjoy the additional benefits that come with the job. So let's take a look at some of the most compelling reasons to become a journalist.
1. Turn Your Inquisitive Nature Into a Valuable Asset
You are a natural investigator. You always want to learn more. You want to dig deeper and find the underlying cause of issues. This attribute can serve you well as a journalist. In order to tell the best story, you need to be able to get detailed information while being sensitive and respectful toward the people you are interviewing.
2. Get Paid to Do What You Love
Researching, writing, and telling stories is something you love to do. Even in your spare time. Many journalists found themselves writing and journaling on a daily basis long before beginning their careers. It's a fundamental part of their character. When you become a journalist, you get to channel this passion and energy into a gratifying career.
3. Learn Something New Every Day
Every day is different when you are a journalist. From one day to the next, you could be covering anything from local food trucks to human rights issues overseas. As you interview people and research materials, you constantly learn new things about yourself, other people, and the world around you. The opportunities to broaden your knowledge and heighten your perspective are almost endless.
4. Explore the Unknown
Have you ever eaten mangosteen? Have you heard of the Burning Tar Barrel Festival? Do you know about Varosha, the completely abandoned resort city in Cyprus? Journalists never know what kind of subject matter they will be reporting on and there is something to discover around every corner. You can spend your time covering all kinds of intriguing, fascinating, and unusual topics.
5. Make a Difference
As a journalist, you can write about the important issues that matter to you. Civil rights, war, jobs, the economy, and the environment are all topics you could be researching and reporting. Journalists have an opportunity to bring issues to the forefront and shape public perspective. Your work could bring awareness to important topics and even initiate positive change.
6. Say Goodbye to the Cubicle
Journalists spend a great deal of time researching and this typically means getting out of the office and hitting the streets. You may even have opportunities to travel around the country and overseas. And depending on your employer or if you freelance, your work can be completed from the comfort of your home or your favorite coffee shop.
7. Forget Ordinary Days at the Office
There is no ordinary or mundane in journalism. Every interaction can provide inspiration and no day is ever the same. You could incidentally stumble upon your next story while picking up your morning coffee or standing in line at the grocery store. A story can be found in almost everything you do.
8. Choose From Different Specialties
Journalism is a broad field and you can find your niche in a specialty area. Some of the possibilities include:
Broadcast journalism: broadcast journalists work for TV and radio stations, usually as reporters on air or as researchers behind the scenes.
Multimedia journalism: this is a newer specialty that has emerged with the growth of social media. Multimedia journalists quickly bring information to the masses by regularly posting content such as articles, photos, and videos on a variety of websites and platforms.
Photo journalism: photo journalists tell stories through captivating imagery like what you see in National Geographic.
9. Be Your Own Boss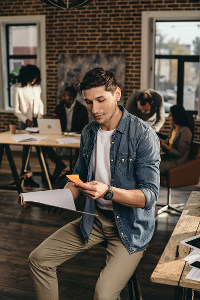 Journalists have the option of working as freelancers where they are self-employed. As a freelancer, you get to decide whom you work for and what you report. This provides greater freedom and flexibility in your work.
10. Revel in the Perks
Because journalists report on such a variety of topics, they are subject to some great perks. You could be invited to attend a sold-out concert, dine with the head chef at the top-rated restaurant in NYC, or try out the hottest new technology before it hits the streets. As a journalist, you can be a part of some amazing things that otherwise may not be accessible to you.
11. Develop Transferable Skills
At some point in your journalism career, you may decide to try something new and possibly go after a higher-level position or move to a different industry. The good news is that many journalists possess skills that are assets in other occupations and organizations. Excellent written and communication skills combined with the ability to work with diverse groups of people can serve you well in public relations, sales and marketing, production and editing, and much more.
---
Are You Ready to Pursue Your Passion?
If a career in journalism sounds like what you are looking for, why not get started today? Prepare for a brighter outlook and locate a journalism school near you!
---
---
* Unless otherwise noted, salary information is based on May 2021 data from the Occupational Employment and Wage Statistics (OEWS) program.