Northwestern Technological Institute
Southfield, Michigan
Northwestern Technological Institute can help you start your skilled trades career, retrain for a new one, or enhance your existing skill-set in residential/light commercial heating, air conditioning, and refrigeration — service, repair, and installation, including facilities/property maintenance. If you're looking for job stability, it makes good sense to become part of this rapidly expanding area of the trades.
Established in 1979, Northwestern Tech is devoted entirely to offering students comprehensive, hands-on training in the HVAC/R industry. You can train on equipment that is continuously updated to keep current with the latest techniques and technologies used in the industry. This means that what you learn will also be up-to-date.
Simply put, the school's training methods make it possible for even novices to learn a valuable skilled trade. It's an approach that's been perfected through more than 40 years of practical instruction. And students can also benefit from:
Professional instructors with direct experience in the field
The school's popularity among many employers when they're looking for newly trained people to hire
Access to financial assistance (for those who qualify), including military benefits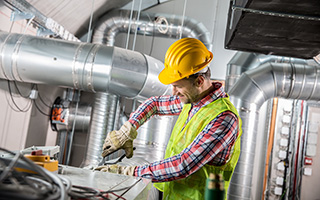 Plus, your education can be enhanced by this school's many industry affiliations, which include professional relationships with the Air Conditioning Contractors of America (ACCA), the American Society of Heating, Refrigeration, and Air Conditioning Engineers (ASHRAE), International Code Council (ICC), and the Refrigeration Service Engineers Society (RSES).
Northwestern Tech can provide the career-focused, industry standard training you need to get into the HVAC/R industry. So give yourself the opportunity to speak with a knowledgeable admissions representative and have a tour of the school's campus. Request more information now!
---
Climate Control Technology
This comprehensive HVAC program is proven to help students like you acquire skills that are exactly what employers often seek. Over just nine courses and 10 and a half months, you can learn how to install and service residential/light commercial heating, air conditioning, and refrigeration systems, including hydronic heating systems. You can become skilled in the fundamentals of facilities/property maintenance techniques, including basic electrical, basic plumbing, and a lot more!
---
Flexible Class Schedules
Northwestern Technological Institute offers three convenient sessions, four days a week, with the option to select morning, afternoon, or evening classes.
---
Northwestern Technological Institute Location
Southfield, Michigan
24800 Northwestern Hwy
Southfield
MI
48075