Pennsylvania HVAC Training Schools
Last Updated
Pennsylvania HVAC training schools offer convenient opportunities to learn job-ready skills for a reliable trade.
Want to improve your future while adding to the comfort and health of other people? By completing a streamlined program at an HVAC school in Pennsylvania, you could soon be helping to ensure that heating, cooling, ventilation, and refrigeration systems in residential and commercial buildings are operating at peak efficiency.
HVAC is a good career choice for anyone who values hands-on work and diverse job opportunities. The training available from Pennsylvania HVAC schools can teach students like you how to put in new systems and diagnose and resolve problems. Once you gain experience, you could even move beyond installation and repair into areas like sales, project management, or product development.
So get on the path to a satisfying new career. Check out the following HVAC schools in PA. Or type your zip code into the school finder to generate a list of convenient nearby programs!
Compelling Reasons to Train for an HVAC Career in Pennsylvania
---
Pennsylvania HVAC Schools
Sponsored Listings
Heating, Ventilation, Air Conditioning and Refrigeration
---
---
4 Compelling Reasons to Train for an HVAC Career in Pennsylvania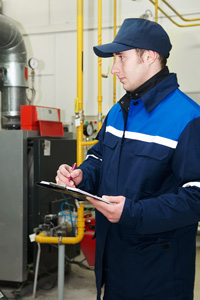 In a state that experiences the full range of temperature extremes, skilled technicians who can keep homes and other buildings comfortable in all types of weather are continually in high demand. Pennsylvania HVAC training schools help motivated people like you develop the market-ready skills that can lead to success in this versatile trade.
Here are four major reasons to get into the HVAC trade in the Keystone State:
1. A Variety of Training Options
Many technical and trade schools throughout Pennsylvania offer streamlined training programs that can help you get started in this field. HVAC training is generally eight months to two years long, depending on whether you pursue a certificate, diploma, or associate degree. (The price of your training also varies enormously depending on the specific route you choose: It costs anywhere from $2,500 to $30,000 to go to school for HVAC.)
Alternatively, you could choose to complete an apprenticeship, which combines classroom instruction with paid on-the-job training. In Pennsylvania, apprenticeships are typically sponsored by a contractors' association or trade union, and they usually run for four years. Initially, HVAC apprentices make roughly half of what a fully qualified tradesperson earns, but your wages increase as you complete your training.
2. Outstanding Earning Potential
HVAC technicians make good money in this state. According to the Pennsylvania Department of Labor & Industry (DLI), the entry-level wage for this trade is about $34,000, while a master HVAC tech makes $60,000 or more.
On average, HVAC professionals make $51,870 in PA annually, according to the Bureau of Labor Statistics (BLS). That's higher than the national average of $50,160. To break it down a bit more, an HVAC tech makes $24.94 an hour, on average, in Pennsylvania. By comparison, the national average hourly wage is $24.12.
3. Abundant Opportunities
Did you know that only four other states employ more heating and cooling technicians than Pennsylvania? The BLS says that Florida has the most HVAC jobs overall, but Pennsylvania still has a higher concentration of jobs in this trade compared to the other three states that rank ahead of it for overall HVAC employment.
HVAC technicians are in demand all across the Keystone State. According to DLI projections, employment in this trade is expected to grow by 11.3 percent over the 10-year span between 2016 and 2026, with close to 1,600 jobs becoming available in the state each year during that decade.
DLI data shows that the following metropolitan statistical areas within Pennsylvania are predicted to see even greater growth in HVAC jobs over that same time frame:
East Stroudsburg: 21.4 percent
Scranton-Wilkes-Barre: 20.8 percent
Williamsport: 18.2 percent
York-Hanover: 14.3 percent
Reading: 13.8 percent
Harrison-Carlisle: 13.5 percent
Lancaster: 12.5 percent
Pittsburgh: 12.2 percent
4. A Low Barrier to Entry
There aren't many regulatory obstacles to entering this trade in Pennsylvania. In fact, at the state level, there are no licensing requirements for HVAC technicians. Keep in mind, however, that some municipalities have their own rules. For instance, in Philadelphia, anyone who does more than $500 worth of HVAC work must hold a contractor license. And in Pittsburgh, you need an HVAC/mechanical trade license if you want to install or repair any mechanical system within the city.
The only certification that all HVAC professionals in the state must have is the EPA Section 608 certification for working with refrigerants. That's because these chemicals require special handling to keep them from causing bodily harm or environmental damage. (But rest assured that as long as you take the proper precautions, working in HVAC is not dangerous.)
The Section 608 certification is mandated by federal law and requires passing a written test. The good news is that most Pennsylvania HVAC schools prepare their students to take the EPA exam, so you could be ready to hit the ground running soon after you graduate.
---
Create a Brighter Future
Pennsylvania HVAC training schools can help you launch a fulfilling career in the heating and cooling trade. Why not take the first step by exploring the programs listed on this page? Or put your zip code into the following school finder to discover even more convenient training options!
---