Music Production & Recording Arts Schools
Last Updated
As new and exciting technologies arise in the music industry, training at music production and recording arts schools is becoming more and more crucial in order to be successful in this field. Producing audio in a studio is a complex endeavor that requires both technical and artistic skills. If you've already got an ear for music and sound, the only step left is to get the technical training needed to excel in this industry.
Earn your education and you can start looking forward to career opportunities like audio engineer, audio/video mixer, boom operator, music editor, radio producer, television production engineer, post-production editor, and sound designer. The people that fill these positions are the foundation of the audio industry and with the right training, you could be a part of that!
As a music producer, sound engineer, or other recording arts professional, you could be creating, recording, editing, mixing, or manipulating sounds of all types in order to create hit songs, electronic music, movie soundtracks, radio commercials, and more.
Take a look at the recording arts and audio production programs below and get in touch with the schools that intrigue you. Or, to quickly find the music production schools nearest to you, enter your zip code in the search box below!
Music Producer Career Information
---
---
Recording Arts Schools
Sponsored Listings
---
---
Music Producer Career and Training Information
What Does a Music Producer Do?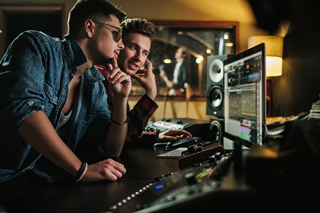 In the case of George Martin, he signed a little band called The Beatles and helped them destroy the perceived boundaries of what a rock and roll album should sound like. Butch Vig helped Kurt Cobain work through his doubts and insecurities and was a mentor to him during the recording of Nevermind (which is still a worldwide obsession today—more than 25 years since it first hit the shelves). Dr. Dre almost single-handedly created the West Coast rap genre and became instrumental in starting, maintaining, or bringing back the careers of such artists as 2Pac, Snoop Dogg, and Eminem.
And last, but certainly not least, Todd Rundgren helped to create Meatloaf's best-selling album Bat Out of Hell. (Many people would hate to think of a world where "Paradise By the Dashboard Light" didn't exist to belt out on long drives.)
Job Responsibilities
In their simplest form, the typical job responsibilities in this field could be loosely classified as project management. Some of the specific duties can include:
Coaching musicians through studio processes
Helping musicians choose songs to be recorded
Overseeing recording sessions
Mixing and mastering songs
Managing budgets, schedules, and negotiations
Music producers also need to have musical abilities themselves. Like writers or painters, musicians can become too close to their art and "miss the obvious," so to speak. A music producer can bring a fresh perspective to a song and often makes tweaks to the arrangement or composition—which can make the difference between a mediocre song and a great song. They can even become involved in the songwriting process, since many artists finish existing songs or even write new songs in the studio.
The duties of a music producer can also include more technical jobs. They must be capable of working with various technologies, including:
Music-related computer software applications
Outboard sound effects gear (compressors, equalizers, reverbs)
Reference monitors
Mixing boards
Recording devices
Some recording studios have gone completely digital (rather than continuing to utilize some of the analog technologies listed above). A digital audio workstation (DAW) is basically one computer software package that has the ability to handle the combined tasks of mixing consoles, synthesizers, sound effects devices, and recorders. Popular DAWs include:
Apple Logic Pro
Digidesign's Pro Tools
Adobe Audition, Audacity, and Ardour
Steinberg Cubase and Nuendo
Ableton Live
MOTU Digital Performer
As you are probably beginning to see, there really is no standard, one-size-fits-all job description. The work responsibilities are vast, and determining the area of your strengths and interests can be a big help when it comes to deciding on training and pursuing job opportunities.
Education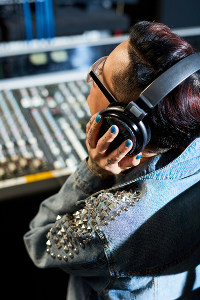 While there is no industry standard when it comes to the education needed for a career in this field, many schools offer programs related to music production and the music business in general.
Although many of today's top music producers have no formal education, the industry has continued to become more and more immersed in computer technology—resulting in a greater importance being placed on post-secondary education.
Certificate, diploma, and degree programs exist which can provide you with the skills required for being a music producer. In general, most programs cover:
Studio recording
Mixing
Mastering
Sound design
Surround sound techniques
Recording technologies (analog and digital)
Audio file management and documentation
Music composition
Songwriting
Song arrangement
Music concepts
Music genres
Some programs can even provide you with training related to the business side of the music industry. This can include:
Laws and ethics
Copyrighting
Publishing
Advertising
Marketing
Sales
Artist management
Music booking
Tour organizing
What It Takes to Be a Music Producer
As beneficial as a post-secondary education can be, becoming a pro takes more than a degree or diploma. Open positions can be few and far between, and the competition for these jobs is fierce.
Musical Ability: Artists want to work with someone who not only knows the production and technical side of music inside and out, but is also a musician themselves. While the technical aspects of the job are incredibly important, so is the ability to roll up your sleeves and help artists with the actual songwriting, arrangement, and composition—which is difficult, if not impossible, unless you are a musician yourself.
Ear for Music: While it can be easy to assume that being a musician and having an ear for music is basically the same thing, this is not at all the case. Having skill with sound is light years away from having skill with music, and to be successful you need to have both. The responsibility to ensure that every note of every song has reached as close to perfection as humanly possible is on your shoulders—and this isn't referring to technical perfection. It has to be artistically perfect, meaning that it is as close as possible to replicating an artist's inner creative vision for a song.
Humility: While it may be an unfair stereotype, arrogance tends to be associated with music producers and musicians alike. Therefore, it's important to go into this career with a good sense of humility. Whether you end up working with an unknown band trying to break into mainstream music or famous musicians who have already made a name for themselves, you need to create a relationship based on mutual respect. When it comes to producing and recording music, history has shown that it works best to leave all egos at the door and focus on working as a team to capture and protect the integrity of the music.
Even after completing the necessary education, honing the ideal qualities, and gaining experience, it's important to note that the music industry is continually changing and evolving. Everything from new music genres to increasingly sophisticated technologies and equipment can pop up at a surprising speed. Therefore, learning how to become a music producer is a lifelong journey.
Program Length
There is no set standard of length for training programs. It really depends on the type of program you choose. Online certificate programs can allow you to graduate within a few months, while a degree program can take from one to four years to complete. If you already have some experience and knowledge, and are simply looking to gain hands-on technical skills, a short-term, career-oriented program could be the right option for you. Or, if you are looking for an in-depth education that covers theoretical, technical, practical, and general business skills, a degree program might be a better fit.
Certification
Certification isn't required to legally work as a music producer in any state. However, if you want to join a professional association related to the music industry, there are various options available to you. The most common associations include:
The Association of Music Producers (AMP)
The Recording Industry Association of America (RIAA)
These associations tend to be involved in the industry in various ways, including legal and business aspects such as copywriting, promotion, and sales, as well as the monitoring and review of state and federal policies, laws, and regulations. They also provide members with information, resources, and research related to the industry.
Salary
According to Occupational Employment Statistics program estimates from 2018, here's how much professionals in this field earned:
The average hourly wage for sound engineering technicians was $30.53 ($63,500 annually). The highest-paid 10 percent of sound engineering technicians made over $56.54 per hour ($117,600 annually).
Music producers earned $43.19 per hour ($89,840 annually), on average. The highest-earning music producers made over $78.62 per hour ($163,540 annually).
Job Outlook
According to occupational projections from the Bureau of Labor Statistics, employment of sound engineering technicians is expected to grow by two percent over the decade between 2018 and 2028. Music producers could see a five-percent growth in job opportunities over the same timeframe.
However, there is another factor that has a large impact on the job outlook for music producers. That factor is competition. While opportunities are expected to become available at an average rate, the competition for these positions is forecasted as keen—meaning that a higher than average number of applicants are expected to compete for each available position.
Breaking into the Industry
Even though it can be challenging to find jobs in the music industry, there are factors that can heighten your chances of securing a position. Here are a few tips to consider:
Get Proactive: If you have trouble securing a paying position, it can be a good idea to focus on gaining experience on your own dollar through volunteering. Consider offering your skills and talent to local musicians by handling the production and recording for free. Not only will you be gaining valuable experience, but also, when an opening becomes available, you can prove to employers that you are committed and passionate about the industry.
Market Yourself: No matter how talented you are, if no one knows who you are or what you're capable of, your chances of securing employment are slim. This is why self-promotion and marketing can make all the difference. Social media outlets, professional organizations, and networking (word-of-mouth) are just a few of the tools you can take advantage of.
Work Your Way Up: It can be unrealistic to think that you can enter the field at the top and instantly become an in-demand music producer. It is much more likely and realistic that you will have to start at the bottom of a company and work your way up. Many music producers start off in positions like sound engineer, booking manager, and studio technician.
Stay in the Know: By keeping your finger on the pulse of the music industry, you can greatly increase your chances of gaining a career. Knowledge is power, so stay on top of music trends by going to a wide variety of shows and concerts and attending industry conventions as much as possible.
Work Environment
Recording studios and production houses are the most common work environments. However, opportunities can also be found within settings such as radio and television studios, film companies, and more.
Alternate titles and similar occupations include:
Recording studio technician
Recording engineer
Music editor
Artist manager
Industry Perks
It is an opportunity to work in one of the most sought-after industries in existence.
You can flex your creative muscle and test the boundaries of your artistic talent.
It gives you the chance to work as part of a creative team and help musicians reach their full potential.
You can meet and interact with new people on a regular basis.
You can have the chance to work with sophisticated and continually evolving technology.
Now What?
Your ideal first step is to begin researching options for schools in your area. You can find a wide variety of programs listed above, or search by zip code to find the schools near you!
---