Ohio HVAC Training Schools
Last Updated
Ohio HVAC training can help you enter a satisfying and important trade in little time.
Imagine the future you can create for yourself by learning how to install, maintain, and repair heating and cooling systems. By entering this trade, you can benefit from a positive job outlook. Plus, HVAC pays well for workers with the right training. And what better place to learn how to be an HVAC technician than affordable Ohio?
It all adds up: For people who enjoy hands-on work, HVAC is a good career choice. After all, our need for clean air, safe refrigeration, and efficient temperature control will never go out of style. And thanks to a growing emphasis on minimizing the environmental impact of HVAC systems, you can also play a role in the movement toward more energy-efficient buildings.
With an education from an Ohio HVAC training program, this can all happen in less time than you might think. So why not take the next step? Just enter your zip code into the program finder below to see Ohio HVAC schools near you!
---
---
Ohio HVAC Schools
Sponsored Listings
---
4 Frequently Asked Questions About HVAC Careers in Ohio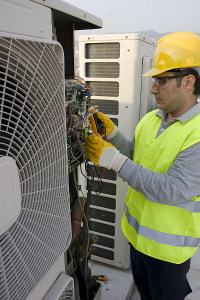 Ohio HVAC training schools can help you learn the hands-on skills required to install, maintain, and repair modern heating, cooling, and refrigeration systems. So if you're interested in pursuing this diverse career, keep reading to discover answers to four common questions.
1. How Can I Become an HVAC Technician?
In Ohio, you can work as an HVAC technician without a license as long as you are supervised by a licensed contractor.
However, you need EPA Section 608 certification for HVAC work, even as a supervised technician. Having this certification provides proof that you have learned proper handling procedures for refrigerants (the compounds that absorb heat in air conditioning and refrigeration systems). To obtain Section 608 certification, you must pass an exam. Many HVAC training schools administer the exam as part of their programs.
To work independently as a contractor, you need to be licensed in the state. In order to acquire an Ohio license, you must:
Be at least 18 years old and a U.S. citizen or legal immigrant
Have at least five years of experience as an HVAC technician; or have worked three years as a registered engineer in the HVAC industry; or have other suitable experience approved by the Ohio Construction Industry Licensing Board
Carry at least $500,000 of liability coverage
Complete a background check before taking the licensing exam
Pass the licensing exam
Pay a licensing fee
As HVAC systems become more complex, employers look for an increasingly high level of theoretical knowledge. That's one reason why, although no specific schooling is required for HVAC work at the entry level, completing an HVAC program can increase your chances of finding a good job and passing the Section 608 certification exam. So for a trade school student, HVAC is a major that covers the basics of heating, cooling, and ventilation in order to open doors to working in this field. Some of the topics these programs may cover include:
Ventilation issues and how to fix them
Computerized diagnostic systems
Principles behind refrigeration
How to use automated controls for HVAC systems
Safe handling of materials
Basics of career development
How to read blueprints and other diagrams
Typically, a program at an HVAC school is anywhere between six and 24 months long. Depending on the program, you can earn a diploma, certificate, or associate degree. The tuition varies widely, so the cost of HVAC school is anywhere from $2,100 to $21,100. The cost of tuition is influenced by factors like whether supplies are included and what type of school you attend.
You can also become a good HVAC technician by completing an apprenticeship. An apprenticeship is a period of supervised work experience combined with classroom time. The Ohio Department of Job and Family Services administers apprenticeships.
2. Are HVAC Technicians Paid Well?
With the right training, HVAC technicians make good money. The Bureau of Labor Statistics (BLS) says that HVAC workers make a median wage of $23.47 an hour in Ohio, which equals about $48,810 a year.*
Income levels reflect your qualifications and experience. During the training period, an HVAC apprentice makes about half of what an experienced worker in this trade does. In contrast, the top 10 percent of HVAC earners in Ohio make over $76,040, according to BLS data.*
3. What Is the Job Outlook Like for HVAC Technicians in Ohio?
Across Ohio, workers who are trained to do HVAC jobs are in demand, with the number of job openings in the state expected to increase by 12.6 percent between 2018 and 2028. That's more than the national average for all occupations, which is five percent.*
But people working in the industry predict that it may be difficult to fill all of those expected open positions due to a reported shortage of HVAC workers. As an example, in a 2021 survey of Ohio construction firms, 91 percent of respondents said they were having a hard time filling craft positions. Due to the complexity of modern HVAC systems, employers look for workers who have had the kind of theoretical and hands-on education available at Ohio HVAC training schools.
4. Is Ohio a Good Place to Get HVAC Training?
In a word, yes. In fact, in Ohio, heating, AC, and refrigeration mechanics and installers made the 2022 Top Job list. And over 1,400 HVAC job openings are expected across the state annually. In this state, accredited HVAC programs can help prepare you with the training needed to pursue entry-level positions.
Of course, living in Ohio has many other benefits, including:
Low housing costs: According to Data USA, in 2019 Ohio's median property value is just $157,200. That's much lower than the national average of $240,500.
Plenty of entertainment options: Ohio is home to a wealth of great entertainment possibilities, including sports teams like the Cincinnati Reds and Columbus Blue Jackets, the Rock and Roll Hall of Fame, and a busy craft beer scene. As well, the state's central location makes it easy to get away to nearby urban centers like New York City or Washington, D.C.
---
What Should I Do Next?
Now that you've gotten some answers, it's time to check out nearby Ohio HVAC schools. To find programs near you, just enter your zip code into the search tool below!
---
---
* Unless otherwise noted, salary information is based on May 2021 data from the Occupational Employment and Wage Statistics (OEWS) program. Job growth estimates are from the Bureau of Labor Statistics and are for the 2021 to 2031 period.