Michigan Trade Schools and Colleges
By Publisher
| Last Updated
Michigan trade schools offer exciting ways to begin learning skills that can help you thrive and move up in the workforce. A diverse range of educational options is available. Whatever program you choose, you can give yourself the chance to start getting ahead in today's dynamic job market.
---
Education & Training in Michigan
Michigan trade schools and colleges provide many different vocational training programs designed to help you gain special expertise. They can help you start a new career or get more opportunities in your current one.
Key Benefits of the Region for College Students
Easy access to internship opportunities: Pure Michigan Talent Connect offers a centralized list of links to internship programs throughout the state.
Proximity to major employers: In 2021, according to the Michigan Economic Development Corporation, Michigan was home to 17 Fortune 500 companies.
Michigan has a low cost of living compared to most other states.
---
Michigan Trade Schools
Sponsored Listings
Dearborn
Grand Rapids
Madison Heights
Roseville
Saginaw
Wayne
Woodhaven
Baking and Pastry Arts
Cosmetology
Culinary Arts
Dental Assistant
Dialysis Patient Care Technician
Electrical Technician
HVAC Systems Technician
Massage Therapy
Medical Administration and Billing
Medical Assistant
Medical Laboratory Assistant
Patient Care Technician
Pharmacy Technician
Sterile Processing Technician
Airframe and Powerplant Technician
Aviation Maintenance Technology
Energy Technology
HVACR Technician
Industrial Maintenance Technician
Robotics and Automation Technician
Robotics and Automation Technology
Welding Specialist
Wind Power Technician
---
---
Trade School Accreditation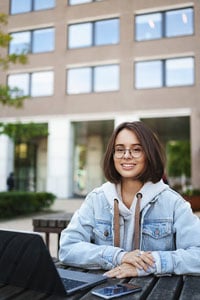 Accreditation is a mark of approval from an independent agency that has evaluated the school and determined that it meets or exceeds the agency's quality standards. A school must be accredited by a regional or national agency recognized by the U.S. Department of Education for students at that school to be eligible for federal financial aid.
The Higher Learning Commission regionally accredits many Michigan post-secondary institutions. Others receive national accreditation through agencies like the Accrediting Council for Career Schools and Colleges or the Council on Occupational Education.
All post-secondary schools must also be licensed to operate in Michigan.
Financial Aid for Michigan Students
The state awards more than $140 million in financial aid to Michigan students every year.
Assistance is available in the form of grants and scholarships. For instance, the Michigan Tuition Grant provides up to $3,000 in need-based aid to students who enroll in non-profit independent colleges that grant degrees.
Completing the FAFSA is the first step in being considered for federal and state aid, and it's important to fill out the form each year.
Focused Training for a New Beginning
Post-secondary training can help you prepare for many of this state's best opportunities. By exploring the career-driven programs at Michigan trade schools, you can get one step closer to a more fulfilling future.
---
---
Featured Michigan Programs