Electronics Technology Training Schools
Last Updated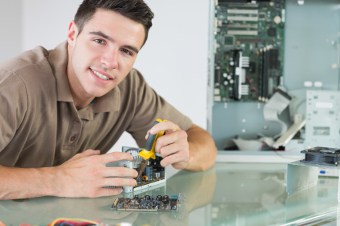 The field of electronics is as diverse as it is fascinating. One of the electronics schools could be the place for you if you possess an eye for detail and love to work with your hands and solve problems. Electronics training will guide you through the steps needed to install, maintain, and repair electronics. You will learn to use the diagnostic equipment and hand tools commonly used in the field.
Electronics schools can offer you the knowledge needed to work with communication, computer, industrial, and consumer electronics, plus more. You can even pursue a training option that offers a specialty. You can focus on aviation and learn how to maintain and repair electronic aircraft systems. Another option is railway, where you work with signaling, communication, and other electronic systems. No matter the path you choose, you are bound to love your career as an Electronic, Field Service, Maintenance, or Installation Technician!
And if you want to take your fascination with electrical technology in a different direction, electrician school is another option worth considering.
Take a moment to find a school and ask for additional details right now!
---