Massage Therapy Schools
Last Updated
Enroll in a massage therapy school today and become a part of a growing healthcare industry.
Massage therapists administer massage treatments using their hands and specialized tools to alleviate pain, aid in rehabilitation, and promote relaxation.
Massage therapy programs typically include intensive training in anatomy, physiology, massage techniques, neuromuscular therapy, orthopedic assessment, and more. Using theoretical and hands-on training methods, you will learn how to assess each client's needs and formulate and implement the appropriate treatment plan. Many programs can also prepare you to obtain your massage therapy license, a certification necessary to become a licensed massage therapist (LMT).
The acceptance of massage therapy by the public and mainstream healthcare organizations has created diversified opportunities for therapists in massage and rehabilitation clinics, spas, resorts, sports organizations, hotels, fitness centers, hospitals, and private practices.
Massage therapy schools offer general programs and highly specialized training in areas such as sports massage therapy. Sports massage is quickly gaining popularity with professional athletes and sports organizations. As the massage therapy field continues to develop, more schools will likely offer other specialized training programs.
Massage Therapy Training and Career Information
---
Massage Therapy Schools
Sponsored Listings
North Hollywood, California
Massage Therapy - Certificate
Physical Therapy Aide/Sports Rehab - Certificate
Somerville, Massachusetts
Moorestown, New Jersey
Lincoln, Rhode Island
Massage Therapy - Certificate
Massage Therapy - Diploma
West Hartford, Connecticut
Cherry Hill, New Jersey
Clifton, New Jersey
Somerset, New Jersey
Toms River, New Jersey
Massage Therapy - Certificate
Massage Therapy - Diploma
Pensacola, Florida
Towson, Maryland
Scranton, Pennsylvania
Massage Therapy - Diploma
Charlotte, North Carolina
Charleston, South Carolina
Columbia, South Carolina
Professional Clinical Massage Therapy - Certificate
Dearborn, Michigan
Madison Heights, Michigan
Saginaw, Michigan
Woodhaven, Michigan
Massage Therapy - Diploma
Lilburn, Georgia
Sandy Springs, Georgia
Massage and Spa Management - Associate Degree
Massage Therapy - Associate Degree
---
---
Massage Therapist Training Information
How to Become a Massage Therapist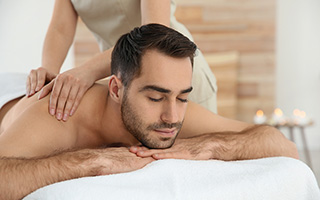 The first step is to decide whether you want to become a spa massage therapist or a licensed massage therapist since the educational and licensing requirements differ.
Becoming a spa therapist (also called spa practitioner) usually requires completing a certificate or diploma course that is typically 300 to 1,000 hours in length. The focus of these programs tends to be on using massage as a tool for relaxation and self-pampering. The curriculum can include:
Swedish techniques
Hot stone therapy
Aromatherapy
Hydrotherapy
Reflexology
Acupressure
Mud and seaweed wraps
Salt glows
Body scrubs
In addition to massage, relaxation, and beauty techniques, many spa therapist programs include business training related to spa management or entrepreneurship. Some of the general topics that get covered can include marketing, customer service, sales, and basic accounting.
If you wish to become a licensed massage therapist (LMT), you will likely have to complete a more in-depth program that provides up to 3,000 hours of training. While you will most likely learn about relaxation-based massage techniques, the primary focus of licensed massage therapy programs is on the treatment of injuries and illnesses. Therefore, the majority of LMT courses tend to highlight therapeutic techniques, such as:
Deep tissue massage
Sports massage
Shiatsu
Chair massage
Thai bodywork
Myofascial release
Lymphatic drainage
Neuromuscular techniques
Joint mobilization
Licensed massage therapy programs also usually provide an extensive background in healthcare-related topics, including anatomy, physiology, kinesiology, and pathology. And, since LMTs are required to obtain national certification, programs generally need to be accredited by the National Certification Board for Therapeutic Massage and Bodywork (NCBTMB) so that they can prepare students for national certification examinations.
Massage Therapy Certification Requirements
For those in 38 states and the District of Columbia, National Certification Board for Therapeutic Massage and Bodywork (NCBTMB) certification is required by law in order to work as a massage therapist. However, even if you don't live in a state that requires certification, there are various reasons why you should still consider becoming certified:
It shows that you are dedicated to your profession and committed to maintaining the highest industry standard in terms of skills and knowledge.
It proves that you have obtained a minimum of 500 hours of instruction.
It ensures that you have a strong understanding of safety and ethical considerations.
The NCBTMB offers two different exams:
National Certification Examination for Therapeutic Massage and Bodywork (NCETMB)
National Certification Examination for Therapeutic Massage (NCETM)
The eligibility criteria are the same for both exams and require that you:
Obtain the minimum hours of instruction: 125 hours of body systems, 200 hours of massage and bodywork assessment, theory, and hands-on application, 40 hours of pathology, 10 hours of business and ethics, and 125 hours of further theoretical instruction in massage therapy or another related field
Graduate from a program at an NCBTMB-accredited school
Both exams are multiple-choice and share most of the same content, including general knowledge of body systems, detailed knowledge of anatomy, physiology, and kinesiology, therapeutic assessment and application, and professional standards, ethics, and legal practices. The only critical difference between the two is that the NCETMB also includes questions regarding bodywork assessment and application, whereas the NCETM focuses solely on massage.
How Long is Massage Therapy School?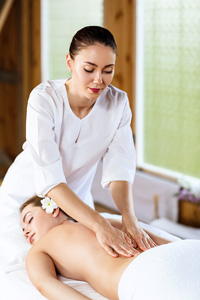 The length of your training depends on the type of program you choose and the type of school offering the program.
Vocational trade schools and colleges usually offer short-term, career-focused programs. These programs are typically one year or less in length (and very rarely longer than two years) and focus solely on providing the hands-on skills and practical knowledge required to work in the industry. Graduates generally receive a massage therapy diploma or certificate.
Many public and private colleges and universities also offer certificate and diploma programs, and they often provide massage therapy degree options as well. Massage therapy degree programs are usually two to four years in length and, in addition to practical and theoretical massage therapy courses, also tend to include general education courses related to business, professional development, and more. This can be of benefit if your future goals involve taking on advanced or managerial positions in the industry or becoming an entrepreneur and opening your own massage therapy business.
No matter which type of massage therapy program or school you choose, it is important to keep in mind that if you want to live and work in a state that requires NCBTMB certification, the program you choose must meet the minimum requirements for training hours, and the school must be accredited by the NCBTMB.
How Much Does Massage Therapy School Cost?
Just like with program length, the program cost is dependent on the type of program you choose to pursue.
However, for a typical certificate or diploma program, the average tuition can be as little as a few thousand dollars on the lower end of the scale, to $15,000 or more. The average tuition for a degree program can range from $20,000 to $40,000 and higher.
It is important to note that regardless of which program option you choose, most will require that you purchase books and equipment (such as a massage table), which are added expenses on top of the price of tuition. These prices can vary quite a bit, but the overall average tends to be around $1,000.
The Importance of Massage Therapy
Massage therapy might sound like an enjoyable way to relax and de-stress (and it is), but the positive effects go far deeper. It helps release muscle tension and improves blood flow to joints and muscles. However, it has also been proven to have a positive effect on various body systems, including:
Central nervous system—triggers a relaxation response, causing the body to release endorphins that act as natural painkillers and calming aids.
Circulatory system—helps stimulate the circulatory system, increasing circulation, which in turn increases the amount of oxygen and nutrients reaching body tissues.
Digestive system—helps stimulate organ activity, improving waste removal, enzyme production, and more.
Respiratory system—deepens, stabilizes, and normalizes breathing patterns, and can help clear congestion in the lungs.
Skeletal system—decreases inflammation in joints, helps restore range of motion, and can help improve posture.
Additional benefits include:
Reduction of pain and stiffness in muscles and joints through the removal of lactic acid and other waste
Lowering of stress hormone levels, helping to reverse the damaging symptoms of stress, such as raised blood pressure, accelerated heart rate, and respiration
Increased cranial vagus nerve activity, which helps with food absorption, heart rate, and respiration
Heightened levels of dopamine and serotonin, which reduce feelings of anxiety and depression
Decreased stress, which often leads to better sleep, improved concentration, and more
Some of the conditions for which massage therapy can be utilized as a part of a treatment or prevention plan include:
Arthritis, tendonitis, and other inflammatory conditions
Headaches and migraines
Repetitive strain injuries, including carpal tunnel syndrome
Back pain, including sciatic nerve conditions
Muscle strains, sprains, and spasms
Rehabilitation from surgery or injury
Massage Therapist Career Information
With an origin that traces back thousands of years, massage therapy is an ancient practice that is not only still relevant, but has also been increasingly gaining in popularity over the last two decades.
More and more people are turning to holistic health practices, and studies have shown the positive effect massage therapy can have on relieving stress and pain and improving overall well-being. All of these factors have combined to make it an in-demand career field.
Massage Therapist Salary
Salaries in this field tend to vary depending on experience, work environment, geographic location, and other factors. However, according to nationwide salary estimates from May 2020, massage therapy pay looked like this:
The median yearly pay for massage therapists was $43,620.
The top 10 percent of earners made more than $79,150.
The lowest 10 percent earned less than $22,580.
When it comes to salaries for licensed massage therapists, it is important to keep in mind that they tend to earn a combination of wages and tips. It is also notable that according to the BLS, roughly half of massage therapists work part-time.
Job Demand for Massage Therapists
The alternative health sector is becoming more and more popular, and one of the main areas people are embracing is massage therapy. National projections indicate that, between 2019 and 2029, the number of massage therapy jobs could rise by 21 percent. That is much faster than the national average for all career fields.
Massage Therapist Job Description
This depends on a few factors, including the type of massage therapist and the environment he or she works in. For example, a licensed massage therapist (LMT) working in a sports medicine facility can be quite different from a spa massage therapist working at a resort. However, there do tend to be common duties.
The administrative portion of the career usually involves:
Scheduling appointments
Consulting with new clients to review symptoms, record medical histories, and learn about lifestyle factors
Billing and insurance processing
Aside from specific techniques and types of massage therapy (which will be outlined next), most jobs consist of a common set of general hands-on tasks. The typical process begins by setting up the massage table in a private area and organizing any needed supplies (massage oils, aromatherapy candles, etc.). Once the patient has arrived, he or she is taken to the private area and left alone to disrobe and lie face down under a sheet on the massage table. (In North America, clients must be covered by a sheet at all times, with the massage therapist only exposing the part of the body being massaged.)
Once the therapist returns, he or she ensures that the client is comfortable and begins the massage. Most massage sessions last between 30 and 90 minutes. Unless a specific injury or illness is being treated, massage therapists begin with the back and neck, followed by the legs. The client is then asked to turn onto his or her back, and the massage resumes with the neck, arms, abdomen, and legs. At the completion of the massage, the therapist will give the client time to redress, often asking for feedback afterward in order to add notes to the client's file and plan future sessions. He or she will then complete the billing process, and if applicable, schedule the client's next appointment.
Now that the general similarities between massage therapy careers have been covered, it is important to understand that there is a significant difference between spa and licensed massage therapy:
Licensed Massage Therapy
Tends to involve advanced techniques plus additional therapies, including hydrotherapy
Generally requires more education and has stricter certification requirements
Focuses on therapeutic treatments for general or orthopedic pathologies, including chronic back pain, tendonitis, chronic headaches, and muscle strains
Career choices for LMTs are more likely to include health care settings, such as chiropractic offices, sports medicine clinics, or nursing homes
Spa Massage Therapy
Tends to focus on relaxation and stress management rather than therapeutic treatments
Is generally performed within spas, salons, resorts, or cruise ships
Aside from massage, it can include additional services, such as aromatherapy, reflexology, body wraps, and hot stone treatments
Generally attracts clients who are looking to treat themselves with enjoyable pampering rather than seeking treatment for an injury or illness
Types of Massage Therapy
Here are some of the most common massage techniques found in the industry today:
Swedish
Shiatsu
Sport
Deep Tissue
Chair
Infant
Thai Bodywork
Trigger Point
Stone Therapy
Myofascial Release
Reflexology
Work Environment
There is a wide range of working environments for both LMTs and spa therapists. Some examples include:
Private practices
Health clubs and fitness centers
Spas and salons (including ones at resorts and on cruise ships)
Chiropractic offices
Physicians' offices
Rehabilitation centers
Nursing homes
Hospitals
Sports medicine clinics
In addition, some massage therapists opt to work in more than one environment. They buy portable massage tables and make house calls, spending their days traveling from house to house.
Benefits of a Massage Therapy Career
You can become part of a growing career field.
There are many different opportunities in the field. From entrepreneurship to health care, you can explore many different routes. Plus, if you choose to pursue a position on a cruise ship, you could even have the opportunity to travel as part of your job.
Depending on what area of the field you choose to enter, you could enjoy extreme flexibility when it comes to your work schedule. Many independent massage therapists are able to set their own hours.
If you are truly passionate about the work, you will likely never tire of it. Many massage therapists feel physically, mentally, and spiritually fulfilled by healing others through touch.
Since you will be working one-on-one with clients, you have the opportunity to meet a variety of people and build close and lasting professional relationships.
Featured Location:
---