Performing Arts Schools
Last Updated
Performing arts schools are an excellent choice for people like you who want to see themselves in the spotlight.
You possess talent and passion. And you dream of working in music, theater, or dance. Now it's time to turn that dream into action. Let a professional performing arts school help you enhance your natural theatrical acting abilities, musical talents, or dancing skills.
Going to a performing arts school is an important step because practice makes perfect and every bit of training that you receive counts. Plus, you could obtain a competitive edge by learning about the business side of the industry. This is especially useful if you want to work behind the scenes as a director or producer.
So check out the performing art schools below, or use the zip-code search tool to find out which programs are offered near you. It's your time to shine!
---
Performing Arts Schools
Sponsored Listings
---
---
5 Performing Arts Careers Worth Considering
By enrolling in a program at a performing arts college, you are making a choice that has the potential to lead to a number of fulfilling opportunities. As you consider attending a school for performing arts, these are likely the three most common majors that you will come across: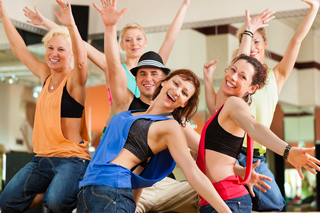 Dance: Discover how to express your creativity through movement by learning about classical and modern dance, as well as choreography and costume, lighting, set, and sound design.
Music: Take an in-depth look at classical and commercial music, and cover areas like conducting and composition.
Theater: Learn about important topics like acting, writing, designing, directing, and producing. Many programs also cover areas like dance technique, choreography, and stage management.
It is likely that you are an aspiring actor, dancer, musician, or singer. But you might be interested to know that you could have additional job options. Keep reading to uncover what the most common performing arts career paths can offer you, and discover a couple of other possibilities that you may not have considered.
(Note: The hourly pay and highest employment levels that are cited reflect 2020 data from the Occupational Employment and Wage Statistics program. And the average number of yearly job openings is based on Bureau of Labor Statistics data for the 2020-2030 period.)
1. Actor
As a theater actor—or stage actor—you will be acting in front of a live audience and may use a combination of speech, gestures, dance, music, and other theatrical elements. Working on plays, operas, ballets, musicals, and even improvisational theater requires you to express a range of emotions and portray characters in a way that captivates your audience.
You could be performing classic plays that have stood the test of time, and, in these cases, the audiences will have a high standard of what they expect from the performance. And, whether performing a classic or new production, you have to be quick on your feet. There will always be those moments when a line is forgotten, a costume has a defect, or a prop doesn't work like it is supposed to. The best theater actors can handle these moments with grace.
Many people associate acting with TV and film productions. It is true that the motion picture and video industries offer the most jobs to actors, but performing arts companies are the second-highest employers of actors across the nation. So whether you want to become a Shakespearean stage actor, a Broadway star, or the top talent at your local theater, a performing art school can help you get there.
Low-end hourly pay: $10.51
Median hourly pay: $21.88
Top-end hourly pay: $64.92 or more
Average yearly job openings: 8,200
States with the highest levels of employment: California, New York, Illinois, Georgia, and Louisiana
2. Dancer or Choreographer
Dance is a beautiful form of artistic expression that requires a strong mix of talent and determination. Dancers never stop learning, even after they have graduated from a school for the performing arts. You need to master many different styles, from jazz to hip-hop to ballet. And you would benefit from other types of training that help enhance your movement, strength, agility, flexibility, and money-making potential. That could include learning how to become a yoga instructor or taking classes in areas like gymnastics or martial arts.
As a dancer, you could be a part of theater productions or dance recitals. A lot of dancers travel with shows around regions, states, or the country. You may even find international travel opportunities. Other dance career possibilities could include becoming a back-up dancer for a professional artist, a cruise line entertainer, or a dancer with a regular act in a major city like Las Vegas or New York City.
Another career option is to become a choreographer. Ultimately, choreographers put performances together. They teach the routine, sync the dancers' movements with the music, and may even participate in the performance. Choreographers may also oversee areas like costumes, lighting, and makeup.
Many dancers and choreographers move on to become dance instructors later in their careers. This often results in opening and operating your own private dance studio. As a professional dancer, there are many career opportunities to consider that could allow you to live your dream.
Low-end hourly pay for dancers: $11.68
Low-end hourly pay for choreographers: $10.18
Median hourly pay for dancers: $18.58
Median hourly pay for choreographers: $21.00
Top-end hourly pay for dancers: $48.76 or more
Top-end hourly pay for choreographers: $48.68 or more
Average yearly job openings for dancers: 1,900
Average yearly job openings for choreographers: 1,000
States with the highest levels of employment for dancers: New York, California, Massachusetts, Texas, and Nevada
States with the highest levels of employment for choreographers: Louisiana, Minnesota, California, South Dakota, and Oklahoma
3. Musician or Singer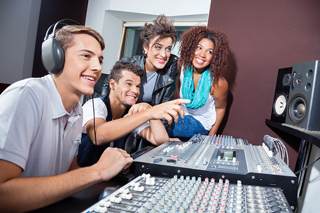 It's likely that you have been in love with music from a very early age, whether you were known for strumming riffs on an air guitar or belting out tunes into a hairbrush. And your passion for this expressive art is what is motivating you to pursue a music career. There are so many career paths for musicians and singers, and obtaining a performing arts education can help you fine-tune your talents and gain a sense of direction.
As a singer, you are the star of the show. You may have a band or dancers supporting you, but your audience most likely comes out to see you. You may even be a musician or dancer too, which can help enhance your stage presence during your performances. When people think of a career in singing, they often picture a professional singer who works with a production team to record albums and go on tour. But that's certainly not the only place that you can focus your talents.
You have other possibilities like Broadway, opera, cruise ships, weddings, local lounges and clubs, and fairs and festivals. Most singers will sing anywhere they can in order to gain experience and exposure. And if you want to become a theatrical singer, you must master singing live. You need to have a powerful voice and be able to deliver a dramatic performance. You may also be more successful if you can sing different vocal styles, from classical to soul to rock.
If becoming a musician is more your style, you could find yourself performing solo or as part of a band or orchestra in a theater setting. Along with mastering your chosen instrument, you may also find yourself arranging, composing, conducting, and orchestrating music. And even when you land your dream job with a Broadway orchestra or a famed symphony, you still may choose to supplement your income by busking, licensing your original music, teaching, and performing at local live venues.
Musicians and singers practice almost every single day throughout their training and careers. They work hard and are patient and persistent. That's why, when considering school, performing arts is a desirable choice. Along with building your skills, your education could also provide you with valuable performing and networking opportunities.
Low-end hourly pay: $11.17
Median hourly pay: $31.40
Top-end hourly pay: $87.47 or more
Average yearly job openings: 20,800
States with the highest levels of employment: California, New York, Illinois, Florida, and Tennessee
4. Music Director or Composer
Picture yourself leading a group of musicians during live performances or recording sessions. That's exactly what you will do as a music director. You could be responsible for arranging music and ensuring that every piece is played coherently. You will keep things like balance, melody, rhythm, timing, and volume in check. And you may even be responsible for auditioning new musicians, as well as promoting performances.
As a composer, you will write original pieces of music called musical scores. Along with writing the music, you will also write the lyrics or work with a lyricist. You could find yourself working on theatrical productions, like operas and symphonies, or your work could be focused on movies, TV shows, or commercials.
Music composers and directors are often talented singers and musicians themselves. And their talents are often backed with an education from performance art schools. So if you possess a lifelong passion for music and desire a career that encompasses much more than performing, this could be the path that you seek.
Low-end hourly pay: $11.49
Median hourly pay: $25.12
Top-end hourly pay: $59.80 or more
Average yearly job openings: 6,000
States with the highest levels of employment: New York, California, Texas, Oregon, and Ohio
5. Theater Producer or Director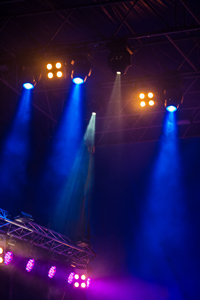 Theater producers and directors work closely together, and they are typically responsible for taking care of almost every piece of a production from start to finish. Usually, directors take on more of a creative focus, whereas producers often handle the business side of the production.
As a producer, you may select the play, raise funds, set the schedule, and manage the budget. You could determine the theater location and the number of days, weeks, or even months that the show will run. You could also take care of marketing and promotions, hiring employees—which includes cast members, musicians, and the production crew—and resolving disputes.
If you take on a director role, you will likely focus on putting the performance together. You will bring the artistic vision to life in order to connect the audience to the performance. You could spend your time researching, analyzing, translating, and interpreting scripts. You could also be responsible for adapting scripts, working with writers, instructing cast members, preparing casting notes, and designing costumes, sets, props, sound, and lighting. Essentially, you ensure that the performance is complete and of the highest quality.
In some organizations, especially those that are smaller, the roles of producers and directors are often combined. If you can see yourself working in this occupation, then starting out with training from a performance art school is a great choice. Many theater directors and producers begin with an education and then work their way up within their performing arts careers.
Low-end hourly pay: $17.34
Median hourly pay: $36.73
Top-end hourly pay: $88.78 or more
Average yearly job openings (for all types of producers and directors): 15,600
States with the highest levels of employment (for all types of producers and directors): California, New York, Florida, Georgia, and Texas
---
Get Ready to Showcase Your Talents
Are you thinking, "I'm ready to find performing arts schools near me?" Well, you can do that quickly and easily right here. Simply begin your search by entering your zip code into the search box below to discover schools that are offering programs close to you. Just think, this choice could lead to seeing your name in lights!
---