Fashion Merchandising Schools
Fashion Marketing Degree & Diploma Programs
Last Updated
Fashion merchandising schools can teach you how to take what you find on the runway and in showrooms and turn it into real-world success.
A business and fashion education can endow you with purchasing, marketing, and retailing skills. And developing additional knowledge related to advertising and small-business management can be beneficial if you are planning on running your own store.
Fashion merchandising colleges can start preparing you to work closely with designers, manufacturers, and merchandisers in order to develop and market products effectively. Your natural instincts and creative ingenuity—backed with a fashion merchandising degree or diploma—can help you recognize on-trend items that will fly off store shelves. Explore the fashion schools below to begin moving toward a new career. Or enter your zip code to discover the programs that are offered near you!
Fashion Merchandising Schools: Questions and Answers About Fashion Training & Careers
---
---
Fashion Merchandising Schools: Questions and Answers About Fashion Training & Careers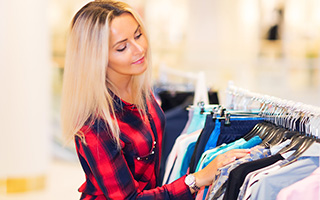 If you are looking for information on fashion merchandising and marketing training and careers, then you are in the right spot. Fashion marketing schools can complement your creative flair and strong sense of style with sound business knowledge while helping you prepare to join the glamorous world of fashion. As a fashion merchandiser or marketer, designers could rely on you to help them sell their clothes.
As you make your way through the fashion world, you may find yourself working alongside well-known designers, or you may be buying, selling, or promoting some of the top fashion brands. Fashion is big business, both globally and in the U.S. So, no matter which area of fashion you choose to work in, you could find impressive opportunities.
According to one report, the global fashion market is worth $1.75 trillion (as of 2014). The U.S. makes up about 21 percent of that market with a total of $370 billion spent on fashion. Plus, although New York City is known as the fashion capital of America—if not the world—and is home to more than 900 fashion companies, it only accounts for approximately 10 percent of all fashion-industry employment in the country. Los Angeles is another important fashion hub, and cities such as San Diego, San Francisco, Dallas, and Kansas City are emerging hot spots. So opportunities exist right across the country.
And it should come as no surprise that some of the biggest fashion companies around the globe are based in the U.S. In fact, statistics show that American-based Nike is the largest fashion company in the world. It is followed by Spanish-owned Inditex (with brands like Zara and Stradivarius), French-owned LVMH (with brands like Louis Vuitton and Dior), American-based TJX Companies (with brands like T.J. Maxx), and Swedish-based H&M. All of these companies have established operations in the U.S., so you could work with some of the most luxurious and well-known brands in the world without having to leave the country.
Knowing that so many great opportunities exist across the nation may have you wondering how to get into fashion marketing or merchandising. And that's where we can help. Discover seven common questions that aspiring fashion students ask about attending school and beginning their careers. The answers will likely inspire you to start training at one of the colleges with fashion merchandising or marketing majors!
1. What Is Fashion Merchandising?
Fashion merchandisers tend to focus on the business side of the fashion industry. They are required to stay on top of the latest trends and keep in-tune with the fashion industry. The most successful merchandisers are also able to predict and stay ahead of upcoming trends. They know what will sell and how to sell it.
Fashion merchandisers can work for manufacturers, designers, or retail or wholesale stores. They are typically responsible for creating positive consumer experiences. You could be involved in product development, production, promotion, and buying and selling. However, your role as a merchandiser might vary substantially, depending on your work setting.
For example, in the manufacturing sector, you could be responsible for seeing products through the entire production process. This could include carrying out quality-control measures and managing workers. But in a store setting, you could be responsible for purchasing items to sell, setting prices, decorating the store, and creating merchandise displays.
As a fashion merchandiser, you could be doing anything from attending international fashion events and developing sales strategies to picking textiles for garment production and contacting potential buyers.
2. What Is Fashion Marketing?
Similar to a merchandiser, a fashion marketer works on the business side of the sector. However, a fashion marketer focuses more closely on the sales and marketing aspects and has a primary goal of promoting companies and their products. Fashion marketers usually work for a specific designer or store in order to raise awareness, promote their brand, and set trends by connecting the public with the latest up-and-coming fashions.
You may be wondering, "What does a fashion marketer do on a daily basis?" In this fashion career, you could be:
Developing branding strategies
Creating advertising campaigns
Updating websites and social media accounts
Tracking the public's response to new products
Assisting with new store openings
Handling public relations activities
Overseeing the creation of product packaging
Ensuring that in-store visual elements are on-brand
Developing and monitoring budgets
With some companies, especially those that are smaller, the roles of fashion merchandisers and marketers are combined into one position. That's why most colleges with fashion merchandising majors also include marketing curricula.
3. What Can Colleges for Fashion Merchandising and Marketing Teach Me?
Many of the top fashion merchandising schools will teach you about the history of the fashion industry and the principles of fashion design. Your program will likely cover the key elements of business, fashion, and design in order to help ensure that you are prepared to take an item from the runway to the retail market. You may learn about the following topics:
Fashion industry and consumer trends
Fashion retailing
Fashion marketing
Fashion advertising
Business management
International business
Industry standards and professional practices
Due to the interrelated nature of the field, most schools for fashion merchandising also include fashion marketing courses, and vice versa. However, if you opt for a fashion merchandising major, your courses could cover some of the following topics:
Fashion merchandising management
Visual merchandising
Wholesale purchasing
Textile evaluation
Buying strategies
And with a fashion marketing major, you might explore the following areas in more detail:
Event planning
Target market identification
Market research
Branding
Online marketing
It is also worth noting that some fashion marketing and merchandising schools include fashion design as a part of their curricula. In these programs, you could learn how to create a fashion line by taking products from the sewing machine to the runway. You could learn about creative and technical design as well as about important elements of manufacturing. You may even become familiar with common CAD (computer-aided design) software.
So you probably want to put some thought into your career goals prior to choosing a major and deciding whether a design component would be worthwhile for you.
4. Do I Need a Degree in Fashion Merchandising or Marketing to Find a Job?
As with most other career fields, finding a job in this one starts with commitment, dedication, and persistence. This is especially true for the competitive world of fashion. That said, most fashion professionals would tell you that a degree counts. It shows that you have dedicated your time to building a sound set of skills, and it can help you stand out from other applicants.
But attaining an education is just the first step toward finding the job that you desire. Here are some additional tips that can help you begin your career:
Build your professional network. As soon as you decide that you want to work in fashion, start networking. Connect with other fashion professionals on social media. Join professional associations. Attend events and shows. You may end up connecting with someone who refers you to a great job opportunity.
Get experience. Some fashion programs include internships, which can provide you with valuable, resume-enhancing experience. But if your program doesn't include a practical component, then seek an internship or apprenticeship after graduation, even if it is unpaid. You may be surprised by how often this leads to a paid position. Many fashion leaders got their first breaks in the industry by taking on internships.
Show an impeccable work ethic. Once you have secured a position—paid or unpaid—say yes to everything (within ethical guidelines, of course). You want to go beyond what is expected of you, which could even mean volunteering to take on the less-than-glamorous projects that no one else wants. It is likely that a boss or manager will recognize and reward your hard work.
Never stop learning. The fashion industry is constantly changing. Always be willing to stay open to learning new methods, techniques, and perspectives that can help keep you on the cutting edge of the industry.
5. What Can I Do With a Fashion Merchandising or Fashion Marketing Degree?
Earning a diploma or degree in fashion merchandising or marketing can help qualify you for a position with a manufacturer, designer, wholesaler, or retail store. Along with occupations like fashion merchandiser and fashion marketer, check out some of the other fashion career paths that you could consider: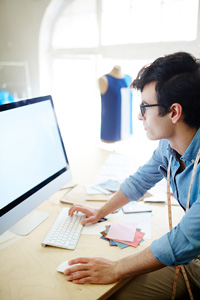 Fashion assistant—Begin a fashion editorial career with a publication or public relations company. Your responsibilities could include organizing the fashion closet, preparing clothing and accessories for photo shoots, and assisting the fashion editor.
Visual merchandiser—Spend your days focusing on developing store layouts and creating displays that encourage consumers to buy products. You will use your creative talents to make a store appear inspirational and fashionable.
Design assistant—Support a fashion designer by taking care of tasks like creating prototypes, producing sketches, tailoring garments, sourcing fabrics, and doing whatever else the designer may need you to handle.
Fashion buyer—Use your keen fashion sense to determine which looks are going to be on-trend for the upcoming season. Depending on the size of the organization, you could be a part of developing buying plans, attending fashion shows, meeting with sales reps, and purchasing clothing lines to sell in your company's retail stores.
Fashion director—Work for a larger department store or publication and be the person who is responsible for coming up with the overall fashion concepts. Based on your understanding of current and upcoming trends, you will create the vision that directs the look and feel of the company's stores or publications.
Product development manager—Assist with keeping a fashion brand or company in the public spotlight by identifying areas of growth that will help keep the company profitable. Of your many responsibilities, you could be in charge of overseeing the creation of new products, developing new business customers, and ensuring that products are manufactured correctly.
Store owner—Grab hold of your biggest dreams and open up your own store or boutique.
6. What Is the Typical Fashion Marketing Salary?
The fashion industry offers the potential for good earnings, especially once you have built up your experience and expertise. Take a look at the average and top-end annual salaries for the fashion careers listed below. (The figures are based on 2018 data from the Occupational Employment Statistics program.)
Fashion marketing specialists with retail clothing stores—$59,800 / more than $97,210
Fashion marketing specialists with apparel wholesalers—$64,410 / more than $99,520
Fashion marketing specialists in apparel manufacturing—$61,120 / more than $99,330
Fashion designers—$87,610 / more than $155,470
7. Are There Opportunities for Career Advancement?
By nature, the fashion industry is a sector designed for career advancement. Most people enter the field in entry-level positions, which means that there are usually a lot of opportunities to advance. You could begin your career as an assistant buyer, which could lead you to becoming a buyer or merchandiser and then a merchandising manager. Or you could start out as a marketing assistant, work your way up to marketing specialist, and eventually become a marketing manager or director.
As you build your career over the years, you could end up working for a larger company in a position such as head designer, creative director, or public relations manager. You might also find other opportunities like becoming an editor for a fashion magazine or a production manager for a manufacturer. Your career path could also lead you to starting your own fashion business. You may even decide to complete one of the fashion merchandising graduate programs in order to help make higher-level positions more attainable.
With a good mix of passion and dedication, the fashion industry could present you with many interesting and exciting possibilities.
---
Begin Shaping Your Future in Fashion
Starting a successful career in fashion may be easier to achieve than you realize. Make your first move by finding an educational opportunity that is right for you. Enter your zip code below to see which fashion merchandising schools are offering programs in your area. This could be your first step toward the bright career of your dreams!
---