---
---
4 Questions About Medical Office Specialist Careers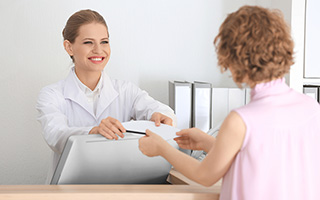 Do you want to play an essential role in clinics, hospitals, physicians' offices, or other healthcare settings? You definitely can. With so many workplace options, it's not surprising that there are plenty of opportunities for medical office specialists. In fact, the overall healthcare sector is expected to create more jobs than any other industry from 2016 through 2026. Here are answers about how you can be a part of that growth.
1. What Training Is Needed to Become a Medical Office Specialist?
The path to becoming a medical office pro tends to be shorter than what most other careers in the medical field require. That's good news if you want quick entry into an occupation with a lot of opportunities. In fact, many medical office specialist programs can be completed in under a year.
But even though these programs are short, they still cover a lot of material. You can learn about:
The many administrative tasks that take place in a medical office
The business side of healthcare, such as dealing with insurance companies and billing patients for appointments and procedures
Office tasks such as answering the phone, scheduling appointments, greeting patients, and doing some basic accounting
Medical coding and healthcare regulations like the Health Insurance Portability and Accountability Act (HIPAA)
These programs can prepare you to enter the workforce, and additional training can help you get ahead. For example, medical office specialists don't necessarily have to be professionally certified, but acquiring certification can lead to higher pay and more opportunities. There are a few different options for certification, and the right choice will depend on your career interests. The National Healthcareer Association offers three different certifications that can benefit a medical office specialist:
Certified Medical Administrative Assistant
Electronic Health Record Specialist
Billing and Coding Specialist
Thanks to the versatility of medical office specialist programs, it's also possible to use your training as a stepping stone toward a more specialized career in healthcare administration. For example, you could go on to become a healthcare records technician.
2. What Does a Medical Office Specialist Do?
As a medical office specialist, you could work in a hospital, home care organization, outpatient medical clinic, doctor's office, medical lab, mental health facility, long-term care center, or even a school. That's because almost any setting that offers medical care can benefit from someone who works to keep the business side organized and efficient.
Depending on your workplace, your duties could include:
Interacting with insurance companies and billing patients
Managing and organizing patient records
Welcoming patients and checking them in
Scheduling patients' appointments
Gathering patients' case histories by asking them questions
Entering patient information into electronic healthcare records systems
Performing basic accounting and bookkeeping duties
Communicating with other healthcare professionals about procedures such as patient referrals or tests
Answering the phone and transferring calls
Keep in mind that "medical office specialist" is a broad job title. After completing your education, you might focus on a particular area of the healthcare sector, which could lead to a different job title and duties that are distinct to that area. For example, if you work for a dentist, your job title and duties might be different than they'd be if you worked for a family physician.
3. How Much Do Medical Office Specialists Earn?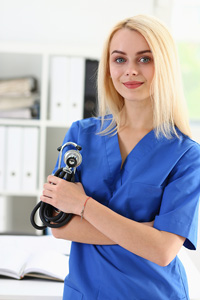 For a career with a relatively short training period, there is a lot of potential to earn a good salary. Medical office specialists earned a median annual wage of $35,760 in 2018. The top 10 percent of earners made $51,890 or more. And if you advance to a management role, your salary could be even higher. In 2018, the median annual salary for health and medical services managers was $99,730.
4. What Are the Job Prospects Like for Medical Office Specialists?
The number of job opportunities for medical office specialists is anticipated to grow by 22 percent from 2016 to 2026. That number is over three times the predicted U.S. average of seven percent for all careers.
So, what's behind the increase in jobs? Some of this job growth will happen because of the fact that the number of Americans who are older than 65 is expected to increase from just over 49 million in 2016 to 77 million by 2034. After all, older people tend to need more medical care. So plenty of medical office pros will be needed to manage all the administrative tasks that will accompany keeping this aging population healthy.
As well, new discoveries in medical technology will continue to create work in medical offices since patients will be able to have medical procedures without going to the hospital. That means even more opportunity for medical office specialists.
---
Find Your Place in the World of Healthcare
Are you ready to benefit from the boom in healthcare jobs? Medical office specialist schools can help you start taking advantage of the many opportunities that involve helping patients and other healthcare professionals. Now is the perfect time to make your next move. Just enter your zip code into the search tool below to get started!
---