Online Trade Schools & Colleges
By Publisher
| Last Updated
Today's aspiring college students place more and more value on a program's flexibility and ability to accommodate their needs. Online trade schools and colleges can offer students the freedom to choose when and where they do their coursework. This can truly be the key to success for those with demanding schedules, parenting and caregiving responsibilities, or other limitations in their ability to access a physical campus or attend classes in person. People want to know that if their circumstances change, they will have options to continue their education in a way that works for them.
Online programs are optimized to deliver quality education in a way that values your time and individual needs. And because online trade schools and colleges specialize in distance learning, they can offer supports that can make your life easier, improve your learning, and help you find employment after you graduate.
---
---
Online Schools
Sponsored Listings
---
---
The Growing Value of Online Learning
Many Americans lead full lives with demands and considerations that affect their ability to attend school. Online programs offer the opportunity to work toward a degree, diploma, or certificate from basically anywhere you can use a computer connected to the internet. This makes education accessible to so many more aspiring students.
Distance education has played an especially important role throughout the pandemic, as schools have had little choice but to adapt their programs to an online format (when possible). Fluctuating public health guidelines on in-person classes and physical distancing have created a much more urgent need for the availability of online program options.
A 2020 Global Market Insights (GMI) report projects that the e-learning market in the U.S. will grow 21% between 2021 and 2027. Access to 5G and high-speed internet is improving across the country, which means more people can access their courses when and where they need to. Additionally, emerging technology is making e-learning more immersive and interactive, which better simulates the classroom instruction experience.
Artificial Intelligence (AI), Virtual Reality (VR), Augmented Reality (AR), and Cloud-Based Learning Management Systems (LMS) are rapidly emerging and growing in the education sector. This is significantly transforming the future of online learning by helping students to feel more engaged with their learning, communicate more efficiently with instructors and classmates, and collaborate on projects effectively from a distance.
Major Benefits of Online Programs
Flexibility and convenience
Enrolling in trade school online makes it possible to get your education while holding down a full-time job, raising a family, or keeping up with other responsibilities. Many people enjoy skipping the commute and focusing on their studies when it fits their schedule.
Many students choose to study online because it is the best option for their work-life responsibilities. Others choose online education because they simply prefer it. Of course, online learning may be the only option when public health concerns do not allow for in-person classes. That could be a significant factor in students' enrollment choices.
Reliability
You need a computer and a good internet connection to access your online program content, and often that's all you need for much of your studies. Attending classes on-campus and on a schedule involves many more uncertainties, from day-to-day issues like a missed bus or doctor's appointment to more significant issues like pandemic-related shutdowns.
If you are already accustomed to learning online, you will likely be far less affected by any future restrictions on in-person instruction. And when it comes to education, knowing what to expect is extremely important.
Comfort
When it comes to learning, many people thrive in environments that feel as safe and comfortable as possible. Feeling free to wear what you want, eat your own food, use your own bathroom, and hang out with your pets can remove unnecessary stressors from your daily routine. Here are just a few examples of the many reasons someone might be more comfortable learning from home:
Sensory processing issues and neurological sensitivities

More control over light and noise levels, odors, chemicals, and other potential triggers

Social anxiety
Compromised immunity
Physical disability
It's worth noting, however, that many people learn best within the more structured format of the classroom. And many people value the in-person social interaction that training on campus provides.
Savings
Working on your schooling from home can save you substantial money on things like transportation, parking, coffee shops, restaurants, and convenience food.
Most Popular Fields for Online Study
A wide range of online trade school programs is available, including in less-obvious areas like aviation management, cosmetology, the skilled trades, medical assisting, and more. Here are the shares of online undergraduate students who completed different programs, based on the results of the national survey referenced above:
The same survey found that while an overwhelming majority of online students enroll in degree programs, 14 percent go for certificates and two percent choose licensure programs.
How Employers View Online Education
Online degrees and other credentials have gained a lot of mainstream acceptance. A 2018 Northeastern University survey of hiring managers found that:
About 61 percent considered online credentials to be equally as good as those achieved the traditional way.
More than 70 percent had hired a candidate who had completed a degree, diploma, or certificate online.
Over 30 percent expected that future technological advances will result in online education being better than in-person instruction.
Factors to Consider When Choosing an Online School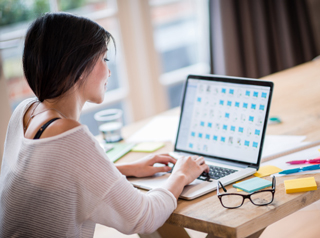 Here are four suggestions to keep in mind as you focus your search:
1. Look Into How the Courses Are Structured
Streaming video and virtual classrooms are popular tools. But different online schools may take advantage of other formats. So, when doing your research, look for tutorials or "test drives." Many schools and colleges, through their websites, offer students the chance to preview their online educational experiences.
A preview might be especially important for particular fields of study. For example, business administration programs may rely heavily on group projects. That means the school should make it easy for students to contact each other via email or live chat to divide coursework quickly.
Delivery is another important word to remember. Try to find out whether programs are delivered exclusively online or through a combination of media like print, video conferencing, or CD-ROM. Ask about the nature of group work, too, since some online vocational schools may encourage students to meet in person.
2. Go Over the Technical Requirements
Technology can change quickly, so ensure that you have the hardware and software required for a particular online program. It's also good to ensure that round-the-clock technical support will be just a click or call away.
Compare the specs of your home computer with the technical requirements listed on school websites. That way, you'll know whether you need any upgrades. And remember: many powerful software applications and technologies are free. So a school that uses them will help you stay up-to-date without needing to spend a bundle. OpenOffice for word processing, VLC Media Player for video, and Adobe Acrobat for document sharing are just a few basic examples.
3. Determine How Accessible the Staff and Resources Are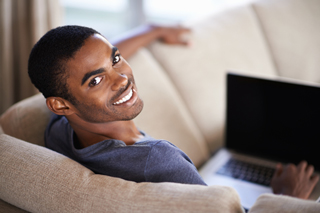 Find out how easy it is to reach the people who will be evaluating you. Look for instructor email links, toll-free phone numbers, and scheduled office hours. Many professors and instructors have set hours to answer questions, engage in group discussions, or chat online.
That goes for teaching assistants too. Many professors and instructors enlist assistants to grade assignments and lead discussion groups. You'll want access to those essential resources.
And since online schools allow you to study during day or night, it's helpful to take advantage of support resources at times that fit your schedule. You may not be able to speak with an instructor at 3 a.m., but access to online libraries might make completing your assignments easier.
4. Make Sure You Have the Commitment
Are you disciplined enough to thrive? Online vocational training allows you to learn at your own pace and avoid commutes. But you still have to do your part by ensuring that you have enough time in your week to complete assignments before you enroll.
Also, make sure you can create a good learning environment at home or wherever you'll choose to study. Family and friends need to know that you require alone time with no distractions.
The Number of People Who Take Online Courses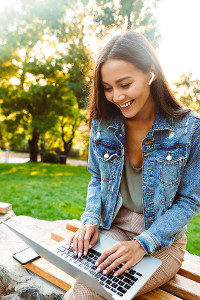 More than 6.9 million post-secondary students were enrolled in at least one distance education course in the fall of 2018, according to the National Center for Education Statistics (NCES). That represented 35.3 percent of all students at degree-granting institutions.
Below are the percentages of students at each type of post-secondary school who were enrolled exclusively in distance learning that same fall.
Two-year institutions
Public schools: 15 percent
Private non-profit schools: 45 percent
Private for-profit schools: 8 percent
Four-year institutions
Public schools: 10 percent
Private non-profit schools: 17 percent
Private for-profit schools: 68 percent
---
Online Trade Schools Make Vocational Education More Accessible
Learning remotely offers greater convenience and flexibility than attending on-campus classes, which can significantly increase your chances of success.