Respiratory Therapist School Guide
Last Updated
Go after a future in which you get to make a critical and lasting difference.
A respiratory therapist school can give you training in an area of the health care field that's all about helping people breathe. It's the kind of vocational education that can clear the way toward a stable and deeply gratifying career.
The potential advantages are significant: Strong demand for your skills. Work that's consistently interesting and full of variety. The chance to be seen as an expert in the use of innovative respiratory care equipment. Real opportunities for career advancement. Contributing an essential component of helping people survive and heal from COVID-19.
Respiratory therapy programs are set up to maximize your ability to develop into the health professional you want to be. Imagine learning how to detect lung disorders that affect the breathing capacity of medical patients. Think of the good you can do by working alongside doctors and nurses as you recommend and perform important, often life-saving, treatments.
That's what could lie ahead by making the decision to start along this path today. Hospitals, sleep laboratories, asthma clinics, and many other types of medical facilities all require the services of respiratory therapists.
So align your goals with training that's been specially designed to help you accomplish them. Check out the following options to discover a school where you can begin. And remember to ask for further information right away!
Respiratory Therapy: FAQs and Answers
---
---
Respiratory Therapist Schools
Sponsored Listings
---
---
Respiratory Therapist Schools: FAQs and Answers

What is respiratory therapy?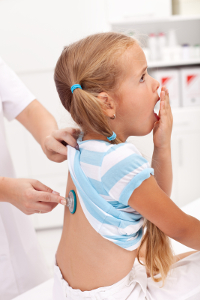 This fascinating area of the health field involves evaluating, caring, and treating patients with respiratory and cardiopulmonary disorders, from premature infants with underdeveloped lungs to seniors suffering from chronic asthma. It can also involve the emergency care of patients requiring treatment for strokes, heart attacks, shock, COVID-19 complications, and more.
What is the average salary?
Occupational Outlook Handbook (OOH) statistics (from May 2021) show that the median annual wage was $61,830.* However, average salaries can vary, depending on factors such as geographical location, experience, and area of employment. For example, the median salary for RTs in California was $95,540 for the same period.
Are respiratory therapists in demand?
The OOH projects 14% job growth for respiratory therapists from 2021 to 2031.* This is nearly three times the average growth for all occupations in the U.S. This baseline projection doesn't factor in the COVID-19 pandemic, which has additionally increased the demand for RTs dramatically.
People who have developed breathing issues due to infection from COVID-19 can experience a full range of symptoms with varying severity that require respiratory therapy. Severe cases frequently require patients to be put on ventilators, which is a complex process that can mean the difference between life and death. People who have been ill from COVID-19 can also have lasting damage to their lungs that RTs are needed for.
An aging population also contributes to the projected demand for respiratory therapists in the coming years. So, there are multiple reasons why this field looks extremely promising for job security. California, Texas, and Florida have the highest employment for RTs, but demand is good and likely to increase across all the U.S.
What prerequisites do I need for schooling?
The majority of schools will only require that you have earned a high school diploma, or hold a GED (the credential earned from passing the General Education Development tests). However, it is a good idea to inquire about any specific prerequisites that exist at the schools you plan to apply to.
What can I learn in a program?
You can gain a strong knowledge of respiratory and cardiopulmonary diseases and conditions, including asthma, emphysema, lung cancer, and more. You will also learn to evaluate, diagnose, and treat patients dealing with respiratory-related issues, whether chronic, temporary, or in emergency situations. Additionally, you can learn to work with different types of equipment used to perform tests, make diagnoses, administer treatments, and more.
What kinds of programs are available?
The majority of schools offer either associate or bachelor's degree programs, which typically include hands-on application, as well as theoretical and general education courses. However, some schools may also offer diploma or certificate programs, which are usually shorter-term and more career-oriented.
How long does it take to get to graduation?
Degree programs can take up to four years to complete, while diploma and certificate programs are usually two years, or less.
What career options are available?
Career opportunities can exist in hospitals, nursing homes, home health services, sleep labs, research facilities, and more.
Do I need to become certified to work in this field?
In order to work in most states, you will need to successfully take a certification examination administered by a national board. Some employers may also require that you hold CPR certification.
---
---
* Unless otherwise noted, salary information is based on May 2021 data from the Occupational Employment and Wage Statistics (OEWS) program. Job growth estimates are from the Bureau of Labor Statistics and are for the 2021 to 2031 period.