Pharmacy Technician Schools and Colleges
Last Updated
Add real momentum to your ambition of enjoying a useful career. Pharmacy technician schools know how to connect you with health care training that can set you in the right direction. In fact, they welcome the opportunity to help you enter a field that provides many people with a sense of pride and purpose.
And keep this in mind: Completing the necessary education doesn't have to take much time. You can develop the ability to start assisting licensed pharmacists in just two years or less.
That means you could be helping to fill prescriptions sooner than you might realize. Can you picture that future? It involves working with lots of different medications and ensuring that people get exactly what they need in order to recover from illnesses or to make their lives easier or more comfortable.
So give your aspirations the focus they deserve. It's easy to start doing that right now. For instance, you can learn more about being a pharmacy technician by checking out the FAQ section below.
Or go straight to the potential source of your training by checking out the following schools and requesting additional information directly from one or more of them today!
Pharmacy Technician Career Information
---
---
Pharmacy Technician Schools
Sponsored Listings
Bakersfield
Fresno
Gardena
Oceanside
Reseda
Riverside
West Covina
Pharmacy Technician - Diploma
Dothan, Alabama
Mobile, Alabama
Montgomery, Alabama
Baton Rouge, Louisiana
Pharmacy Technician - Diploma
Roseville, Michigan
Wayne, Michigan
Woodhaven, Michigan
Pharmacy Technician - Diploma
Pleasant Hill
Sacramento
San Jose
San Leandro
Stockton
Pharmacy Technology - Certificate
Brownsville, Texas
Corpus Christi, Texas
Pharr, Texas
San Antonio, Texas
Pharmacy Technician - Certificate
Hackensack, New Jersey
Nutley, New Jersey
Ramsey, New Jersey
Health Science with Pharmacy Technician
Pharmacy Technician - Career Diploma
Pharmacy Technician Professional - Career Diploma
---
---
Pharmacy Technician/Assistant Career & Education Information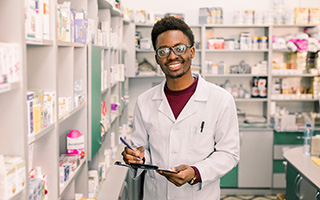 The use of medicinal drugs (also known as pharmaceuticals) is one of the primary methods for treating medical patients and improving one's quality of life. But while medications enable millions of people to live better lives, there can also be serious consequences if they are mishandled.
That's why it is so critical that the people who work in pharmacies know what they are doing (and why they are doing it).
Pharmacy schools train conscientious students for careers as either pharmacists or pharmacy technicians. As pharmacy technology and prescription drugs change and get more complex, a quality education becomes even more essential.
What Is a Pharmacy Technician?
Someone who assists a pharmacist in the safe distribution of prescription drugs to patients and performs other duties, as necessary, related to customer service or pharmacy administration
Sometimes called a "pharmacy tech," "pharmacy assistant" or "pharmaceutical technician"
Someone who works under the supervision of a licensed pharmacist
What are the Standard Job Responsibilities?
The duties can vary depending on their work settings and the regulations in their individual states. In general, though, a pharmacy technician carries out activities within a pharmacy that do not necessarily require the professional judgment of a pharmacist.
Tasks in Retail and Mail-Order Pharmacies
Handling Prescription Orders
Receiving prescription orders—either written ones brought in by patients or electronic ones sent in by doctors' offices
Processing prescription orders that come by phone (not allowed in all states)
Verifying prescription orders for completeness and accuracy
Preparing Prescriptions
Retrieving, counting, pouring, weighing, measuring, and—sometimes—mixing medications
Performing necessary mathematical calculations
Preparing accurate labels for prescription containers
Selecting the most appropriate containers for each prescription and affixing the correct labels to them
Pricing the final prescriptions and getting them checked by the supervising pharmacist prior to their distribution to patients
Administrative and Other Duties
Assisting in the maintenance of patient records
Preparing insurance forms
Referring all questions about medications, dosages, side effects, and other drug- or health-related matters to the supervising pharmacist
Stocking shelves and maintaining inventory
Answering phones and assisting in other customer service tasks
Tasks in Hospitals, Nursing Homes, and Assisted-Living Facilities
Preparing sterile solutions (such as those for IVs)
Delivering requested medications to doctors or nurses
Preparing drugs that require extra care in handling (such as those used for treating cancer)
What Are the Most Common Workplaces?
Most pharmacy techs work in retail environments such as:
Community pharmacies
Drug stores
Grocery stores
Mail-order pharmacies
General merchandise stores
In addition, a large number are employed by hospitals.
Depending on your education level, certification status, experience, and range of professional skills, opportunities exist with other types of employers as well. These can include:
Nursing homes
Assisted-living facilities
Insurance companies
Pharmaceutical manufacturers
Institutions of post-secondary learning
What Are the Rewards of the Job?
Engrossing work—It is a great way to learn about and work with a variety of interesting medications. Plus, since most pharmacies are busy places, the workdays tend to go by quickly.
A sense of accomplishment—Knowing that you have an important role to play and a big responsibility to do things right can lead to a great sense of accomplishment and enhanced self-worth.
Connection—Helping and interacting with other people can provide a feeling of social connection.
What Is the Average Salary?
Income depends greatly on work setting, education level, geographic location, and experience.
Based on national estimates from May 2021, typical annual wages break down this way:*
The median salary was $36,740.
The highest-earning 10 percent made $47,580 or more.
Hourly wages typically range from about $14 to $23 with most earning somewhere in the middle of that spectrum.* Wages tend to be higher in work environments such as hospitals and nursing homes than in retail outlets.
What Are the Job Requirements?
Many states have specific requirements. However, every state is a little different in how it regulates pharmacies and those who work in them.
You can find the specific requirements that apply to pharmacy techs in your location by getting the information from the board of pharmacy in your state. In the meantime, here are some of the main points to keep in mind:
State Regulations
More than 80 percent of states currently have requirements that are specific to pharmacy technicians, which can include registration, certification, or getting a pharmacy tech license.
A few states require formal training as part of these requirements.
More than one-third of these states require some form of continuing education, regardless of whether or not pharmacy techs received a post-secondary education, in order to maintain official status.
As of December 2014, professional certification is required in 23 states: Arizona, California, Connecticut, Idaho, Illinois, Iowa, Kansas, Louisiana, Maryland, Massachusetts, Michigan, Mississippi, Montana, New Mexico, North Dakota, Oregon, South Carolina, South Dakota, Texas, Utah, Washington, West Virginia, and Wyoming.
Professional Certification
The main certifying body for pharmacy techs in the U.S. is the Pharmacy Technician Certification Board (PTCB).
In order to become a Certified Pharmacy Technician (CPhT), you must pass the PTCB's national exam, have at least a high school diploma (or equivalent), have no felony convictions, and have no pharmacy- or drug-related convictions.
To maintain your certification, you must be re-certified every two years by completing 20 hours of continuing education within that period.
The Institute for the Certification of Pharmacy Technicians (ICPT), now part of the National Healthcareer Association (NHA), also offers a certifying exam known as the ExCPT.
How Do I Get a Career in This Field?
Basic Requirements
It's a good idea to check with your state's board of pharmacy. You might be required to register with the state, attain official certification, complete an approved training program, or satisfy a combination of these requirements before you can work.
Schooling
Attending a formal training program can provide you with the structure, support, and discipline that you need to excel in the field. Formal training will also show potential employers that you are serious about gaining the knowledge and abilities you need to do the job well.
The programs at some schools include a hands-on component, complete with mock pharmacies and prescriptions. And some of these schools also include a clinical externship, which can be a good way to gain real-life experience and contacts in the field.
One of the benefits of attending a quality school is that you may have the opportunity to learn more of the why behind the procedures instead of just learning what to do. This is important since you will be working with substances that can harm patients if they are not handled correctly.
How Long Does Training Take?
The time it takes to become a pharmacy tech can vary significantly depending on the pharmacy technician school you choose to attend. Programs can last from as little as two to six months (for a certificate or diploma) to as much as two years (for an associate degree).
The American Society of Health-System Pharmacists (ASHP) accredits a number of programs. ASHP-accredited programs incorporate a minimum of 600 hours of training over 15 weeks or longer.
What Can I Expect to Learn in School?
Training programs are designed to help students learn how to assist pharmacists and perform necessary duties, all while adhering to relevant laws and ethical standards. That said, programs can vary significantly in their length and course material.
Programs generally include courses that teach you how to: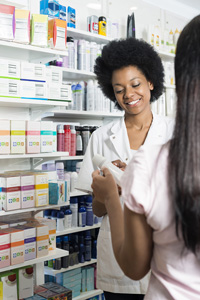 Assist a pharmacist in most aspects of a practice
Identify drugs and their classifications for different systems of the human body
Control and maintain inventory
Assess medication prescriptions and orders
Properly prepare different types of pharmaceutical products
Distribute medications
Identify patients that want or need counseling from a pharmacist
Handle medications safely and watch for errors
Collect payments
Monitor medication therapies
Maintain equipment and facilities
Work with experimental drugs
Develop professional traits and interpersonal skills
Perform quality assurance
Understand certification and organizations
Carry out necessary duties in different types of work settings (such as acute care, long-term care, home care, ambulatory, and community environments)
What Is the Job Outlook?
The job outlook for pharmacy techs is good. According to the Bureau of Labor Statistics, employment is expected to grow by five percent from 2021 to 2031 (as fast as average).*
This good outlook is based on the fact that the population of middle-aged and elderly people in the U.S. will increase over that time period. In addition, new drugs keep coming onto the market, and more and more people are receiving prescription drug coverage.
Can a Pharmacy Technician Become a Pharmacist?
Yes, with the proper education. In fact, many pharmacists first spent time working as a pharmacy tech in order to "test the waters."
Other Forms of Advancement for Pharmacy Techs
Becoming a pharmacist is not the only option for advancement as a pharmacy technician. While there are limited opportunities in small pharmacies, experienced professionals—with additional training—can sometimes advance to supervisory positions in large pharmacies or health facilities.
Those who work in hospitals can also advance into specialty positions where they work with medications and substances used in the treatment of cancer. Such pharmacy techs are often known as chemotherapy technicians or nuclear pharmacy technicians.
---
---
* Unless otherwise noted, salary information is based on May 2021 data from the Occupational Employment and Wage Statistics (OEWS) program. Job growth estimates are from the Bureau of Labor Statistics and are for the 2021 to 2031 period.