Cyber Security Certifications Training
Last Updated
Start preparing for cyber security certifications that could give your career ambitions a big lift.
With changing and growing threats to today's information technology (IT) systems, new professionals are needed to help combat cyberattacks, prevent data breaches, and protect sensitive data. And training options are diverse; aspiring IT pros can choose from programs within the following main areas:
Network security
Information security
Application security
Internet security
Endpoint security
Being part of this field can have outstanding benefits. For computer security professionals, salary earnings are often very high, opportunities are plentiful, and excitement is frequently a major feature of their careers.
So, discover a school where you can learn how to become an IT security professional. Begin by entering your zip code in the simple search tool below to find cyber security training near you!
3 Great Reasons to Become a Cyber Security Specialist
---
---
Cyber Security Schools
Sponsored Listings
DeLand
Kissimmee
Lakeland
Orlando
Pembroke Pines
South Miami
Tampa
Information Technology with Emphasis in Cybersecurity
Computer Science - Information Security
Criminal Justice - Cybercrime
Cybersecurity:

Data Analytics Fundamentals
Project Management Fundamentals

Information Technologies - Cybersecurity
Information Systems and Cyber Security
Information Systems and Cyber Security - Homeland Security
Charlotte
Greensboro
Raleigh
Charleston
Columbia
Greenville
Manassas (Northern VA)
Newport News
Richmond
Virginia Beach
Cyber and Information Security Technology
Fort Myers
Jacksonville
New Port Richey
Pembroke Pines
Sarasota
Tampa
West Palm Beach
Online
Cybersecurity
Digital Forensics and Incident Response
Lexington, Kentucky
Louisville, Kentucky
Cybersecurity
Cybersecurity Professional
Network Support Administration and Security
System Support & Administration - Security
Cybersecurity
Information Technology with an Emphasis in Cybersecurity
Computer Information Technology - Cyber Security
Information Systems Management - Cyber Security
---
---
3 Great Reasons to Become a Cyber Security Specialist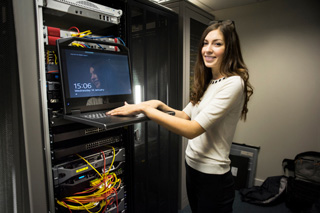 High-profile breaches of information security increasingly dominate news headlines. Every sector of the economy has been impacted. But many of the most prominent computer and network attacks have taken place against organizations in the healthcare, retail, education, government, and financial sectors. And the privacy of individuals is under continuous threat due to everything from mobile app malware to sophisticated social media scams.
But you can become one of the professional defenders of our information. As an ethical hacker, network security specialist, or digital forensic investigator, you can help protect vulnerable computer systems and data from malicious hackers. Depending on your specific role, you might get to be involved in actions such as:
Developing effective IT security strategies
Monitoring networks for intrusion attempts
Investigating and reporting data breaches
Simulating cyberattacks to detect potential system vulnerabilities
Installing network firewalls and data-encryption software
Recovering IT systems and data after cyberattacks
Researching the latest computer security technologies, deterrents, and countermeasures
Of course, those actions represent only some of the responsibilities that you might get to carry out. One of the most appealing things about the field of IT security is that you never quite know what's around the next corner. So your role might evolve in surprising yet enjoyable ways as new security threats emerge and innovative solutions are created to thwart them.
With those things in mind, check out three of the best reasons for becoming a certified computer and network security professional:
1. Extensive and Growing Demand for IT Security Specialists
Criminal hackers continue to find new ways to wreak havoc on information networks and steal critical and private data. Each year brings additional threats to organizations and individuals, whether from cyber-espionage, digital extortion, phishing, or other kinds of electronic attacks. And the Internet of Things (IoT) keeps growing, exposing us to the possibility of new types of cyberthreats that target the Web-connected smart devices in our homes, offices, cars, and wearable items. According to a study on the cost of cybercrime by Accenture:
Over a 5-year span (from 2013 to 2018), digital security breaches grew in number by 67 percent.
On average, cyberattacks cost each affected organization about $13 million.
Malware is the most expensive type of cyberattack, but ransomware is the fastest growing.
These facts paint only a fraction of the picture. That's why, according to the Occupational Outlook Handbook, it's projected that, between 2018 and 2028, the employment of information security analysts could rise by 32 percent in America. That equates to about 35,500 new jobs. This field is also known for offering a growing number of rewarding jobs for autistic people. So being a computer security specialist can mean having outstanding career security.
2. The Potential to Earn a Six-Figure Salary
Because of the growing demand for robust computer and network security, and its critical importance, professionals in this field frequently earn excellent salaries. In fact, the average white hat hacker salary is close to six figures. And many ethical hackers find jobs that pay 100K or more per year.
For example, according to the Occupational Employment Statistics program, the average salary for information security analysts in the U.S. was $102,470 in 2018. However, those who worked in the pharmaceutical industry earned $131,150, on average.
3. A Large Variety of Good Training and Computer Security Certification Options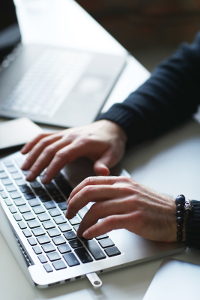 When it comes to attaining employer-valued credentials in this field, many different pathways exist. Even so, one of the most popular options at the college level is to earn a career-focused computer security degree or diploma.
Depending on how quickly you'd like to enter the job market or how in-depth you want your training to be, you have the opportunity to choose between multiple program possibilities. For example, a diploma program typically takes about a year. An associate degree program takes about 18 months to two years, and a bachelor's degree program typically takes about four years.
Plus, many courses of study in computer and network security are designed to help prepare you for various industry certification exams. Being certified is a way to back up your education with extra proof that you have the necessary skills that employers look for.
Several options exist for computer security certification. Choosing which ones to pursue depends on your individual career goals. At first, you may want to attain vendor-neutral certifications that cover multiple companies' technologies within the industry. Earning a few vendor-specific certifications from companies like Microsoft or HP might be valuable before approaching potential employers who consistently use systems from those vendors.
Regardless, you'll likely acquire your own unique combination of IT security certifications throughout your career based on your interests and the specific opportunities you want to pursue. But to give you an idea of the extensive range of possibilities, here are some of today's most popular cyber security certifications and the organizations that award them:
CompTIA Security+: Computing Technology Industry Association
CEH (Certified Ethical Hacker): EC-Council (International Council of Electronic Commerce Consultants)
GSEC (GIAC Security Essentials): GIAC (Global Information Assurance Certification)
SSCP (Systems Security Certified Practitioner): (ISC)2, the International Information System Security Certification Consortium
CISSP (Certified Information Systems Security Professional): (ISC)2
CCNA Security (Cisco Certified Network Associate Security): Cisco
CISM (Certified Information Security Manager): ISACA (Information Systems Audit and Control Association)
CSFA (CyberSecurity Forensic Analyst): CyberSecurity Institute
Some of the most prominent job titles held by certified computer security professionals include:
Security analyst
Security architect
Security administrator
Security engineer
Security software developer
Security specialist
Cryptologist
Cryptographer
Cryptanalyst
Virus technician
Intrusion detection specialist
Chief security officer (CSO)
Chief information security officer (CISO)
Data protection officer (DPO)
---
Find Out Where to Begin
Many schools offer programs that can help you earn popular cyber security certifications. And many programs offer the choice between training online or on campus. Simply enter your zip code into the following search tool to generate a customized list of nearby options!
---