Florida HVAC Training Schools
Last Updated
Florida HVAC training can help launch you into a satisfying career in a vital trade.
Think about it: Residential, commercial, and industrial buildings all over the Sunshine State depend on complex heating, cooling, and ventilation systems to maintain comfortable indoor environments—even when outdoor temperatures fluctuate and humidity levels change. With the job-focused training you can get from Florida HVAC schools, you have the opportunity to develop the technical know-how to install and repair those kinds of systems and keep them functioning effectively. Plus, you can benefit from a mix of in-class and hands-on learning. And you can graduate ready to pursue an active and challenging career in this reliable trade.
Frequently Asked Questions About the HVAC Trade in Florida
---
---
Florida HVAC Schools
Sponsored Listings
---
---
Frequently Asked Questions About the HVAC Trade in Florida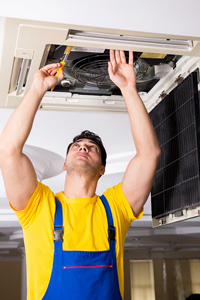 In a state that stays relatively hot and humid all year round, it's not surprising that skilled professionals who know how to keep indoor conditions cool and comfortable are in great demand. Florida HVAC training can give you the technical knowledge and practical abilities you need to build a solid future in this dynamic trade.
Curious to learn more? Here are answers to four of the most common questions about the HVAC profession in the Sunshine State:
1. How Can I Get Into This Trade?
Trade schools, technical institutes, and vocational colleges across Florida offer short training programs that can prepare you for entry-level positions in the HVAC field. In fact, you can complete a certificate or diploma program in a year or less. Alternatively, an associate degree program generally only takes about two years.
HVAC programs include a combination of classroom study and hands-on training. You'll receive instruction in topics like piping, soldering, and pressure testing. You'll also learn about electrical circuitry, mechanical systems, air distribution, building codes, and safety protocols.
Many programs also give you the chance to accumulate work experience hours that can be applied toward your contractor's license (see below).
2. What Licenses or Certifications Are Required?
HVAC technicians do not need to be licensed to work in Florida. However, the federal Environmental Protection Agency (EPA) mandates that anyone who handles refrigerants must be certified. That requires passing a written exam. Many Florida HVAC schools prepare their students for the EPA exam; some even include it as part of their programs.
If you want to work as an independent HVAC contractor, you will need an air conditioning license from the Florida Department of Business and Professional Regulation. To qualify for a license, you must be at least 18 years old and have four years of combined education and experience.
There are two types of licenses, each of which requires passing a different exam. With a Class A license, you can work on equipment of any size. With a Class B license, you are limited to cooling systems of 25 tons or less and heating systems with outputs of 500,000 BTUs per hour or less.
3. What Is the Outlook for This Trade in Florida?
There are abundant opportunities in the HVAC field. According to May 2021 Occupational Employment and Wage Statistics program data, Florida had the third-highest level of employment for HVAC mechanics and installers in the country. Nationwide, five of the top 10 metro areas with the highest concentration of HVAC jobs are in the Sunshine State. The Florida Department of Economic Opportunity estimates that employment in this profession will grow almost 12 percent in the state between 2021 and 2029. That means over 29,000 new HVAC jobs should become available in Florida.
Certain areas of the state should see particularly strong growth in this trade, says the Florida Department of Economic Opportunity. For example, in Pinellas County, HVAC employment is expected to expand by over 20 percent. And in Hernando and Pasco counties, the growth rate will be closer to 13 percent.
4. What Are Typical HVAC Salaries in Florida?
You can make a comfortable income in this trade in Florida. According to the Florida Department of Economic Opportunity, the statewide median hourly wage of HVAC mechanics and installers was $21.10 in 2020. That translates into annual earnings of $43,888 for full-time work.
Depending on what area of the state you work in, you could potentially earn even more. For instance, HVAC professionals in the Naples-Immokalee-Marco Island metropolitan statistical area had median annual salaries of $48,970 in 2021, and those in the Cape Coral-Fort Myers metropolitan division had median earnings of $47,600. It's worth noting that those are median earnings, which means that half of the people working in those jobs made even more.
---
Reach for Your Goals
Take aim at a better future. Florida HVAC training can enable you to get the skills and expertise you need to achieve your vocational ambitions. Start by exploring the programs listed above. Or generate a list of convenient training options close to you by putting your zip code into the school search tool.
Featured Florida Programs
Featured HVAC Schools Locations
---