Health Care Management
Health Services Administration
Last Updated
Health care management schools provide opportunities to learn skills for high-paying roles in an important and fast-growing career sector.
Why not take advantage of this chance to begin creating a professional life that makes you proud? In this field, also known as health services administration, you can work with other dedicated professionals while helping to improve the quality, efficiency, and affordability of care for patients.
Simply put, health care management degrees and similar qualifications often enable people with your drive and energy to start attaining meaningful rewards. So find out where to get your education underway by using your zip code to discover nearby schooling options today!
6 Outstanding Benefits Associated With Health Care Administration Careers
---
---
Health Care Administration Schools
Sponsored Listings
Los Angeles, California
Ontario, California
Riverside, California
Lexington, Kentucky
Louisville, Kentucky
Business Administration - Healthcare Management
Business Administration - Healthcare Administration
Health Information Management
Healthcare Administration:

Health Information Management
Patient Safety & Quality
Emergency Medical Services Administration - Emergency Medical Services Education
Health Care Administration - Emergency Medical Services
Health Information Science - Health Care Administration
Columbia, South Carolina
Greenville, South Carolina
Newport News, Virginia
Richmond, Virginia
Virginia Beach, Virginia
Online
Healthcare Administration
Clearwater
Daytona Beach
Fort Lauderdale
Fort Myers
Jacksonville
Lakeland
Melbourne
Miami
Naples
New Port Richey
Orlando
Pembroke Pines
Port St. Lucie
Sarasota
Tallahassee
Tampa
West Palm Beach
Health Information Management
Health Services Administration
---
---
6 Outstanding Benefits Associated With Health Care Administration Careers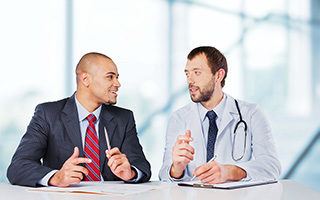 When you begin exploring this dynamic field, it doesn't take long to realize the possibilities it can offer. Becoming a health care manager or administrator often means getting into an area filled with more positive potential than many other vocations. In fact, a lot of medical and health care management programs provide the training necessary to pursue work that can have advantages such as:
1. Excellent Pay
Doctors and nurses aren't the only health care professionals capable of earning high salaries. Those involved in the administration or management side of this sector also frequently earn great incomes. For example, according to the Bureau of Labor Statistics, the median salary for medical and health services managers in the U.S. is $101,340.* And the field's highest earners make over $205,620.
2. Career Security
Several ongoing trends are contributing to the overall growth of America's health care sector. And since managers and administrators play critical roles in keeping the nation's health and medical facilities running efficiently, they continue to be in high demand. As a matter of fact, from 2021 to 2031, job opportunities for qualified health and medical services managers could grow by 28 percent.* Reasons for this exceptional demand include factors such as:
The fact that more than 8 percent of U.S. healthcare expenditures go toward administrative costs (one of the highest percentages in the world)
America's rapidly growing elderly population
Advances in medical technology that are shifting more services to new medical offices that require professionals to help organize and oversee their staffing, patient records, and financial matters
A growing focus on controlling health care costs to make services more affordable for patients while also keeping medical practices, hospitals, and other health settings financially viable
3. High Job Satisfaction
It's often easy for health care administrators and managers to feel good about the work they do. After all, they get to do things like ensure that the right people are doing the jobs that best fit their talents and abilities, clarify expectations for the health care teams they oversee, and find ways to maximize their facilities' resources to keep operations effective and efficient. And all of that contributes to the ultimate goal of giving patients good care and positive outcomes, which is a truly fulfilling pursuit.
4. Multiple Career Paths
Going into this field means having the chance to choose a direction that truly suits you. For instance, some health care managers and administrators help oversee entire medical facilities, whereas others are only responsible for particular departments or clinical areas. Either way, their broad knowledge about things like health care regulations, financial management, human resources, and health information systems tends to give them the flexibility to explore different avenues throughout their careers. Eventually, many decide to specialize in a specific area such as:
Medical practice management
Accounting, budgeting, or finance
Public affairs or marketing
Government or investor relations
Human resources or staff relations
Patient care services administration
Health records management
Strategic planning and development
Equipment and supplies management
Nursing administration
5. The Potential to Advance Quickly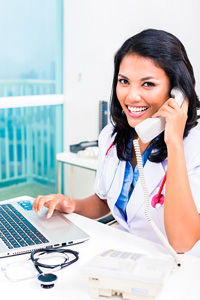 As stated earlier, the demand for qualified professionals in this field is expected to remain high for many years to come. And because a lot of today's health care managers and administrators are nearing retirement age, many people new to the field are likely to receive advancement opportunities relatively early in their careers. That's particularly true for those who, in addition to getting specialized educations, go on to earn voluntary certifications through some of the many professional associations related to health care management and administration.
6. A Large Variety of Possible Employers
Professionals in this field can find employment with many kinds of organizations. For example, opportunities are often available with employers like:
Hospitals or hospital networks
Individual or group medical practices
Nursing homes
Assisted-living facilities
Community clinics
Home health care agencies
Managed care organizations
Health care consulting firms
Mental health agencies
Hospice care organizations
Government agencies
Medical research facilities
Non-profit health care agencies
---
How Will You Begin?
Give your ambitions a significant boost right now. Simply put your current zip code into the following search box to see a selection of health care management schools where you can get started!
---
---
You may also be interested in the following programs:
---
* Unless otherwise noted, salary information is based on May 2021 data from the Occupational Employment and Wage Statistics (OEWS) program. Job growth estimates are from the Bureau of Labor Statistics and are for the 2021 to 2031 period.