Computer Animation Schools and Colleges
Last Updated
Are you thinking about looking into computer animation schools? If you wonder just what it takes to bring animated characters to life and make backgrounds look as if they were filmed rather than rendered, then this field could be a natural fit.
Computer animation is still a relatively young profession and the technologies that are used in this industry are constantly changing. In order to keep up with the competition in this field, it is crucial to understand and be able to work effectively with industry-current software and equipment.
With an education in this field, the sky is the limit! From video games or cartoons to architectural and medical image generation, there are so many employment opportunities in computer animation. Request more details about one of the computer animation schools or programs below to get started!
Animation Career and Training Information
---
---
Animation Schools
Sponsored Listings
---
---
Animation Career and Training Information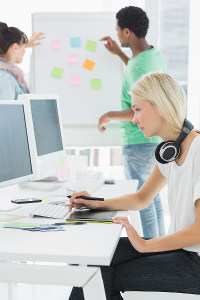 If you dream of giving life to your imagination by working in animation, you should know what the study of 2D and 3D animation involves. Before you can be a professional character animator, 3D modeling artist, or special effects guru for film, television or gaming, you'll need to start developing your skills at a school that offers the right curriculum. Learning animation generally includes studying the following:
Foundation Courses
It all begins with drawing. Without the ability to make quality sketches in 2D, you'll never be able to render believable characters and environments in 3D. So you need to arrive at school with a little bit of artistic talent, and whole lot of dedication to practicing the fundamentals.
Life drawing, or sketching the human form, is one of the most important foundational skills an animator must possess. The more you draw the human body, the easier it is to design convincing characters for your animations. Therefore, many schools make life drawing a required course, or set of courses, which may also include sculpture.
Also, because animators must be well-rounded artists, most programs incorporate other courses in art theory. You'll need to learn about basic principles like color, balance, contrast and composition.
The Art of Motion and Visual Storytelling
Animation links a series of still images together to create the illusion of motion. So the real art of animation is in creating fluid motion that helps your audience believe in your virtual characters, backgrounds and effects. Good programs will emphasize the study of human motion and environmental interaction (also sometimes called body mechanics or the animating force).
But, in the larger picture, it is really about telling a story. It can be a narrative as grand as a feature film, or as seemingly simple as the way a background character in a video game walks. Even simple movements can have big meaning because they help shape the trust and expectations of your audience.
Storytelling techniques are so important that programs often provide courses that touch upon screenwriting, scene development, and the creation and editing of storyboards.
Putting It All Together Using Professional Software
At some point, everything has to come together in one place. In today's world, that means computers. To become a master 3D animator, you'll have to combine proficiency in the fundamentals with expertise in the computer interfaces that professionals use most.
Software packages like Flash, Animate Pro, Maya, LightWave and 3ds Max are the professional tools of the trade. That's why animation schools incorporate so many software courses into their programs.
In these courses, you'll discover what nodal compositing means (hint: it involves the "building blocks" of computer animation). You'll learn how to design the spaces your characters move around in and interact with. You'll find out why lighting, texture and cinematography are so important in 3D modeling. And you'll develop post-production and rendering techniques.
Finding the Right School
Ultimately, if you want to become a professional, you'll want to pick a school with the right mix of courses. So stop just dreaming about it—put your imagination and artistic talent to good use as a 2D or 3D animator by finding a program!
---