Saint Leo University
Online
Last Updated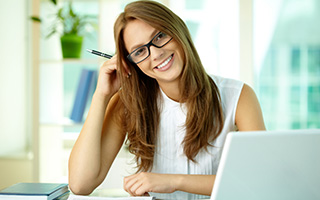 Advance your ambitions in a way that fits your current life.
Saint Leo University offers students of all backgrounds the chance to get a globally respected education from home or wherever they have an Internet connection. In fact, the school proudly educates a huge number of retired and active-duty military members, working parents, first-time college students, and professionals who are looking to change careers. Like them, you can benefit from the real flexibility and affordability that online learning provides.
Plus, as one of America's leading Catholic universities, Saint Leo is committed to providing excellent academic programs that are guided by a vision of a better world. This nonprofit, regionally accredited university welcomes students of any faith. It's a school for everyone. But the online degree programs are especially helpful for busy adult learners. That's because each program includes:
Courses that are truly relevant
Instruction from professors with real-world experience and advanced degrees
Core classes that can improve your critical thinking
Helpful feedback or support when you need it
Access to online clubs, student services, and academic resources
Why not start enhancing your life and achieving some of your biggest goals? New academic terms begin six times a year, so you can start whenever you feel ready. Ask Saint Leo University to share additional information with you right away!
---
Saint Leo University Programs
---
Business
Get an online education that can prepare you for some of today's best professional opportunities. Saint Leo's business programs are geared toward people who want to learn fundamental concepts and vital skills for the 21st century. Whether your goal is to help manage money, people, projects, specific departments, or entire operations, you can gain the knowledge and decision-making abilities that enable you to succeed. You can even specialize in managing the business aspects of a health care operation.
Accounting
Business Administration:

Accounting
Logistics
Management Specialization
Marketing
Project Management

Health Care Administration
Human Resource Management
---
Criminal Justice
Do you want to help make your community safer? These online programs provide a great foundation for pursuing careers that make a difference. You'll be taught by experienced professionals who've worked in areas like law enforcement and crime scene investigation. And you'll learn about a wide range of this field's most important aspects, such as providing security, solving crimes, navigating the court system, and correcting criminal behavior. It's all grounded in the moral belief that everyone has value.
Criminal Justice:

Criminalistics Specialization
Homeland Security Specialization

Emergency Management - Fire Science
---
Education
Discover the amazing impact you can have on the lives of children. In these programs, you'll have the opportunity to gain a valuable understanding of how young people learn and how to help nurture their development and true potential. Whether you want to teach kids in a classroom or work with small boys and girls in preschool, Saint Leo offers convenient educational options to help you pursue your noble aspirations.
Educational Studies: Early Childhood Development
Elementary Education
---
Human Services
Can you imagine making a positive difference, every day, in the lives of people who need the most help? By pursuing a degree in this field, you'll have the chance to learn what it takes to serve disadvantaged members of your community in a professional capacity. You can even develop the kind of expertise that's necessary for leadership roles in community and social services organizations.
---
Information Technology
Start becoming a great problem solver. By learning more about today's computer technology and data systems, you can pursue worthwhile career opportunities in all kinds of industries, including government. From information security to network management, you'll have the chance to develop skills related to some of the coolest and most important aspects of modern technology. Depending on your program, you can even learn about areas like coding, artificial intelligence, and digital forensics.
Computer Information Systems
Computer Science
Computer Science: Information Assurance
Cybersecurity
Information Technology
Software Engineering
---
Psychology
Are you intrigued by the amazing range of human thoughts, feelings, and actions? Ever wonder why people do what they do? These programs offer the opportunity to learn about the human experience in a comprehensive way. With the knowledge you gain, you can help other people achieve better lives or apply your psychological insights to a career in business, sales, advertising, law, or almost any other professional field that you enjoy.
Psychology:

Clinical/Counseling
Developmental
Experimental
General Studies
---
Liberal Arts & Social Science
Gain a better understanding of human societies and social behavior. Saint Leo offers multiple programs that can teach you how to research, analyze, and find solutions to group problems or discover connections between seemingly unrelated subjects or modern social and cultural challenges. You'll have the chance to develop your creative and critical thinking abilities while exploring the values that drive human communities. It's the kind of education that can prepare you for professional roles in many kinds of career sectors, including business, human services, and government.
Liberal Arts
Liberal Studies
Sociology:

Applied & Clinical
Diversity & Inequality
---
Religion
Have you ever considered the potential benefits you can derive from an education that goes right to the heart of the human experience? Religious faith has a major influence on every society. Spiritual connection and moral values define many cultures all over the world. This online program will help you achieve a more holistic and nuanced understanding of people's beliefs in a higher power and how they impact human relationships and motivations. You can apply what you learn in a huge range of careers, such as ministry, teaching, social work, business, and law. And you don't need to be a person of any particular faith. All you need is curiosity.
---
Elevate Your Aspirations
Saint Leo University believes in your potential to do great things. So take advantage of your current momentum right now. It's easy. Simply let Saint Leo know that you'd like to receive more details as soon as possible!
---