Laurus College
California and Nevada 'In-Residence' Locations + Online*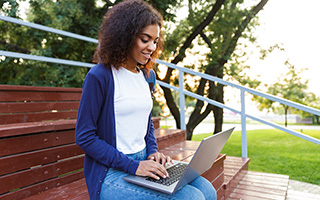 Laurus College was named for a Latin-derived word meaning success, and since opening its doors in 2006, that is exactly what it has been committed to. From the day you enroll until the day you graduate, and beyond, you can count on Laurus College to help you successfully meet your educational and career goals.
Through its California and Nevada in-residence locations and online learning platform, Laurus College offers several programs related to technology-driven career sectors such as audio and video production, business systems, computer animation, digital arts, information technology, visual design and multimedia, and web development.
Plus, whether you attend classes from one of the onsite computer labs or from the comfort of your own home, each program is taught by experienced instructors who care about your success. Thanks to its interactive and online learning platform, you can participate in live classes and connect in real-time with your instructor and classmates.
Laurus College is also dedicated to providing you with a comprehensive range of student services to help ensure that all aspects of your educational experience are positive. Available student services include: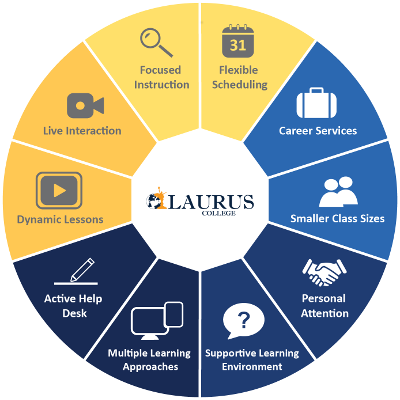 The opportunity to meet faculty members before starting classes
Peer mentoring
Tutoring, including for developing good study and time-management habits
Technical support
Career workshops four times a year
Assistance with job-search strategies
Direct contact with potential employers when getting help with your job search
Help developing your social network
Assistance with creating and updating a LinkedIn account
A review of your professional portfolio, website, or ArtStation showcase (if applicable)
In addition, as both a student and graduate, career advisors are available to assist you with cover letter and resume writing, as well as job interview preparation. Additional resources include access to the online Career Toolbox, which features informative articles, as well as research and industry information.
Are you ready to turn "success" into more than just a word? If so, take the first step by browsing through the available programs at Laurus College, and requesting more information today!
---
Laurus College Degree Programs
---
Audio Video Production
Consider how often you encounter some type of professionally produced music, sound, or video in your daily life. Audio and video production is truly a massive industry with an impressive range of opportunities in fun areas like advertising and entertainment. Laurus College can teach you to use different techniques to achieve your vision and refine the result to meet the standard of both you and your client or employer. From research and conceptualization to production and post-production, the skills you learn can give you an edge in this promising career field.
Audio Production
Audio Video Production
---
Business
Having core business skills can help you in any number of ways. Whether you want to start your own business or forge a career with an existing company, knowing the basics is a prerequisite. Every business has needs that range from management to communication to accounting. Start learning the skills that could give you an edge in finding a new job or advancing your current career.
Business Administration
Business Systems Management
---
Design
Design skills in the digital age can have wide-ranging applications. You could be working on anything from marketing material to websites to video games! Unleash your creativity while improving your skills in areas that could allow you to develop a rewarding career.
Digital Arts & Computer Animation
Visual Design and Multimedia
Web Design
Web Design & Development
---
Health Care
The health care industry encompasses a wide range of fields from patient care to facilities management. And keeping it all running smoothly requires a complex base of administrative functions, from front office administration to record keeping, billing, and coding. It's a fast-growing sector that can present numerous opportunities for career-minded individuals.
---
Technology
The IT industry offers a wide range of possibilities for those intrigued with technology and its application in the business world. You can learn to manage networks or maintain computer hardware in a range of settings including businesses and other organizations. Laurus College can help you gain the abilities you'll need to take your ambitions to the next step and begin exploring career options.
Information Technologies & Network Systems
---
Laurus College 'In-Residence' Locations
Laurus College offers five convenient 'in-residence' locations in California's Central Coast, Ventura County, and Chula Vista region(s) as well as Las Vegas, Nevada and the option to earn your education online.*
Each of the in-residence locations are set up to help you succeed and feature residential services, including computer labs, student services, academic advising, and career resources to help you get a job in your field after graduation. As part of your technology package, you will receive a laptop loaded with the software needed for your studies. You'll also have access to various learning resources, a student portal, and an online career center dedicated to helping graduates and current students.
California
Atascadero, California
8693 El Camino Real
Atascadero
CA
93422
Chula Vista, California
2300 Boswell Rd 255
Chula Vista
CA
91914
Oxnard, California
2351 Lockwood St
Oxnard
CA
93036
San Luis Obispo, California
81 Higuera St Ste 110
San Luis Obispo
CA
93401
Santa Maria, California
325 E Betteravia Rd Ste B8
Santa Maria
CA
93454
Nevada
Las Vegas, Nevada
8965 S Eastern Ave Ste 150
Las Vegas
NV
89123
Online (Online program availability varies by state.)
---
---
California and Nevada Disclosure Information and College Catalog