Southern New Hampshire University
Online Degree Programs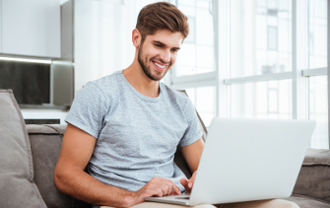 Start reinventing yourself—without putting your current life on hold.
Southern New Hampshire University (SNHU) makes it possible for busy adults like you to pursue a transformative education. As a recognized leader in online learning, this private, non-profit, accredited school helps people of all backgrounds accomplish their career and educational goals. That's why it's growing at one of the fastest rates in the nation. With more than 60,000 students pursuing their studies online, SNHU is proving that smart innovation makes it easier for hard-working people to achieve better lives—for themselves and their families.
In fact, as part of its 2018 Best Colleges Rankings, U.S. News & World Report named SNHU the number one "Most Innovative School" among northern regional universities. It's just one more reason to explore the many degree programs that this university offers online. And here's another: About 96 percent of SNHU's surveyed students have said that they would recommend the school to a friend. How's that for satisfaction?
Simply put, this type of learning opportunity can greatly empower you. It can lead to the positive changes you've been imagining. After all, SNHU is for people just like you—people who deserve some extra support and flexibility while following their aspirations.
Now's the time to start making it all happen. Ask the school for more details right away!
---
Convenient & Affordable Online Degree Programs
Are you ready for an education that fits your existing lifestyle? SNHU offers a large variety of degree programs that can be completed from home, on a personalized schedule that works for you. Plus, this school offers some of the lowest tuition rates in the nation for programs that award accredited associate, bachelor's, and master's degrees. It even offers discounts to active-duty members of the military (as well as to their spouses). Students who qualify can also access financial aid.
It's all designed to put the future you want within reach. Thanks in part to SNHU's generous policy of accepting relevant credit transfers from other schools, you may even get to earn your degree faster than you thought possible. And if you decide to pursue a master's degree program through this school, remember this: You won't have to take the GMAT or GRE since they aren't required for admission.
---
Art & Design
Transform your creativity into valuable images or designs for games or other digital or real-life applications. In these degree programs, you'll learn from professionals with actual industry experience. And you'll get the opportunity to develop your own full potential while using some of today's coolest technology to turn your ideas into reality.
Associate Degree
Bachelor's Degrees
Digital Photography
Game Art and Development
Graphic Design and Media Arts:

User Experience Design
Web Design
---
Business, Accounting, & Finance
Ever wonder what it takes to stand out from the competition? With an online business education from SNHU, you can start acquiring the skills and credentials that enable many professionals to achieve real success. These programs offer the chance to refine your marketable abilities in all kinds of relevant areas. For example, you can become a better manager, problem solver, analyst, communicator, and strategist. That way, you can rise to the business challenges of both today and tomorrow.
Associate Degrees
Accounting
Business Administration
Fashion Merchandising
Marketing
Bachelor's Degrees
Accounting
Accounting - Forensic Accounting and Fraud Examination
Accounting and Finance
Business Administration:

Accounting
Entrepreneurship
Finance
Healthcare Administration
Human Resource Management
Industrial Organizational Psychology
International Business
Management Information Systems
Marketing
Nonprofit Management
Organizational Leadership
Project Management
Public Administration
Sports Management

Fashion Merchandising and Management
Finance
Finance - Financial Planning
Human Resources Management
Marketing:

Digital Marketing
Social Media Marketing

Operations Management:

Logistics and Transportation
Project Management

Sport Management
Technical Management II
Master's Degrees
Accounting:

Forensic Accounting
Taxation

Finance
Human Resource Management
Marketing:

Digital Marketing
Marketing Research Analytics

Master of Business Administration
Organizational Leadership
Project Management and Operations
Sport Management
---
Criminal Justice
Do you have a strong interest in public safety? In these popular programs, you can acquire the necessary expertise to start pursuing a wide variety of opportunities that involve protecting your community. You'll learn about subjects like criminology, human services, corrections, homeland security, police administration, and more.
Associate Degree
Bachelor's Degrees
Criminal Justice:

Corrections
Criminology Crime Analysis
Cybercrime
Homeland Security & Counterterrorism
Human Services and Advocacy
Police Administration and Operations
Security Management
Substance Abuse
Master's Degree
---
Healthcare
Start getting more of the expertise you need in order to make a greater impact in the healthcare industry. In these programs, you can begin learning what it takes to help improve the delivery of patient care or build on the knowledge, abilities, and experience you already have. With the right education, a fulfilling managerial or leadership role in this sector could even be in your future.
Bachelor's Degrees
Community Health Education
Health Information Management
Health Sciences
Healthcare Administration:

Health Information Management
Patient Safety and Quality

Public Health
Sociology
Sociology - Community Health
Master's Degrees
Health Information Management
Healthcare Administration
---
Information Technology (IT)
Match your professional ambitions with the technical skills to make them happen. SNHU can help you start learning and mastering today's computer-related technologies so that you have the tools to pursue your preferred opportunities. Whether you're new to the field or seeking advancement in your existing IT career, these programs can prepare you to take advantage of the ever-evolving options in this amazing sector.
Associate Degrees
Computer Science
Cybersecurity
Data Analytics
Information Technologies
Bachelor's Degrees
Computer Information Systems
Computer Science:

Data Analysis
Information Security
Project Management for STEM
Software Engineering

Cybersecurity:

Data Analytics Fundamentals
Project Management Fundamentals

Data Analytics
Data Analytics - Project Management for STEM
Game Programming and Development
Information Technologies:

Business Management
Cybersecurity
Data Analytics
Project Management for IT
Software Development
Master's Degrees
Cybersecurity
Cybersecurity - IT Management
Data Analytics
Information Technology
Information Technology - Software Application Development
---
Liberal Arts
Follow your strongest interests and discover where they can lead you. In these courses of study, you can learn about storytelling while refining your creative writing abilities and developing valuable skills related to critical thinking, research, and information analysis.
Associate Degree
Bachelor's Degrees
Communication:

Business Communications
New Media
Professional Writing
Public Relations

Creative Writing and English:

Fiction Writing
Non-Fiction Writing
Poetry
Screenwriting

English Language & Literature
General Studies
History:

American History
European History
Middle Eastern Studies
Military History
Master's Degrees
Communication
Communication - New Media and Marketing
English and Creative Writing:
History - Public History
---
Math & Science
Are you eager to help create solutions for some of the world's biggest challenges? Organizations of every variety need professionals with great analytical and scientific minds in order to make the best decisions possible based on increasing flows of data. With that kind of expertise, you can become an indispensable contributor to all kinds of industries.
Bachelor's Degrees
Anthropology
Anthropology - Environmental Sustainability
Environmental Science:

Data Analytics in Science
Natural Resources and Conservation

Geosciences:

Data Analytics in Science
Natural Resources and Conservation

Mathematics
Mathematics - Applied Mathematics
---
Psychology & Social Sciences
Prepare for a wide range of opportunities that involve making a positive impact in your community. These fascinating courses of study can help you develop expertise related to human behavior and well-being. And you'll have the chance to gain marketable research, communication, and analytical skills that can be applied to a variety of rewarding career fields.
Bachelor's Degrees
Human Services:

Child and Family Services
Gerontology
Substance Abuse

Political Science
Psychology:

Addictions
Applied Psychology
Child & Adolescent Development
Forensic Psychology
Mental Health
Social Psychology
Master's Degrees
Psychology
Psychology - Industrial & Organizational Psychology
---
Extensive Academic & Career Support
Learning online doesn't have to mean missing out on great student services. On the contrary, SNHU proudly offers online students a wide range of supportive, easy-to-access features. For example, every student has access to:
An academic advisor
Free online tutoring that's available 24/7
Around-the-clock tech support
An all-hours online library
A virtual student lounge
Online writing resources
An online bookstore
Personalized career counseling
Career-development webinars
Help with finding internship and employment opportunities
---
Discover What You Can Achieve
Your better life awaits. Make it happen! Southern New Hampshire University is ready to help you reach your most important goals. Follow through on your ambitions right now by requesting further information directly from SNHU!