Eastern International College
Belleville, NJ
Jersey City, NJ
Online*
Last Updated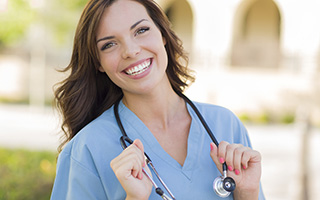 Discover how to attain a great career in the growing field of allied health.
Eastern International College (EIC) specializes in empowering the professional ambitions of students who want to work in a vital and rewarding industry. By focusing on both theoretical and hands-on clinical training, EIC's degree programs help adults like you develop the knowledge and practical abilities that are necessary for in-demand healthcare occupations.
Regardless of your age or background, this college can assist you in pursuing a more dynamic and enriching career. EIC strives to maintain a learning environment that boosts self-confidence and nurtures professional development. In fact, the school is proud of its ability to offer small class sizes, one-on-one teaching, and experienced staff and instructors who care about your future success.
So make a positive move forward today. Tell Eastern International College that you'd like to receive additional information about the school's career-driven educational opportunities!
---
Student-Centered Programs in Allied Health
At EIC, students get the chance to develop many kinds of skills along the way to beginning their journeys in the healthcare sector. For example, the college's programs often feature opportunities to gain or enhance skills related to medical technology, clinical science, leadership, interpersonal communication, critical thinking, and decision-making.
Plus, each on-campus program features a mixture of classroom learning, hands-on laboratory experiences, and real-world training. The programs' clinical externships provide opportunities to apply what you've learned in real-life settings where you can make valuable connections within the industry. It's all designed to help you qualify for relevant positions in hospitals, medical clinics, doctors' offices, diagnostic laboratories, or other types of healthcare settings. EIC even offers on online program for registered dental hygienists who want to upgrade their educational credentials for new opportunities.
EIC Programs
---
Cardiovascular Technology-A.A.S.
Get the necessary training for a career that involves performing diagnostic exams of medical patients' hearts or blood vessels by using non-invasive technology. This two-year degree program includes general education courses in addition to specialized courses in areas such as the anatomy of hearts and lungs, patient care, electrocardiograms (EKGs), heart-rhythm abnormalities, the vascular system, and echocardiography (i.e., ultrasound exams of the heart).
---
Dental Hygiene-A.A.S.
Dental Hygiene-B.S. Degree (Completion Program) - Online*
Do you want to become a dental hygienist? Take advantage of your ambition to help other people in this reliable area of healthcare. In just two years, you can gain the expertise and hands-on skills to help prevent tooth decay and gum disease. You'll learn about performing dental cleanings, examining the oral health of patients, taking dental x-rays, applying fluoride and sealants, educating patients, and much more. The training is designed to make you eligible to apply for licensure as a dental hygienist in New Jersey.
Are you already a registered dental hygienist with an associate degree? Would you like to upgrade your education in a way that's flexible and convenient? With EIC's online program, you can expand your knowledge so that you have the chance to take on new roles in this important and exciting field.
---
Diagnostic Medical Sonography-B.S.
Start becoming qualified to go after good career opportunities that involve using ultrasound technology to perform diagnostic exams on medical patients. At EIC, this four-year degree program incorporates enriching general education classes related to subjects like communication, math, the physical and social sciences, and the arts and humanities. And, of course, it covers plenty of in-depth material related to areas such as anatomy, pathology, medical instrumentation, and different types of medical sonography. In fact, the program concludes with four clinical externships—one each for abdominal sonography, vascular sonography, echocardiography, and obstetric and gynecological sonography.
---
Nursing-A.A.S.
Amplify your caring nature—and boost your career opportunities—by training to become one of today's most vital types of healthcare professionals. This two-year program is designed to teach you everything you need to know in order to get started in the field of registered nursing. It even includes a clinical externship so that you can practice using your skills and making informed decisions in a real-world nursing setting. By completing the program, you can qualify to take the NCLEX-RN exam and apply for state licensure as a registered nurse (RN).
---
Student Resources and Activities
Every student at EIC has access to the school's library and learning resources. That means you can take advantage of a physical collection of more than 7,000 books and an electronic library that includes about 120,000 books and plenty of periodicals related to the field of allied health. Plus, many of the college's instructors and staff aim to be accessible outside of regular class hours. Tutoring services are available for general education courses.
But EIC also strives to facilitate group activities that can enhance the lives of students. For instance, each campus gets involved in a variety of community service projects, and students are assisted in creating clubs related to areas like professional life, diversity, parenting, fitness, and stress reduction.
---
Extensive Career Services
EIC is committed to helping all of its students and graduates secure career opportunities in the allied health sector. As a result, the college provides assistance through one-on-one coaching and support as well as courses, workshops, and group presentations that cover important areas such as:
Preparing for clinical externships
Conducting job searches like a professional
Writing an effective resume
Preparing for job interviews
Making professional contacts
Choosing appropriate attire
---
Easily Accessible Campuses
With two locations in northern New Jersey, EIC makes it possible for students from across Essex County, Hudson County, the New York metro area, and many other parts of the region to get convenient healthcare training. In fact, the Jersey City campus is within a short walking distance from Journal Square, which is a major transportation hub. The Belleville campus is close to Route 21 (a major highway) as well as bus routes that are operated by NJ Transit. Plus, if you're a registered dental hygienist and want to upgrade to a bachelor's degree, you can skip the commute and complete your program fully online.
Belleville
251 Washington Ave
Belleville
NJ
07109
Jersey City
684 Newark Ave
Jersey City
NJ
07306
Online (Not available to residents of California)
---
Create a New Beginning
You deserve to find out just how far you can go. And right now is a good time to explore the options available to you. So don't hesitate to ask Eastern International College for additional details that could help you make a decision about your next path forward!
---
* Not available to residents of California.