Southern California Health Institute
North Hollywood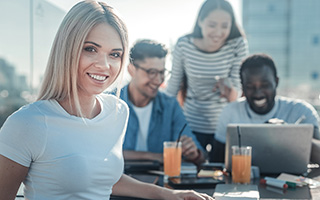 Southern California Health Institute (SOCHi) has been providing training in the fulfilling field of health and wellness since 1996. This accredited health school has helped over 2000 students graduate and enter the health and wellness community on a professional level.
What SOCHi Offers You
At SOCHi, you can enjoy well-rounded programs built around principles of European medical massage therapy. These principles have been shown to be effective in the treatment and prevention of illnesses, injuries, and stress. Each program features both theoretical and hands-on training and is taught by wellness professionals who are committed to passing on their knowledge, experience, and passion.
The programs have been carefully designed to make sure you get important theoretical knowledge as well as plenty of hands-on skill building. And the importance of real-life experience isn't overlooked. That's why SOCHi students get the chance to work with clients in the on-site massage clinic.
---
Southern California Health Institute Programs
---
Massage Therapy
SOCHi's Massage Therapy program provides a foundation of massage theory before concentrating on building skills and experience in massage techniques.
You will practice extensively at performing different massage modalities, including sports, chair, Shiatsu, hot stone, Thai, and acupressure. The program of study also highlights Russian Medical Massage. Additionally, SOCHi provides opportunities to work with clients in an on-campus massage clinic.
After graduating, you will meet requirements for taking the California Massage Therapy Council (CAMTC) Certified Massage Therapist (CMT) examination.
---
Medical Assistant
Begin learning what it takes to be part of a team in a medical clinic, doctor's office, or other type of health care environment. At SOCHi, you'll get the chance to develop knowledge and practical abilities related to a relevant variety of clinical and administrative procedures.
For example, you will study medical terminology and human anatomy. And you will learn about interacting with patients, setting up examination rooms, handling medical records, and performing other routine clinical and laboratory procedures. You will even have the opportunity to complete a real-world externship.
This program is also designed to help you qualify for the exam to become certified through the California Certifying Board for Medical Assistants (CCBMA). And each student is given the chance to become a member of the California Medical Assistants Association (CMAA).
---
Medical Billing and Coding
The Medical Billing and Coding program can provide students with training for inpatient and outpatient work settings, with courses offered in three fundamental areas:
The Certified Professional Biller (CPB) course has a focus on the health insurance industry and teaches proper claim submission.
The Certified Professional Coder (CPC) course is where students can learn vital skills related to medical coding, including how to read medical charts.
The Certified Inpatient Coder (CIC) course focuses on coding for inpatient facilities, and includes a wide array of important training in physiology, medical terminology, and business.
Successful completion of these courses at SOCHi can help prepare students for a variety of opportunities, including working in a physician's office, medical clinic, insurance carrier, and more.
---
Personal Fitness Trainer
The Personal Fitness Trainer program at SOCHi offers a practical course of study that has been crafted according to scientific research and the expertise of fitness professionals.
The courses were chosen and designed to follow National Academy of Sports Medicine (NASM) guidelines. They include instruction in important areas like client assessment, weight management principles, and fitness routine design. You will also have lessons in both sport-specific and corrective exercises. Important theoretical learning is also highlighted, covering exercise psychology, kinesiology, physiology, and human movement studies.
Graduates are provided with NASM student certification in the specialty areas of weight loss, lifespan promotion, fitness, and nutrition.
---
Physical Therapy Aide/Sports Rehab
SOCHi's Physical Therapy Aide/Sports Rehab program places attention on courses that are carefully constructed to provide dynamic skills in both physical therapy and medical massage modalities.
As a SOCHi student, you can:
Build expertise with physical therapy equipment
Learn to lead patients in therapeutic stretching and exercise programs
Practice treating limb and back ailments with medical massage
Theoretical principles of kinesiology, physiology, pathology, and anatomy are also covered. And you can receive the instruction you need for First Aid and CPR certification as well as Certified Massage Therapist (CMT) status from the California Massage Therapy Council (CAMTC).
---
How SOCHi Supports You
SOCHi is committed to providing you with a positive and supportive learning environment, both inside and outside the classroom.
Admissions representatives are ready to answer any and all questions you have about becoming a SOCHi student. They can help you review program options and class schedules to find your best fit. Plus, they are available to take you on a guided tour of the campus and facilities.
Once you apply, financial aid representatives can help you determine possible sources of financial aid you could be eligible for, including federal aid and scholarships.
Career services are also available to assist you in identifying and preparing for the entry-level career of your choice. SOCHi has developed relationships with chiropractic offices, medical offices, health clinics, spas, and physical therapy facilities. These relationships allow the career service professionals to help job seeking graduates find employers with open positions.
---
How to Contact SOCHi
Contacting SOCHi and starting on the path to a meaningful post-secondary education is as simple as filling out the information request form!
---
Southern California Health Institute Location
North Hollywood, California
5644 Vineland Ave
North Hollywood
CA
91601
---