Texas Electrician Training Schools
Last Updated
At Texas electrician schools, the focus is all about making you ready to tackle energizing jobs that help keep this huge state moving forward. You can take advantage of the demand for trained professionals in this field with the right schooling.
In fact, getting started in an electrician training program is a sure sign that you're on track to a future with massive potential.
With electrician training at a school like Southern Careers Institute, you can develop the skills required for employment in a wide range of settings, from factories and businesses to residential properties and schools. Take the next step and learn more about becoming an electrician by exploring the available Texas electrician schools below!
---
Texas Electrician Schools
Sponsored Listings
Electrical Applications
Electrical Technologies
Electro-Mechanical Technologies
---
---
4 Common Questions About Electricians in Texas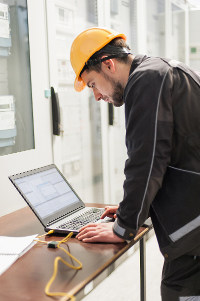 Becoming an electrician can open up all kinds of opportunities, especially in the Lone Star State. In a 2021 survey of Texas contractors, 91 percent said they were struggling to find enough tradespeople to fill open positions, and electricians were on the most-wanted list. And with the Texas Workforce Commission (TWC) predicting that the state construction industry will grow more than 22 percent between 2020 and 2030, the opportunities should continue to emerge for years to come.
With those facts in mind, check out the following answers to four popular questions about the electrical trade in this state:
1. How Do I Become an Electrician in Texas?
Many trade schools and career colleges in Texas offer training in electrical technology. You can opt for an associate degree program that takes two years or a diploma program that takes less than one year. The training is similar for both, but a degree program typically includes more general education courses.
Completing a program at a post-secondary school can lead to entry-level positions in the electrical field. It can also be good preparation for an apprenticeship, which you will need to complete in order to become fully licensed as an electrician.
Apprenticeships allow you to train on the job. You work under the supervision of a licensed master electrician, and you are paid for your time. You also receive some formal classroom instruction.
Electrician apprenticeship programs must be approved by the Texas Department of Licensing and Regulation (TDLR). Once you've been accepted to a program, you must apply to the TDLR for a license as an electrical apprentice or electrical sign apprentice.
Apprenticeships generally last four or five years. When you complete your training, you can take the state licensing exam to become a journeyman.
Apprenticeship programs are popular, so they can be difficult to get into. Taking formal training at a trade school first can be a good way to improve your chances.
2. What Licenses Do I Need?
For most types of electrical work, you must be licensed by the TDLR. A license enables you to work anywhere in the state.
There are several types of licenses, each of which requires passing an exam. You'll also need to complete a certain amount of supervised work experience. (Note that 2,000 hours is roughly equivalent to one year of full-time work.) Here's how things stack up:
Journeyman electrician: 8,000 hours
Journeyman sign electrician: 8,000 hours
Journeyman lineman: 7,000 hours
Residential wireman: 4,000 hours
Maintenance electrician: 8,000 hours
You can also choose to become licensed as a residential appliance installer. No experience is required, but you will have to pass an exam.
In order to become a master electrician, you must be a journeyman electrician for at least two years, complete 12,000 hours of supervised on-the-job training, and pass an exam. Master sign electricians have similar requirements.
All types of licenses must be renewed every 18 months. The TDLR also requires all licensees (except residential appliance installers) to complete four hours of approved continuing education for license renewal.
3. How Much Could I Earn?
In 2022, the median annual salary for electricians in Texas was $54,769, according to TWC.
But earnings can be even higher depending on your specific location. For example, TWC says that electricians in the Gulf Coast Workforce Development Area made a median annual salary of $59,249 in 2022. And electricians in the Southeast Texas Workforce Development Area had median earnings of $58,420.
4. What Is the Job Outlook for This Career?
Electricians have excellent prospects in Texas. TWC says employment in this trade is expected to increase more than 26 percent statewide between 2020 and 2030, resulting in more than 9,200 new jobs. Job growth rates are expected to be even higher in certain regions of the state. For instance, the Rural Capital Workforce Development Area and the Permian Basin Workforce Development Area both have projected increases of more than 50 percent.
---
Get Started Today
Why wait to achieve your career goals? Texas electrician training schools can be your first step to a brighter future. Find electrician training near you with our school finder!
Featured Electrician School Locations
---